The Match Out: Market gives back early gains, ANZ result solid, less so for ARB, FLT & JBH
---
The market was strong early keying off a better night overseas and a good update from ANZ which had the banking sector on the front foot early, however as bond yields continued to climb thanks to a stronger than expected retail sales print + Asian markets fell, the ASX lost its early optimism, ending the session marginally lower.
The S&P/ASX 200 fell -11points / -0.16% to close at 7304.
Energy (+0.83%) & Financials (+0.65%) led the line today, while Real-Estate (-1.49%) & Consumer Discretionary (-1.05%) struggled.
Retail sales were a lot better than expected this morning, up for a third straight month in March, printing +1.6% to a record $33.6 billion, smashing forecasts of a 0.6% gain.
That came on the heels of big gains in January + February that left sales up +9.4% on a year earlier.
This gave the interest rate bulls another shot in the arm and we saw the 3-year yield up 10bps to 3.11% - the highest since December 2013
10-year yields did the same to touch 3.50%.
Looking around the market, Goldmans now think that we'll get 50bps increases in June and July, and a 2.6% cash rate target by year-end.
Westpac's influential chief economist Bill Evans thinks the RBA will raise by 40bps next month and then hike by 25bps at each following meeting for a 1.75% level in December.
From a market perspective, traders are now pricing in 2.9 percentage points of rate hikes for 2022, the most during a single calendar year since 1989.
ANZ results this morning were solid, I was on Ausbiz this morning covering them after they dropped –
ARP Corp (ARB) -11.18% with a trading update today that disappointed investors.
Flight Centre (FLT) -6.65% was hit today after saying that their FY EBITDA will be a loss of $195-$225m despite seeing positive trends in recent months.
JB Hi-Fi (JBH) -4.77% lower following

a 3Q update while they didn't provide FY22 sales and earnings guidance.

Barrenjoey initiated on City Chic with a neutral rating - as one trader said yesterday, the only view at Barrenjoey is out the window!

Jefferies upgraded Aussie Broadband (ABB) to a buy with $5 target.

Iron ore futures were up 2.5%

Gold was flat at US$1968 at our close.

Asian markets were mixed, the Nikkei +0.26%, Hong Kong stocks fell -1%.

US Futures are higher, but not by a lot
ASX 200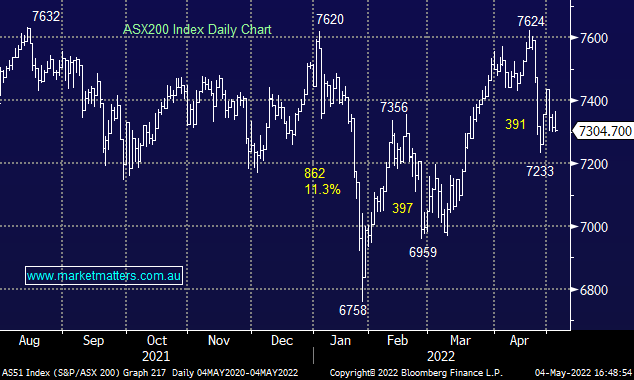 Weekly Video Update
In this weeks Market Matters Weekly Video Update, James & Harry discuss portfolio performance in April, a month where the Nasdaq fell over 13% as bonds tanked (pushing yields sharply higher) which had a profound impact across market sectors.
ARB Corp (ARB) $33.61
ARB -11.18%: the 4WD accessory business was out with a trading update today that disappointed investors. Sales for the 9 months to the end of March were up 18%, but that hid a slowdown in the 3rd quarter which was up just 4%. They flagged a number of issues impacting operating conditions at the moment. Staff shortages are front and centre and are likely leading to reduced sales. The new car market remains significantly backlogged which will also see sales growth delayed at best. Materials costs are also rising which will further squeeze margins.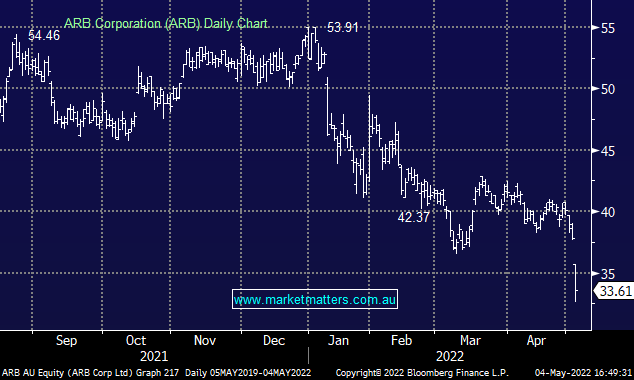 ANZ Bank (ANZ) $27.38
ANZ +0.44%: Was up today following their 1H22 result that was ahead of expectations, although there was some write back of bad debts that helped the outcome. Cash profit from continuing operations $3.11 billion was +4.1% y/y versus consensus expectations of $2.89 billion plus the 2H is expected to improve as rising interest rates start to grow net interest margins again, which fell to 1.58%. The interim dividend of 72cps was ahead of 70cps expected while tier 1 capital remains a healthy 11.5%, implying about $3.4 billion in surplus capital on their balance sheet. Overall a solid result.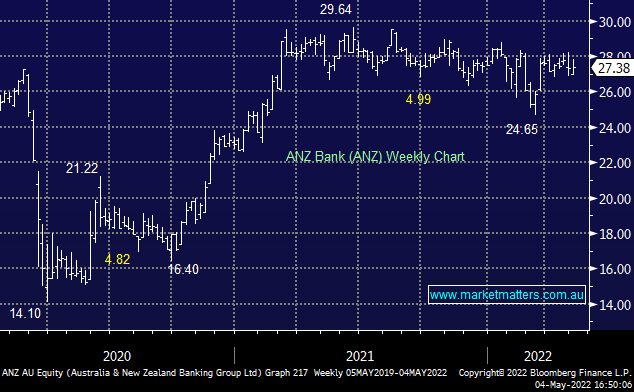 Flight Centre (FLT) $21.19
FLT -6.65%: Was hit today after saying that their FY EBITDA will be a loss of $195-$225m despite seeing positive trends in recent months. They talked to a strong recovery from late January/early February as Omicron concerns abated & as travel restrictions ease with their global corporate business profitable in March. Their leisure business is close to breakeven in March & expected to recover further during Q4 while they see large potential upside, particularly in US, with many customers just resuming travel programs. They sighted a lack of capacity on international routes out of Australia as an issue currently, however that's expected to ease during 4Q. Clearly a turnaround happening, just taking longer than expected, plus don't forget about the hugely dilutive equity raise they were forced to do during Covid.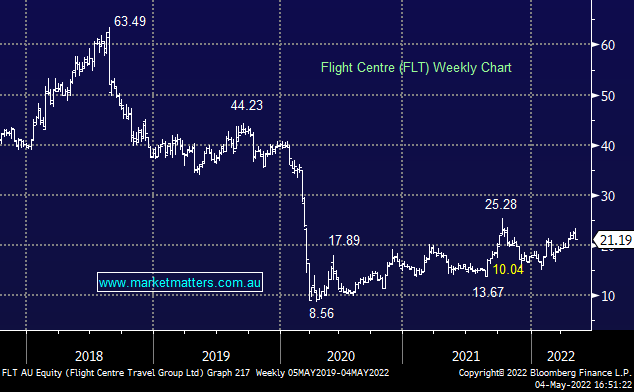 JB Hi-Fi (JBH) $49.73
JBH -4.77%: Knocked lower following a 3Q update while they didn't provide FY22 sales and earnings guidance, saying that there was too much uncertainty. Goldmans made some comments today that I thought were relevant with a slowing housing cycle and increasing supply-chain issues in Shanghai and Shenzhen ports creating challenges for JBH. Overall, JBH reported Australia comparable sales y/y up +11.1% while N.Z. comparable sales were up +4.8% & The Good Guy s+5%. Q4 is an important one in retail land and these supply chain issues are being a big variable for the importers.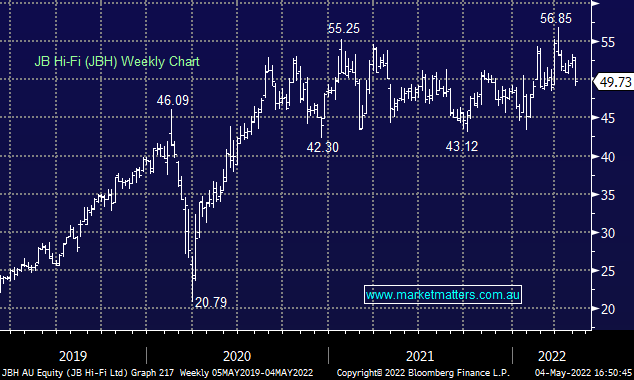 Broker Moves
City Chic Rated New Neutral at Barrenjoey; PT A$3.45
Mirvac Group Cut to Equal-Weight at Morgan Stanley; PT A$2.60
Booktopia Group Ltd Cut to Hold at Morgans Financial Limited
Aussie Broadband Raised to Buy at Jefferies; PT A$5
Woolworths Group Cut to Underperform at Credit Suisse
Fortescue Cut to Sell at Bell Potter; PT A$17.80
Inghams Cut to Hold at Bell Potter; PT A$3.05
Medallion Metals Rated New Speculative Buy at Euroz
Major Movers Today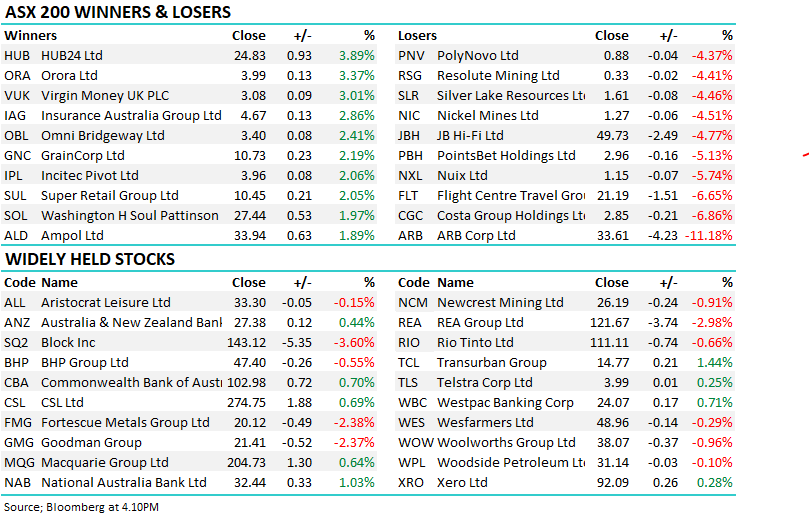 Enjoy your night

The Market Matters Team