The Match Out: Stocks pare back early gains as RBA loses some patience, AUD through 76c
---
The market was storming higher this morning to hit a 7573 peak before the RBA implied they had lost patience and would move sooner on rate hikes, another credibility losing exercise from the central bank following their poorly executed attempt at yield curve control. The AUD spiked up through 76c, the first time it's been there since June 21 and the market sold off, down ~40 odd points from its early peak to close only marginally higher.
The S&P/ASX 200 added +14points / +0.19% to close at 7527.
IT (+3.10%) & Energy (+2.22%), an unlikely combination to lead the line today, while Materials (-0.76%) struggled. We are now cautious on Materials running a decent underweight.
Mineral Resources (MIN) +5.67% an exception after saying they would bring forward Lithium expansion plans due to strong demand / pricing.
Strandline (STA) was paused to raise $50m in fresh equity at 43c versus last close at 49c – it's certainly run well into the raise! Harry has this in his Emerging Companies portfolio.
Tech stocks were good today, nice to see Xero (XRO) +4.49% and Altium (ALU) +3.21% while HUB 24 (HUB) also put on +2.19%.
AGL Energy (AGL) +2.62% rallied on a broker upgrade, it's now above the Cannon-Brookes bid price.
Speculation builds that JB Hi-FI (JBH) +0.89% is interested in Jaycar, one of my favourite shops.
Santos (STO) +2.27% has started the sale process for a stake in the PNG liquefied natural gas project, according to the Australian. They have a few asset sales to make.
Iron ore futures were up around 1% today, Coal Futures were up 2%.
Gold was also flat at US$1932 at our close.
Some Asian markets were closed, those open were a touch higher.
US Futures are all down, but only marginally.
ASX 200 Chart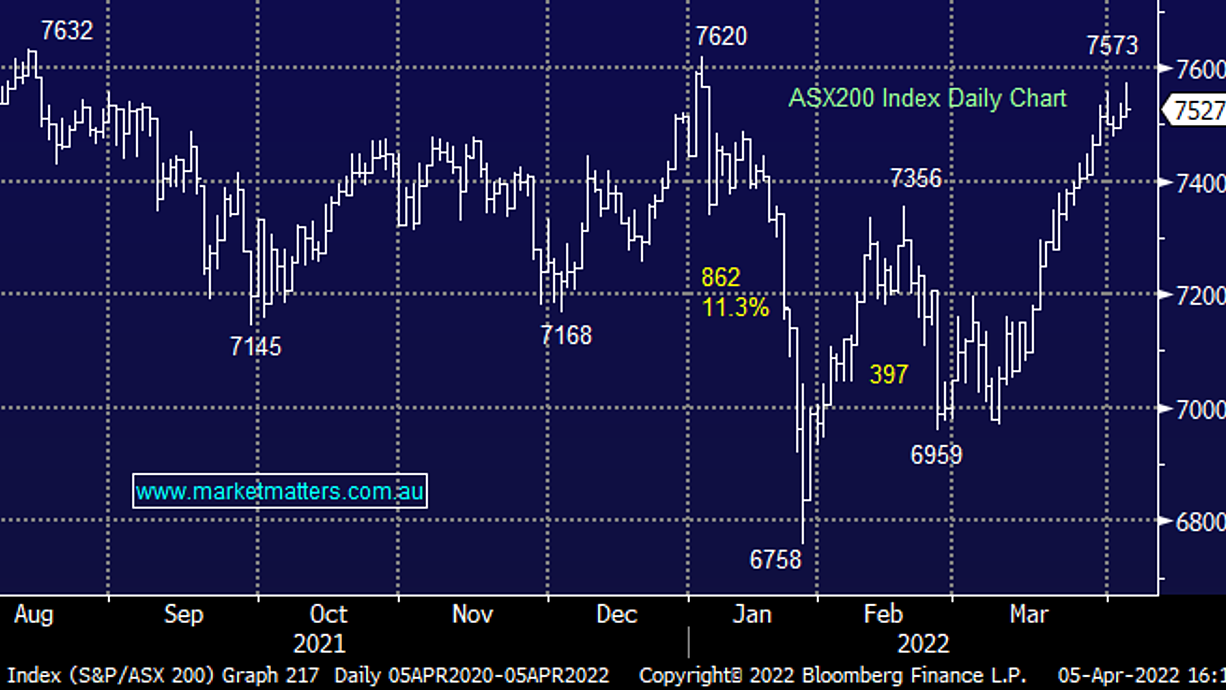 RBA - no change today but it's coming
The RBA has opened the door to earlier interest-rate increases at their meeting today by removing its five-month reference to remaining "patient" on policy, while implying that upcoming inflation and wages data will dictate the timing of any hike. The more hawkish tilt in the statement sent the Aussie dollar up through 76c, settling at our close at 76.09c. The table below looks at the market pricing of rates, a ~19% probability they'll move in May with ~84% probability of the June hike. The bar chart below looks at the number of rate hikes currently priced, which is more than 7 this year.
Rate expectations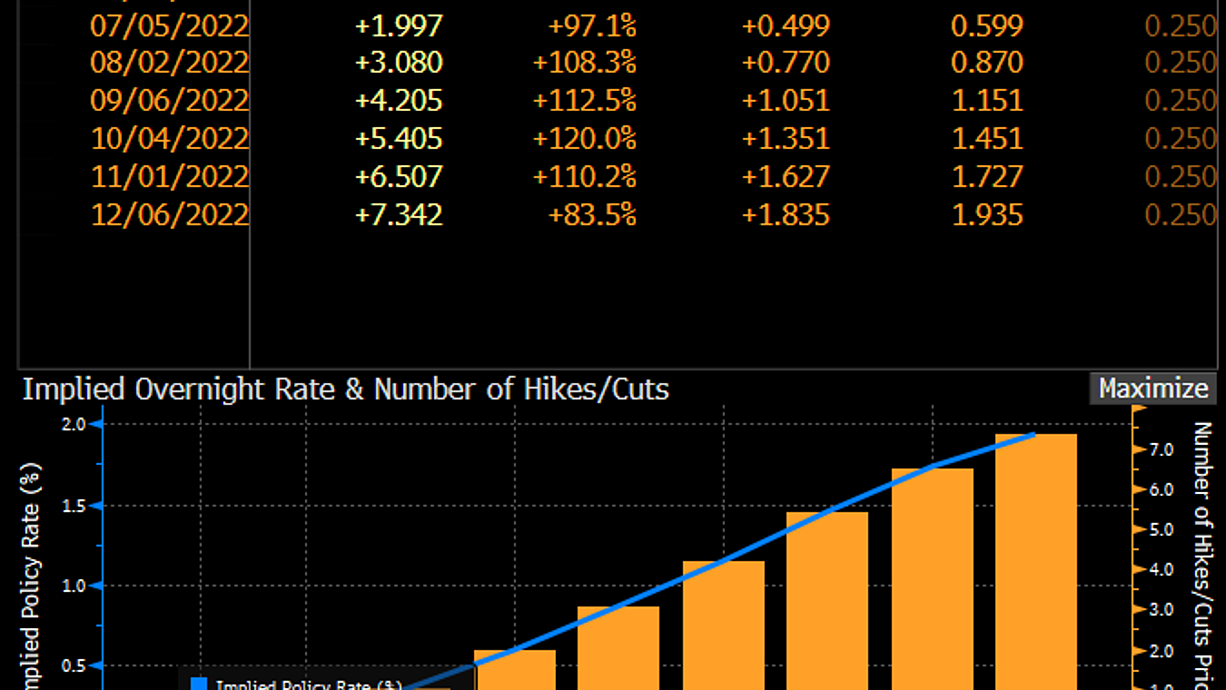 Source: Bloomberg
Mineral Resources (MIN) $59.67
MIN +5.69%: following the surge in demand for lithium, Mineral Resources has announced it will accelerate its growth plans for both the Wodgina and Mt Marion assets. At Wodgina, they're expecting first production from Train 1 to hit in May, and has now accelerated the resumption of production at Train 2 for first production in July. They also flagged the potential for 2 more trains if the lithium market continues to tighten with discussions planned with their JV partners Albemarle at the back end of the year. Their Mt Marion processing facility will now also be upgraded to produce an extra 30%, lifting capacity to 600kt a year. An additional 300kt capacity will also be added towards the end of the year as MinRes looks to take advantage of the higher prices in the market.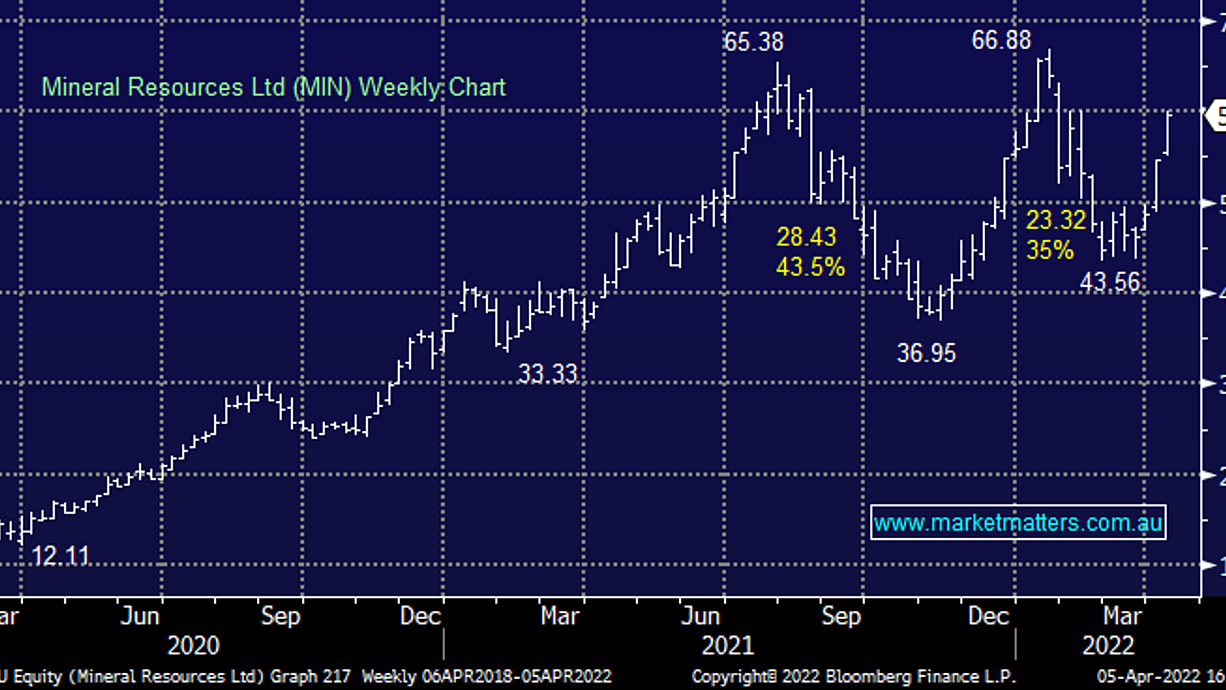 Broker Moves
AGL Energy Raised to Add at Morgans Financial Limited; PT A$8.83
Gold Road Raised to Outperform at Macquarie; PT A$1.80
a2 Milk Cut to Sell at Citi; PT A$4.80
Netwealth Cut to Neutral at Citi; PT A$15.20
Reliance Worldwide rated New Sell at Citi; PT A$4
Pendal Group Cut to Hold at Morgans Financial Limited; PT A$5.65
Iluka Raised to Neutral at Credit Suisse; PT A$13
Mincor Reinstated Outperform at RBC; PT A$2.75
Viva Energy Reinstated Overweight at JPMorgan; PT A$2.75
Ampol Reinstated Overweight at JPMorgan; PT A$36.70
Major Movers Today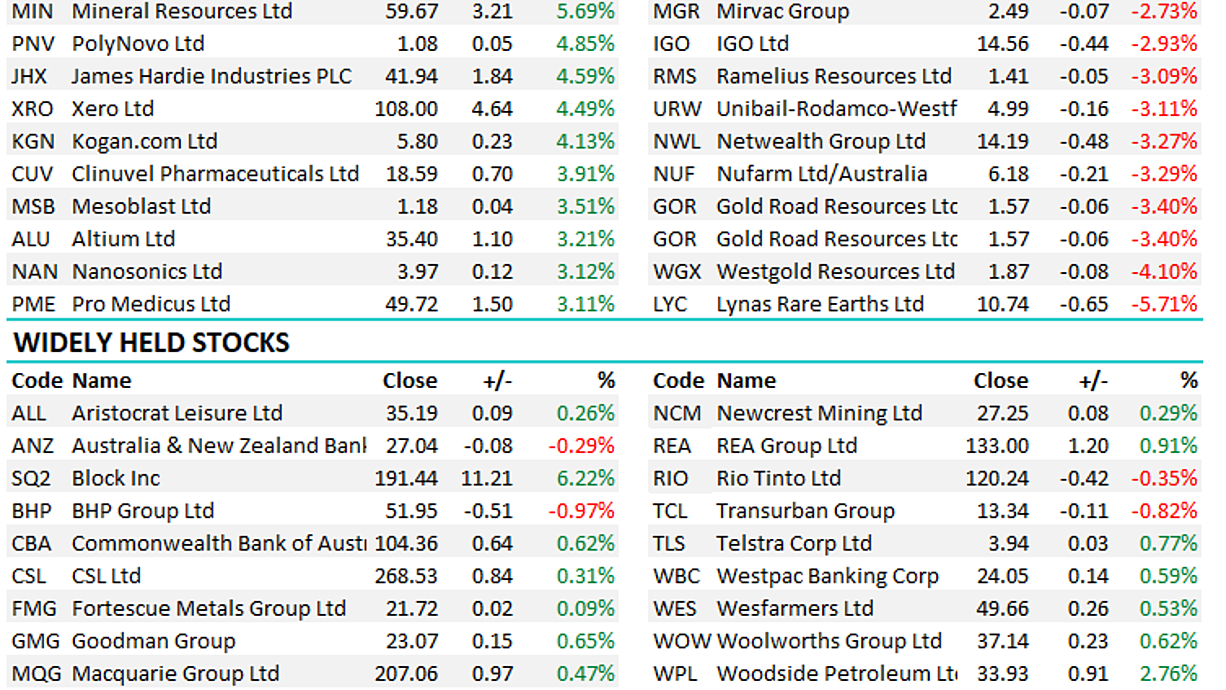 Enjoy your night
The Market Matters Team
Make informed investment decisions
At Market Matters, we write a straight-talking, concise, twice daily note about our experiences, the stocks we like, the stocks we don't, the themes that you should be across and the risks as we see them. Click here for your free trial.
The Match Out will be available each day after the market close. Follow my profile to be notified when the latest report is live.