The property fund with trust and simplicity at its heart
---
The Starbucks ex-czar Howard Schultz once said that "success is best when it's shared". While success means many different things to different investors, chances are that earning your profit takes a lot of learning, a consistent approach, and plenty of trust in your gut. 

For the team at RF CorVal, trust is one of the most important tenets of their investment philosophy. To CEO Rob Rayner, it's not just about the money that investors hand in.
"The most important one for us is to treat our investors as valued partners, not just providers of capital."
This long-term, stable relationship between investors and fund manager appears to have done wonders for its performance. Since launching in 2009, its year-on-year track record is 13-0 (that is, 13 straight years of growth.)
So what is their secret? In this Fund in Focus, we'll learn about the RF CorVal approach from Rob as he tells us why being conservative and looking for quality is the way to go. You'll also learn about the team's decades of experience and their institutional-grade way of analysing what assets will make your portfolio sing.
To hear from Rob, click the video or read our edited transcript.
EDITED TRANSCRIPT
Rob Rayner: Hi, my name is Rob Rayner, I'm the chief executive officer of RF CorVal. We're an Australian property funds management group that focuses on providing opportunities for investors to consider various unlisted offerings over time.
Our objective is quite simple, it's to present investment solutions that provide investors with access to those opportunities that deliver strong risk-adjusted returns that have regard for the underlying real estate that they're investing into.
A quick snapshot of our firm - we started in 2009. The funds that we have invested in today over time are in excess of two and a half billion, it's closer to 2.7 billion. We've acquired nearly 60 property assets. Our current funds under management are about $1.5 billion. Our weighted average return over the journey since we've started has been around about a 20% net, equity IRR net of all fees or in equity multiple sense, it's closer to about a 1.9 times. 

So it's a track record that we're super, super happy about and clearly, we want to continue to deliver those strong returns to our investors.

Since our journey started in 2009, this snapshot of the slide here shows just a high-level overview of the investors that we've presented opportunities to. They range from very large investors to the Future Fund, for example, we've bought and sold managed capital for that group. Victoria Funds Management Corp, Funds SA, a very large number of family offices, a number of offshore groups, and importantly, equally a number of high net worth investors and retail investors as well. This chart here tries to summarise what it looks like in terms of the various percentages of assets we bought for those range of investors.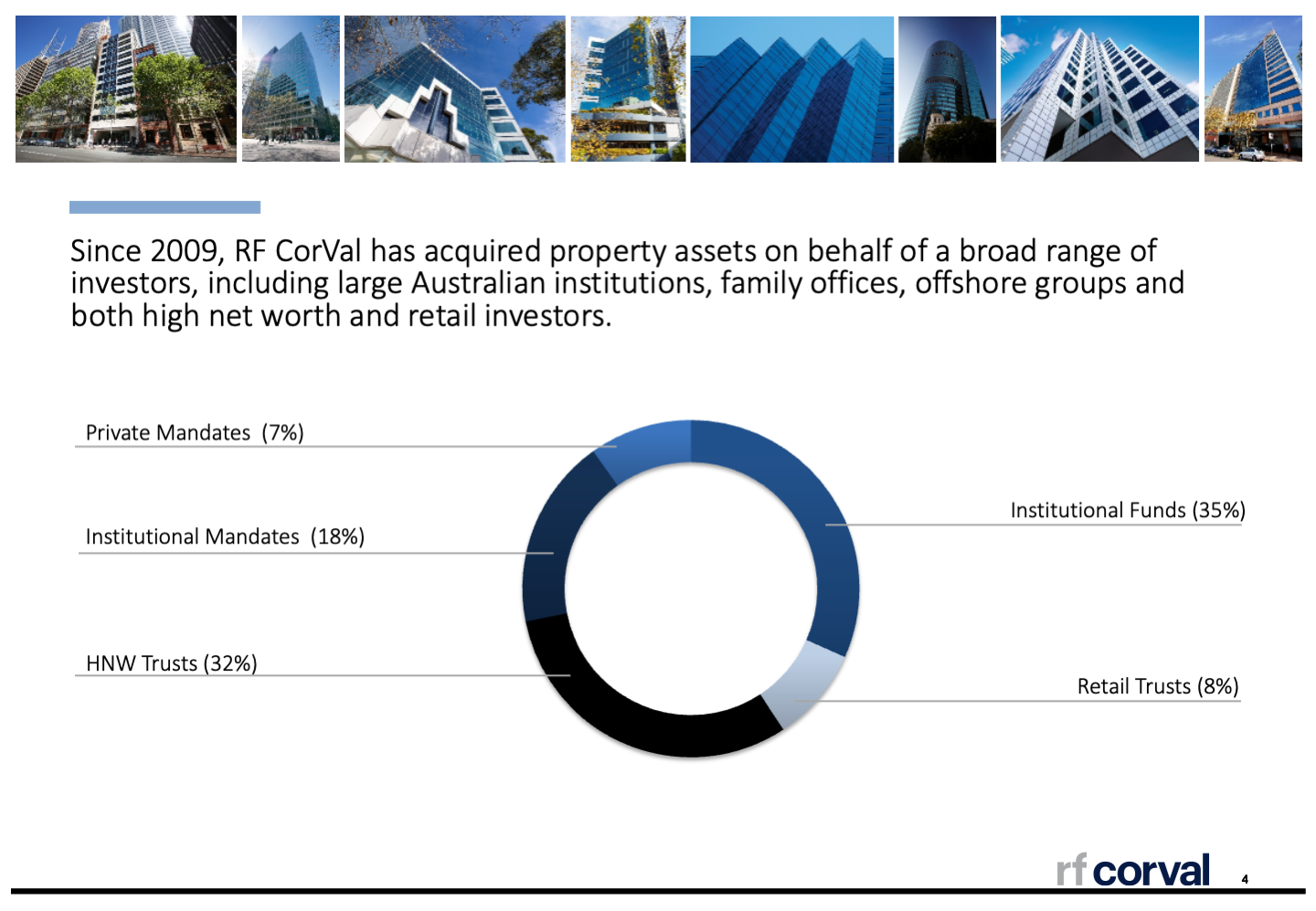 When we set the business up in 2009, myself and most fellow shareholders had some very clear building blocks that we wanted to enshrine in the business, and I believe we've kept true to that over the journey. 
Perhaps the most important one for us is to treat our investors as partners, valued partners, not just providers of capital. 
We seek to build long-term relationships with those investors that we look to build over time. Equally, we want to put our offerings into trusts and offerings that are simple to understand, that don't take a lot of time to get your head around. If we can't present them clearly and simply, I don't think we're doing a job as a manager. 
We take a very, very disciplined approach to buying real estate. 
We're super, super conservative when we buy the assets and often we've walked away from transactions or deals when we've had the capital raised, the due diligence has been completed and we've found some issues. So for us, our brand and our name are critical and the assets we buy are equally critical as well.
We strive to be an employer of choice. We started with one or two people, and today our business has got 22, I think, of the brightest and highest quality people that work in the industry. And we've had great stability in the team over the journey as well. 
We have a massive commitment to sustainability. For each of the assets that we buy, we want to make sure we can neutralise the carbon imprint as best we can. It's something that's woven through our fabric and it's critical because it goes to what we can sell the assets for in the end as well. So sustainability is a key part of what we do.
We also want to embrace a very good culture in both governance and our compliance and investment committees. So we've got an independent chairman. We've got an investment committee, that's got two very high-quality people that sit on that investment committee for us. The investment committee is five people, including myself, and two other people within the business. And equally importantly, those decisions need to be unanimous before we move forward. So governance and responsibility both within and externally are critical.
From an investor's point of view, what is it I think they get from us when they invest with us? They're getting access to a very experienced and stable team. I mentioned before the team that we've got, and we've got as I say, a brilliant group of people that are segregated between transactions, funds management, asset management, the financial accounting reporting that goes with their business and investor relations as well. 
We've got a proven track record. We're not someone that comes before people and say, look, we think we can do it, I know we've done it. Our returns stand for themselves and it's over quite a period of time now, since 2009. 
We talk about relationships with capital, and the preservation of capital for us is critical. It's one thing to focus on returns, the more important part for us is to focus on the preservation of capital and the returns that flow from that. 
If we do a job right and by that, I mean buy the assets well, manage the assets intensively, and then look to sell the assets in time, that's going to preserve the capital. And for us, if we can't continue to add value to the real estate, we'll typically look to move the assets on. We're not, what I call, a funds and management model, it's about the returns we deliver. So, the preservation of capital is critical.
We have a very active approach to adding value. For us, when we buy real estate we either want to structure the transaction right up front, we look to where we can add some value, lease some space, spend some CAPEX, strategic leads, just tighten the outgoings, et cetera, and just drive those returns from investors.
I guess the final thing I'd say with us is that my sense is that, and we get this feedback from investors all the time, it's an institutional-grade level of experience that we present to our capital investors, but it's the nimbleness of a boutique smaller group. We get around the corners pretty quick and look at a lot of deal flow. We've got access to very large amounts of capital and for that, we get to see a lot of deal flow as well. So we're nimble and quick, but we don't cut the corners. And we get that institutional experience, both with reporting and how we communicate with our investors.
Let's turn to a recent fund we've recently launched, which is the RF CorVal Property Fund, which for us is our flagship fund.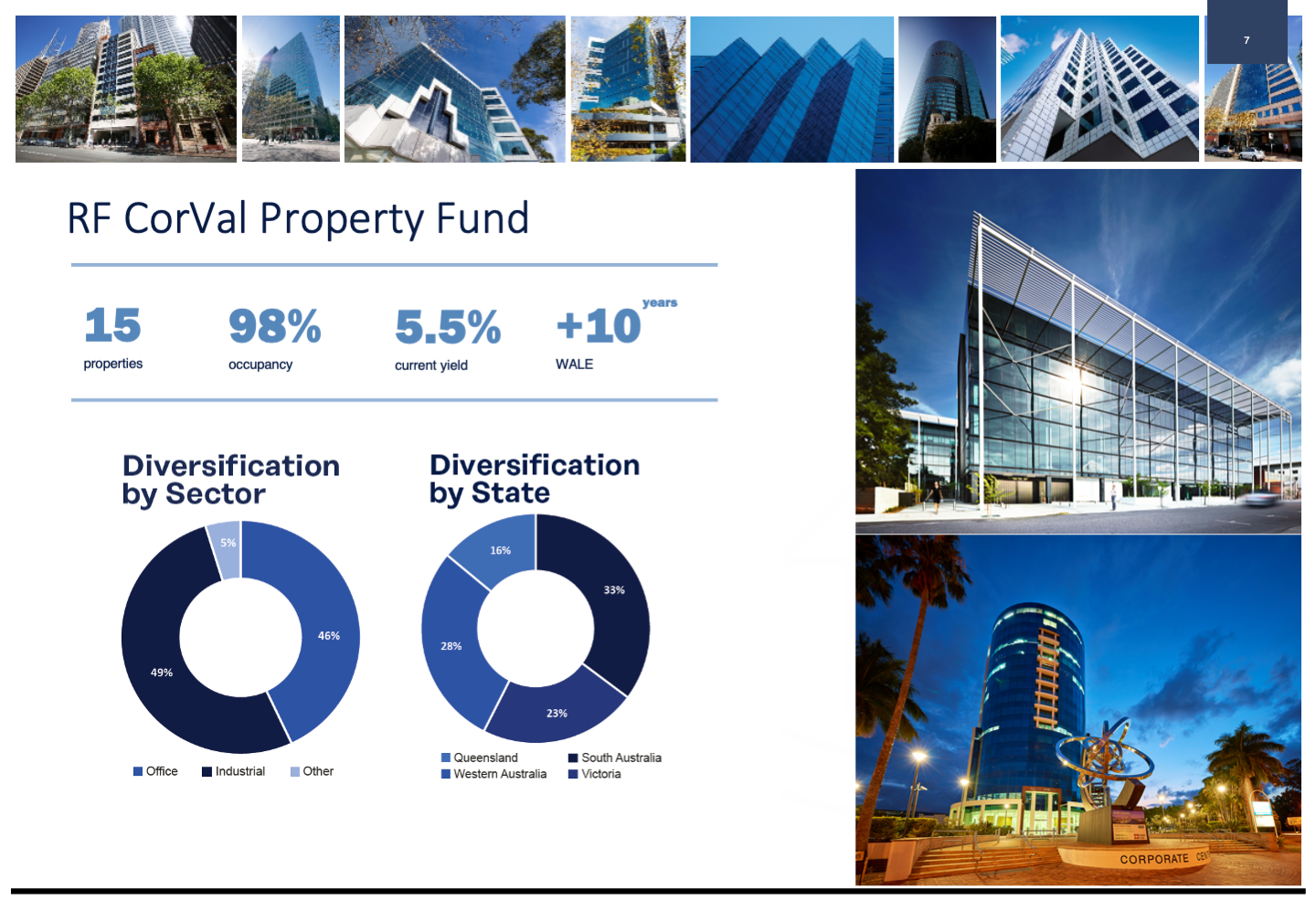 The Genesis for this fund comes about with a lot of our investors when they invest in our offerings, which typically are closed-ended offerings. By that I mean, we buy an asset, put it into an offering, raise them at a certain amount of capital, and that vehicle's then closed. A lot of our investors work for and equally, some don't. 
They want to be able to invest with us each day of each week of each month and for a fund that's perpetually open, and that's what this fund is.

Managed Fund
RF CorVal Property Fund
Australian Property
We've listened to our investors over the journey. As recently as February this year, we launched this fund. As I say, it's an open-ended, platform-friendly fund. It's on a number of platforms. It will continue to be added to more platforms, but it's the fund that we'll get a look at pretty much everything we do moving forward. 
We've seeded the fund with a range of different syndicate interests in various syndicates that CorVal currently manages, that's across eight different vehicles, it's a look-through of 15 different properties. As the slide here shows, it gives about a 98% level of occupancy, a whale of about over 10 years, and by whale I mean the average lease expiry. So that's the length of leases we've got in average, across the whole portfolio. 
It's currently paying a 5.5% distribution yield, and we're confident we can and we'll maintain that and look to grow that over time. 
As the charts show, it's got a diversification across office and industrial, pleasingly very high exposure to industrial assets. Nice geographic spread there. You'll note that there's no exposure to New South Wales at the moment, that's not deliberate, that's just the way the portfolio has fallen. And clearly, the intention over time is to add more New South Wales assets into the portfolio is regret.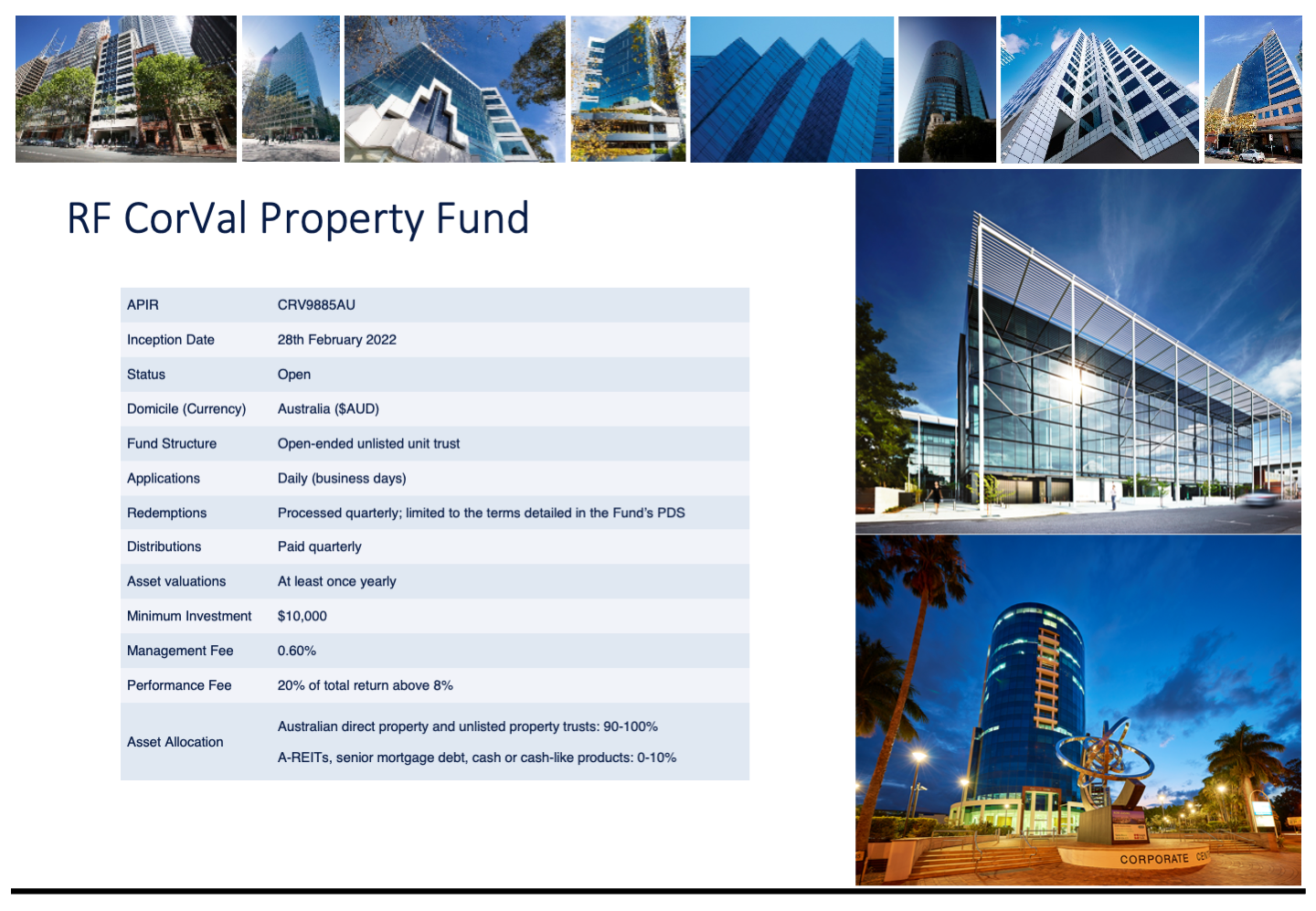 This slide here gives a brief snapshot of what the fund looks like. It's open at the moment and domiciled in Australian dollars. Its daily price, daily applications, distributions paid quarterly, assets will be revalued at least yearly, and minimum investments are only $10,000. 
The management fee is quite low, and I should point out that on the management fee, we don't charge any fees at this fund level where this fund invests into our syndicates. And what I'll equally say is that to reflect the importance of this fund, this particular fund will get at least a 20% look at each of our syndicates that we do as well. 
A lot of our investors prefer to pick and choose, and equally, some would rather go into a fund that gets that sliced look-through of what we do. So, to the extent that we invest into another CorVal syndicate, there won't be any fees charged on that investment at this level here.
Asset allocation will be very heavily skewed towards direct real estate, either direct assets in the fund or interest in other RF CorVal syndicates to the extent of 90 to 100%. We will keep a level of liquidity somewhere around the 10% level for cash or we may invest in rates, but more likely the intention is to invest mainly in cash. 
This will be our flagship fund. We'll be looking to really push and promote the fund. We've already had good flows into the fund. We've had a terrific response to it already. And it will sit at every everything that we do moving forward.
Turning to property markets in 2022 and the things we're focused on challenges and opportunities. Clearly, rising interest rates and inflation is obvious for everyone to see. The long term of COVID still needs to be worked through. We're still not sure what that means in terms of rents, demand for space, use of space, etc., and therefore the value of the assets we're buying. 
Supply chain and construction costs are clearly on the move. We don't see that as a permanent thing, but it's clearly there and obvious at the moment. And obviously the events in Ukraine with geopolitical events, which is very sad and unfortunate, but it's there and it's having a knock-on effect, not just real estate but the economy as well.
Off the back of that, the opportunities though that we're sort of really quite excited about is we think there's going to be some re-pricing, not material price adjustments but somewhat, and we think we're as well placed as any to benefit from that on the back of the capital partners we have and the people we have and the deal flow that we see. 
We're ready, willing, and waiting and on the back of that, we're actually net sellers of a lot of our real estate over the last couple of years. We think we're very well placed to benefit from that. We're looking at small turn of property sectors that are supported by, for example, longer-term leases in the agricultural space, the NDO sector as well with accommodation for people that desperately need that, we've done one or two transactions in that space and we're keen to do more.
Office properties are something we're looking at as well, selectively and cautiously. Particularly space that meets the needs of concerns of tenants around COVID closer to where people live. It's not that all office space is off the horizon for us, but we're cautiously selectively looking at a number of assets at the moment. And smaller industrial infill locations, assets that are supported by tenants. Vacancy rates are very low. The outlook for rent growth is very high. The purchase price is often supported by a very large component in the underlying land value. 
So we created a trust, the RF CorVal Industrial Infill Trust, that's already assembled circa $100 million worth of assets in that space across 12 or so assets. And we'll look to continue to grow that trust, because, as I say, we think that sector is very well placed.
In terms of how to get in touch with us, details are on the screen here, our email address, our website there. We've got offices here in both Sydney and Melbourne. So on that note, I'd like to thank everyone for their time to listen to our story and please reach out if you've got any questions or anything that we can assist you on. Thank you.
Bespoke real estate investments delivering strong, risk-adjusted returns
The recently launched RF CorVal Property Fund provides investors access to institutional quality real estate investments in a fund that offers investors improved liquidity over traditional unlisted real estate funds. Please visit the RF CorVal website or reach out to the team for more information.
Never miss an update
Enjoy this wire? Hit the 'like' button to let us know. Stay up to date with my current content by
following me
below and you'll be notified every time I post a wire
Welcome to Livewire, Australia's most trusted source of investment insights and analysis.
---
To continue reading this wire and get unlimited access to Livewire, join for free now and become a more informed and confident investor.
---
---
Livewire Exclusive brings you exclusive content from a wide range of leading fund managers and investment professionals.
........
CorVal Partners Limited (ACN 130 628 830) ("CorVal") has prepared this presentation for discussion purposes only. It contains general information only and does not take into account the investment objectives, financial situation, tax position or particular needs of any particular person. This presentation and any information, which may be proprietary in nature, disclosed in it is intended for the exclusive use of the recipients and is provided on the express understanding that it will be treated as strictly confidential and may not be reproduced, copied or distributed in any way without the prior consent of CorVal. Any intellectual property in the information disclosed in this presentation (IP) remains the property of CorVal or its related bodies corporate and no rights whatsoever in the IP are deemed to have been conferred on the recipients of this presentation. By accepting a copy of this presentation, you agree to be bound by the above limitations. While reasonable care has been exercised in the preparation of this presentation, no representation or warranty, express or implied, and no responsibility or liability of any kind is assumed or accepted by CorVal, its directors, employees, agents, related bodies corporate or representatives for:a) the reliability, reasonableness, adequacy, completeness or accuracy of the information contained in this presentation;b) the assumptions or information upon which the information in this presentation is based; andc) any losses or damage which may result directly or indirectly from any use of this presentation, and all liability is expressly excluded. Past performance is not a reliable indicator of future performance. This presentation does not represent an offer to sell, or a solicitation of any offer to invest in any fund. You may not rely on these materials in evaluating the merits of investing in any fund that employs any of the strategies referred to herein. Any reference to any security and /or a particular issuer does not constitute a recommendation to buy or sell, offer to buy, offer to sell, or a solicitation of an offer to buy or sell any such securities issued by such issuer. Prior to acting upon any information contained in this presentation, recipients should seek and, will be deemed to have sought, professional advice, including legal, regulatory, tax, financial and accounting advice and should carry out, and will be deemed to have carried out, their own due diligence, in making their own independent assessment of, and investigation into the risks associated with and the appropriateness of the investments, strategies or information contained in this presentation.
---
Livewire Exclusive brings you exclusive content from a wide range of leading fund managers and investment professionals.
Expertise
Livewire Exclusive brings you exclusive content from a wide range of leading fund managers and investment professionals.
Expertise