TikTok and the Age of Discovery
---
TikTok has changed the consumer experience forever with a hyper-personalised discovery experience that can beat the US incumbents.
TikTok has equalised against Facebook (which has 4 of the 5 mobile apps with 2bn+ downloads in its stable) within just a few years. With a pay-to-play go-to-market and a superior product, TikTok has done the impossible. Discovery-lead, hyper-personalised experiences are what consumers are demanding and we are seeing the dawn of a new age.


The Age of Discovery is here and it poses the biggest threat to incumbent category-leading consumer apps in a generation.


TikTok as a category killer
There are many differences between TikTok and everyone else. The biggest is its world-destroying discovery-native architecture.
‍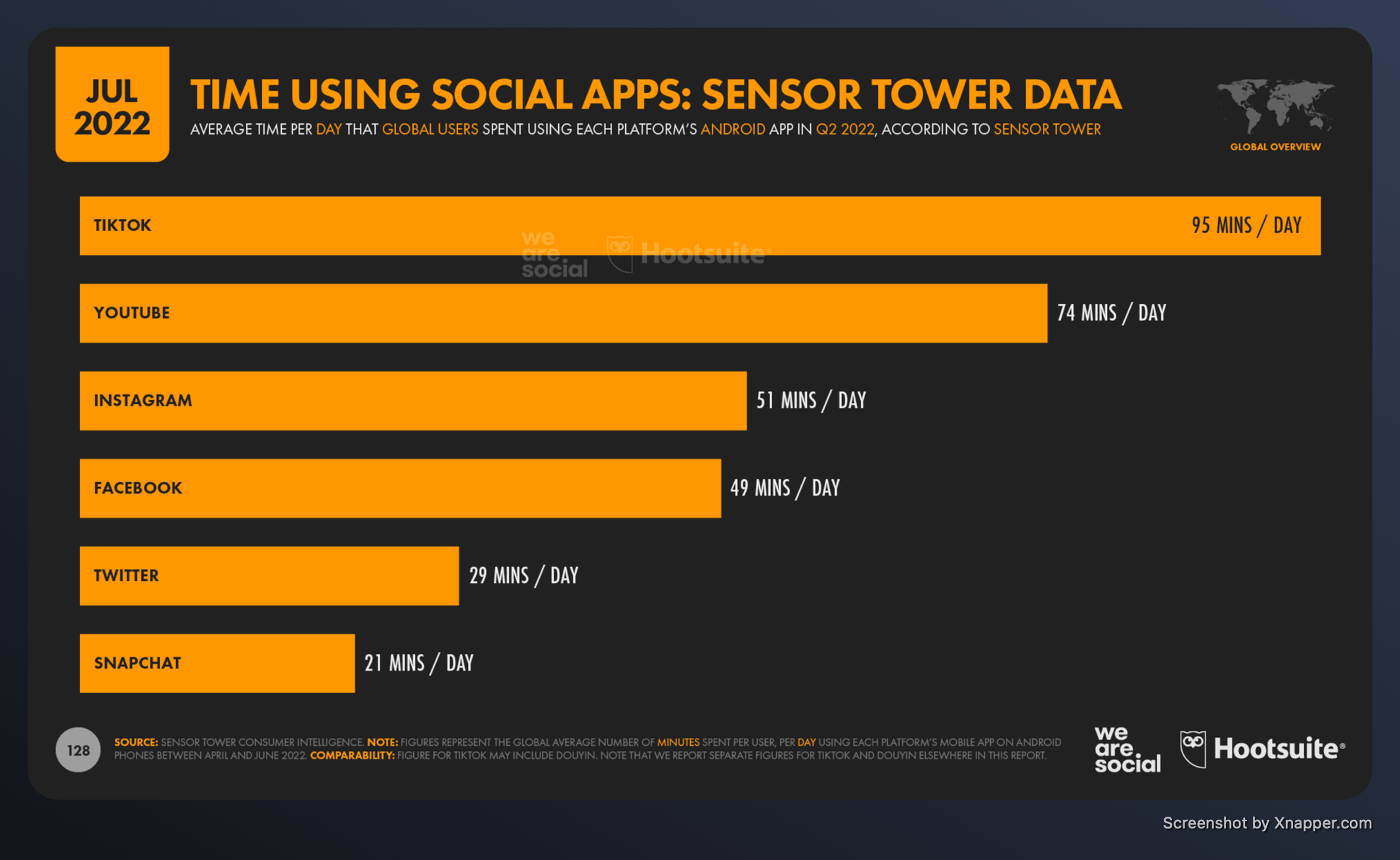 Facebook (NASDAQ: META) and its limbs have enjoyed relative incumbency for a decade since crushing MySpace, Google+, and others. It has been able to copy features and leverage its superior distribution with Snapchat Stories, etc. until TikTok has come along.
With its discovery-native, fresh short-form video it has blitzed Facebook and Instagram to become the most-consumed social mobile app globally. "Data is the new oil" used to be true. Oil is a state of potential and becomes useful when you feed it into a powerful engine; TikTok's discovery algorithm.
‍
All incumbents should see this as a warning that even the enormous distribution advantages and the gravitational pull of market leadership can be overcome with a discovery-native application.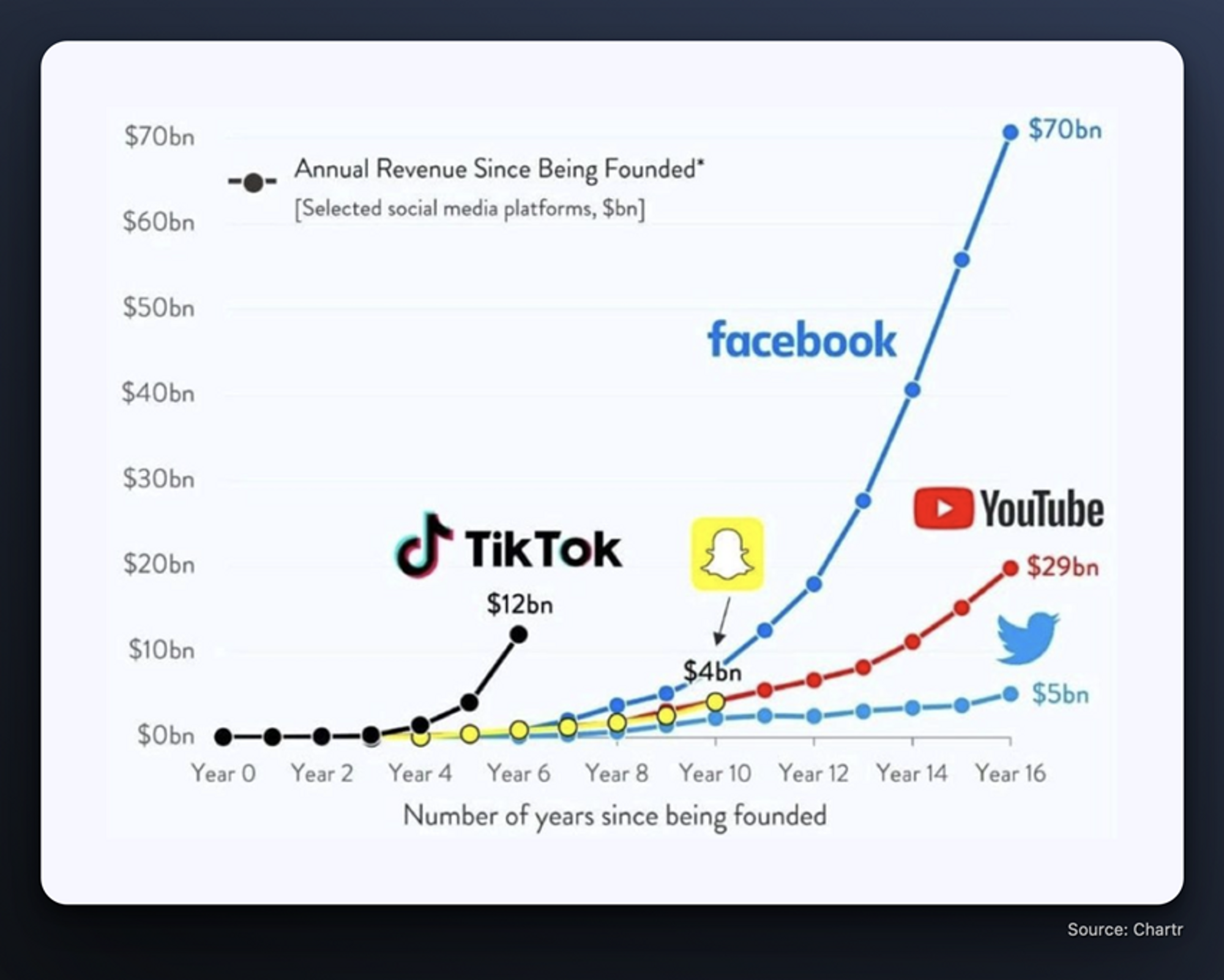 What is Discovery?
TikTok's 'For You' is a magical consumer experience. There is a magic - a wow - to discovering something you didn't know existed. It's the serendipity of your favourite song coming on the radio, which generates greater overall joy than just searching for the song and putting it on. The wonder and awe of discovery is a plainly superior customer experience.
TikTok's recommendation algorithm uses data collected from users' interactions, device settings, and usage patterns to personalise video recommendations. A complex machine learning algorithm is used to analyse the data and takes into account various factors such as the video type, hashtags, popularity, and trending. The use of AI allows the algorithm to adapt and improve recommendations over time, and deep learning helps identify patterns and suggest fresh, engaging content.
‍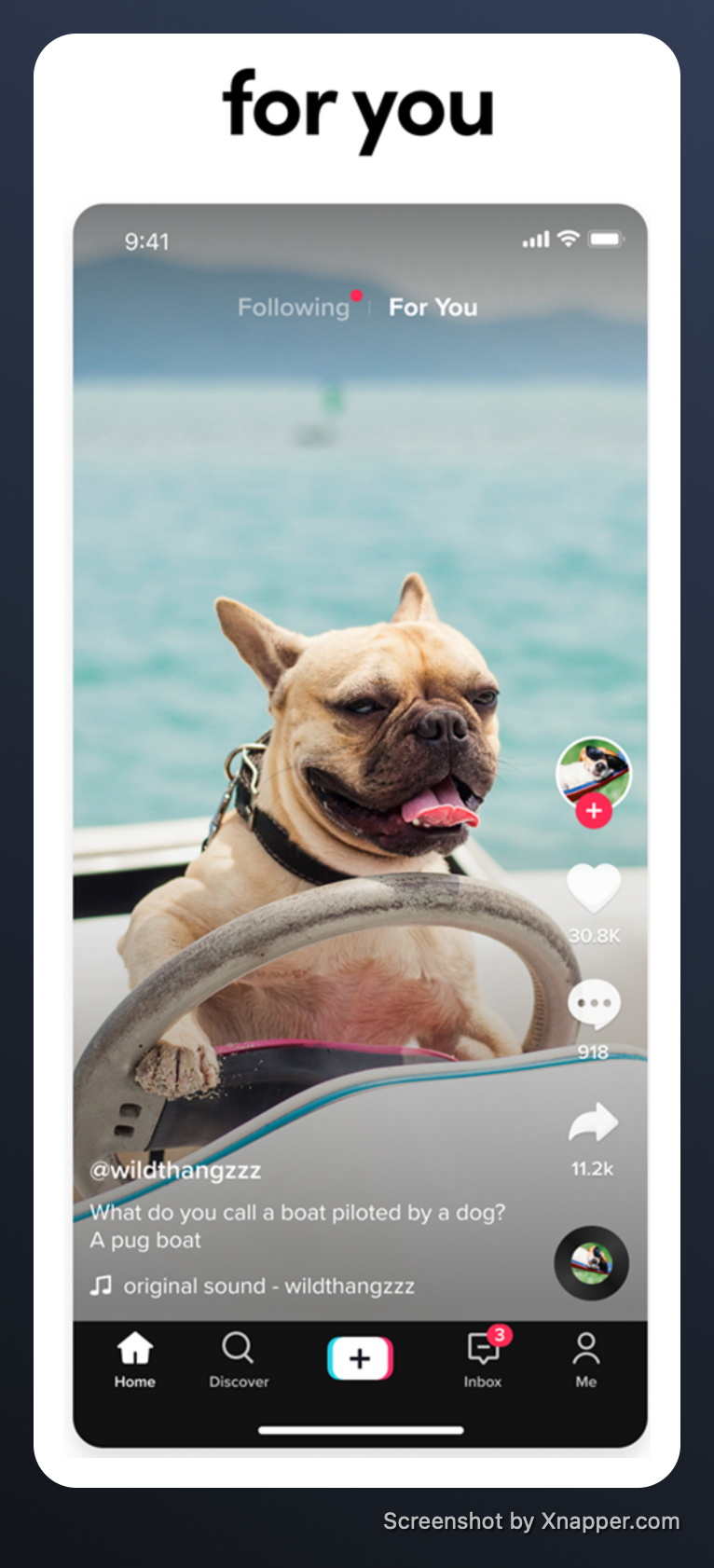 Instagram is still search native, as hashtags were a legacy solution to solve for poor metadata around content tagging.
Overall, both Facebook and Instagram's recommendation algorithm focuses on personalising content for users, but TikTok's algorithm places a heavier emphasis on the content itself and its engagement metrics. For Facebook and Instagram, this can result in less discovery and a feed that's more cluttered with sponsored posts.

‍The Instagram Explore page just doesn't yield the same experience as TikTok's discovery engine.
The Age of Discovery Dawns in E-commerce:
Unsurprisingly, Chinese consumer internet companies have taken the discovery-first principles of platforms like Douyin and TikTok and leveraged them for e-commerce. If discovery is superior to search in social, why wouldn't it be in commerce? Especially since China has led the way in social commerce with the likes of PinDuoDuo and facilitated the rise of Commerce as a form of entertainment.
Shein is a Chinese fast fashion brand that has leveraged a powerful discovery and real-time recommendation engine to barnstorm its way into the lucrative US fast fashion market. Knocking off incumbents like Zara and H&M is no small feat and shows the supremacy of discovery spreading beyond China and beyond social media.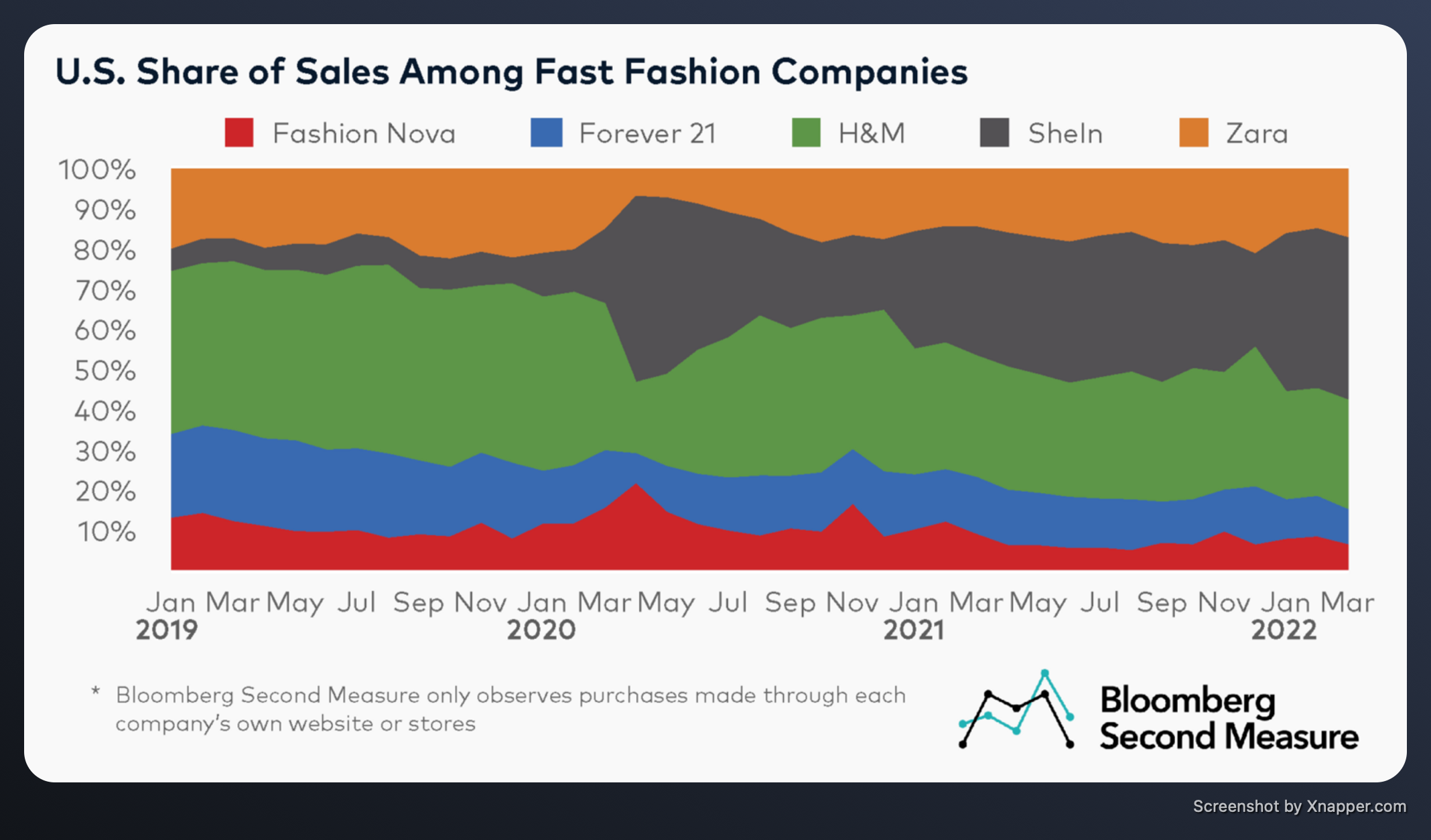 Part of its popularity and speaking to the fusion of discovery social and discovery commerce is its rapid raise to become the dominant shopping haul Hashtag on TikTok: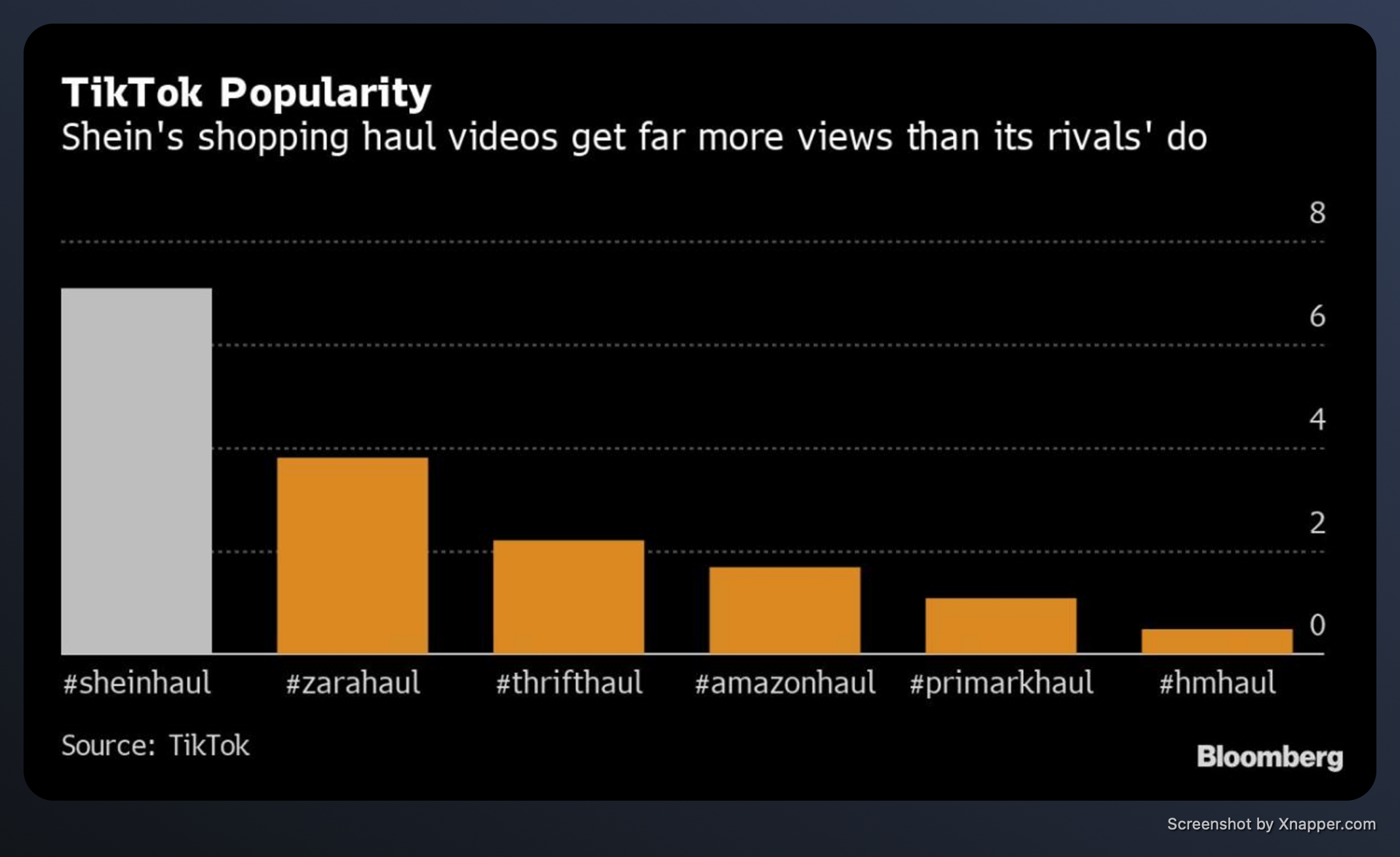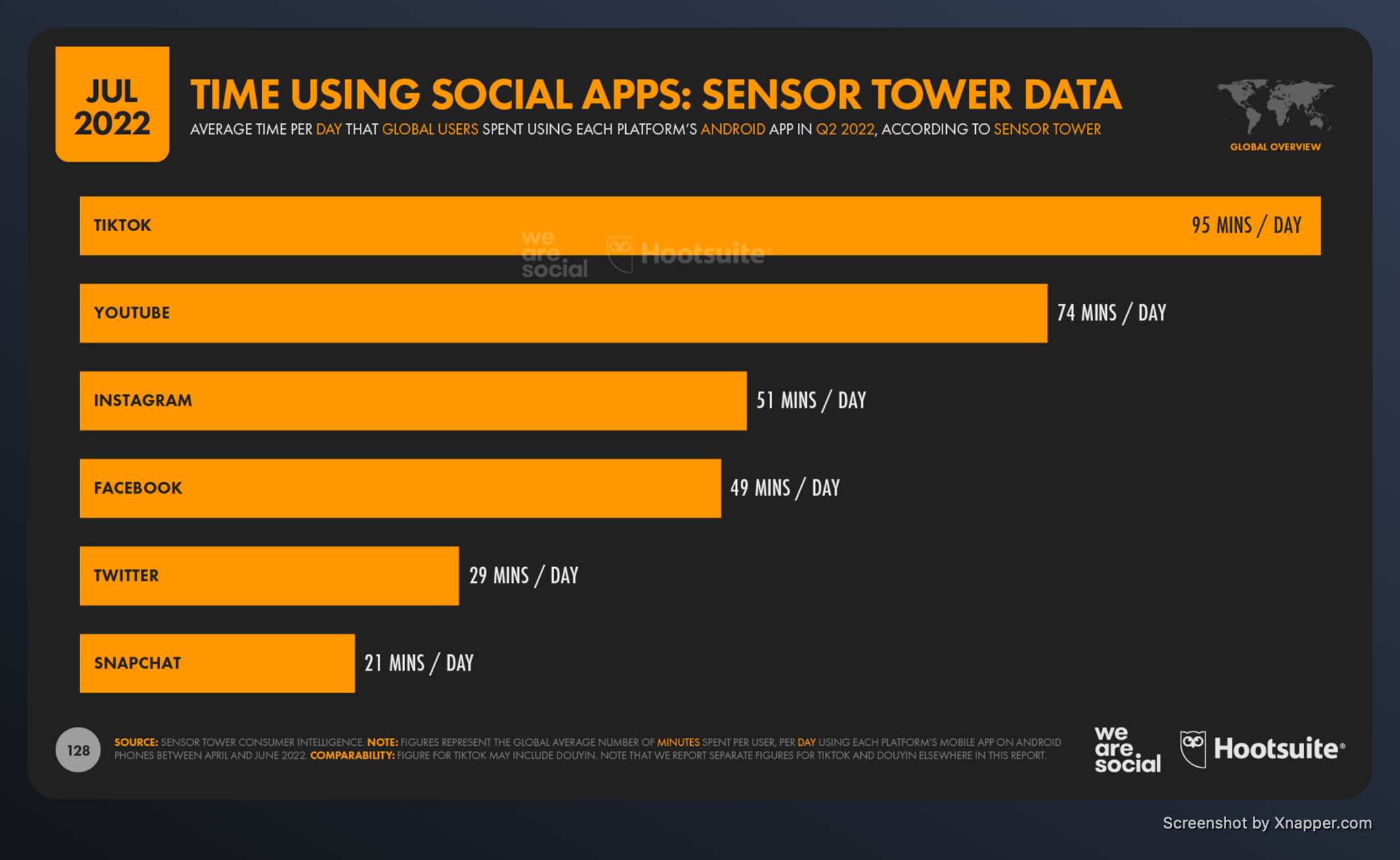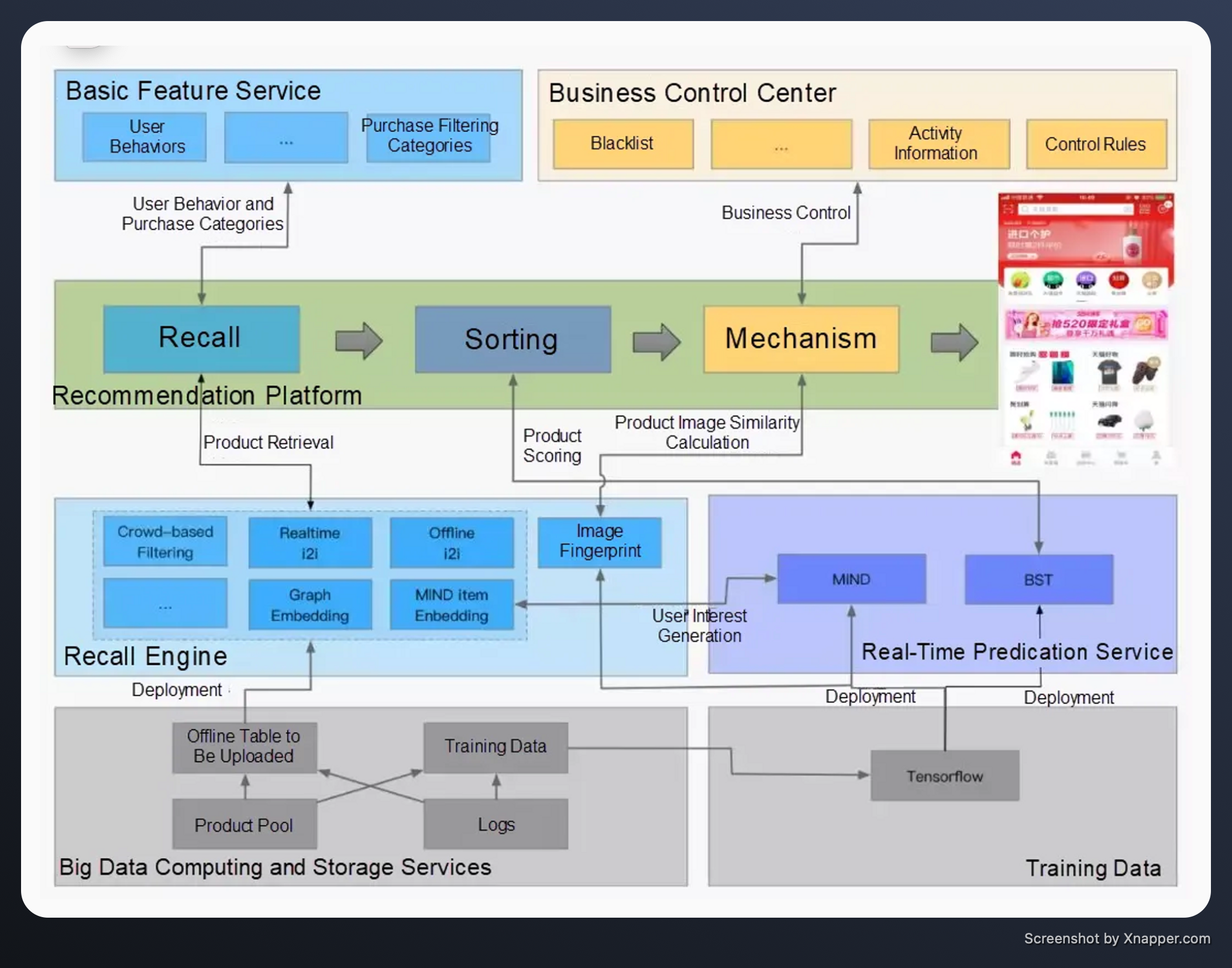 On the other hand, Amazon (NASDAQ: AMZN) or Zara or pretty much any major western e-commerce experience is a search bar with quick links to products below; no discoverability.

More recently, Temu, a Chinese social commerce platform, has launched in the US and exploded onto the charts, becoming the most downloaded Shopping app in all the app stores in the US during peak shopping season.


Just this week, they bought a primetime Super Bowl Ad and have kicked off a battle for discovery in America. We are entering a new age in commerce.


Discovery is a 10x better product experience as TikTok, Shein and Temu have shown. The leading consumer apps of the next decade will become hyper-personalised and discovery-native. For example, grocery apps recommend lists and meal plans based on the age and type of purchaser, or restaurant recommendations based on prior order history.
Long live the Age of Discovery.
Never miss an insight
If you're not an existing Livewire subscriber you can sign up to get free access to investment ideas and strategies from Australia's leading investors.
You can follow my profile to stay up to date with other wires as they're published – don't forget to give them a "like". 
Never miss an update
Enjoy this wire? Hit the 'like' button to let us know. Stay up to date with my current content by
following me
below and you'll be notified every time I post a wire
Welcome to Livewire, Australia's most trusted source of investment insights and analysis.
---
To continue reading this wire and get unlimited access to Livewire, join for free now and become a more informed and confident investor.
Stew Glynn is the Managing Partner & Co-Founder of TEN13. A co-investment platform that provides sophisticated investors access to exciting private early-stage technology deals.
........
TEN13 Management Pty Ltd (TEN13 Management) is a corporate authorised representative of Boutique Capital Pty Ltd (BCPL) AFSL 508011, CAR Number 1298306. TEN13 Nominee Pty Ltd (TEN13 Nominee) is a corporate authorised representative of BCPL, CAR Number 1298307. Together, TEN13 Management and TEN13 Nominee are referred to as we, us, or our in this document. To the extent to which this document contains advice it is general advice only and has been prepared by us for individuals identified as wholesale investors for the purposes of providing a financial product or financial service, under Section 761G or Section 761GA of the Corporations Act 2001 (Cth). The information herein is presented in summary form and is therefore subject to qualification and further explanation. The information in this document is not intended to be relied upon as advice to investors or potential investors and has been prepared without taking into account personal investment objectives, financial circumstances or particular needs. Recipients of this document are advised to consult their own professional advisers about legal, tax, financial or other matters relevant to the suitability of this information. The investment summarised in this document is subject to known and unknown risks, some of which are beyond our control and our directors, employees, advisers or agents. We do not guarantee any particular rate of return or the performance, nor do we and our directors personally guarantee the repayment of capital or any particular tax treatment. Past performance is not indicative of future performance. The materials contained herein represent a general summary of our current portfolio construction approach. We are not constrained with respect to any investment decision making methodologies and may vary from them materially at its sole discretion and without prior notice to investors. Depending on market conditions and trends, we may pursue other objectives or strategies considered appropriate and in the best interest of portfolio performance. There are risks involved in investing in our strategy. All investments carry some level of risk, and there is typically a direct relationship between risk and return. We describe what steps we take to mitigate risk (where possible) in the investment documentation, which must be read prior to investing. It is important to note that despite taking such steps, we cannot mitigate risk completely. This document was prepared as a private communication to clients, is confidential and is not intended for public circulation or publication or for the use of any third party, without our approval. Whilst this report is based on information from sources which we consider reliable, its accuracy and completeness cannot be guaranteed. Data is not necessarily audited or independently verified. Any opinions reflect our judgment at this date and are subject to change. We have no obligation to provide revised assessments in the event of changed circumstances. To the extent permitted by law, BCPL, we and their directors and employees do not accept any liability for the results of any actions taken or not taken on the basis of information in this report, or for any negligent misstatements, errors or omissions. TEN13 Disclaimer TEN13 Nominee may, from time to time hold securities referred to in the information herein and may trade in these securities as a nominee (either as principal or as agent). We may receive commissions, fees or other forms of remuneration from transactions involving investments referred to in the materials. By accepting the materials contained herein, you agree to indemnify TEN13 Management, TEN13 Nominee, Transition Level Investments Pty Ltd ACN 154 457 155, TEN13 Holding Pty Ltd ACN 634 042 783, and Birkdale Holdings (Qld) Pty Ltd ACN 120 407 981 ATF the Baxter Family Trust and any of their respective directors, officers, employees, consultants, advisors or agents (TEN13 Parties) against any claim, liability, action, damage, loss, cost or expense sustained by any of them arising from or as a result of any breach by you of the confidentiality obligation under this disclaimer. The TEN13 Parties: disclaim and exclude all liability for all losses, claims, damages, costs and expenses of any nature arising out of or in connection with the materials contained herein (or any accompanying or subsequent information); and do not have any obligation to advise any person if they become aware of any inaccuracy in, or omission from, the materials contained herein (or any accompanying or subsequent information).
---

Never miss an update
Get the latest insights from me in your inbox when they're published.
---
---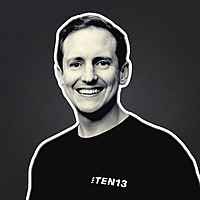 Stew Glynn is the Managing Partner & Co-Founder of TEN13. A co-investment platform that provides sophisticated investors access to exciting private early-stage technology deals.
Expertise