Trump: The opportunities and impact to date
---
Mr Trump's executive appointments will give the first indications of what sort of government he will lead.  As such there will be potential for upside or downside surprise in the short term as markets get to know the incoming administration. The medium term impact on markets will be determined by Mr Trump's capacity and willingness to execute on the sometimes conflicting demands of his agenda.  Mr Trump has been promoted as a results-driven dealmaker who can negotiate effectively. His challenge is to translate these skills into politics and diplomacy. Our initial expectation is that diplomacy, as well as negotiations with Congress, will continue to appear as complicated as ever.
What we know of Mr Trump's platform suggests his administration will:
Prioritise domestic affairs over international
Adopt some elements of a mercantilist approach to trade
Adopt a supply-side approach to economic management, with a stated goal to substantially invest in infrastructure. 
The investment implications of the above could unfold in many ways, depending on future inter-reaction with other pillars of US government, consumers, rival nations, economies and even nature. Broadly speaking, however, we would expect;
Greater geopolitical risks should a Trump presidency prove isolationist. Rival powers may seek to re-test established boundaries, raising risk premiums generally
A more cynical approach to international trade may weaken deflationary forces/strengthen US inflationary pressure, weighing on bond prices and global growth
Demand for investment capital and/or debt capital to fund infrastructure plans, weighing on bond prices
The above three to reduce demand for 'higher yield' currencies (such as the Australian dollar).
Higher yields on 10-year bonds post Mr Trump's election suggest an early consensus around these views.  A risk to this consensus is that Mr Trump's presidency does not deliver on its election platforms.  It is important to note that yields had already risen from their depths well before Mr Trump's election. This is important; it indicates to us his election supports rather than makes the argument for weaker bond prices.  
How does Mr Trump's election impact on NovaPort's role as an investor in Australian Smaller Companies?
NovaPort adopts a fundamental based, index unaware, stock selection approach.  We have previously spoken of elevated risks and opportunities in the marketplace driven by increased valuation dispersions.  We believe investors have sought returns by crowding into those equities offering some bond like characteristics (e.g. short-term earnings certainty). The risks of this 'crowded trade' were present regardless of the outcome of the US election. Indeed we saw some unwinding of the valuation dispersions before the election. To our minds, Mr Trump's electoral success has made them more topical. Our portfolio positioning has exposure to companies generating shareholder value, however, is balanced against 'growth at any price'.
Specific opportunities in the Australian context
Commodities. Increased trade protection and infrastructure spending have the potential to impact on various commodities in differing ways.  We would anticipate that a lift in the steelmaking capacity utilisation of the USA's Electric Arc Furnaces will support stronger scrap metal prices. The stainless steel (and hence nickel) markets may also see some shifting fundamentals due to protectionism, accentuated by China's dominance in RKEF/NPI units. Similarly, in energy markets, the sheer scale of these markets makes it difficult to foresee how the US election alone will substantially impact them. Gold seems likely to remain a wildcard as to our minds gold demand fundamentals are driven by highly derivative and unpredictable sentiments.
The healthcare sector appears likely to come under increased scrutiny, however, already we have observed the President-elect shift and adopt a different tone. Healthcare is a huge and growing area of expenditure thus remains subject to regulatory risks under any administration. It is always politically sensitive. We believe stock selection is the best way of investing in this segment.
Trade exposed industries. Several years ago the Australian government reformed the anti-dumping commission in an attempt to bring a more responsive and dynamic approach to case resolution. Similarly, anti-dumping regulators in the USA have been pro-active in imposing and enforcing substantial duties on goods where it believes the World Trade Organisation (WTO) trade conventions have been circumvented. It would appear that the election of Mr Trump will see these actions extended. It remains to be seen whether this is expressed via stronger enforcement of WTO principles (as has been done in recent years), demands to change WTO principles or even by abandoning them. Australian manufacturers and regulators may find opportunities to lift barriers in this environment. However, the clarity around how this might play out will only arrive as we observe the rhetoric and actions of the new administration. 
Conclusion and impact on NovaPort's portfolio positioning
Our portfolio positioning is based on investing in companies where we can see attractive upside over a three-year view. We continue to monitor the regulatory and industry dynamics which might change our views on investments, or potential investments. From a macroeconomic sense, the market was already beginning to anticipate a shift to higher interest rates and inflation over time, and the election may change the pace, but does not appear to have altered the direction of these moves.  The potential for greater volatility will create opportunities and threats for investors however to us; market movements so far have not indicated a change in course so much as an increase in velocity. 
Contributed by NovaPort Capital:  (VIEW LINK)
---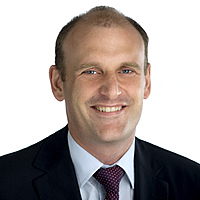 Fund Manager
NovaPort Capital
Sinclair Currie is a Principal and Co-Founder of NovaPort Capital with 24 years of investment experience. Prior to establishing NovaPort, Sinclair worked at Challenger Limited (Challenger) managing over $200 million in funds.
Expertise