Two undervalued e-commerce businesses with enormous scope for growth
---
For investors in the crowded global ecommerce space, there's little room for error.
While high-multiple businesses focussed on developed western markets garner most of the attention, businesses that provide exposure to increasing ecommerce penetration in emerging markets with enormous addressable markets, continue to trade at attractive prices.
Sea Limited (NYSE: SE) and MercadoLibre (NASDAQ: MELI) are two companies dominating in both Southeast Asia and Latin America.
The markets
In Southeast Asia and Latin America, e-commerce penetration remains low relative to other regions in the world. Both regions currently have e-commerce penetration rates at around 13% of retail sales and this has increased significantly from around 5% prior to COVID-19.
The digitisation process and especially the banking process will present immense opportunities for e-commerce over the next decade. 
In particular, in Latin America more than half of the population is either unbanked or under-banked, meaning a huge chunk of the population doesn't even have a credit card to shop online. This is creating opportunities for players such as MercadoLibre.
Yes there are an increasing number of companies eying a slice of this this lucrative e-commerce space, but in reality, we are in the early innings of this opportunity in Southeast Asia and Latin America.
The opportunities
Whilst the market opportunity is compelling, we are particularly attracted to Sea Limited and MercadoLibre due to their market leading positions within their respective core markets.
E-commerce marketplaces tend to have very strong network effects, with more sellers and choice on the platform leading to more buyers and vice versa. These strong network effects tend to lead to leading e-commerce marketplaces consolidating market share within their respective markets.
Both Sea Limted and MercadoLibre are clear leaders in their core markets across all key metrics – gross merchandise value/market share, monthly active users, and daily active users and monthly active users.
For example, 25% of Latin America's SMEs (small and medium-sized enterprises) attribute at least 50% of their annual revenue to MercadoLibre. 
MercadoLibre's ecosystem plays a huge part in this advantage. It provides the software platform from operating an online shop, direct control of the logistics system that delivers products, and a platform for a company's banking inside Pago (Mercado's payments platform) that's integrated with the marketplace.
Mercado runs rings around some competitors who are unable to provide this comprehensive ecosystem. As such, we believe both businesses have built very strong moats around their e-commerce businesses.
Importantly, these companies also provide robust exposure to the nascent opportunity in Fintech that arises from large unbanked and underbanked populations. 
In Southeast Asia, there are some 200 million adults without a bank account, and a further 100 million adults that are classified as underbanked (i.e. have a bank account, but limited access to financial services including credit). This means that around 75% of the adult population is either unbanked or underbanked.
We believe that both companies are in a strong position to fill the void by virtue of the large existing customer bases that they have from their market leading e-commerce businesses. 
Domestic competitors have been unable to compete on breadth of product largely retained to first party business models - they do not have the full service ecosystem that Mercado offers.
Both companies encourage payment on their e-commerce platforms via digital wallets (MercadoPago for MercaoLibre and SeaMoney for Sea Ltd.). This wallet can then be used as a gateway for a broader range of financial services such as online & offline payments, credit, insurance, wealth management and even a full-service bank account.
We have seen evidence of this playbook being executed in China, with Alibaba and Ant Financial.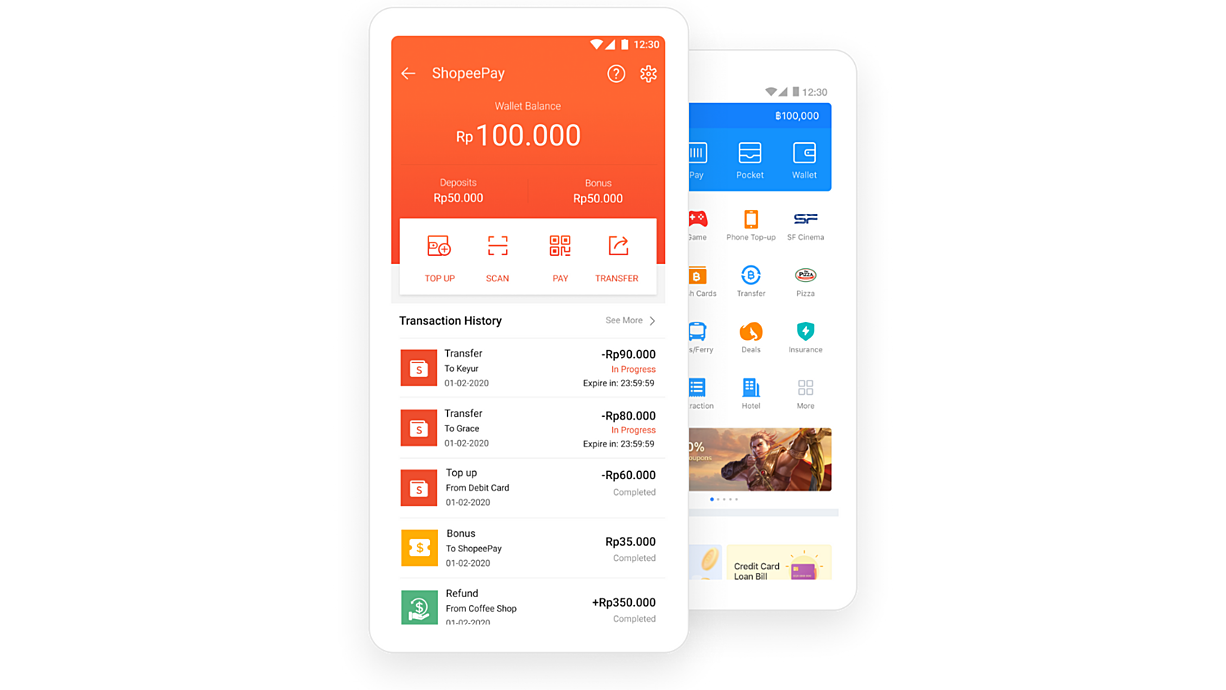 SeaMoney's Shopee Pay App (image: seamoney.com)
The outlook
MercadoLibre's retail sales in LATAM are forecast to increase from US$650 billion in 2021 to US$900 billion by 2025.
For Sea Limited, retail sales (excl. auto sales & fuel) in its core Southeast Asian market is forecast to increase from US$750 billion in 2021 to US$1 trillion by 2025.
It is worth noting that Sea Limited has also started taking its Shopee e-commerce business to other regions in the world. They are targeting regions where e-commerce penetration in long-tail (niche) categories, which is Shopee's strength, is still low.
So far, the company has entered or plans to enter LATAM, India, Europe and the Middle East.
Adding these regions into the mix increases Shopee's 2025 e-commerce total addressable market by 3.5x - from US$250 billion in Southeast Asia only, to US$950 billion across all of these regions.
Shopee's successful launch in LATAM, where it has already become the number two player in terms of monthly active users in a little over a year gives us confidence that they will be able to replicate this success in other regions of the world.

Keep up to date with the latest global investing insights from Antipodes
Visit the Antipodes website or follow the team on Linkedin
........
This communication was prepared by Antipodes Partners Limited (ABN 29 602 042 035, AFSL 481 580) (Antipodes). Antipodes believes the information contained in this communication is based on reliable information, no warranty is given as to its accuracy and persons relying on this information do so at their own risk. This communication is for general information only and was prepared for multiple distribution and does not take account of the specific investment objectives of individual recipients and it may not be appropriate in all circumstances. Persons relying on this information should do so in light of their specific investment objectives and financial situations. Any person considering action on the basis of this communication must seek individual advice relevant to their particular circumstances and investment objectives. Subject to any liability which cannot be excluded under the relevant laws, Antipodes disclaim all liability to any person relying on the information contained on this website in respect of any loss or damage (including consequential loss or damage), however caused, which may be suffered or arise directly or indirectly in respect of such information. Any opinions or forecasts reflect the judgment and assumptions of Antipodes on the basis of information at the date of publication and may later change without notice. Any projections are estimates only and may not be realised in the future. Information on this website is not intended as a securities recommendation or statement of opinion intended to influence a person or persons in making a decision in relation to investment. Unauthorised use, copying, distribution, replication, posting, transmitting, publication, display, or reproduction in whole or in part of the information contained on the website is prohibited without obtaining prior written permission from Antipodes. Pinnacle Fund Services Limited ABN 29 082 494 362 AFSL 238371 is the product issuer of funds managed by Antipodes. Any potential investor should consider the relevant Product Disclosure Statement available at www.antipodesonespartners.com when deciding whether to acquire, or continue to hold units in a fund. The issuer is not licensed to provide financial product advice. Please consult your financial adviser before making a decision. Past performance is not a reliable indicator of future performance.
---
Portfolio Manager
Antipodes
Sunny Bangia has over a decade of experience investing in Asia. He is the portfolio manager of the Antipodes Asia Fund. Prior to joining Antipodes, Sunny was a strategist at Platinum Asset Management, primarily covering Asian equities. From 2010...
Expertise