7 reasons to believe the market hasn't peaked
---
US equities plunged quickly on October 10, seemingly in response to several elements but nothing in-particular. US 10-year bonds traded through 3.12% and up to 3.24% on strong payroll data. Fed chief Powell declared rates to be a 'long way from neutral' and angst grew around the trade war with China.
The correction unfolding currently should be viewed as corrective within a maturing bull market rather than a topping market reacting to valuation excess and systemic issues. I would concede this opinion is now contrarian but nonetheless remains our house view.
Credit conditions as expressed through various 'spreads' are benign: BBB/Baa-10 UST, the TED, BarCap US High Yield – 10 UST, US LIBOR-OIS to name a few.
The US Yield curve has been flattening but remains positive.
Equity issuance is happening at reasonable but not excessive levels (201 deals for US$54bn).
BAML's latest fund Manager survey notes the allocation to US equities is at 3-year highs but cash weights are now above 10-year averages (5.1% v 4.5%).
The US Equity Risk Premium (ERP) is presently ~ 4.3%. This is broadly in line with the long-term median for the measure. Indicating neutral territory for equities v bonds? Most major equity corrections have occurred at an ERP of < 2%. Portfolio managers are a long way from a tactical re-allocation in favour of bonds (Australia ERP ~ 7.6%).
Research house, Strategas, observed that the average mid-term election year correction is ~ 19% but turns out to be a buy set-up for the following year. A Q4 surge typically follows. In fact the S&P500 has not declined in the 12 months following a mid-term election since before 1950.
Seasonally the market tends to bottom September-October.
Eley Griffiths Group expect conditions to remain volatile for the short term and how the market chooses to digest Q3 reportings will be instructive as will the planned IPO of UBER and its mooted US$100bn valuation.
There is little to dissuade us from our constructive view of equities but we will monitor the relative performance of small v big caps closely.
Eley Griffiths are style agnostic and can own both growth and value companies to construct portfolios that will outperform, something that we have consistently achieved through a variety of market conditions over the past 15 years. Find out more
---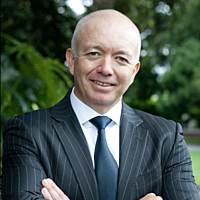 Principal and Portfolio Manager
Eley Griffiths Group
Ben Griffiths is the managing director and a senior portfolio manager at Eley Griffiths Group and has over 30 years of financial markets experience. He Co-founded Eley Griffiths Group in 2002 with Brian Eley following a successful career as joint...
Expertise