A strong foundation for building yield
---
Commercial real estate is an income-generating asset class that covers a broad range of property types, including office buildings, shopping centres, warehouses and other specialist properties such as hotels, childcare centres and data centres. As an alternative investment to equities and bonds, investments in commercial real estate assets offer the potential for both stable rental income and long-term capital growth.
Commercial real estate assets are unique to other assets classes in that the income is controlled by a pre-determined lease agreed between the owner and the occupier. Leases are often agreed for long terms (typically five or more years) with regular annual upward rent escalations.
This therefore provides the investor with increasing rental income – often above the rate of inflation – for a pre-determined amount of time, which can make commercial real estate assets an attractive income source.
The yield from a commercial property – that is, the cash flow as a percentage of its valuation – is typically much higher than what can be obtained from residential property.
One of the key advantages of commercial real estate assets is that they are tangible, which allows for an asset manager to enhance the value of the asset through active management. Typical strategies to improve the value of an asset include tenant optimisation and negotiation, refurbishment and potentially even development.
This active approach can help provide a growing income stream from the asset, while also contributing to long-term capital growth and the prevention of obsolescence.
Australian commercial property yields have been trending downwards over the past 10 years, with national yields now at their lowest recorded levels. However, low bond yields, the yield spread between Australian indexed government bonds and Australian commercial property yields all remain at a healthy level, meaning commercial real estate has maintained its attractiveness as an investment in comparison to other asset classes.
Commercial property yield spread to 10-year AUD Govt. bonds
Source Bloomberg, JLL Research

Prime commercial real estate yields

Source: JLL Research

Fort Street Real Estate Capital Pty Ltd (the investment manager) is an Australian commercial real estate fund manager that manages a series of four commercial real estate funds with total assets under management of more than $730 million.
The primary investment objective of the Fort Street Real Estate Capital (FSREC) Fund Series is to provide investors with secure and stable rental income through exposure to a diversified portfolio of Australian-based commercial property assets with potential for capital growth over the long term.
Our approach to generating income and where we add value.
The investment manager has a disciplined approach when it comes to investing. It targets commercial real estate assets yielding 5-8% per annum, however, will also consider properties outside of this criterion where circumstances suggest that a particular asset may provide superior returns for the fund series' investors.
The investment manager's investment strategy is to focus on:
- office buildings in CBDs, fringe CBDs and major suburban centres,
- retail centres where the majority of income is derived from non-discretionary retail,
- specialist properties including industrial, healthcare and other specialist uses.
The target is commercial real estate predominantly on the east coast of Australia in major metropolitan and strong regional centres.
Since the first fund's inception six years ago, FSREC has grown to become one of the largest unlisted owners of convenience-based shopping centres in Australia. A convenience-based shopping centre is typically anchored by a major supermarket (e.g. Coles or Woolworths) and has a significant proportion of the centre's turnover generated by tenants selling essential goods and services, also often described as non-discretionary retail uses.
Examples of these uses include bakeries, butchers, hairdressers, newsagents, pharmacies and medical centres. Convenience-focused shopping centres are also characterised by their ease of access and ability to service the community's everyday needs.
The investment manager team is highly experienced in identifying and acquiring assets of this type and adds value for investors through active management to improve the calibre of the tenancies, the operation of the centres and other initiatives such as refurbishment and development to increase the income from the property.
In addition to retail, FSREC also invests in the office sector, currently owning and managing a commercial office building in Mascot, Sydney. This asset is strategically located adjacent to Sydney airport and is fully leased to government and major international companies on long-term leases.
Mascot is an attractive location to FSREC as the office rents are comparatively low when compared to other markets in Sydney – especially the CBD. Given extensive private developments along with significant infrastructure investment in the area to expand the airport and improve transport connections, the investment manager anticipates that rents will increase in the medium term, which will therefore have a positive impact on the rental return and the capital value of the asset.
Another example of how we add value was through an office asset that was acquired and more recently sold on St Kilda Road in Melbourne. At the time of purchase, the property was dated and required renovation. Following a comprehensive repositioning and re-leasing process, as well as remediation of the façade through installing new lifts and a new entry foyer, the property was sold three years after purchase for a 75% gain on initial investment.
This case study is demonstrative of the value that FSREC can add for investors through active management and the recycling of capital.
241 O'Riordan Street, Mascot – FSREC Fund III
Source: FSREC
Rules we follow and why they are important.
When assessing different investment opportunities there are multiple factors to take into consideration that can influence rental returns and long-term capital growth.
One of the principle rules that governs the investment manager's strategy is to remain disciplined and to only buy assets that are supported by strong fundamentals. For a shopping centre, this would be an asset that is dominant in its catchment and therefore a strong performer – underpinned by strong population growth or located in an area where household incomes are increasing.
Other important factors to consider for a retail asset are accessibility, the size and configuration of the car park, tenant mix, and the proximity to major transport links including roads and public transport. Infrastructure investment in the surrounding area can also be an important catalyst for improving the performance of a centre over the longer term.
Location and demographics also work to influence the potential returns and long-term capital growth of a real estate asset. Targeting investments that are situated in major metropolitan or strong regional areas on the eastern seaboard of Australia is important to minimise the potential risks posed by weak local economies and low-growth environments, which in turn may negatively impact rental returns.
Where we are currently finding the best opportunities.
At the commencement of the FSREC Fund Series, good value was identified in the neighbourhood shopping centre sector. A neighbourhood shopping centre is typically a supermarket-anchored centre with between 10 and 20 specialty shops – the majority of income from which is derived from non-discretionary retail-type uses such as food and essential services.
The investment manager was targeting opportunities in the $15 million to $50 million range as this was above where private investors were seeking to deploy capital but below where institutional investors were pursuing opportunities, therefore allowing for competitive advantage in the sector.
Many astute investors have now recognised the resilience of non-discretionary retail through different economic cycles, which has ultimately resulted in increased demand and pricing for these types of centres.
The investment manager is now investing in larger retail assets that maintain a convenience and non-discretionary retail focus where stronger returns are available, as demonstrated by its recent purchase of Keilor Central shopping centre – a dual supermarket-anchored and convenience-based sub-regional shopping centre – in December 2018 for $113 million.
Keilor Central Shopping Centre, Keilor Downs VIC – FSREC Fund IV
Source: FSREC
What we are avoiding.
Low interest rates and favourable economic conditions have resulted in significant asset price appreciation in many Sydney and Melbourne markets across the commercial real estate sector. In our view, parts of these markets – especially poorer-quality properties with weak fundamentals – are now nearing the top of their cycles.
As the cycle matures, the assets with weaker fundamentals will be most vulnerable to a pricing correction and are therefore best to be avoided in the short term.
The structural changes occurring in the retail sector have been very topical in recent times. Increasing competition from online retailing, new entrants from overseas, and changing consumer patterns have led to the underperformance of some shopping centres – particularly those that have weaker fundamentals and a higher exposure to discretionary retail uses, such as apparel, footwear and household goods.
These types of retail centres are most susceptible to the prevailing risks in the sector and we have started to see yields soften. We actively avoid retail assets with weak fundamentals (such as being in a poor location or having a high weighting to discretionary income) that could mean we are exposed to vacancy risk and income instability in the future.
Some pitfalls of the asset class investors need to be aware of.
One key factor investors need to consider when investing in commercial real estate includes the supply and demand fundamentals for tenants in the market they are investing in. If there is insufficient demand from tenants or too many competing buildings, then rent levels in the market may fall rather than rise.
If a tenancy becomes vacant, it typically takes longer to find a new tenant than investors may realise, consequently causing them cashflow problems.
Given that commercial real estate is a tangible asset, there is a greater risk of deterioration that is not prevalent in other non-tangible asset classes. Effective budgeting and allocation of capital are crucial for the maintenance of a commercial property asset in order to attract and retain tenants, deliver a sustainable cash flow and prevent obsolescence.
Without significant expertise, successfully running a commercial property can be challenging. As an active manager on behalf of investors, FSREC is experienced in tenant optimisation and value-add initiatives to maximise returns for investors
The commercial real estate market also has high barriers to entry given the large capital values of assets and the complexity of transactions. The Fort Street Real Estate Capital Fund Series offers investors the opportunity to gain exposure to a commercial real estate portfolio indirectly – without the burdens of a complex direct real estate transaction.
Long-term return expectations.
Looking ahead, the investment manager anticipates that the commercial real estate market will continue to deliver attractive risk-adjusted returns in comparison to other asset classes.
Future return expectations can be enhanced through a high-quality, diversified portfolio of assets that is actively managed to secure long-term cashflow and deliver capital growth – both key objectives of the FSREC Fund Series.
Want access to a steady stream of income?
As one of Livewire's premium partners, Fort Street Real Estate has committed to educating investors about income investing through this instalment in the Livewire Income Series. To find out more about the income options that Fort Street Real Estate provides, please click the 'contact' button below.
Live Webinar: 'How to build a bulletproof income portfolio'
Livewire is hosting a free webinar for investors seeking to broaden their knowledge of different income generating assets classes. The webinar will take place on Thursday the 4th of July at 10:30am.
Click on the link below for full details and to reserve your spot.
The above is general information only and does not consider any particular investor's circumstances. It is based on the opinion of the author alone and is not intended to be a research report. The information should not be relied upon to make an investment decision without seeking further information and/or advice from a financial adviser and considering whether any investment is appropriate in the circumstances.
This article may contain statements, opinions, projections, forecasts and other material (forward looking statements), based on various assumptions. Those assumptions may or may not prove to be correct. The author does not make any representation as to the accuracy or likelihood of fulfilment of the forward-looking statements or any of the assumptions upon which they are based. Actual results, performance or achievements may vary materially from any projections and forward-looking statements and the assumptions on which those statements are based. Readers are cautioned not to place undue reliance on forward looking statements and assume no obligation to update that information.
---

Never miss an update
Get the latest insights from me in your inbox when they're published.
---
---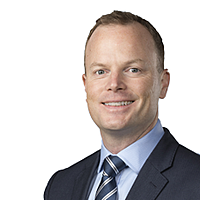 Investment Director
Fort Street Real Estate
David is responsible for sourcing and executing all real estate transactions for the Fort Street Real Estate Capital Fund Series with extensive experience across commercial office, retail and industrial markets.
Expertise