In my final column of last year, I anticipated the "coming of a dangerous decade", fraught with geopolitical tensions, among a number of other existential challenges. In response, the former Commanding Officer of the Special Air Service Regiment, Ben Pronk, wrote that "it wouldn't take anything more than a Franz Ferdinand-style miscalculation to kick [the next global war off]". Pronk, who is now chief executive of Mettle Global, a crisis consulting firm, penned these words 24 hours before President Donald Trump liquidated the second most senior member of Iran's government, Qassem Soleimani, triggering a potentially catastrophic chain of events. One of the best traders in the world shot me an email asking whether Pronk's prescient remarks were authored "before or after Trump took Soleimani out". Four days later I found myself huddled over a conference call with our portfolio managers and analysts parsing unconfirmed reports that Iran had launched more than a dozen ballistic missiles at two bases in Iraq where 1000 US troops were located. It was an unusually explosive geopolitical shock after Trump had repeatedly warned that Iranian retaliation for Soleimani's death would be met with punitive punishment. Read the full column here or AFR subs can click here. Excerpt enclosed:
What we learned next about the capricious leader of the free world was both profound and fascinating. 
It turned out that 16 short- and medium-range Fateh-110 and Shahab missiles were fired from three locations inside Iran at two US bases, with most notionally hitting their mark. Electronic intercepts had, however, given the Americans about three hours' notice, which allowed personnel to be either evacuated or protected in hardened bunkers.
The moment the missiles were launched, they were tracked by US agencies, with sirens blasting warnings at the two bases. Contrary to early reports, the Iranians did not deliberately calibrate the missile trajectories to land in benign locations: the Americans simply had sufficient time to ensure there were no casualties. Indeed, some US military equipment, including a helicopter and a drone, were destroyed.
Trump had been relentlessly critical of Obama's unwillingness to enforce "red lines", such as the one Obama superficially established in Syria to prevent Bashar al-Assad's use of chemical weapons. For US Republicans, diplomacy without credible kinetic threats was never going to work when dealing with despots.
In the days after Trump drew his own red line against Iranian retaliation, the President repeatedly cited complimentary comments from allies and experts such as the former CIA director, David Petraeus, who said he was restoring the credibility of American "deterrence".
Some of the best geopolitical analysts I know were convinced that Trump had no choice but to deliver on these threats after Iran seemingly steam-rolled through the red line.
Trump's Republican confidant, Senator Lindsey Graham, declared this an "act of war" following a call with the President. I was certainly partial to the view that we appeared on the brink of the next major conflict.
Yet there was another, more nuanced perspective. A charismatic Zionist billionaire, whom we will call "The Rav", countered to me that eliminating the terrorist mastermind Soleimani was, in fact, the strategic endgame.
The ensuing Iranian response that resulted in no casualties was, in practice, meaningless. The Rav pointed to Iranian statements that this "defensive" mission concluded their campaign, and that they wanted to avoid escalation.
Emblazoned in his alternative spiritual garb (including a jumble of effeminate bracelets), The Rav said Trump would hold the line. "For the time being, this melee is over," he declared in his emphatic syntax.
Ross Babbage concurred when this column consulted him for additional real-time counsel. A former head of strategic analysis at Australia's peak intelligence agency and author of a key defence white paper, Babbage was dismissive of the near-term escalation risks.
Perhaps the most interesting insights were rendered by Trump's former adviser, Steve Bannon, who extended The Rav's thesis that, through the effluxion of time, was being vindicated by the market's live price action.
Bannon maintained that Trump was elected on a promise to end the "forever wars" in the Middle East. Starting yet another one was incompatible with this platform, especially in an election year.
Bannon further asserted that Trump's tougher approach to dealing with Iran – including rescinding Obama's nuclear treaty, harsher economic sanctions, and stealthy cyber and information warfare – was demonstrably working.
He claimed that there was a groundswell of internal dissent building among Iran's young Millennial population, who did not identify with the theocracy, which was playing out via protests on the streets of Tehran and Baghdad.
To this way of thinking, the economically enfeebled regime was more ripe than ever for endogenous change, which external kinetic conflict could thwart.
Bannon believes that, notwithstanding the hyperbole, Trump is not a warmonger, and has repeatedly demonstrated that he is cautious and prudent when it comes to the application of force. (The Rav's many Mossad contacts agree.)
Tit-for-tat escalation after an ineffectual Iranian assault would represent Trump "biting" on the left's stereotype and only serve to initiate another war without end.
With the benefit of hindsight, a final consideration must have been the 2020 election. Trump's trade wars had fundamentally shocked global growth in recent years, and the whole point of striking a pyrrhic bargain with Beijing was to animate the US economy and its cheerleaders in the markets. War with Iran would almost certainly derail those hopes.
Another core theme in the "dangerous decade" is duration-induced stress or, more precisely, a looming battle between markets and central banks over inflation and interest rates.
And while it appears to have gone almost entirely unnoticed over the end-of-year break, we saw a murmur of this during December.
December proved to be the single worst month for duration, or interest-rate risk, since the great bond market bloodbath in September 1994.
A portfolio of AAA rated Aussie government bonds lost 2.07 per cent of its value (that is more than its total annual yield) while the fixed-rate AusBond Composite Bond Index fell 1.64 per cent as local and global growth expectations started mean-reverting.
These massive drawdowns for duration have, however, come after a truly stellar run: even accounting for the December loss, the Composite Bond Index was still up 7.26 per cent in 2019.
And in contrast to 1994, when the US Federal Reserve surprised markets with rapid interest rate increases, contemporary central bankers are most unlikely to emulate these efforts given their commitment to forward guidance and keeping rates low for long (irrespective of the fact that US wages growth is converging back to pre-crisis levels).
So while duration may continue to struggle, this should be a healthy retracement rather than complete Armageddon unless our projected inflation cycle materialises more quickly than the longer-term horizon we had previously proposed.
Another fascinating feature of December, and 2019 more generally, was the fact that fixed-rate bonds and shares were yet again positively, not negatively, correlated, as so many suppose.
Alongside fixed-rate bonds, the All Ordinaries Accumulation Index fell 1.9 per cent in December. Yet like the Composite Bond Index, this was small beer in the context of the equity market's outstanding calendar year performance.
For years this column has warned that using duration as an equities hedge is a dicey strategy, especially during inflationary periods when the correlation has been noticeably positive over the last 100 years in Australia and the US, according to Milliman and Goldman Sachs.
........
Disclaimer: This information has been prepared by Smarter Money Investments Pty Ltd. It is general information only and is not intended to provide you with financial advice. You should not rely on any information herein in making any investment decisions. To the extent permitted by law, no liability is accepted for any loss or damage as a result of any reliance on this information. Past performance is not an indicator of nor assures any future returns or risks. Smarter Money Investments Pty Limited (ACN 153 555 867) is authorised representative #000414337 of Coolabah Capital Institutional Investments Pty Ltd, which holds Australian Financial Services Licence No. 482238 and authorised representative #001277030 of EQT Responsible Entity Services Ltd that holds Australian Financial Services Licence No. 223271.
---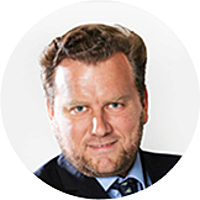 Portfolio Manager & Chief Investment Officer
Coolabah Capital
Chris co-founded Coolabah in 2011, which today runs $7 billion with a team of 33 executives focussed on generating credit alpha from mispricings across fixed-income markets. In 2019, Chris was selected as one of FE fundinfo's Top 10 "Alpha...