Fundies' top picks: The stocks that surprised us and the outlook for the final quarter
---
It's the penultimate quarter and it's the last chance for some big moves before the end of the year hits. (It is only 60-odd days until Christmas.) 
The end of Q3 was a tough one. September, by all accounts, is always a tough month for investors, and many Aussie stocks suffered from a fresh bout of lockdowns in Q3. On the flipside, this quarter saw another booming reporting season in August, so I'm very interested to see where our fundies have placed in the race. 
As regular readers may know, at the end of last year, we asked our fundies to give some of their top stock picks for 2021. For some of our fundies, this race has been a breeze. Some stocks have returned over 100% YTD at the end of Q3. Some have taken a hit and kept on coming, especially those who have been patiently waiting on the COVID-19 reopening play. But others took early damage and ran out of steam. This is the last quarter before we crown the winner of our fundies top picks 2021. 
But this is so much more than a race. Here we've spoken to fundies about their picks, what factors have caused a surge or plateau in share price and what their outlook is on these stocks. 
Previous coverage on 2021 fundies top picks:
Equities
Fundies' most-tipped stock picks 2021: First-half leaderboard
Equities
Which fundies are leading the pack for the top stock-picker prize?
Equities
The #1 stock picks for 2021
To re-cap, our fundies had a hypothetical $10,000 to allocate to one or (for some contestants) two stocks. 
Here are the fundies in the race:
The ASX200 continued to surge through the year to September 30 off the back of two stellar reporting seasons. The ASX200 was up 9% YTD at the end of Q3, despite September lulls. Overall, our fundies are up 35%.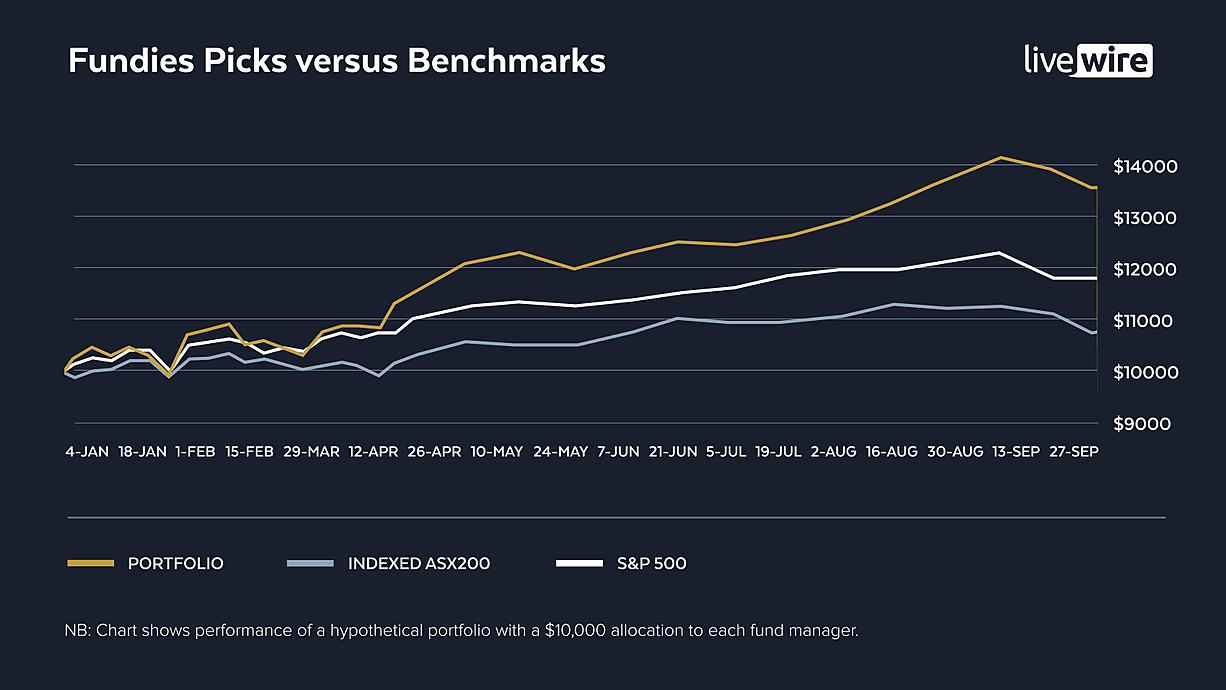 For this exercise, each of our fundies was allocated a hypothetical $1,000 - meaning we have a starting fund of $10,000 for the mock-portfolio we've tracked using Sharesight. Source: Sharesight/Livewire Markets. 
M&A mania
It's definitely been a big year for M&A and our fundies' picks have not escaped takeover season.
As we mentioned last quarter, as at 1 July, Mortgage Choice has been acquired by REA Group.

The merger between Galaxy Resources and Orocobre was successfully completed on 25 August 2021. Galaxy shareholders received $9.52 per share and Paradice's investment has rolled into Orocobre shares.

As of 1 September, Western Australian Primewest Group has merged with Centuria Group to bring the $5.6 billion property portfolio into the east coast-favoured Centuria stables. 
Other updates
CytomyX had strong fundamentals. When I spoke with Dr Ogden at the start of the year, the oncology research and biopharmaceutical company had all the signs of strong growth and a solid innovation runway ahead. But an earnings miss and reporting concerns in the H1 reporting season knocked investor confidence and the share price has not recovered.
Downer Group has been, as Matthew Kidman described earlier this year, the "tortoise" in the race. The allegory is proving accurate once again. After a slow start to the year and a few delays to the great Aussie reopening, Downer has made a spectacular recovery. As discussed last quarter, Downer followed through with shedding its mining business to boost its cash and refocus on the core business. Its final divestment occurred in October this year. 
What the fundies have to say: 
Galaxy Resources (ASX: GXY) and Pilbara Materials (ASX: PLS)
Tom Richardson, Paradice Investment Management
Performance 1H21: ASX: PLS +135.63%; ASX:GXY +136.76%
The year of lithium continues
Last time we spoke with Richardson he gave us an excellent pitch on the EV market and its underpinning lithium play. Well, things have only gotten better since then, it seems. 
"The penetration of electric vehicles in China has gone a lot quicker than we expected, which is pulling through demand for lithium though very rapidly and pushing up the price, which is obviously good for producers," said Richardson. 

"It took 10 years for China to go to 6% penetration (for EVs), and then it's gone from 6% to 20% penetration in a month," said Richardson. 
This is great news for Galaxy, now Orocobre, and Pilbara Minerals (the largest lithium mining company by market cap). 
Blackstone Group (NYSE:BX) and Carlyle Group (NYSE:CG)
Chris Demasi, Montaka Global Investments
Performance: NYSE:BX +88.56%; NYSE:CG +54.41% 
There's still room for growth at the top end of town
"Blackstone and Carlyle have had a sensational run this year, but we think the value creation story is just getting started for both as private market investing explodes around the world. Even so private investments still only make up 7% of the world's $100 trillion-plus in assets under management," Demasi wrote at Livewire's Q3 check-in. 
Demasi explains how Blackstone has built out capabilities to "go beyond the $60 trillion institutional market, and begin to address two new markets: insurance worth $30 trillion and retail/private wealth worth another $80 trillion". 
"It is amazing that after almost four decades, $700 billion in assets under management, and the leading position in the industry, Blackstone is at the beginning of the journey, not the end," said Demasi.  
"We think the story is similar for Carlyle, the number 3 private market asset manager in the world. We look forward to many years of double-digit asset growth and profit margins that keep expanding for both businesses, and of course, share price performance that will deliver superior compound gains for the next decade or more," he said. 
Corporate Travel Management (ASX:CTD)
James Dougherty, Lennox Capital
Performance: ASX:CTD +42.73%
Corporate travel is back with a twist!
It could be the biggest comeback on the leaderboard, and while we expect a good recovery as borders re-open there are more structural changes at play. Dougherty is thinking long-term about corporate travel. 
"We're really thinking about 2024. But if I think short term, there's obviously going to be the reopening of the key travel corridors in the northern hemisphere markets the USA and Europe," he said. 
Anecdotally, Doughtery is expecting 80 to 90% of corporate travel to return to pre-COVID levels. Major airlines, like Qantas, are in conversations with their key corporate clients to form these estimates. 
But it's not just a return to normal. Dougherty is anticipating the work-from-home trend accompanied with the recent move out of city centres will balance out corporate travel levels. 
"I think people will use travel slightly differently. Yes, you will lose some of that short-term travel to Zoom, but what you're also going to get is this new segment. What I think people I don't understand yet is that the work-from-home community will actually travel to the office maybe four times a year," he said. 

Sonic Healthcare (ASX:SHL)
Kelli Meagher, Sage Capital
Performance: ASX:SHL +27.15%
Stronger for longer on COVID-testing and a possible acquisition
Sonic has reaped the benefits of both sides of COVID. Sonic, which produces the PCR testing, had a spec
"I do think that PCR tests for COVID are going to be stronger for longer. You can look to the UK to see that even in an environment where there are a lot of high vaccinations, PCR tests have been rising over there," said Meagher. 
Meagher also noted the intrinsic conflict when picking just one stock for the year. There's no margin for error. 
"I liked Sonic as a pick because it's not going to blow you out of the water on the downside. It's not a high risk, high volatility stock but it's got a lot of upside," she said. 

If you look at Sonic's recent Annual Report, it certainly has a lot of upside. Meagher said it was conservative on its dividend payout this year, but had very high earnings from the lucrative COVID testing. This points to a possible acquisition by Sonic in the future. 
"They've got a lot of a billion dollars to spend if they wanted to. If they paid sort of the sort of multiples that they have been paying in the past, even 10 times EBITDA, it would be earnings accretive," said Meagher.
Tyro Payments (ASX: TYR)
Ben Clark, TMS Capital
Performance: ASX: TYR +15.77%
A reopening play and tech to take on the Big 4
The end of lockdown is buoying Tyro's stock. With Merivale as one of its largest clients, it stands to reap the rewards of reopening. Compared with some laggard reopening stocks, Clark thinks Tyro will come back with a vengeance.
But another noteworthy change in the past quarter is the incentive system for Tyro CEO Robbie Cook.
"He is now heavily incentivised to grow the earnings of the business as opposed to the revenues of the business and they have set some targets for several years out, where if Tyro gets to those targets, then it looks pretty well priced today," said Clark.

Looking at threats from other players, like CBA's recent smart payment systems, Clark remains unphased. There's too much possibility on the runway for Tyro.
"During this year, Tyro took over Bendigo Bank's point of sale business. I'm sure that Tyro is hoping to do a similar deal with maybe one of the big four, potentially, or one of the other regional banks, which would give some more market power and more scale. So that's definitely on the cards," said Clark.
"It's got an Australian banking licence, and you now can have a Tyro bank account and you can borrow money through Tyro. The merchants we speak to love the borrowing side of the business," he said. 
THE LEADERBOARD

Here's an overview of how each stock performed at the Q3 mark.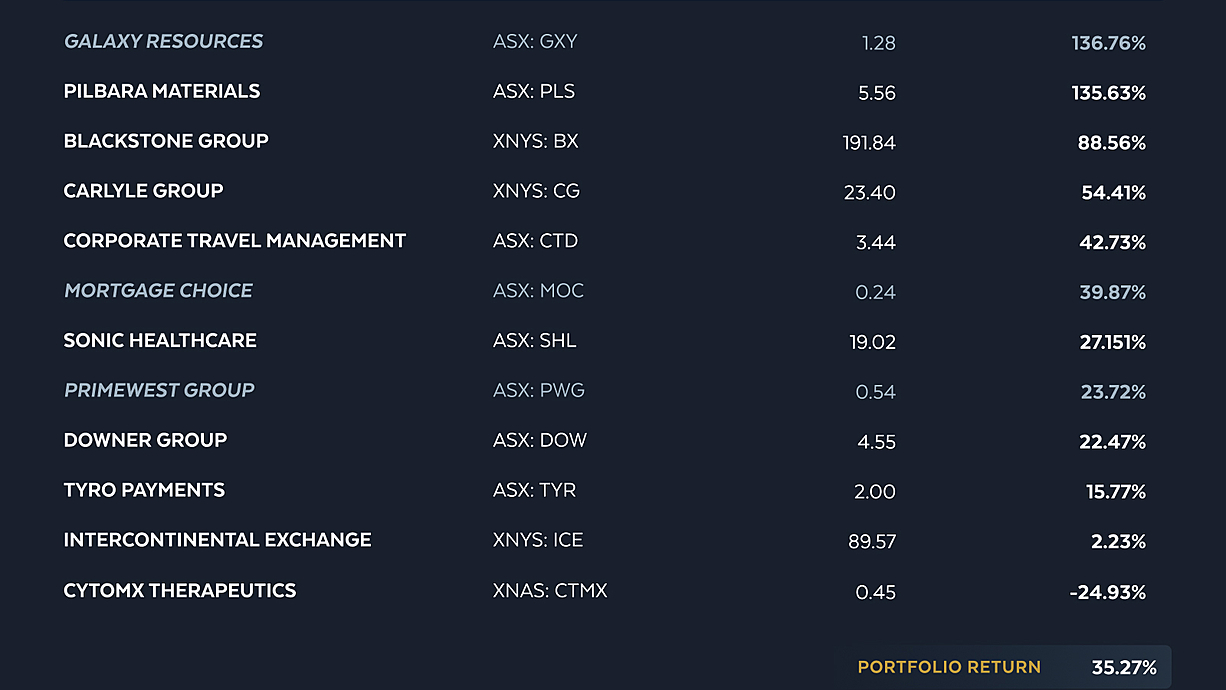 Companies which have been "greyed-out" have been subject to M&A. Source: Sharesight/ Livewire Markets. 
More than anything else, these top picks pools have been an interesting experiment in backing one horse in a race. No doubt, the key takeaway is that diversification is critical to make sure you're not knocked out too early from the race and to be covered for the unexpected downside.
FUNDIES VERSUS THE READERS ...

Last year, we also surveyed our readers for their stock picks and we've created a mock portfolio to rival the experts. You can see how the Readers' Picks are tracking from my colleague Ally Selby :
Equities
How your top-tipped stocks are faring so far
Which stocks are you backing in 2021? Tell us in the comments below.

Give us your hot tips or tell us which stocks you wish you'd bought and which you'd ditch before the year is out. And with 2022 around the corner, what do you think our fundies should pick for next year? 
Not already a Livewire member? Sign up today to get free access to investment ideas and strategies from Australia's leading investors. 
........
Livewire gives readers access to information and educational content provided by financial services professionals and companies ("Livewire Contributors"). Livewire does not operate under an Australian financial services licence and relies on the exemption available under section 911A(2)(eb) of the Corporations Act 2001 (Cth) in respect of any advice given. Any advice on this site is general in nature and does not take into consideration your objectives, financial situation or needs. Before making a decision please consider these and any relevant Product Disclosure Statement. Livewire has commercial relationships with some Livewire Contributors.
---
13 contributors mentioned