Investors get ready for 11pc return from property stocks
---
"Investors get ready for 11pc return from property stocks" - This was a headline in the AFR this week that probably caught many investors, particularly real estate investors' attention.
In 2020 there was a bifurcation of investment returns from real estate. Direct investors, institutional investors and everyone in between began trying to separate the Winners from the Losers in a post-COVID world.
Sectors like Prime Industrial real estate, saw investors pile in as the trend toward last-mile logistics and 'flight to online' enhanced demand for assets underpinning this theme. Even Prime Office real estate, saw cap rates compress inline with interest rate declines. 
However, Retail Real Estate which was particularly impacted by national lockdowns was generally a poor performer as investors tried to find equilibrium in a COVID impacted environment. 
However, for non-discretionary based assets such as those weighted towards everyday needs proved to be a great opportunity for investors looking for yield as these assets have continued to perform very well. 
As highlighted in the AFR, this theme is now starting to gain some traction:
"An average of 16 or more assets changed hands each month, with the monthly tally of transactions surpassing $950 million for the three months to the end of June, according to figures collated by The Data App, an industry monitor. By contrast, the monthly average volume of deals a year earlier was less than $230 million."
Link: (VIEW LINK)
Where are the opportunities for yield in a post COVID world?
The question many investors are asking themselves today is where to find a defensive income stream. Particularly a defensive income stream, when term deposits from Australia's major financial institutions are offering little more than 0.25% (one-quarter of one per cent).
For sub-regional shopping centres, there is a unique risk-return profile. These assets have traded at a long-term average of around 3.2% over the Australian 10-year Government bond yield.
The current Australian Government Bond Yield is around 1.26% having got as low as around 0.77% in 2020. If sub-regional shopping centres were trading at their long-term average spread, these assets could be trading at around 4.5%.
There have been several recent transactions where yields above 6% have been offered to investors.
Finding equilibrium between COVID-19 winners and losers
Whilst COVID-19 had a significant impact on the retail market, from a capital perspective this was seen through the transactions in sub-regional shopping centres i.e. shopping centres with a discount department store.
Regional Shopping Centres, or Super Regional Shopping Centres i.e. shopping centres with multiple department stores such as Australia's leading Chadstone Shopping Centre change hands rarely and there was very little price discovery.
Neighbourhood shopping centres and stand-alone supermarkets, as mentioned, traded much tighter during 2020, following interest rates down as there was little COVID uncertainty related to high performing assets in this space. Rather, the performance of these assets typically went up.
As seen in the charts below, the yield trend for office, industrial has been down – meaning that asset values have been going up as interest rates have fallen like most asset long-duration asset classes. However, the passing yield on these assets is now very low to between 3.25% and 3.75%.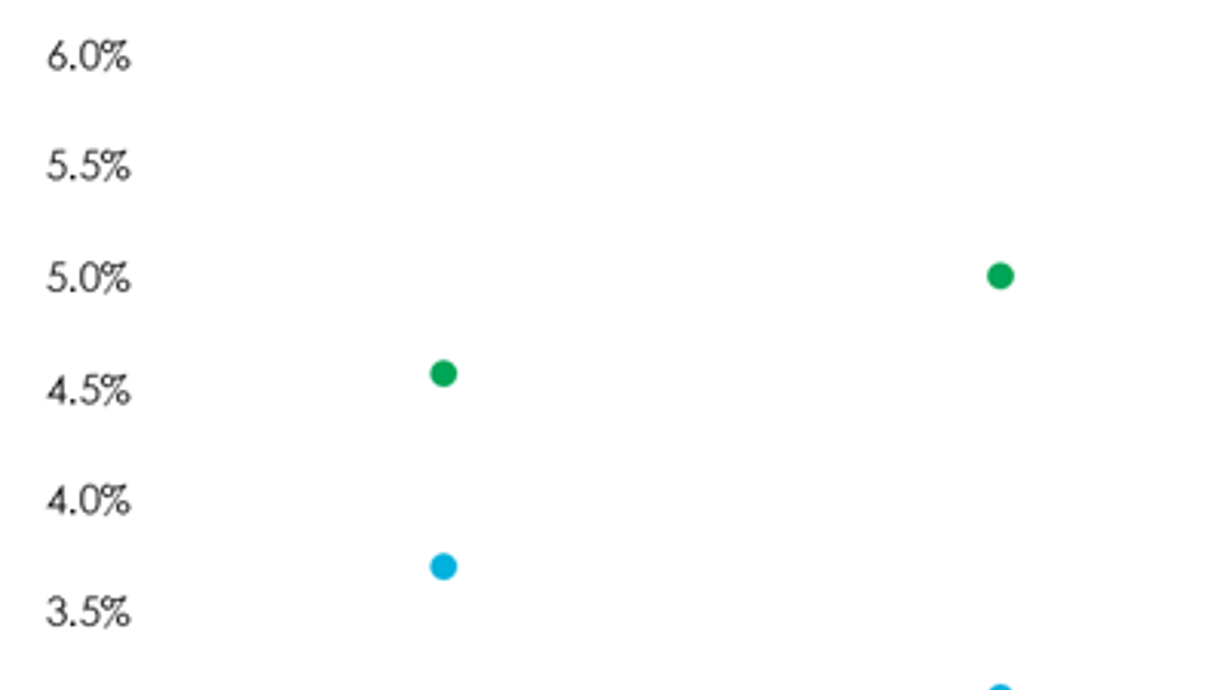 Source: CBRE Research, note: effective yields calculated using current market net effective rents divided by capital values. 
Retail Real Estate
As seen in the chart below, albeit minor, yields have been softening in the shopping centre sector prior to COVID. This was because of obvious structural tailwinds such as online shopping, which since 2017, created a media frenzy about the arrival of Amazon into Australia.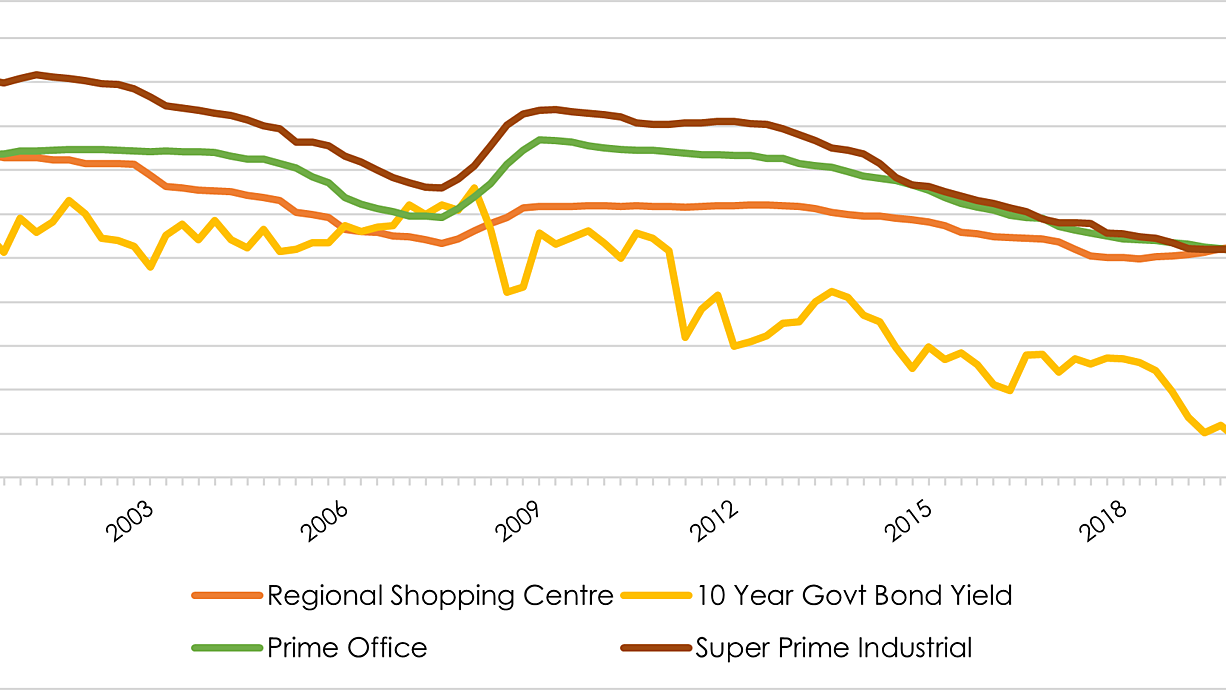 Source: CBRE Research
For context, prior to lockdowns forcing many shoppers online, Amazon generated revenue in Australia of $562.1 million in 2019, comparable to the sales of Northland Shopping Centre in Melbourne which generated $542.3m of sales in FY19.
In contract, Chadstone Shopping Centre generated sales of $2.2billion in FY19, around 4x that of Amazon nationally. A greater shift to online is inevitable however, the low profitability of online sales (only 24% of retailers report to having profitable online sales, CBA research) means that retailers will continue to push the omni-channel route.
"A 5% shift from in-store to online can reduce EBIT by 20 to 30%. At the same time, the "buy online, pick up in store" option, now offered by many retailers, boosts store traffic." - McKinsey & Co
Although for assets like Chadstone Shopping Centre, it is easy to make a case for their long-term defensiveness because of their legacy as a retail destination. However, sub-regional shopping centres, categorised by shopping centres online as 
"A medium-sized shopping centre typically incorporating at least one full line discount department store, a major supermarket and approximately 40 specialty shops" 
offer a far different experience – some discretionary spend weighted, some non-discretionary spend weighted.
What to look for in Real Estate, particularly retail
When investors are looking to invest in real assets, the focus is most commonly on the income generation of those assets. This is particularly important for long-duration assets which are often geared, so investors must ensure that the income generated from the assets adequately covers the interest expense – particularly in the case of unforeseen events.
This is a key reason for the bifurcation in values within the sub-regional shopping centre as rather than do a deep dive into the sustainability of the income through deep due diligence, it can be easier for many investors to avoid the sector altogether. 
However, this creates opportunities for astute investors.
As an example, assets such as the Mount Pleasant Shopping Centre in Mackay dominate their catchment area and are heavily weighted towards non-discretionary spending and large ASX-listed tenants such as Coles, Woolworths and Wesfarmers. Ranked No.1 in Australia for specialty productivity (SCN 'Little Guns' 2020) with specialty productivity of $14,530/sqm, 75% above the Urbis Single DDS benchmark ($8,299/sqm).
Opportunities such as the Mount Pleasant Shopping Centre can offer investors strong yield opportunities in a low yield world, with an asymmetric risk-return profile as a result of a COVID-19 dislocation.
---
Never miss an insight
Enjoy this wire? Hit the 'like' button to let us know. Stay up to date with my content by hitting the 'follow' button below and you'll be notified every time I post a wire.
Not already a Livewire member? Sign up today to get free access to investment ideas and strategies from Australia's leading investors.
........
This general information has been prepared without taking account of your objectives, financial situations or needs. A Product Disclosure Statement or Information Memorandum can be obtained by contacting Fawkner Property at info@fawknerproperty.com.au. You should consider the contents of a Product Disclosure Statement before making any decision about whether to invest with Fawkner Property.