It may take years before China relations are back on track, says Bishop
---
The Hon Julie Bishop is no stranger to taking on a challenge. 
Bishop is currently chair of the Palladium advisory board, principal of her own advisory firm (which includes clients like the embattled Greensill Capital), Chancellor of the Australian National University (ANU). But she is still probably most well-known for her time as Minister for Foreign Affairs (2013-2018) and former Deputy Leader of the Liberal Party (2007-2018) the first woman to hold each of those latter three roles. She was also the keynote speaker at the CFA Societies Australia's International Women's Day (IWD) luncheon on Friday. And this year's IWD theme was decidedly apt: choose to challenge.
We are operating in challenging times. The rapid rate of change across the globe has brought up more complex problems that need to be solved faster: climate change, technological revolution and disruption, job automation, and increasing wealth inequality. 
We're also in the midst of a once-in-a-hundred-year pandemic. All of this change, said Bishop, comes alongside a rise of populism from our world leaders and a "pushback against the forces of globalisation". 
In a whirlwind presentation, Bishop imparted her thoughts on international relations and the need for more diversity of thought and leadership at the table, including how to bring more women to the table globally, and closer to home.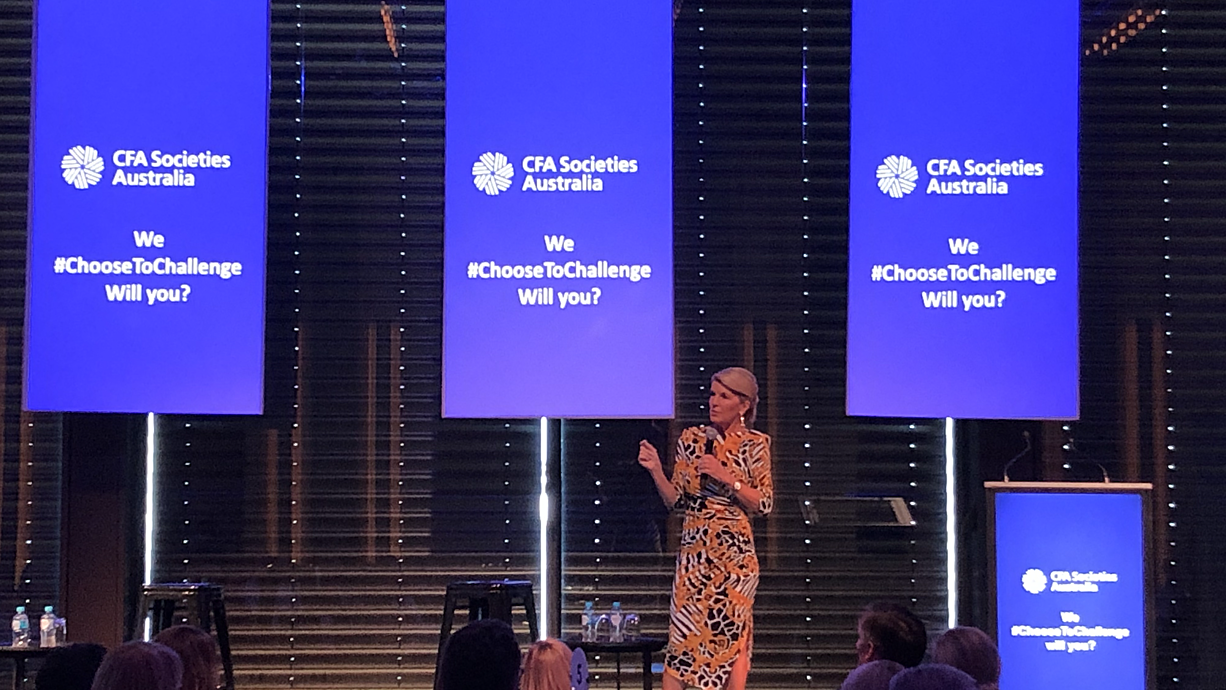 Source: Livewire Markets.
On China-US trade wars and diplomacy
As former Minister for Foreign Affairs, and also in her current roles, Bishop is a supreme diplomat and expert on global affairs. One of the megatrends Bishop sees across current world economies is an increasingly dangerous power competition between the US and China. 
"For the first time, our major trading partner is in direct conflict with our major defence and intelligence partner," said Bishop. 
And at what point will Australia have to choose between the world's two great economic powers - between our national security and national economy? Bishop echoed U.N. Secretary-General António Guterres in his address to the General Assembly in September last year, "our world cannot afford a future where the two largest economies split the globe in a Great Fracture — each with its own trade and financial rules and internet and artificial intelligence capacities." 
Australia is definitely stuck in the middle between the two world superpowers and we may reach the point where we can no longer walk the tightrope between them. One foot wrong, and we tumble. 
When pressed about the issue, Bishop said our relationship with China is "always challenging", recalling the list of grievances from Beijing that was leaked last year. Bishop said China was metaphorically no longer answering the phone to Australia and that a "grand gesture" would be required if Australia wanted to repair relations. 
In recent months, China has banned several Australian companies from importing their goods, notably the wine and lobster industry which have been hit hard by the restrictions imposed by Beijing. 
According to the ABS, red wine exports to China dropped down to 1% from 50% in the year to January 2021 as a direct result of the new tariffs. Cotton, wheat, barley and other agricultural goods have also been hit by the import restrictions. 
"I would suggest that one doesn't go out of one's way to upset your largest customer. I would hope that efforts are afoot to engage at some level," she said. 
"I hope that there are other channels where connections are being made... failing a grand gesture I think it would be some time before relations would return to normal," she said. Based on China's previous trade spats with the UK, Bishop thinks it could be at least four years before things return to normal.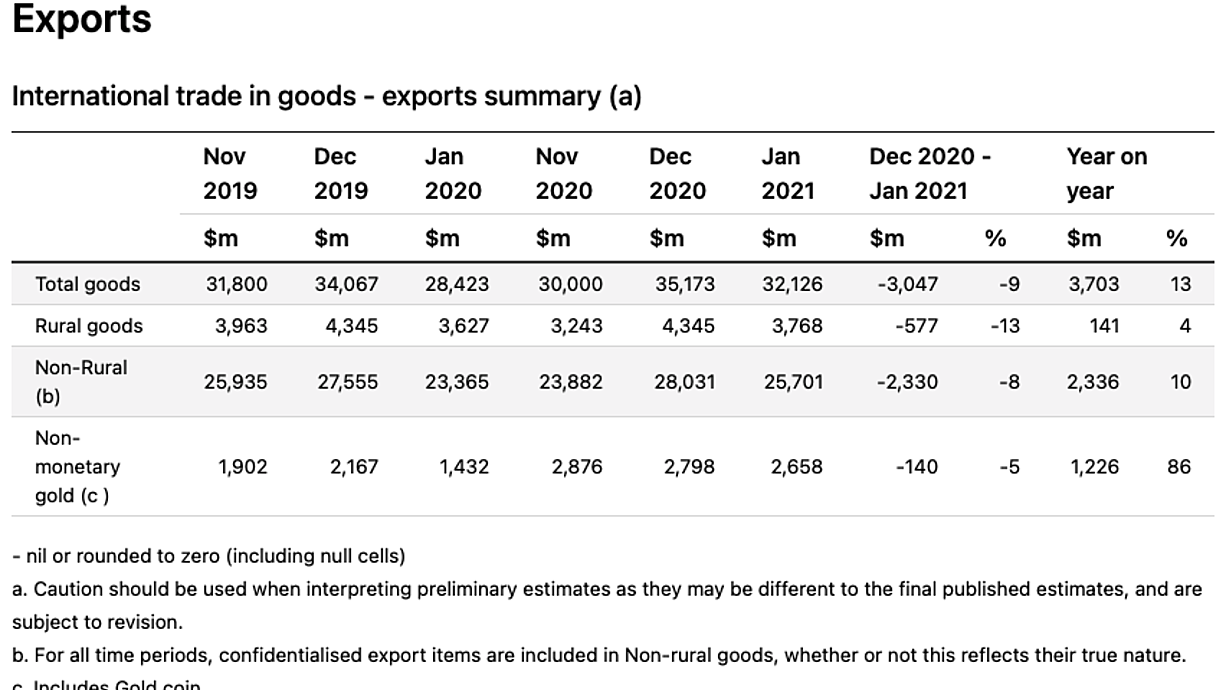 Source: Australian Bureau of Statistics (ABS)
On women in the workplace... and Parliament House
As the first female Minister for Foreign Affairs, Bishop said it was her dream to take on the foreign affairs portfolio from the very beginning of her political career. But it was a bumpy, 15-year journey with many, as she called it, "sliding doors" moments.
In one such anecdote, Bishop recalls her first law firm job in the late 1970s, when she was the first and only woman in a law firm full of men. 
Presenting her stories with a sense of dark humour to a room full of women in investment management, garnered a chorus of ironic laughter in recognition of that exact feeling of being the only woman in a boardroom full of men. In fact, according to the CFA, only 19% of CFA charterholders are women, although, in the upcoming graduating classes, women make up 50% of entrants. 

"I remember on the first Friday night drinks... and I walked in with some trepidation to a room full of men," Bishop said, pausing briefly before quipping, "Wait, that happens to me all the time now." 
Bishop recounted how she was asked to serve drinks to the other staff and "make herself useful". Needless to say, she didn't tolerate that job for very long. 
It is hard to write about someone - of any gender - who once held one of the most senior offices in government, and not wonder what they make of the state of politics today. Especially in the wake of the Four Corners report "Inside the Canberra Bubble" and the devastating allegations of sexual assault, of rape, within our Parliament. 
Frankly, it is so physically and psychologically devastating for women everywhere, that it is almost a relief that Bishop addresses the elephant in the room, and doesn't shy away from the topic. 
"I feel a real emptiness hearing the stories of what's going on ... there are just no winners in this situation," she said. 
"I feel terribly sad and overwhelmingly frustrated that this should be occurring in this day and age.
"Parliament House is where lawmakers gather. We make the laws. We legislate on workplace relations and what our workplaces should look like across Australia. And, to me, Parliament House should be the model workplace. That's where the gold standard of workplace behaviour should be set. And yet it's not," said Bishop. 
Bishop is happy to give her two cents on how Parliament can get into shape. 
"What I would do is hold Parliament House out to be the model workplace and then set about changing what goes on there," she said. 
"For example, we have no induction programs for new people coming into Parliament... nothing about behaviour. There's no moral code. I know you shouldn't have to tell people 'this is right and that's wrong' - but people do need reminding of their rights and responsibilities.
"I would have ongoing training. I would have feedback constantly and I would most certainly have an independent counselling service," she said. 
On diversity in leadership

While Bishop openly admits that critical mass won't be the panacea to Parliament's problems, more women will create more diversity of thought and balance out decision-making processes - not only in Parliament but in all leadership roles. 
Bishop notes a difference in styles of leadership between men and women, based on a number of studies and evidence.
"The most effective decision-making bodies, whether it be your boardroom or the United Nations Security Council, is far better served, far more effective if there's a diversity of views and styles around the table," she said.
"And that's why I believe that greater gender diversity is not only the right thing to do. It's truly the smart thing to do."
We need more women in the workplace, at all levels and across all industries. Women are still greatly underrepresented. In 2020, only 7.4% of CEOs in the Fortune 500 and only 5% of ASX200 CEOs were women. 
"No nation, no organisation, can reach its potential unless it embraces the talents and abilities and energies of the 50% of the population that is female," said Bishop. 
Her advice on diversifying decision-makers is based on observations Bishop made while working with world leaders and learning to appreciate their different styles and approaches. 
In her experience, she believes putting in place targets, rather than quotas, helps leaders think more creatively about succession planning and advisory bodies. 
"Competent females are available in every walk of life. It just made us think more, ask more questions, not roll-out 'the usual', not just ring up your best mates. It actually took effort," she said. 
A little more effort is the least we could do. 
International Women's Day 2021
Livewire Markets joins International Women's Day in celebrating the social, economic, cultural and political achievements of women. As part of our coverage, we're bringing you exclusive interviews with some of Australia's leading women in fund's management, including, Mary Manning, Natalie Tam and more.

To read more of our interviews with some of Australia's top fund managers this International Women's Day, give this article a 'like' and look out for our other coverage on the topic. 
........
Mia Kwok attended as a guest of Bell Asset Management.