Livewire readers' Top 20 stock calls
---
It's time to observe the halfway-mark for Livewire readers' 2017 stock picks, nominated in December as part of our Outlook series. Read on to see the current top twenty, some recent contributor commentary on them, and the spreadsheet for the full list of 261 stocks with key metrics. 
Recent Contributor commentary
Sitting just behind some of the more speculative stocks on the list, a2 Milk has had a remarkable year to date with a 91.2% gain. Investors Mutual recently posted warning however that: "Companies with forecast strong EPS growth like Dominos Pizza, Corporate Travel and a2 Milk are trading on steep multiples and in our view are pricing in excessively good news. "We do not own any of these companies. While they may have attractive growth prospects, they appear over valued to us and we are always very disciplined around valuation."
Small cap tech play, Updater, features on the leaders board again. Rob Frost at OC Funds Management wrote earlier in the quarter: "With further updates on market penetration and pilot programs expected in the present quarter, we remain excited by the prospects of Updater in FY18 and beyond."
Andrew Mitchell at Ophir AM gave an overview of China consumer stocks a few months ago, writing of BWX, up 46.7% ytd, that "there are opportunities to play this in Australia via names such as BWX Limited (BWX) or Trilogy International (TIL) – if either begins to gain traction, one would expect to start to see an impact on their reported market share numbers over the next 3 months. We will continue to monitor."
St Barbara, now up 44% year to date, featured in a report by Foster Stockbroking citing it as one of a number of "junior and intermediate ASX listed gold miners that are an attractive way to play the theme, given the recent pullback in domestic gold stock prices, and relative value across the space."

CSL Limited continues to push ahead, now up 40%, and was listed by Bell Potter's Peter Quinton as one of his ten favoured defensive stocks in April. 
Locality Planning Energy Holdings, up 40% YTD, was recently featured by IIR's Mark Tobin as an interesting stock to watch, and is a SE Queensland based company who provide a consolidated metering and network service to strata buildings. 
In a recent Buy Hold Sell, Joe Magyer of Lakehouse Capital described Gentrack as "Boring buy very beautiful, it has sticky customers, a nice little yield, it's still attractive and I like the business". 
Blue Sky has had a good year, up 34.3%, and over 5 years is now up almost 17-fold. Well ahead a recent surge in the price, Dean Fergie of Cyan IM laid out 'his "5 reasons to consider BlueSky for the portfolio".
Full spreadsheet is here
The full listing of the 260 stock ideas, with market cap, change YTD, sector, P/E and forward P/E, is available here. 
March quarter review is here
The most recent quarterly review of the outlook stocks is available here. 
Receive Livewire's best insights free each morning
If you don't subscribe already, join 64,000 other Australian investors that use Livewire, and receive our daily note, 'Trending on Livewire', at 7am each weekday for free by subscribing here.
---

Follow Alex Cowie's wires
---
---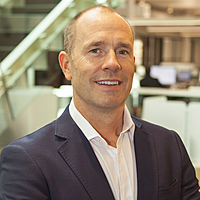 Alex happily served as Livewire's Content Director for the last four years, using a decade of industry experience to deliver the most valuable, and readable, market insights to all Australian investors.
Expertise