Media Worth Consuming – December 2021
---
Top 5 Articles
The US government is penalising savers with the largest negative real bonds yields in 40 years.
In 1982, Kuwait had the third largest stock market in the world and then it disappeared almost overnight.
South African health officials are recommending that quarantine measures and contact tracing for the omicron variant cease as they offer "negligible public health benefit".
Amazon threatened to sack workers who wouldn't deliver packages during a tornado.
A giant Swedish Yule goat was burnt to the ground, in an ongoing Christmas tradition where residents try to destroy it and authorities try to save it.
Chart of the month
It's that time of year when financial commentators write their predictions for 2022, or for the more bearish their biggest risks for the year ahead. Bill Blain has put forward that out of many things to worry about in 2022, dumb politics and euphoric credit markets are the biggest risks. It's hard to disagree when looking at how many governments have effectively adopted MMT. This isn't partisan either, both left and right governments in most developed economies are happily running massive deficits with no plans to get back into surplus, or at least not until the current generation of politicians are likely to have moved on.
The risk of inflation staying above 5% in the US for an extended period is generally considered minimal. However, with the constant stream of evidence of higher wages and limited appetite to reign in deficits and digital money printing, inflation could be far sticker than expected. Take the time to read a quick summary of how inflation got out of control in the 1970's and note the key factors. Central banks aggressively targeting full employment, large scale monetary and fiscal stimulus, a desire to avoid a recession at all costs and central banks dithering when inflation took off were all present then and now.
The risk of sustained higher inflation brings in the risk that a modern day Paul Volcker is needed to get inflation back under control. A period of normal to high interest rates would shock much of the debt markets, which are largely working on the assumption that higher interest rates aren't possible. For government bonds, an overnight rate of 4% could easily see 10 year bonds knocked down by 20%. Long duration assets (equities, property and infrastructure) could be similarly hit if investors factored in a higher risk-free rate.
Sub-investment grade credit could be particularly badly impacted. As the graph below from the Financial Times shows, the proportion of high debt to EBITDA loans is much higher than it was in 2007. Covenant light loans are standard now when they were a minority in 2007.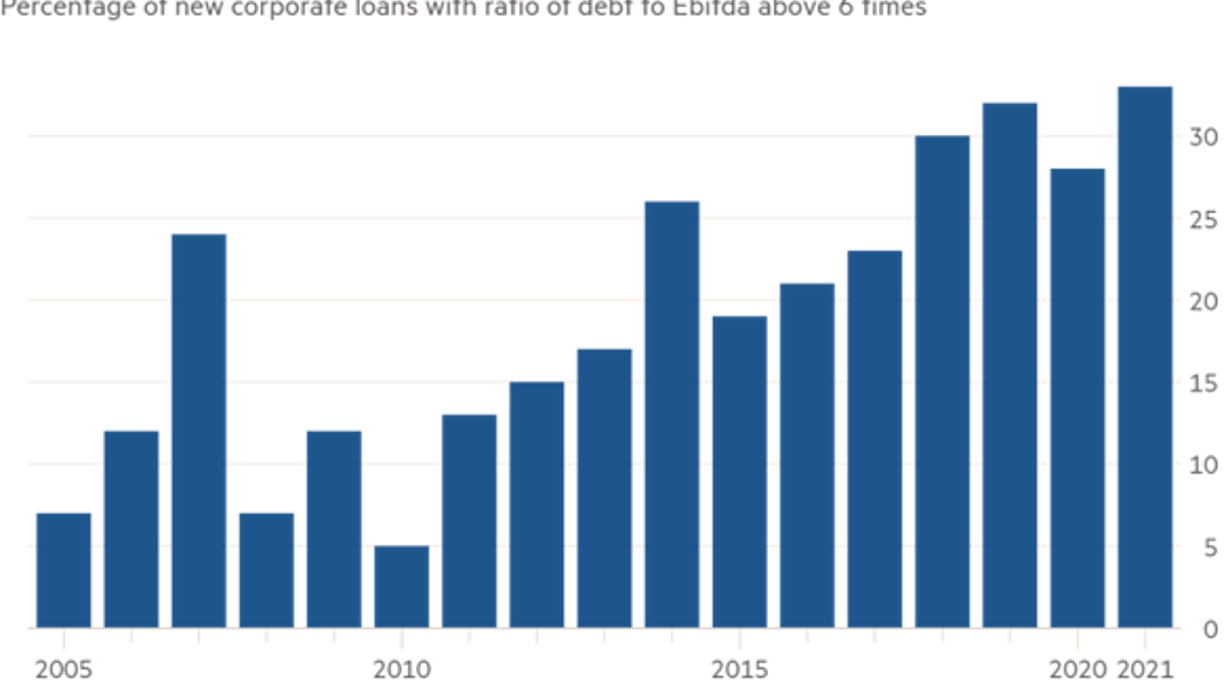 High debt levels only work if economic growth is strong or if interest rates remain low. A Volcker like correction would cut a swathe through heavily indebted borrowers, with bankruptcies and debt to equity swaps required to right size debt levels. It is common to hear investors in leveraged loans saying there's no need to worry as their floating rate debt will receive higher interest payments when central banks start to increase overnight rates. There's an assumption that the borrowers can afford to pay the higher rates, if they can't the lost principal could quickly overshadow the gains from higher rates.
There are two conclusions from this analysis. First, there's limited reward for taking additional risk in most sectors, so target overlooked and cheaper sectors and take risk there. Second, keep your interest rate duration short.
Finance
American companies are pouring record amounts into stock buybacks when the stock market is setting record highs. Corporate insiders are selling shares at record levels, including the CEOs of Microsoft and Tesla. US corporates are recording record profit margins providing good support to stock prices. PE ratios have fallen closer to normal levels as earnings have mostly caught up to prices. Earnings used to explain half of the return from equities, now it's central bank printing doing the heavy lifting.
US producer price indices for goods and services have spiked, indicating higher consumer price inflation lies ahead. German wholesale prices are up 16.6% over the last year. The global credit impulse points to softer growth in 2022.
Innovation in FinTech is substantially exaggerated. An estimated $7.7 billion has been transferred from cryptocurrency speculators to "rug pull" scammers this year. The psychology behind why people pay extraordinary amounts for very ordinary digital pictures. The more time passes without killer blockchain applications, the more it looks like a fad.
NatWest bank has paid £265 million in fines after it tolerated widespread money laundering, including one customer bringing £700,000 to a branch in garbage bags. A JP Morgan financial advisor is taking legal action against the firm to stop another department from poaching her clients. Citigroup was rebuffed by ESG investors with their plan to buy coal mines and wind them down. A small group of academics is pushing back against the widely accepted notion of loss aversion.
What happens now that Evergrande has formally defaulted? China's stock market has shrugged off Evergrande's default. Chinese apartment pre-sales are plummeting as developers run out of funding to complete existing projects. A defaulted Chinese real estate developer can't track down a fund manager that it invested $313 million with. China is taking steps to force Chinese companies using VIEs to list in Hong Kong.
Politics & Culture
California is planning to spend $1 billion bailing out homeowners who are in arrears on their mortgages. Why charities do a better job of helping the poor than government welfare. American teachers sick of bureaucratic public schools are leaving to start their own schools. Disciplinary problems have spiked at schools after students returned from long periods away from physical classes. Black Lives Matter called for a boycott of "white companies" over Christmas. When Anthony Fauci claims that his critics are anti-science, he sounds like Donald Trump.
The University of Hong Kong has removed the "Pillar of Shame" statue that commemorates the Tiananmen Square Massacre, whilst Disney pulled an episode of the Simpsons from its China playlist that makes fun of the cover-up of the massacre. The Women's Tennis Association suspended events in China over the disappearance of Peng Shuai, showing the NBA how to stand up to Chinese bullying. A Chinese social media star was fined $210 million for tax evasion. Dozens of people have been jailed in China for purchasing toy guns online.
In an attempt to get out of a defamation action, Facebook argued that its fact checking was not factual but merely an opinion. Facebook labelled a whistleblowing article from the British Medical Journal as misleading, despite having no evidence that it was inaccurate. Facebook is being sued by Rohingya refugees for its role in the genocide in Myanmar. Around 50,000 Facebook users have been targeted and spied on by surveillance for hire hackers. Apple is taking legal action against Pegasus, the company that hacks Apple devices to allow despots to spy on their critics. Software updates from Huawei have been used to install malware in Australia and the US.
Economics & Work
Switzerland is similar to Sweden, except that its lower taxes and smaller government mean it is much more prosperous. Rather than being a poster child for MMT, Japan is piling up problems for future generations. Emerging market central banks are getting on with raising rates whilst developed economies dither. The IMF admits it stuffed up its $44 billion bailout of Argentina in 2018.
Wage theft and shoplifting should be punished alike. FedEx increased its wages, benefits and job flexibility and saw the number of applications double. Sydney restaurants are struggling to attract workers, even with sign-on bonuses and well above minimum wages. The CEO of better.com was mocked for firing 900 employees over a zoom call. Five books to read if you are starting out in economics.
Miscellaneous
The argument to stop giving presents to adults. Why Finnish babies often sleep in a box. Judges have cracked down on the use of plastic surgery and Botox at camel beauty contests. Despite being the tallest, Mount Everest isn't the deadliest mountain. After a rapid increase in November, South Africa's omicron cases are falling sharply. The state of Maine has called in the National Guard to staff hospitals after unvaccinated staff were forced out.
When a Finnish Tesla owner was quoted €20,000 to replace the batteries he decided to blow up his car instead. Tesla is suing Chinese consumers who criticise the quality and safety of its cars. The good and bad of the dark web. An introduction to what the metaverse could be. Amazon's "smart" devices looked pretty dumb when an outage locked people out of their homes and turned off their fridges.
A restaurant fired a waitress after a dispute over a $4,400 tip meant to be split only amongst the servers. Hertz extorted a law professor, who then used her social media profile to shame the company into a refund after grabbing headlines with her story. A food critic's tale of eating at possibly the worst Michelin starred restaurant in the world.
........
This article has been prepared for educational purposes and is in no way meant to be a substitute for professional and tailored financial advice. It contains information derived and sourced from a broad list of third parties and has been prepared on the basis that this third party information is accurate. This article expresses the views of the author at a point in time, and such views may change in the future with no obligation on Narrow Road Capital or the author to publicly update these views. Narrow Road Capital advises on and invests in a wide range of securities, including securities linked to the performance of various companies and financial institutions.
---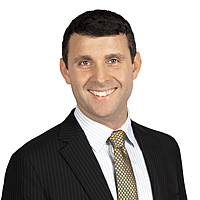 Portfolio Manager
Narrow Road Capital
Narrow Road Capital is a credit manager with a track record of higher returns and lower fees on Australian credit investments. Clients include institutions, not for profits and family offices.
Expertise