Media Worth Consuming – November 2021
---
Top 5 Articles
By one measure, the tech sector makes up 42% of the S&P 500, far more than before the Tech Wreck.
We're at that stage of the cycle where amateur investors see lucky idiots making huge returns and become convinced they can do it too.
Since 2008, the Federal Reserve has stolen $4 trillion from savers.
US inflation is likely to increase further and peak in 2022.
A bartender from California is annoying Citadel by calling out payment for order flow as a shady practice.
Chart of the month
Following inflation taking off in the US and several other developed economies it is worth remembering how bad inflation can get when governments forget basic economics. The graph below shows that the Turkish Lira is plummeting again, with one US Dollar now buying twelve Turkish Lira up from less than eight earlier this year. Despite inflation increasing to 19.9%, the government has pressured the central bank, which has cut the overnight interest rate from 20.5% to 16.5% in the last three months.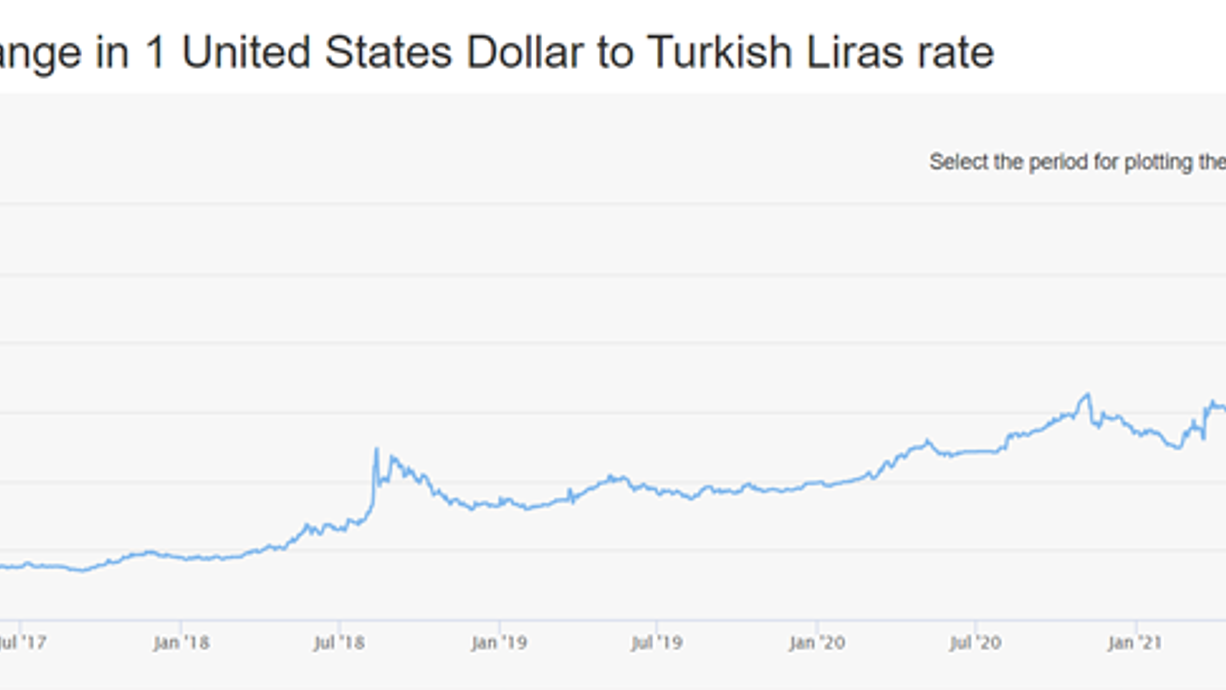 Source: Exchange rate guru
Whilst central banks the world over have cranked up the electronic printing presses since Covid started spreading, Turkey has been amongst the most aggressive seeing its M2 money supply double in the past three years. That's an awful lot more money chasing a similar amounts of goods, as real GDP is largely unchanged. As always, it's the poorest citizens who are worst off as their limited incomes buy less of the essentials, particularly those that are imported.
Finance
US securitisation is having its biggest year since the financial crisis with esoteric issuance soaring. The world's most bearish hedge fund has closed down. US pension funds are running down cash levels and boosting illiquid assets to avoid negative real returns on cash. CalPERS is adding leverage to its portfolio as it struggles to see how it can deliver its 6.8% long term return target. Best Buy's CEO said systemic shoplifting is materially dragging down its margins.
Chinese local governments are cracking down on developers using presale deposits for their business activities, cutting off another source of liquidity. Chinese property developer Kaisa passed the three red lines test in June, but now it has defaulted on undisclosed debts. sub-investment grade Chinese property developers are struggling to rollover funding with more expected to default. Two-thirds of Chinese property developers fail at least one of the three red lines. The big three rating agencies have been late in downgrading Chinese property developers.
Politics and culture
The American media's inability to accurately report on the potential origins of Covid points to financial dependence on China and political bias. Mainstream media was surprised at the Rittenhouse verdict as they failed to follow the facts of the case. YouTube is going to hide the dislike count for videos after huge negative responses to content featuring Joe Biden.
Five young Democrats pretended to be white nationalists in an attempt to smear the Republican candidate for Virginia's governorship. Democrats talk about housing being a human right but when they have the power they make it more expensive. The government of Togo took only two weeks to design and implement its Covid welfare program based on citizens' mobile phones.
Economics and work
A 35% increase in money supply in less than two years could explain at least part of America's high inflation. US CPI topped 6% but the Fed and the US government keep on stimulating, though the Fed is making noises that it might be about to take inflation seriously. The US government's changes in inflation measurement may understate inflation a little, but inflation hasn't averaged 9% per annum over the last 21 years. Despite a massive increase in government bond issuance over the last 15 years, the free float of government debt has declined in many major economies.
The American city of St Paul voted to implement strict rent controls and developers have responded by cancelling new buildings and renovations, exacerbating the shortage of housing. In the long term, poorer citizens are better off with greater economic freedom rather than greater welfare.
Miscellaneous
Political and business leaders flew private jets to the climate summit so they could lecture everyone about their emissions, ignoring the obvious fact that hitting climate targets would be an awful lot easier if rich people gave up their luxuries. After China stopped accepting plastics for recycling, hundreds of American councils have stopped their recycling programs and sent it all to landfills or incineration. There's a lot of dirty mining and processing required to make green power and cars. Tesla's "full self-driving" feature has a long way to go to provide comfortable, safe and automated trips.
The cryptocurrency that co-opted the Squid Game theme rose by 230,000% in a week before crashing almost 100% even though it was called out as an obvious scam from the start. NFTs are transferring wealth from suckers to scammers, but don't try telling the "buyers" they've been scammed. A group of hackers has issued an apology to members of several Middle Eastern royal families after the hackers published data relating to jewellery purchases.
Singapore's government has said it will stop paying health costs for unvaccinated citizens. The argument is that drug addicts engaged in crime should either detox or go to prison. When a leader is asked hard questions, there are only three acceptable responses.
Never miss an insight
Enjoy this wire? Hit the 'like' button to let us know. Stay up to date with my content by hitting the 'follow' button below and you'll be notified every time I post a wire.
Not already a Livewire member? Sign up today to get free access to investment ideas and strategies from Australia's leading investors.
........
This article has been prepared for educational purposes and is in no way meant to be a substitute for professional and tailored financial advice. It contains information derived and sourced from a broad list of third parties and has been prepared on the basis that this third party information is accurate. This article expresses the views of the author at a point in time, and such views may change in the future with no obligation on Narrow Road Capital or the author to publicly update these views. Narrow Road Capital advises on and invests in a wide range of securities, including securities linked to the performance of various companies and financial institutions.
---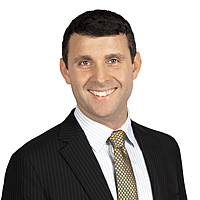 Portfolio Manager
Narrow Road Capital
Narrow Road Capital is a credit manager with a track record of higher returns and lower fees on Australian credit investments. Clients include institutions, not for profits and family offices.
Expertise