Off the Charts! Crown and Star part, Kelly Slater surfs the Crypto wave, and a bid to make Bezos stay in space
---
Welcome back to Off the Charts! bringing you everything you need to know from markets (and some things you don't).  The world of crypto was as bonkers as ever this week with ultrarich US family offices getting ultra-richer as they posted record crypto returns, while world surfing's senior crypto nerd and GOAT (AKA Kelly Slater) considered launching his own digicoin, as you do. 
Also, things went to the moon! Not literally. But a lot closer than normal when that expression is used around markets. The billionaire space race is on and it's launching a whole lot of space-related companies into orbit with it. 
Plus, the Star and Crown will be officially parting ways as the latest findings from the Casino's Melbourne Royal Commission indicate that it may take up to two years for the casino operator to reform itself to the level required to hold a license.
Let's jump in ...

#1 - A floating goat CLIMBS aboard the crypto boat
Most of you will have probably heard of something called the "Shoeshine indicator". It derives from a conversation John F Kennedy's father had with a shoeshine boy, in 1929. As he went a-polishing, the young lad offered Kennedy Snr some stock tips, prompting the intuition that the bull market must be about to end. Kennedy thanked the young man politely, strode briskly away and shorted the market. Cue immense streams of personal wealth and the sound of a dynasty forming, while the rest of the world popped out a bubble and slid into a Great Depression.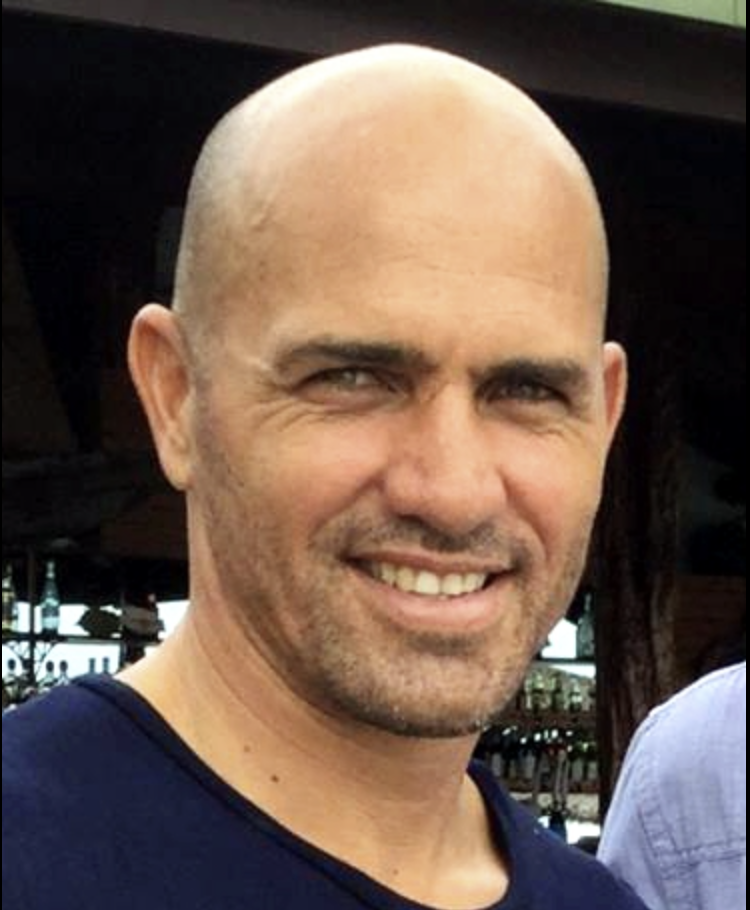 Anyway, with all that in mind we bring you the 'GOAT indicator', specifically for crypto speculation. (True, Crypto has already given us the 'bus indicator' – if you're being begged to invest in Ethereum by the quivering flanks of the 10:15 to Circular Quay, maybe reconsider etc). But we think the Goat Indicator trumps it. So: what are we blithering on about?
Well, it turns out 11-time world champion surfer Kelly Slater (AKA the bald and the beautiful, AKA the GOAT) is looking at creating his own cryptocurrency, according to an interview Gentleman's Journal. As surfing publication Stabmag.com reported:

"Because I'm so interested in crypto, and my partners are too, we're brainstorming...But we're talking out our ass right now because we don't really know what we're doing, but I know people who do know what they're doing, so I've started reaching out to people in the crypto world who make these things... I think it's interesting to have a currency – a storage of value – that isn't controlled by a CEO or a government." - Kelly Slater (Via Gentleman's Journal)
As Stabmag reflected, Slater is neither new to crypto, nor to venting strong views on others who share his interest: Elon Musk, for example. To wit, his Instagram account from May this year:
"Elon Musk and Tesla Motors proudly bought $1.5B worth of Bitcoin for around $34K in Feb. Elon comes out this week and says BTC mining is bad for the environment, and they dump their bitcoin for an estimated $804M in profits (but he's still pushing dogecoin, a useless s***).
What Slater will call his own currency we do not know. What we do know is that Goatcoin is already taken.
.... AND NOW THE ULTRA-RICH ARE PILING IN TOO
In other Crypto news (and it's the last thing you'll readabout Crypto this week, we swear), while we're not 100% sure if Kelly Slater's interest (above) in crypto means get out or get in, it seems the Ultra-rich in the US are leaping off the blockchain fence in increasing numbers.
As Bloomberg reported this week, a Goldman Sachs report detailed how 15% of the 150 family offices surveyed worldwide are already invested in cryptocurrencies, and "another 45% […] interested in diving into space as a hedge for higher inflation, prolonged low rates, and other macroeconomic developments following a year of unprecedented global monetary and fiscal stimulus. And serious money is involved with 22% having AUM of $5 billion plus and "45% oversaw $1 billion to $4.9 billion."
It seems the family offices are just extending a trend seen broadly across a jittery investment landscape.
"Some family offices have long been investors in private equity and real estate, but have recently been one of the biggest drivers of the boom in special purpose acquisition companies, or SPACs. Just like that phenomenon, the past year's crypto-market frenzy has lured mainstream financial institutions, athletes and celebrities." 
#2 - From a trillion-dollar unicorn to please stay in space mr bezos
Meanwhile, one other adventurous investment avenue opening that is not crypto but is out of this world is the trillion-dollar space travel industry. Before we go any further, out of consideration for anyone having trouble picturing a sum as vast as a trillion dollars here's a visual aid. It's about a hundredth of this.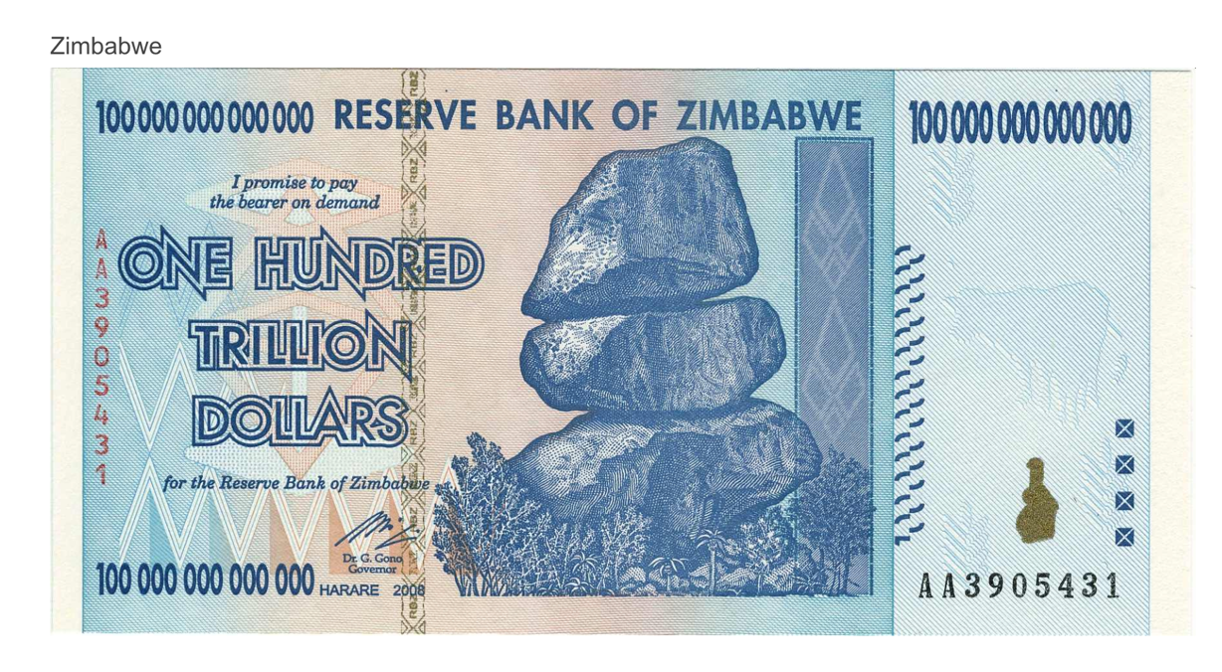 In a week where Jeff Bezos* went into to space with his son (one imagines him gazing out of the outsize Blue Origin windows at the dreamy pearlescent orb shimmering below and murmuring: "Son, one day all this will be … available to purchased on Prime Day") Bloomberg took the opportunity to survey the nascent space industry noting:

"Spectators have lavished attention on Bezos's upcoming trip on Tuesday and fellow billionaire Richard Branson's flight earlier this month. But the scope and scale of the field is far wider than their voyages.


In March, Cathie Wood launched ARK Space Exploration ETF (ARKX). The actively managed vehicle tracks space-exploration and innovation companies. It has already attracted more than $600 million in assets, a top debut for the year.
Wood is not alone: we have already a space-SPAC with satellite services company Astra Space INC, as well as aspirations to list amongst space-infrastructure company Redwire and launch firm Rocket Lab USA Inc. And though Bloomberg noted "risks loom and rockets fail" interviewee Alex Greenfield summed up the space investor appeal well:
"Some people are going to put the right money into the company that finds the $1 trillion unicorn, and those people's children are going to be Carnegies."
*NOTE: Bezos described his ascent to the heavens and back as "incredible". But it appears many people wish he'd booked a one-way ticket, with 165,000 people signing a Change.org petition titled "Do not allow Jeff Bezos to return to Earth."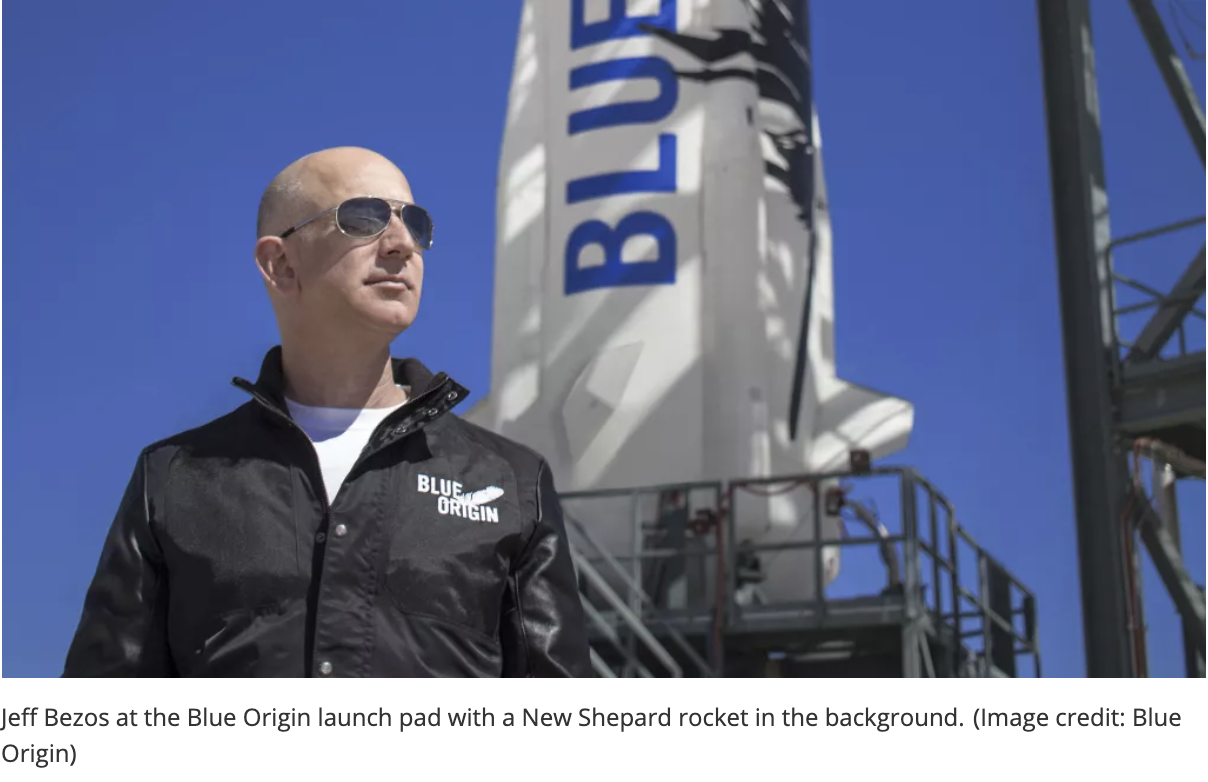 #3 - Rich dad, poor DAD ... POOR everyone
That's not a great depression. THIS is a great depression. That at any rate is how 74-year-old author of the 1997 bestseller, 'Rich Dad, Poor Dad' and investor in local property Robert Kiyosaki thinks we'll be looking at the socioeconomic landscape (or what's left of it) sometime very soon.
"Right now, we're beyond a bubble, we're in a mania...the whole world's in a bubble, how long it's going to crash, I don't know." - Robert Kiyosaki (via The Daily Mail)
On one level Kiyosaki's reasoning is straightforward and familiar: Quantitative Pleasing (sorry, Easing) is the culprit. There's just been too much money printed the world-over (cup an ear and you can hear fresh banknotes flutter in their counters like playing cards in bicycle spokes). As Livewire's Stats Incredible noted this week, 40% of all US dollars were printed this year. In Australia the government has ploughed over $300 billion into stimulus strategies. And while this has pushed the market higher as cashed up punters pile into the ASX, Treasury, as the Mail noted, is expecting a gross government debt of over a trillion dollars for the first time in history. And Kiyosaki doesn't like it. Not only that, but he also thinks it's a Commie Plot.
"Communism is centrally controlled government and economy," he said. A central bank like the Reserve Bank is centrally controlled, it's Communist, it's Marxist." he concluded. (WE know, we know: It's Keynesian. But let the man have his say.)
Kiyosaki, it turns out is not one for equities either, as he doesn't "trust Wall Street". Fair enough. He does trust gold, however. Boy, does he trust gold. "'I love gold. I call it God's money, God put it here, not that I'm religious." He then added, helpfully: "Gold and silver are elements, they are part of the Periodic Table.".
... OK: SO ARE WE REALLY HEADING FOR GREAT DEPRESSION 2? AND WHY DOES CHRISTOPHER KOCH THINK AUSTRALIA SHOULD BUY PFIZER?
The numbers appear to suggest that Kiyosaki has a point. It's not a big point, admittedly, but it is visible. Huge financial implications of lockdowns across the country have understandably dented consumer confidence.
"Overall consumer confidence fell 5.2 per cent… as uncertainty about the highly contagious COVID-19 delta strain played on public sentiment." – ANZ-Roy Morgan (via AFR)
This was the most dramatic single fall since the pandemic reached our shores in March 2020.
Our currency isn't safe either. After belief that the AUD could ascend to US80 cents, the Aussie dollar tumbled back down to US73.20 cents and looks likely to drop past 70 cents brought on by lockdowns, the AUD's sensitivity to global growth and interest rate differentials.
"For every 15-basis point fall in the spread, when the spread is already negative, the Australian dollar falls by US2¢ on average," Joseph Capurso (Via AFR)

It seems as though buying Pfizer is our only option at this point. TINA.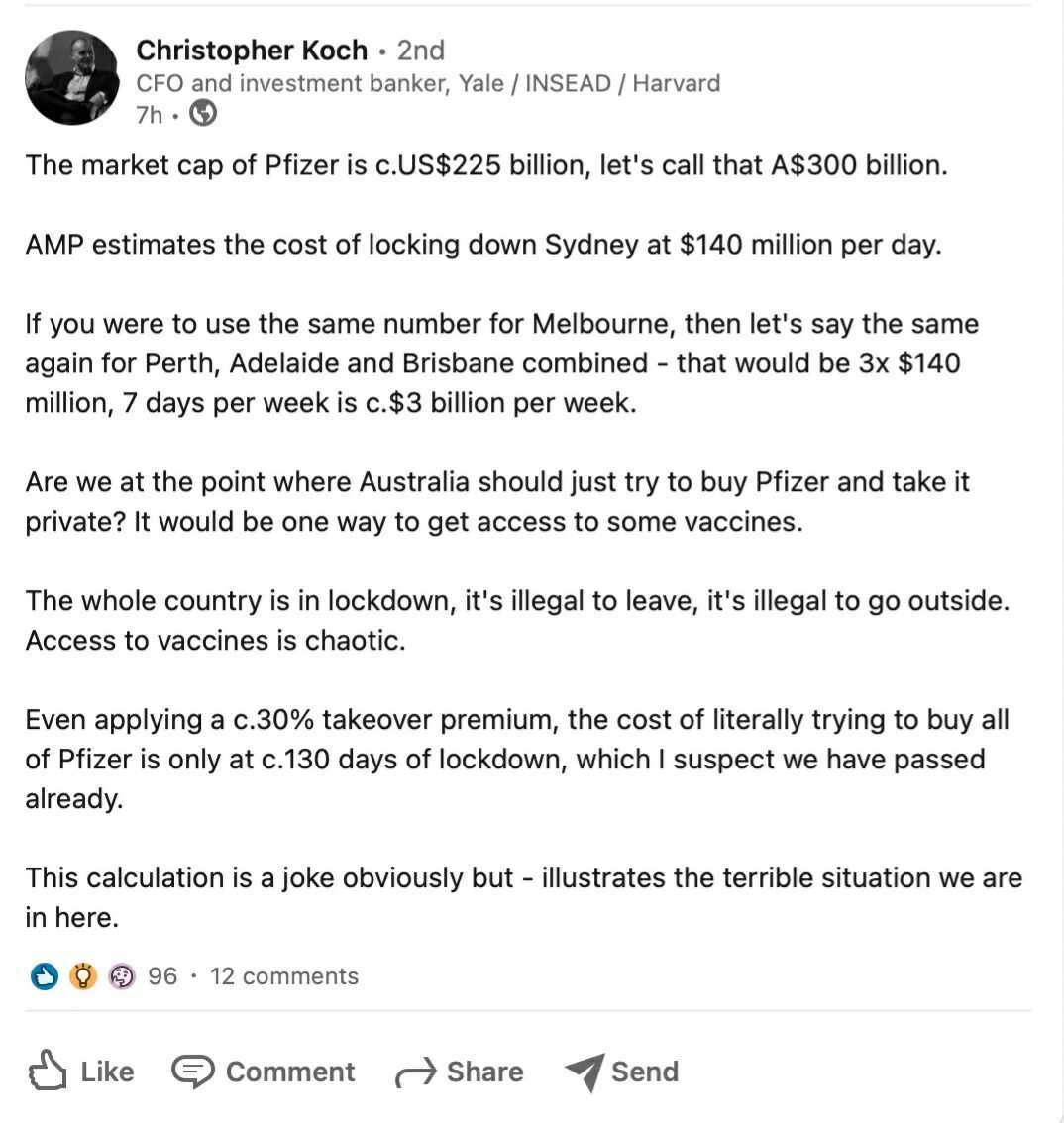 #4 BHP and tesla team up to make mining cool again
This week, global mining behemoth BHP (ASX: BHP) grabbed their skateboard, turned their proverbial hat backward and asked "How do you do fellow kids?", as it announced a new deal with tech-darling Tesla Inc (NASDAQ: TSLA).
The deal is two-fold. Firstly, Tesla will become one of the largest customers of Nickel West - owned by BHP and said to be one of the lowest carbon emission nickel producers in the world. Secondly, the companies will work together. leveraging new technologies and business partners to improve the sustainability of the group's battery metals supply chain.
The deal follows Elon Musk's tweet last year that there was a "giant contract for a long period of time" waiting for a miner who can produce nickel efficiently and in an environmentally sustainable way. 
While the deal is unlikely to move the revenue needle for BHP yet, it is on track with CEO Mike Henry's push toward 'future facing' minerals like copper and nickel and adds fuel to rumours that BHP plans to exit their oil and gas activities soon.
BHP's efforts to reduce its emissions with Tesla will help the group adhere to its carbon-neutral target of 2050. The group has made strategic partnerships with customers to improve sustainability before, but Tesla's expertise and leadership in decarbonisation should serve the miner well. In saying that, "carbon neutrality" under the Government's Climate Active Carbon Neutral Standard is a little dicey, as the AFR's Joe Aston highlights:
Today, the nation's largest businesses buy (carbon credits) for almost nothing, which entitles them to brandish their carbon neutrality (or their progress towards it), as certified by the Australian government.
We're hopeful that carbon-neutral certification will improve with time and BHP's grand idea isn't to simply purchase carbon credits from Tesla in bulk.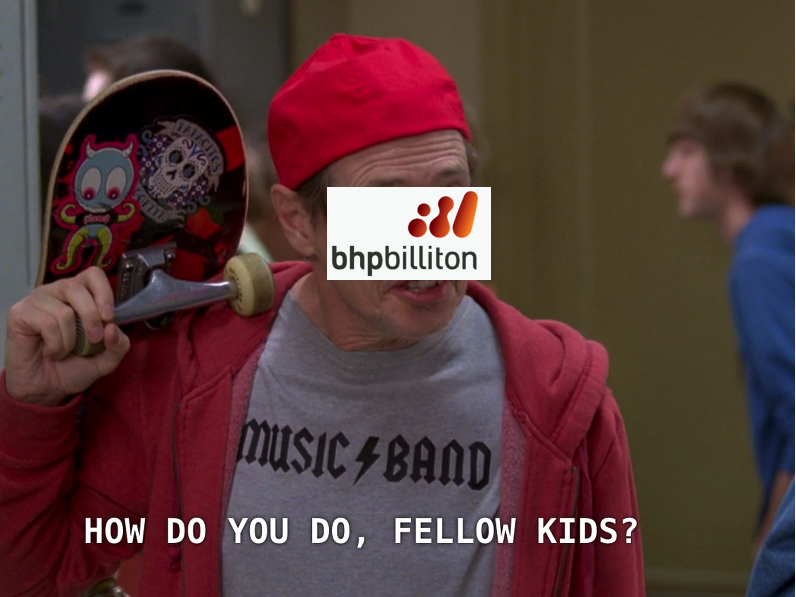 #5 HEad up king, your crown is falling
Off The Charts! first covered bids for Crown Resorts back in March – feels like almost a lifetime ago (lockdowns will do that to a person). At the time, Blackstone had just posted a $12.35 per share bid, valuing the business at $8.4 billion. This was subsequently rejected by Crown, kick-starting a bidding war.
Star Entertainment swooped in with a cash-stock offer that priced Crown at $7.44 billion, way below Crown's market value but with the potential to unlock a valuation of $12 billion for the new entity. This coaxed a 4% improvement in Blackstone's offer.
It looked as though greener pastures were finally in sight after initial dismissals of a gambling licence for their Barangaroo facility in Sydney were on track to ease by the end of the year. 
That is, until this week's Royal Commission into the Casino Operator and Licence. Commissioner Adrian Finanzio, SC, declared Crown's leadership were unfit to head the corporation and drive the cultural reform required after alleged tax underpayments, credit card fraud and money laundering concerns. These announcements threatened the prospect of Crown continuing to operate its flagship Melbourne facility, with Fizanzio feeling it could take up to two years for the casino operator to reform itself to the level required to hold a license.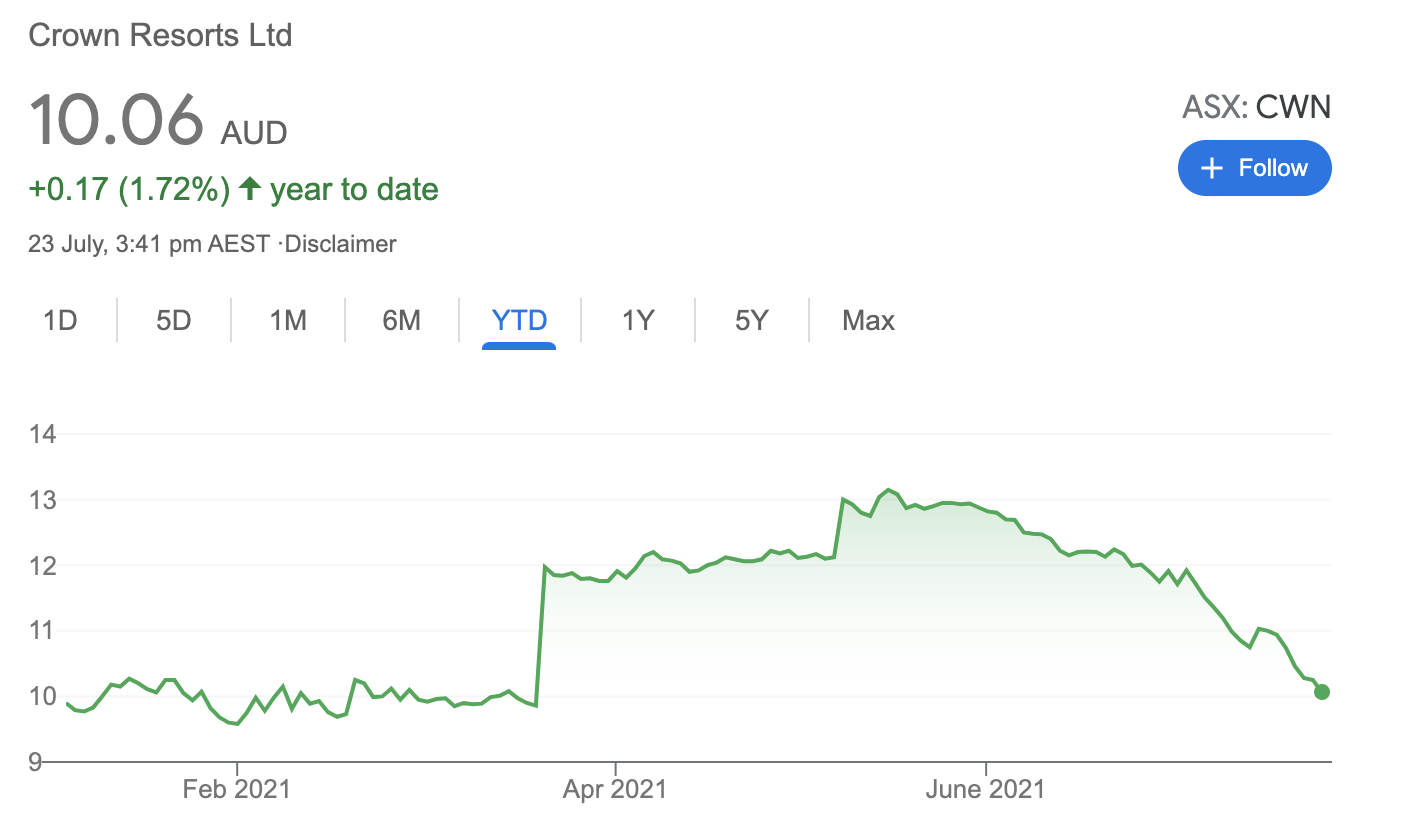 Source: Google Finance
This led to a swift offer withdrawal from Star on Friday morning, no longer comfortable with the odds on the table. 
"Substantial benefits could be unlocked by a merger, however the uncertainty surrounding Crown is such that Star is unable to continue at the present time with its proposal" - The Star Entertainment Group (23 July 2021)
The house always wins I suppose. And there is no bigger house than that of a Royal (Commission).
LIVEWIRE Contributor stories of the week
Ben Griffiths from Eley Griffiths Group provides his quarterly update, exploring key market activities, six stocks that intrigued him and explains why this bull market has further to run.

The electric vehicle market is set to explode over the next decade, Australia is in a great position given the quality lithium miners on our doorstep. Roger Montgomery shares where to invest in the battery metals boom.

The investments that helped return +93% in FY21. Not much more needs to be said and no, this is not clickbait – Michael Frazis really did it, and he reflects on the 3 turning key moments and notable sectors.
Undervalued quality is at the core of the Airlie Funds Management approach. So when a great business in an average sector comes along, interest skyrockets. Does Charter Hall fit these criteria?
As valuations continue to climb amongst incredible uncertainty, are you Feeling Faint? In this wire Marcus Padley preaches that staying alert is the best play, otherwise, you might just miss out on some incredible returns. 
This week, we also covered Magellan's annual investor webinar hosted by Hamish Douglass. The Magellan boss was insightful as ever and had every right to be a bit elated, having been named Australia's 10th wealthiest executive. WiseTech's Richard White topped the rankings, alongside familiar names in Murdoch, Stokes and Harvey. Check out the whole list here.

Coming up next week...
Buy Hold Sell - Stockspot's Chris Brycki and VFS Group's James Whelan go head to head as they discuss Australia's universe of LICs and ETFs. Plus, on Friday, catch their analysis of seven of the most popular passive and active ETFs in the market.

Glenn Freeman launches editorial series where 4 fundies point out the megatrends they see on the horizon and how they would play them.
Patrick Poke

 

Big ideas from 7 leading fund managers, as well as an interview with Pinnacle founder and Chairman, Ian Macoun.
What did we miss?
Did you catch a story this week that you thought was
Off the Charts
? Let us know in the comment section below! Or email
content@livewiremarkets.com
.
Also, if you're enjoying Off the Charts! or have any suggestions for the series let us know.
- Matt Buchanan, Nicholas Plessas, Angus Kennedy.
Never miss an update
Enjoy this wire? Hit the 'like' button to let us know. Stay up to date with my current content by
following me
below and you'll be notified every time I post a wire
Welcome to Livewire, Australia's most trusted source of investment insights and analysis.
---
To continue reading this wire and get unlimited access to Livewire, join for free now and become a more informed and confident investor.
---
---
Livewire Exclusive brings you exclusive content from a wide range of leading fund managers and investment professionals.
........
Livewire gives readers access to information and educational content provided by financial services professionals and companies ("Livewire Contributors"). Livewire does not operate under an Australian financial services licence and relies on the exemption available under section 911A(2)(eb) of the Corporations Act 2001 (Cth) in respect of any advice given. Any advice on this site is general in nature and does not take into consideration your objectives, financial situation or needs. Before making a decision please consider these and any relevant Product Disclosure Statement. Livewire has commercial relationships with some Livewire Contributors.
---
12 contributors mentioned
Livewire Exclusive brings you exclusive content from a wide range of leading fund managers and investment professionals.
Expertise
Livewire Exclusive brings you exclusive content from a wide range of leading fund managers and investment professionals.
Expertise