Our nation is not yet secure
---
In the AFR I write that it's curiously un-Australian to be woefully unprepared for a fight. But that is the situation we find ourselves in. And it is the crisis that our current and future leaders must expeditiously address. On the precipice of what America's president says could be World War Three, Australia has no ability at all to independently defend itself. We are pitifully weak, reliant exclusively on the munificence of our big brother. But radical change is afoot.
In 2012, the year that President Xi Jinping was elected China's paramount leader, Australia's government allowed our defence spending to shrink to 1.6 per cent of GDP, its lowest levels since the 1930s. That same year our government published the Asian century white paper, which imagined a prosperous future perpetually intertwined with China's ineluctable rise.
On Friday morning Australians woke to the shocking news that China has drafted a secret deal to build a military base in the Solomon Islands, merely a three-hour flight from Brisbane. Beyond the range of any current Australian missiles or aircraft, but well within the reach of China's vast and nuclear-able strike capability.
This is a nation that has warned that it will not hesitate to target Australian bases with ballistic missiles in the event we fulfil our defence obligations to the United States in a China-Taiwan conflict.
A nation that has in recent years sought to (unsuccessfully) crush Australia into economic and political submission through brutal coercion via a one-sided trade war simply because our prime minister dared speak-out about the need to investigate the origins of COVID-19.
As one of our geo-political advisers remarked, "they picked the wrong prime minister, in the wrong country, at the wrong time to try to submit". We did not tap-out: in fact, Australia has thrived economically, while reducing our historic reliance on this authoritarian regime, creating a positive precedent for the rest of the world to follow. It is occasionally possible for smaller nations to stand-up to much bigger bullies despite seemingly insurmountable odds, as we have witnessed in the case of Russia and Ukraine.
Indeed, there are parallels between Russian despot Vladimir Putin's ruthless efforts to snuff-out the strategically important Ukrainian democracy and China's aspirations to control Hong Kong, Taiwan and the resource-rich yet vulnerable Australasian region.
Despite its claims that all nations should respect one another's territorial rights, China hypocritically refuses to condemn Russia's invasion of Ukraine while unilaterally appropriating enormous swathes of the Indo-Pacific that are recognised as belonging to other countries under international law.
China is an ideological state that is hell-bent on eliminating threats to the power and longevity of the autocratic Chinese Community Party, and its leader-for-life. Xi has relentlessly warned his 1.4 billion subjects to prepare for a new "long march" involving countless casualties because, he argues, conflict between capitalism and socialism with Chinese characteristics is "inevitable". (Less than one-tenth of the 100,000 Chinese soldiers who commenced the last long march in 1934 survived).
Xi has committed to unifying China's mainland with that recalcitrant outpost, Taiwan, which presents an existential threat to the CCP through its counterfactual of democratic freedom and liberty, via force---or any other means---during his term, as he has done with Hong Kong.
When Xi came to power, many asserted China had no expansionist ambitions. Xi personally promised President Barack Obama that he would not militarise artificial islands in the South China Sea, which is exactly what he did.
Protecting the CCP requires China to endlessly expand its reach outwards, neutralising all threats, real or perceived. This is precisely why Chinese influence operations, espionage, and propaganda have been so global and unprecedented in their scale. There has never been anything like it before.
In Australia, the CCP has successfully compromised an extraordinarily long list of former prime ministers, premiers, politicians and business leaders, which belatedly led to the Coalition introducing the globally unique foreign interference laws to combat this cancer.
The best geo-political analysts on the planet—a small band of experts, such as Dr Ross Babbage, who correctly anticipated that Chinese would actively seek to undermine the liberal-democratic order—handicap the probability of war breaking out over Taiwan at around 50 per cent.
This is almost exactly in line with the forecasts of our artificial intelligence models that use 160 years of conflict, economic, political, social and demographic data to objectively estimate the empirical probability of war between individual nation states.
As this column revealed in October last year, these models put the risk of conflict between China and the US, including a declaration of war, at a shockingly high 45%. The probability of conflict emerging between China and Taiwan is an even more elevated 74%. And this non-subjective modelling is limited to data up to 2020. If we updated the system with more recent information, the odds would be higher again.
While our prime minister and defence minister are deeply worried about these risks, they have been consistently thwarted by an intransigent military apparatus that is institutionally opposed to adapting its force structure to the new circumstances.
And so, as Greg Sheridan has repeatedly explained, Australia still has no independent asymmetric capabilities to defend itself despite the fact that these assets are relatively easy to acquire. Having said that, the federal government is making some impressive progress.
We presently have no ballistic or ultra-long range guided missiles to protect our shores. Since the retirement of the F-111, we have had no long-range bomber capability (the F-35 has one-third the range). There is, however, speculation in informed circles that Australia may acquire America's new B-21 stealth bomber, six examples of which are currently in production (albeit none have yet been publicly sighted).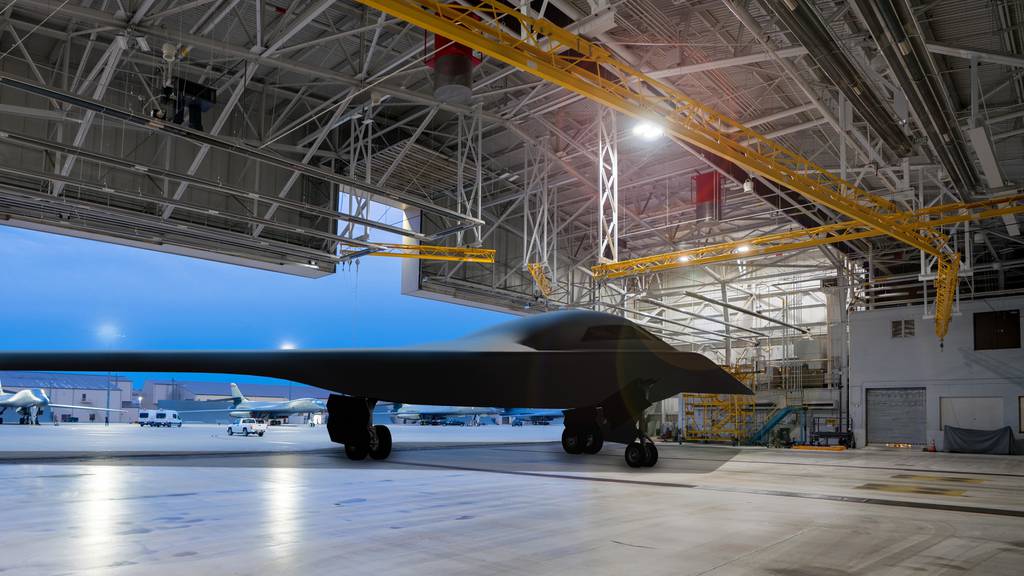 The B-21 would be a revolutionary game-changer for Australia's defence capacity, according to many experts including Peter Jennings, the former defence department's deputy secretary for strategy.
And we are currently developing the transformational MQ-28A "Ghost Bat", an artificially intelligent stealth drone that is the first Australian-produced military combat aircraft in over 50 years.
Finally, the prime minister revealed in March last year that Australia will start manufacturing its own guided missiles, though construction of this facility has yet to commence.
With a coastline almost identical in size to China's, we have just six, thirty-year-old submarines (one-tenth the number China possesses), only half of which are operational. Japan has 23 submarines, four times our force size, producing a new boat every year. Even South Korea has built 21 subs since the 1990s.
The good news is that the federal government made one of the most courageous political decisions since the second world war when it announced that Australia will purchase nuclear-powered submarines for the first time in its history.
While analysts like Sheridan have criticised this proposal for its inability to deliver any subs for decades to come, other experts believe the prime minister will shortly declare that the first two Los Angeles-class nuclear boats will arrive within the next 10 years (and possibly sooner).
The nation needs bold leadership to execute on the radical military metamorphosis that the government aspires to implement. The calcified defence forces require a complete overhaul to compel them to respond to 21st century threats. There is a growing consensus in Canberra that the current Home Affairs Secretary, Mike Pezzullo, is the perfect person to impose these changes.
In the context of the current European crisis, Australis is profiting from the tyranny of distance. But in a future Indo-Pacific conflict, we will suffer from the tyranny of proximity. Most analysts think China could take Taiwan within the next few years. Time is not, therefore, our friend. 
Never miss an update
Enjoy this wire? Hit the 'like' button to let us know. Stay up to date with my current content by
following me
below and you'll be notified every time I post a wire
Welcome to Livewire, Australia's most trusted source of investment insights and analysis.
---
To continue reading this wire and get unlimited access to Livewire, join for free now and become a more informed and confident investor.
---
---
Chris co-founded Coolabah in 2011, which today runs $7 billion with a team of 33 executives focussed on generating credit alpha from mispricings across fixed-income markets. In 2019, Chris was selected as one of FE fundinfo's Top 10 "Alpha Managers" based on his risk-adjusted performance throughout his career across. He previously worked for Goldman Sachs in London and Sydney, the Reserve Bank of Australia, and founded the award‐winning research/investment group, Rismark. He has regularly advised governments, developing unique policy proposals. Chris graduated with the University Medal (Economics & Finance) from Sydney University. He studied in the PhD program at Cambridge University in 2002/03, leaving to set up his funds business.
........
Investment Disclaimer Past performance does not assure future returns. All investments carry risks, including that the value of investments may vary, future returns may differ from past returns, and that your capital is not guaranteed. This information has been prepared by Coolabah Capital Investments Pty Ltd (ACN 153 327 872). It is general information only and is not intended to provide you with financial advice. You should not rely on any information herein in making any investment decisions. To the extent permitted by law, no liability is accepted for any loss or damage as a result of any reliance on this information. The Product Disclosure Statement (PDS) for the funds should be considered before deciding whether to acquire or hold units in it. A PDS for these products can be obtained by visiting www.coolabahcapital.com. Neither Coolabah Capital Investments Pty Ltd, EQT Responsible Entity Services Ltd (ACN 101 103 011), Equity Trustees Ltd (ACN 004 031 298) nor their respective shareholders, directors and associated businesses assume any liability to investors in connection with any investment in the funds, or guarantees the performance of any obligations to investors, the performance of the funds or any particular rate of return. The repayment of capital is not guaranteed. Investments in the funds are not deposits or liabilities of any of the above-mentioned parties, nor of any Authorised Deposit-taking Institution. The funds are subject to investment risks, which could include delays in repayment and/or loss of income and capital invested. Past performance is not an indicator of nor assures any future returns or risks. Coolabah Capital Institutional Investments Pty Ltd holds Australian Financial Services Licence No. 482238 and is an authorised representative #001277030 of EQT Responsible Entity Services Ltd that holds Australian Financial Services Licence No. 223271. Equity Trustees Ltd that holds Australian Financial Services Licence No. 240975. Forward-Looking Disclaimer This presentation contains some forward-looking information. These statements are not guarantees of future performance and undue reliance should not be placed on them. Such forward-looking statements necessarily involve known and unknown risks and uncertainties, which may cause actual performance and financial results in future periods to differ materially from any projections of future performance or result expressed or implied by such forward-looking statements. Although forward-looking statements contained in this presentation are based upon what Coolabah Capital Investments Pty Ltd believes are reasonable assumptions, there can be no assurance that forward-looking statements will prove to be accurate, as actual results and future events could differ materially from those anticipated in such statements. Coolabah Capital Investments Pty Ltd undertakes no obligation to update forward-looking statements if circumstances or management's estimates or opinions should change except as required by applicable securities laws. The reader is cautioned not to place undue reliance on forward-looking statements.
---
Chris co-founded Coolabah in 2011, which today runs $7 billion with a team of 33 executives focussed on generating credit alpha from mispricings across fixed-income markets. In 2019, Chris was selected as one of FE fundinfo's Top 10 "Alpha...
Chris co-founded Coolabah in 2011, which today runs $7 billion with a team of 33 executives focussed on generating credit alpha from mispricings across fixed-income markets. In 2019, Chris was selected as one of FE fundinfo's Top 10 "Alpha...