Strong First Half for Fintech Lending
---
It has been a very active half year in the Australian Alternative Finance (AltFi) market. Since my previous wire on the key themes expected for 2018, the market has continued to grow and evolve. The themes were: 1) Continued Growth, 2) Consolidation of Lenders; and 3) Transparency via Listings.
These themes have been present in the first half, however we have seen two other themes present that will accelerate the development of the Australian Fintech lending market. One being the participation of banks in funding the AltFi lenders, the other, Government support for SME lending.
Continued Growth
The Australian AltFi market continues to see strong growth in both the consumer and SME lending sectors.
Within our portfolio, have see significant growth in the first half of calendar year 2018. This growth has come off the back of marketing campaigns and referral networks converting. There has been an increase in borrower online enquiry which is an indicator of increased recognition of borrowing options by Australian SMEs.
In the press, GetCapital reported lending volumes exceeding A$250m, and Prospa reported cumulative lending volumes over A$600m as part of their IPO process. 
In the consumer lending space as at the end of June peer-to-peer lender RateSetter exceeded the A$300m barrier of cumulative originations, and listed consumer lender, WISR broke through the A$40m mark based on their respective websites.
This growth has led to more recognition of the sector by larger players in the market such as banks and large super funds.
Consolidation of Lenders
To date we have only seen one consolidation play in the market, with Moneyplace being acquired by non-bank lender Liberty.
Transparency via Listings
The biggest story in the sector for the half was the pulled IPO of Prospa. The Prospa IPO was announced in early May, with reports indicating the IPO was underwritten and set to list in June. The IPO was pulled 15 minutes before it was due to hit the ASX board following ASIC queries. Prospa is the largest business in the space, with average rates charged to investors coming in at 41% according to the IPO prospectus. According to an early ASX announcement, ASIC sent an enquiry letter to Prospa the day before the IPO. The exact contents of this letter remain confidential, however early reports in the Australian Financial Review suggest the queries related to Prospa's contracts meeting Unfair Contract Terms legislation. The IPO has been placed on hold at this point, however it has been reported in the AFR in mid-July that Prospa is looking to raise A$40m from existing shareholders.
This was a disappointing outcome for the sector, as a well subscribed IPO would have been a strong statement of the significance of the market moving forward. The AFR report on the 19th of July that the current investors are supporting an additional raise is a strong show of faith in the company, however a positive listing would have been a much more positive story.
After speaking with a number of CEOs in the AltFi space, a number of other IPO plans are being reconsidered following the Prospa false start.
Bank Funding of AltFi Lenders
A major development in the sector is the increase in the number of bank funding lines being provided to AltFi lenders. There have been 3 announcements of bank senior funding facilities in the SME AltFi space since May.
Axsesstoday secured a A$200m securitisation warehouse facility from Macquarie Bank in May 2018. This will increase the lending capacity of the equipment focused lender.
Sydney based SME lender GetCapital the announced in July that NAB had provided a A$50m facility to support new lending.   
OnDeck Australia announced in July that it had secured a A$75m asset backed revolving credit facility from Credit Suisse to refinance the existing loan book and support new lending. OnDeck USA has a US$200m facility from Credit Suisse to support US lending.
These bank facilities will require subordinated support which opens an opportunity for high yield investors. The reduced funding cost for the originators will also improve the revenue margins for the lending business.
Government Support for Non-Bank SME Lenders
In a significant endorsement of the SME AltFi sector, the Australian Small Business and Family Enterprise Ombudsman released a report "Affordable Capital for SME Growth" in June. The first recommendation in the report was for the establishment of a Business Growth Fund. "The private sector to establish an investment fund focused on long-term funding solutions for SMEs. The fund will offer both debt (loans) and equity (investment) to support SME growth. SMEs can apply for amounts between A$250,000 and A$5 million, with terms up to seven years, secured against the business."
The Aura High Yield SME Fund has been looking to solve the problem of availability of finance for Australian SMEs via debt since 2017. We are happy that the government has also recognised this problem and are looking to promote recommendations in line with our strategy.
In conclusion, the Australian AltFi sector continues to grow and evolve in a positive direction.
Disclaimer
This document is dated July 2018 and has been issued by Aura Funds Management Pty Ltd (ABN 96 607 158 814, AFSL Authorised Representative no. 1233893 of Aura Capital Pty Ltd AFSL no. 366 230, ABN 48 143 700 887) This document is for information purposes only and does not constitute an offer or invitation for the subscription, purchase or transfer of units in Aura High Yield SME (Fund). Accordingly, this document does not constitute an information memorandum, prospectus, offer document or similar document in respect of units or the Fund. This document is only directed at persons who are wholesale clients within the meaning of the Corporations Act. This document may not be made available to any retail client. Neither this document nor anything contained herein nor any presentation in connection with this document shall form the basis of any contract or any obligation of any kind whatsoever.
This document must not be distributed to any party without the express written consent of Aura Funds Management Pty Ltd. All information and opinions expressed herein are subject to change without notice. Neither Aura Funds Management Pty Ltd nor its affiliates, associates, directors, officers, agents, employees or advisers warrant the accuracy of the information provided in this document. The offer of units in the Fund will only be made in, or accompanied by, a copy of information offer document. This presentation contains only indicative terms. Investors should read the offer document, and in particular the risks section therein, before deciding to invest in any securities.
Every care has been exercised in compiling the information contained in this presentation.
Past performance cannot be used as an indicator of future returns. Information on taxation is for general information purposes only and cannot be construed as taxation advice.
---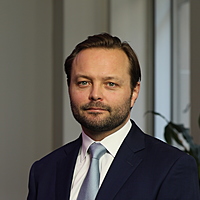 Head of Credit Funds
Aura Group
Brett is responsible for portfolio management and asset origination for the Aura High Yield SME Fund. He has over 15 years' experience in sales, origination and analysis of debt finance.
Expertise