The Match Out: ASX down but stages solid rally from lows, End of reporting - woo-hoo – it's been okay!
---
A soft open following a 1% decline in the US overnight, however, traders stepped up to the plate in a big way pushing the ASX 200 +50 pts above the session lows. The IT and Financial stocks led the charge to end what can only be called a flat month for the ASX overall, the index fell just -0.09% for August which covers up some big moves under the hood.
The S&P/ASX 200 lost -11points / -0.16% to close at 6986
IT (+1.74%) and Financials (+1.11%) led the line while Communications (+0.64%) also outperformed.
Energy (-2.88%) the standout drag while Materials (-1.40%) also fell.
Reporting season is now officially over and it's been a big month for the Market Matters team – we've got a good handle on all the companies we own + many more and look forward to running through the ins & outs in a Webinar next week.
I was on Ausbiz this morning talking about reporting and how our portfolios are positioned – Click Here
Building approvals fell sharply today (-17.2%) as the impact of higher costs and the challenges around actually getting tradies start to bite.
The market is still pricing in higher rates though, 40bps is priced in for the RBA next Tuesday while 67bps is priced in for the US at their next meeting.
Webjet (WEB) +8.02% rallied after saying all of its businesses have been profitable so far in FY23 and that it expects FY24 earnings to exceed pre-pandemic levels.
Harvey Norman (HVN) -2.31% fell despite earnings topping expectations although we don't have a great feel on this one.
Healius (HLS) -2.87% fell hard on a broker downgrade following yesterday's FY results – it was down ~12% at the worst – it actually looks like a solid wash-out/capitulation style low.
PointsBet (PBH) -11.85% lost more money again this year spending ~80% of revenue on advertising.
Praemium (PPS) +12.82% was strong following an inline result. Their statutory profit was big but that was due to the sale of their international business. Sort of like buying a car for 5k, spending 40k on it and selling it for 10k and calling it a profit!
Energy stocks went from the penthouse to the outhouse today after Oil fell ~5% overnight – Woodside (WDS) -4.52%.
Iron ore has finally cracked below $US100/dmt on the futures dragging down the Iron Ore stocks - Fortescue Metals (FMG) off -2.80%
Gold was down a touch in Asia trading US$1721/oz.
Asian markets were mixed, the Nikkei in Japan fell -0.28%, while Hong Kong was flat & China put on +0.25%
US Futures are higher, up around 0.50%
ASX 200 CHART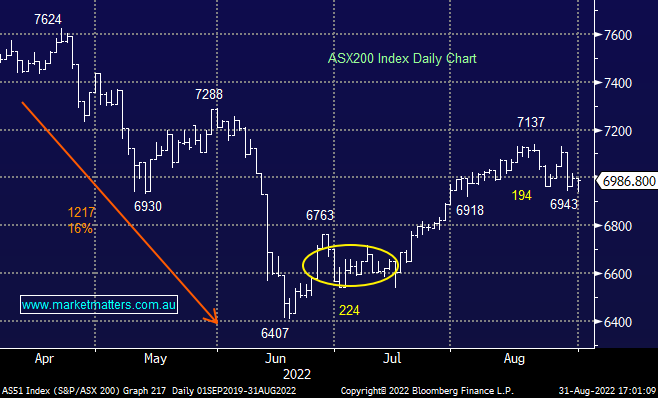 Results Today – a Snapshot
The Market Matters website has a lot of features designed to improve your insight into the market. During reporting, the What We're Watching section of your dashboard is tracking the performance of companies that report… Click here to visit the dashboard – you do not need to be a Market Matters Member to view this.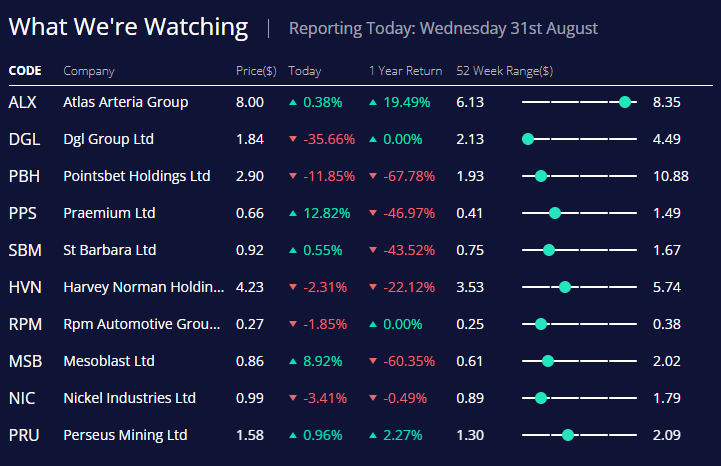 Jobs – a big issue as detailed by nearly every corporate this reporting period
Ahead of this week's Jobs and Skills Summit, Martin Crabb, Chief Investment Officer (CIO) at Shaw looked at this critical national issue:
Australia relies on immigration for growth. Pre-COVID, long term and permanent arrivals averaged an annual 6% of the labour force. This shifted from an average of 3% in the 20th century but plummeted to less than 1% during the COVID lockdowns and is only now recovering to the latest reading of 3.5% as at June 2022.
Tightness in the labour market – where there are 480,100 vacancies but only 473,600 unemployed persons – is typically a signal to the RBA to tighten monetary policy and history suggests this will continue until vacancies fall. The fall in permanent immigration has exacerbated the labour shortage and the resultant pressure on wages.
Efforts to raise the participation rate, such as encouraging workers to remain in the workforce post 65 years of age and creating more affordable childcare - as well as boosting immigration - are needed as much if not more than slowing the economy down via higher interest rates.
Australia has typically focussed on skilled and significant investors as part of its immigration agenda, but this may have created an acute shortage of unskilled and semi-skilled workers, particularly if school and university leavers eschew these jobs.
Healthcare faces the most acute shortage, comprising 14.3% (68,900) of all job vacancies against an historical average of 10.8%. Accommodation and Food Services is the next most acute, comprising 10.8% (51,900) of vacancies versus an average 8.2% since 2009.
The full 5-page report can be downloaded here
Praemium (PPS) 66c
PPS +12.82%: the investment administration platform announced in-line FY22 results today, but the share price got a boost from improving underlying performance. The company printed EBITDA of $16.6m, marginally below consensus but sneaking into the bottom end of the guidance range. Profit was boosted by the sale of the international business with the company paying a 5c special dividend at the time and will use the remaining proceeds to buy back up to 10% of shares on issue, starting the buyback tomorrow. While there was no guidance provided, revenue margins were running at 0.34% in June, which compares to 0.31% in December. The positive trend has been driven by the higher cash rate and winning higher margin business which bodes well for FY23.
Harvey Norman (HVN) $4.23
HVN -2.31%: The retailer was weaker today following their FY22 results that were ahead of consensus in total sales and profit, but a little softer in some of the other measures. Net profit of $811.5m was down 3.6% y/y against consensus estimate for $700.1m while the FY dividend of 37.5c was a touch ahead of the 37c expected (17.5c for the 2H). While FY22 earnings were down on FY21, they said the start of fiscal 2023 has seen "solid sales results".
Pointsbet (PBH) $2.90
PBH -11.85%: a disappointing FY22 result from the wagering company today weighed on the stock price. Pointsbet has been spending money to grow aggressively and the marketing cost was nearly 80% of total revenue. This saw EBITDA miss expectations as losses widened to $243.6m despite a 52% increase in revenue. Cash grew to $472.7m, however, this relied on a $400m placement conducted at the start of the year, and an additional $94m top-up from SIG Sports in June. There was little in the way of guidance, as is normal for Pointsbet, however it was disappointing to not see any commentary around the SIG partnership or any progress in new markets since the start of FY23.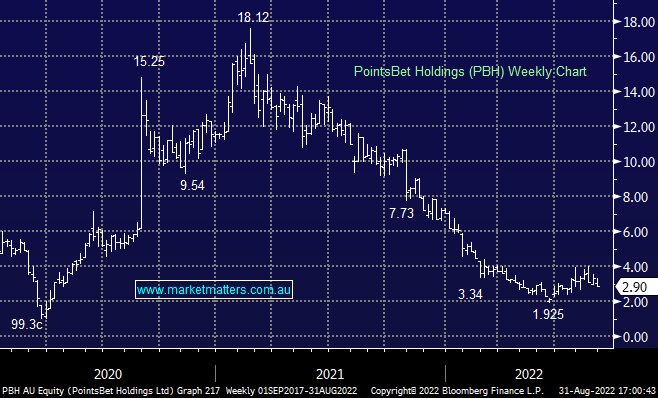 Sectors this month – Source Bloomberg

Stocks this month – Source Bloomberg
Broker Moves
Woodside Energy Rated New Buy at Barclay Pearce Capital
Bravura Rated New Hold at Barclay Pearce Capital; PT A$1.74
NRW Holdings Raised to Outperform at Macquarie; PT A$2.50
Pilbara Minerals Rated New Sell at UBS; PT A$2.60
Lovisa Raised to Overweight at Jarden Securities; PT A$22.29
Tyro Payments Cut to Equal-Weight at Morgan Stanley; PT A$1.40
Woodside Energy Cut to Neutral at UBS
Symbio Holdings Cut to Hold at Moelis & Company; PT A$4.24
Woodside Energy Cut to Hold at Morgans Financial Limited
Fortescue Raised to Hold at Bell Potter; PT A$17.33
Woodside Energy Cut to Neutral at Evans & Partners Pty Ltd
Healius Cut to Neutral at Citi; PT A$4
Major Movers Today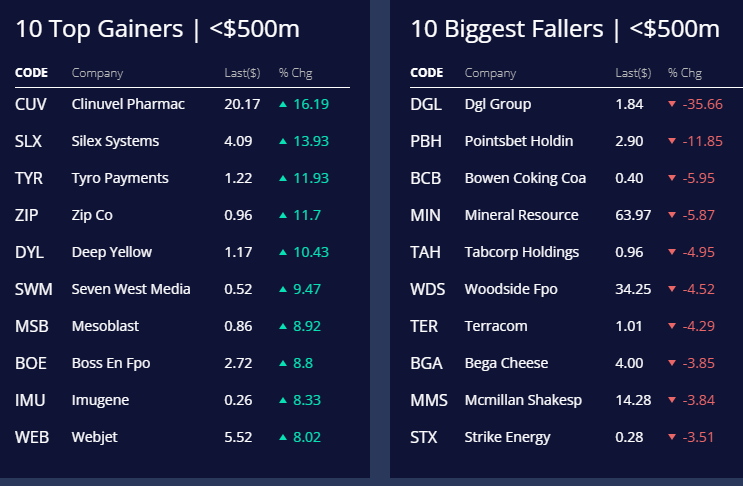 Enjoy your night,
The Market Matters Team
Make informed investment decisions
At Market Matters, we write a straight-talking, concise, twice-daily note about our experiences, the stocks we like, the stocks we don't, the themes that you should be across and the risks as we see them. Click here for your free trial.
The Match Out will be available each day after the market close. Follow my profile to be notified when the latest report is live.