The Match Out: ASX edges higher as RBA hike rates, Appen (APX) tanks
---
A solid session for the ASX with the market edging higher after the RBA raised rates by 0.50% (as expected) to 1.85%. They also amended their language somewhat to imply that future hikes were not set in stone, a very similar approach to the one adopted by the US Federal Reserve last week when they hiked by 0.75%. The retailers did best, both discretionary and staples while IT stocks also rallied.
The ASX 200 finished up +5pts/+0.07% at 6998
The Consumer Discretionary sector was best on ground (+1.46%) while Staples (+1.20%) & Tech (+0.87%) were also strong.
Property (-1.59%) and Materials (-1.13%) the weakest links.
The RBA hiked rates today as expected but tweaked their language which supported stocks.
Centuria Office (ASX: COF) -8.36% hit on weaker FY23 guidance.
Appen (ASX: APX) -27.32% on a big 1H22 earnings downgrade, they have no visibility on their business.
Credit Corp (ASX: CCP) -5.35% said FY23 earnings would be lower than FY22.
A2 Milk (ASX: A2M) +7.93% rallied as the US Food and Drug Administration edges closer to allowing a2MC to import infant milk formula products into the US.
IGO (ASX: IGO) -2.17% fell after presenting at Diggers, ditto for Sandfire Resources (ASX: SFR), we'll cover both tomorrow morning.
Iron Ore was ~1.5% higher in Asia today.
Gold was up overnight to ~US$1772 but traded flat today.
Asian stocks were all lower, Hong Kong down -2.35%, Japan -1.18% while China was off -2.23%
US Futures are all down, around -0.70% 
ASX 200 chart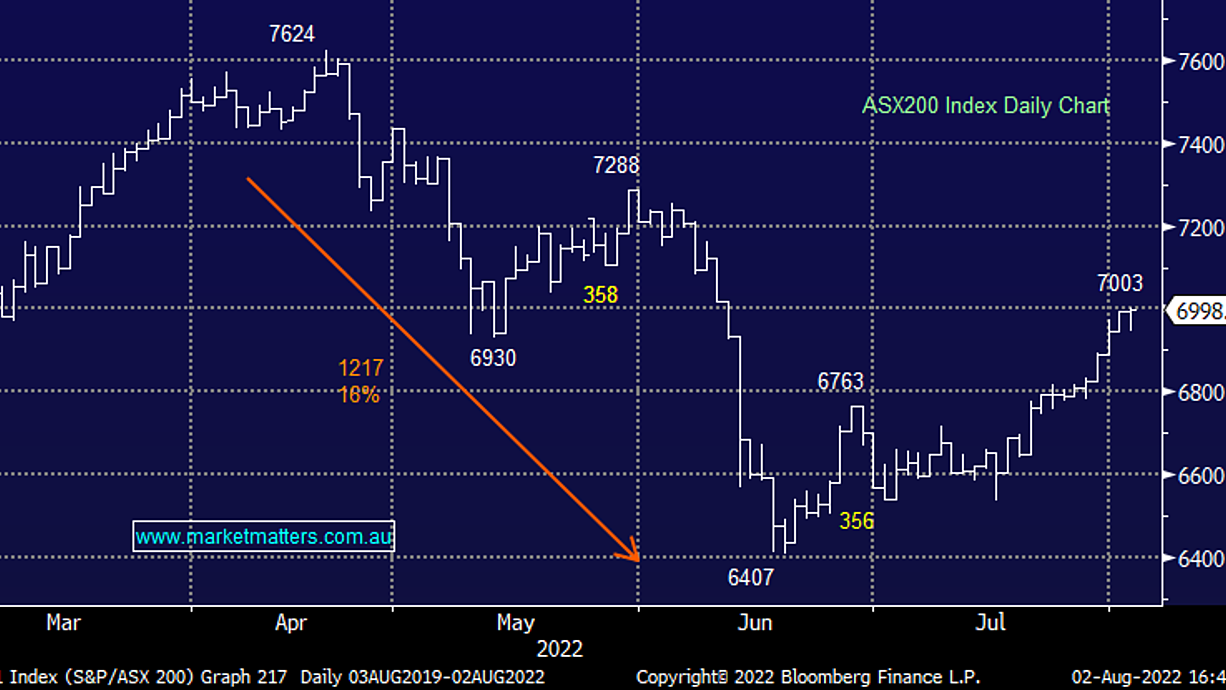 The RBA lifts rates by 0.50% to 1.85%
As expected, the RBA increased rates by 0.50% today taking the benchmark cash rate to 1.85%. In the commentary, they said the board expects to take further steps in the process of normalising monetary conditions over the months ahead, but it is not on a pre-set path. The last part of the comment key as it essentially mirrors the change of rhetoric from the US central bank last week and implies a softening tone. Bond yields were little changed on the update given it was inline with expectations, however, to give some context to the moves recently, the 3-year yield is down ~1% from 3.7% to 2.64% - a very big move. 
Australian 3-year bond yield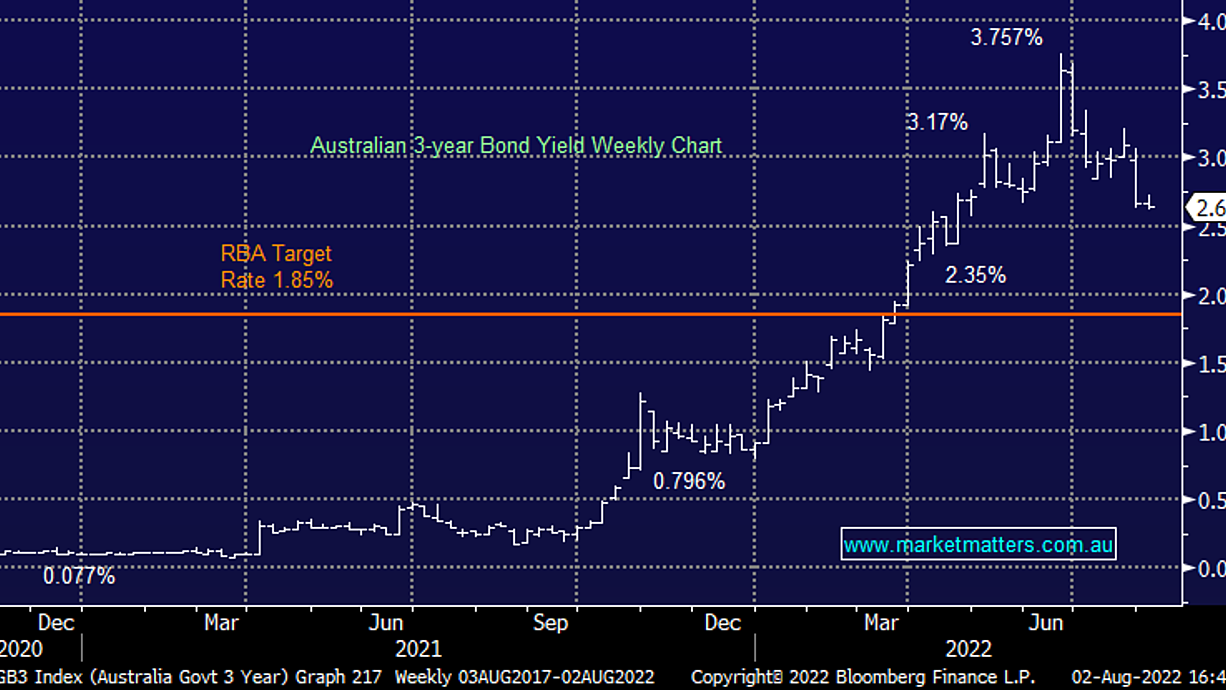 Centuria Office REIT (ASX: COF) $1.70
COF -8.36%: Sharply lower on downbeat guidance for FY23. The office landlord said that funds from operations (FFO's) for FY23 would be $0.158 per unit, lower than FY22's $0.182 per unit. "Prevailing inflation, and subsequent rising interest rates, have impacted our FY23 FFO guidance, though we expect COF to have like-for-like net operating income growth through FY23". Centuria Capital (CNI) owns 17% of COF and also fell ~5% as a consequence of the announcement – CNI is a stock we recently bought and will cover in our Portfolio Positioning report tomorrow morning. 
Centuria Office REIT (ASX: COF)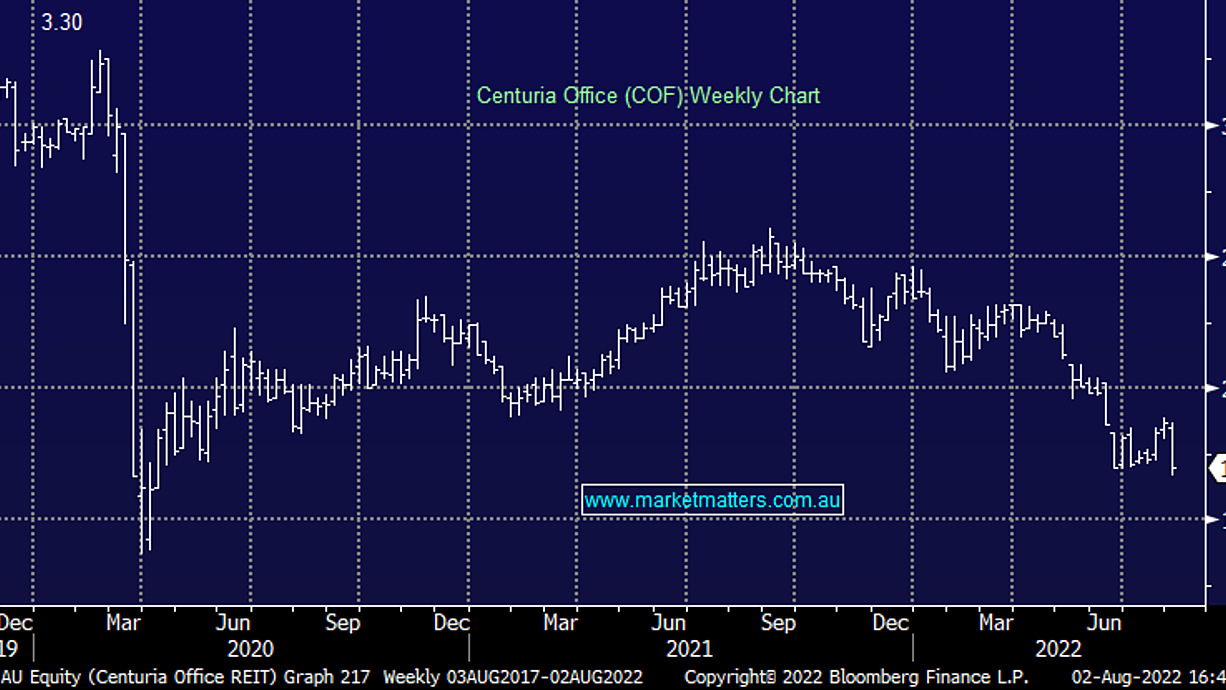 Credit Corp (ASX: CCP) $23.02
CCP -5.35%: The debt collector reported net income today of $100.7m for FY22, ahead of the $96.6m expected, and a final dividend of 36cps which was inline. The profit result equated to a 14% increase on FY21 so clearly a solid outcome, however, their guidance for FY23 caused some concern, they are guiding to net income of $90-$97m and Purchased Debt Ledger (PDL) acquisitions of $220-$260m. PDL's are essentially their inventory, they buy the debts and then work to recover them, less availability of bad debts = less inventory = lower earnings. The stock was down ~15% in early trade but recovered throughout the session. On 14x FY23 earnings, CCP is about fair value in MM's view. 
Credit Corp (ASX: CCP)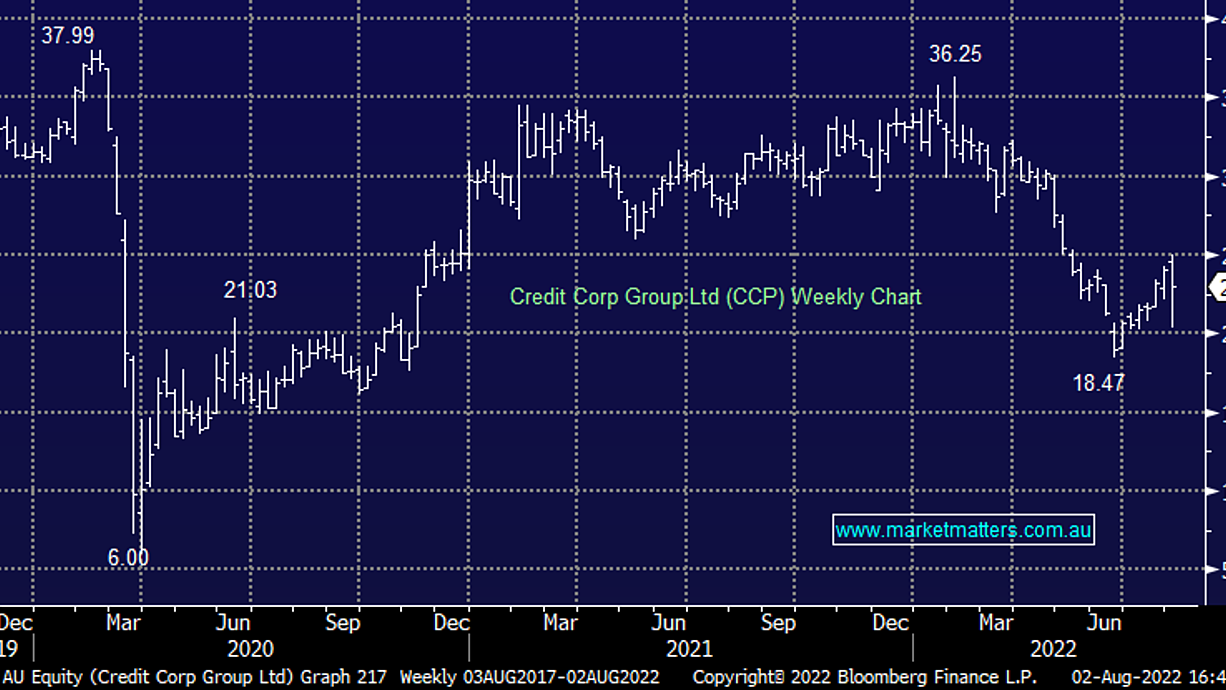 Appen (ASX: APX) $4.15
APX -27.32%: The Artificial Intelligence (AI) company was whacked on the back of another major earnings downgrade with the company booking underlying EBITDA for the half of just $US8.9 million as revenue fell ~7% to $US182.9m as their core customers (Big US Tech) pull back spending on advertising-related AI projects. In short, the woes for APX continue, no visibility on earnings and the huge aspirational targets that the company rolled out when they stepped back from issuing near term guidance at a recent update seems completely farcical.
Appen (ASX: APX)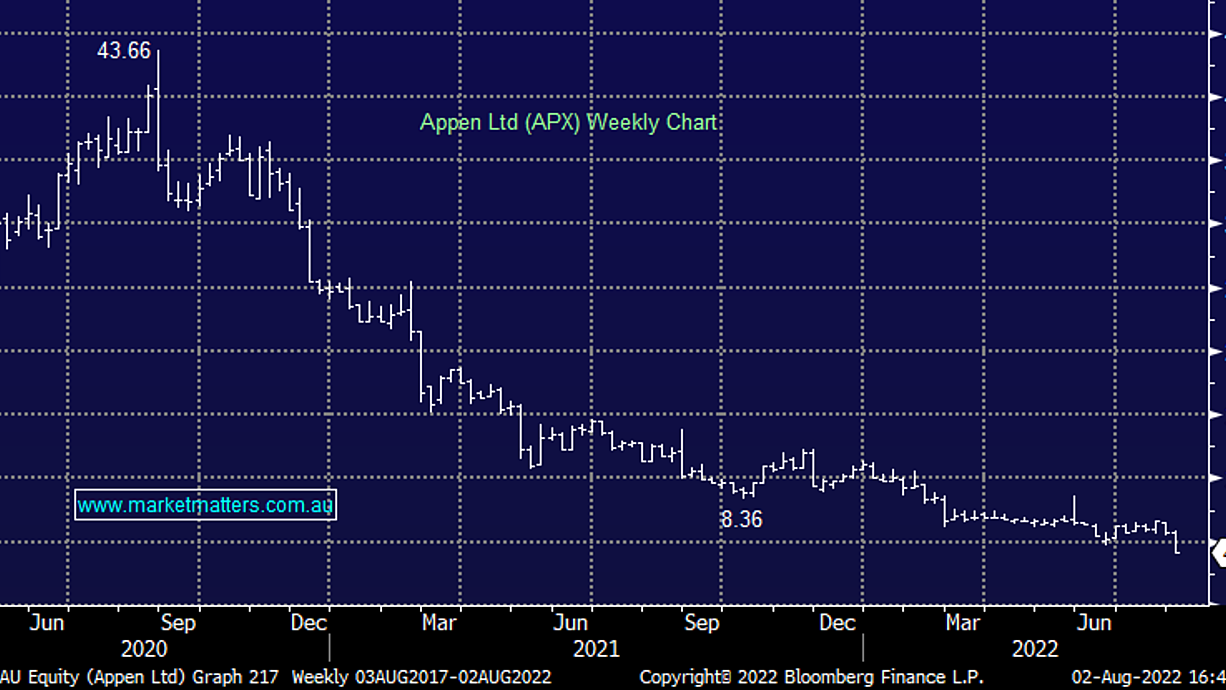 Broker Moves
Transurban (ASX: TCL) Cut to Hold at Morgans Financial Limited; PT A$13.90
Camplify (ASX: CHL) Rated New Buy at Canaccord; PT A$3.25
Major Movers Today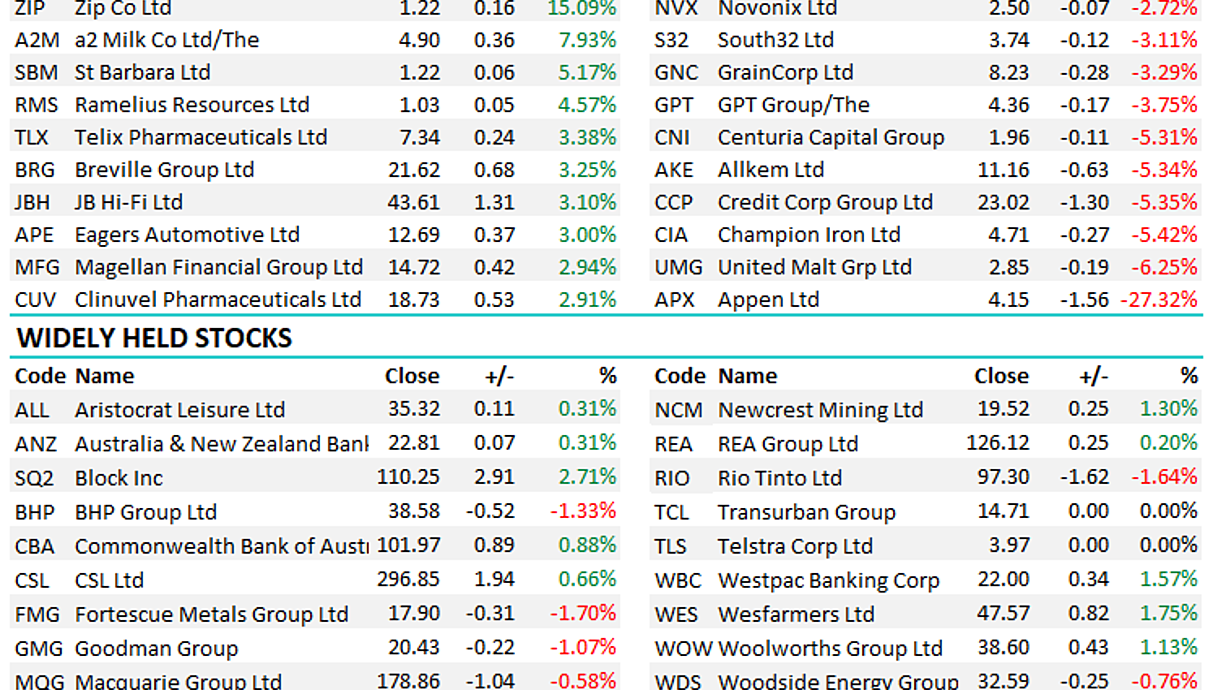 Have a great night,
The Match Out team
Make informed investment decisions
At Market Matters, we write a straight-talking, concise, twice-daily note about our experiences, the stocks we like, the stocks we don't, the themes that you should be across and the risks as we see them. Click here for your free trial.
The Match Out will be available each day after the market close. Follow my profile to be notified when the latest report is live.