The Match Out: Hump day ends down, Pilbara Minerals (PLS) hits all-time high, Calix (CXL) rallies ~40%
---
The market finished down today although the worst of it was seen before 11am - the ASX 200 down ~60pts at the lows before a spirited fightback saw it recoup 2/3rds of the early declines. Commodities + Energy were the weak links today while another ~7% slide from AGL dragged down the Utilities sector. 
On the flipside, Healthcare and IT did well although not well enough to make hump day a positive one.

The ASX 200 finished down -20pts / -0.27% to 7417
Good gains for CSL and Cochlear (COH) underpinned the healthcare sector while Energy gave back 50% of yesterdays rally
In line with MM thinking, Goldman's has almost doubled its price forecast for Asian coal prices saying that as a global recovery in power demand and production issues in key mining countries combine to make supply scarce - stay long Coal the message
They also had some bullish rhetoric on Oil markets saying…. Jeff Currie, Goldman Sachs global head of commodities research, says rising demand, production deficits and depleted inventories are leaving oil markets "extremely exposed" to disruptions in supply. "The potential for oil prices to explode to the upside is increasing, particularly if you don't get Iran," Currie says on "Bloomberg Markets."
Calix (CXL) the most recent addition to the MM Emerging Companies Portfolio rallied ~40% today on a good announcement – Harry covers below
CBA made an interesting announcement today in terms of the Hybrid market – given their capital position they intend to redeem the CBAPE that was due on 15th October. Normally, we'd expect these to be rolled into a new security however the $1.45bn issue will be bought back. That tightens the Hybrid market further which should push up prices (contract yields). Westpac also has the WBCPG due in December which is another $1.45bn issue while ANZ & CBA have a combined $3.2bn worth of hybrids with first call dates in March 2022. This market will tighten
Iron Ore stocks were all lower again today, BHP -3.5%, Fortescue (FMG) – 1.4% with Iron Ore Futures down 3% in Asia as a raft of Chinese Data printed a touch softer than expected i.e. Industrial Production 5.3% v 5.8% exp, Retail sales +2.5% v 7% exp YoY.
AGL Energy (AGL) -7.44% friendless again today, the stock now off ~50% over the past year closing today at $5.85 – surely some value in their assets – somewhere – anyone??
Brambles (BXB) -2.14% after falling 8% yesterday on profit downgrade
Ive Group (IGL) -4.32% we hold in 2 portfolios hit for the second straight session. They were trading ex-divi yesterday which accounted for that decline however a large seller whacked the stock at 11.30am with 150k shares. It doesn't trade a lot and that put the kibosh on it for the day. Nothing untoward we can see other than a keen seller in a light market
Gold was higher during Asian trade ~$US1800 at our close
Iron Ore Futures were down ~3%
In Asia, Hong Kong fell ~1.64%, China also 1.1% lower on weaker than expected data while the Nikkei fell -0.52%
US Futures up a touch ~0.20%
ASX 200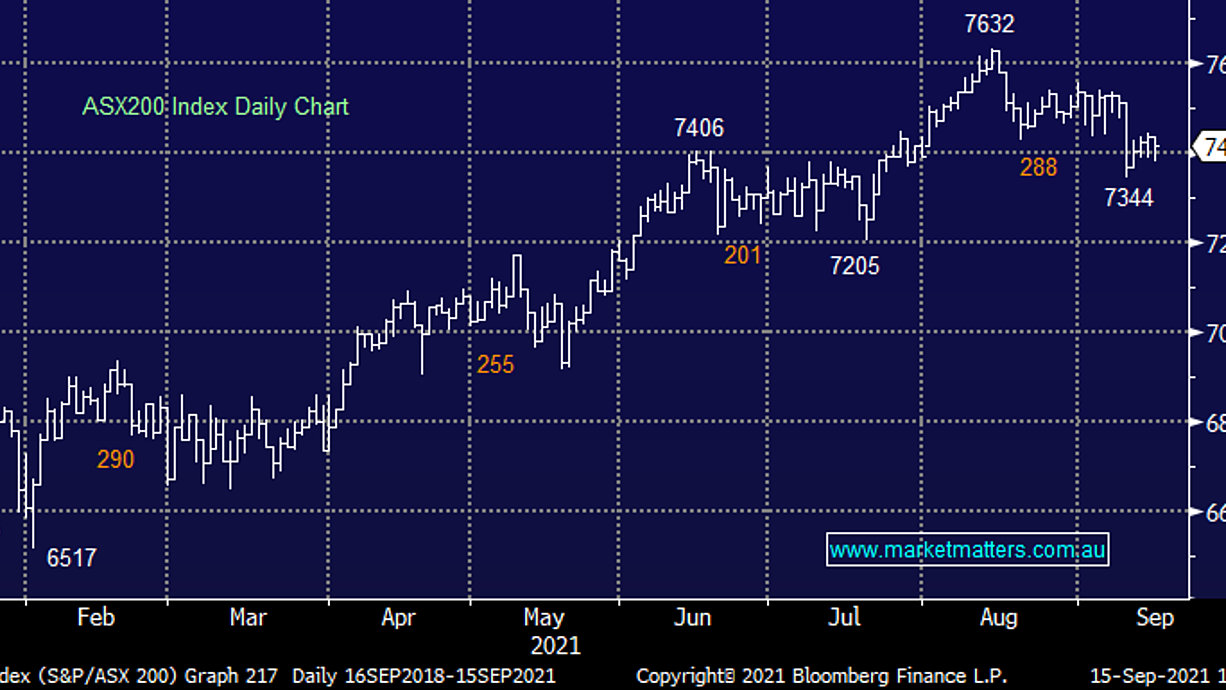 Weekly Video Update
Today James & Harry discuss commodities from Lithium to Uranium, Iron Ore & Copper - The video is available on your dashboard or
Click here to view
Lithium: Spot prices double over the past month
Lots of focus today on Pilbara Minerals (PLS) and the outcome of their 2nd auction of spodumene concentrate held overnight. Essentially, their first cargo at the end of July sold at US$1,250/dmt while the Auction overnight achieved US$2,240/dmt – i.e. almost double. This implies the spot price is now around $2,500/t, or to put that gain into perspective, up more than 6x since early 2020. PLS rallied +8.41% today to close at an all-time high of $2.45 & Orocobre (ORE) +2.3% to $9.78
PLS looks a sell for the ST traders ~$2.50 although we like the sector in the medium term.
Pilbara Minerals (PLS)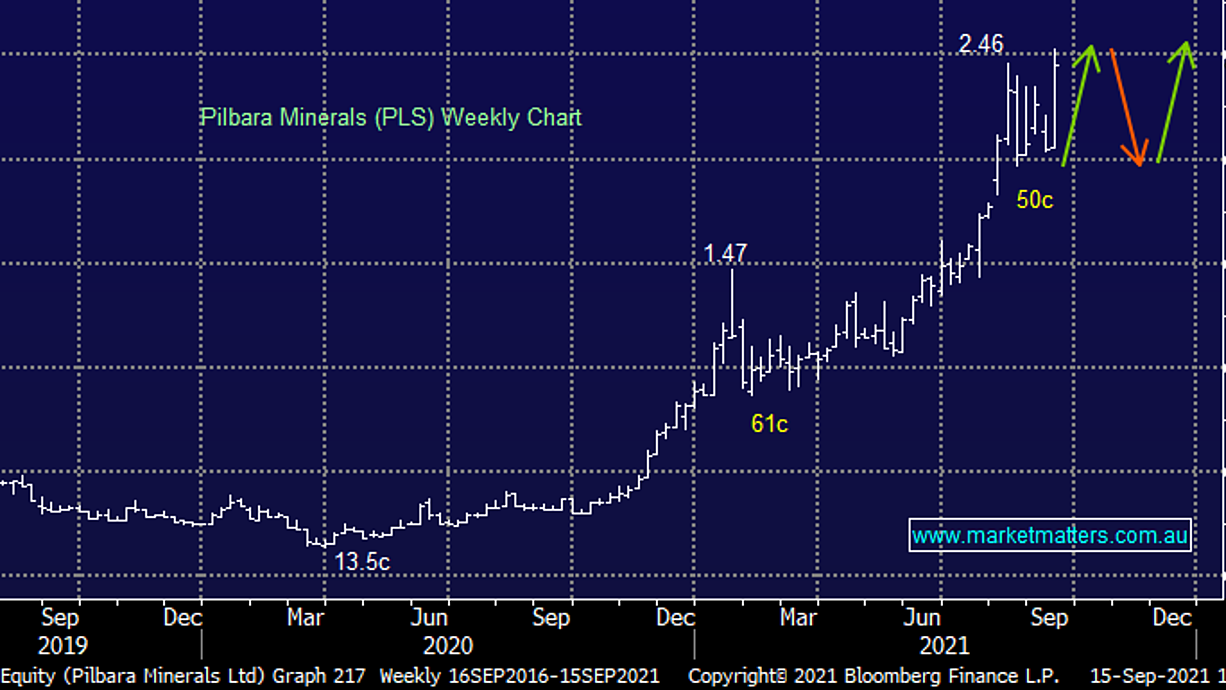 Calix (CXL) $5.35
CXL +39.69%: Our most recent purchase in the Emerging Companies Portfolio crashed through all-time highs today after selling a portion of a subsidiary to a US ESG investment firm. A 7% stake in the LEILAC Group was sold to Carbon Direct Capital management for $24.5m. LEILAC is focused on using Calix technology in the production of lime and cement, helping capture CO2 emissions and allowing renewable energy in the process. While small in terms of dollar figures, it justifies the technology and now has a connected backer helping to commercialise the product.
MM is long and bullish CXL
Calix (CXL)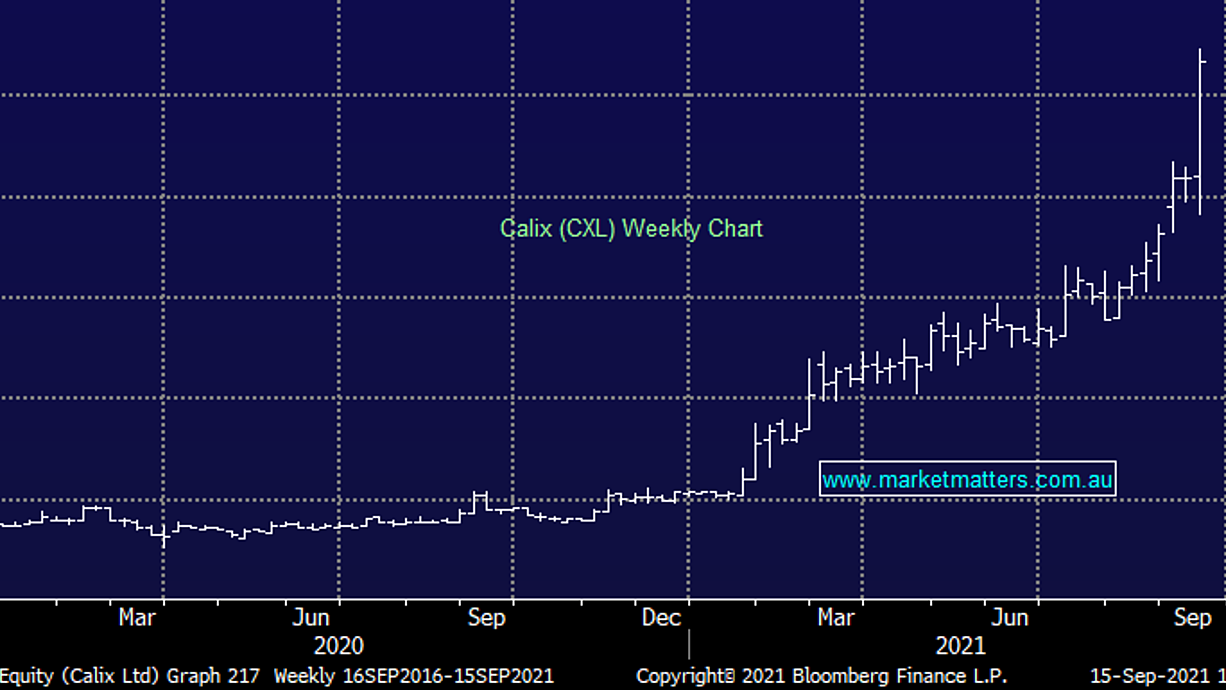 Broker Moves
HomeCo Daily Needs REIT Cut to Hold at Ord Minnett; PT A$1.58
Accent Group Raised to Overweight at Morgan Stanley; PT A$2.60
Pilbara Minerals Raised to Buy at Canaccord; PT A$2.60
ResMed GDRs Rated New Equal-Weight at Barrenjoey; PT A$39.50
New Hope Cut to Neutral at Goldman; PT A$2.50
Major Movers Today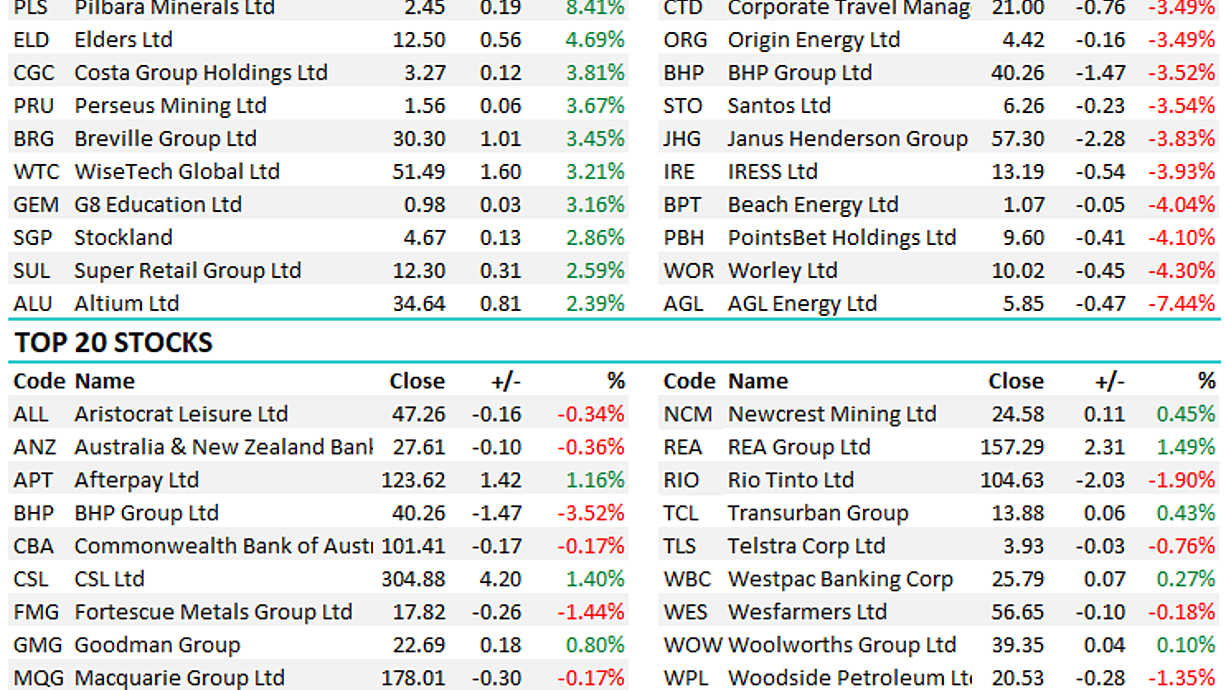 Make informed investment decisions
At Market Matters, we write a straight-talking, concise, twice daily note about our experiences, the stocks we like, the stocks we don't, the themes that you should be across and the risks as we see them. Click here for your free trial.
The Match Out will be available each day after market close, follow my profile to be notified when the latest report is live.