The Match Out: Market edges higher again, CVC walks from Brambles (BXB), James Hardie (JHX) losing momentum
---
The ASX edged higher today thanks largely to buying in the Energy & Materials stocks while the Utilities were also strong. US Futures ticked up during our time zone, Hong Kong rallied ~3% while the minutes of the RBA's recent meeting were released which showed they considered 3 different scenarios for rates, before taking the middle ground with a 0.25% hike.
The ASX 200 finished up +20pts/ +0.27% at 7112
The Energy sector was best on ground (+2.09%) while Utilities (+1.30%) & Materials (+1.12%) were also strong.
Healthcare (-1.13%) weak for a second straight session and Industrials (-1.12%) gave back some of yesterdays BXB inspired strength.
The RBA said it considered three options for the size of its first interest-rate increase since 2010 when it raised the cash rate by 25 basis points. The board agreed that hiking by 15 basis points, as forecast by most economists, didn't make sense given policy was very stimulatory and it was highly probable further rate rises would be required, while it acknowledged an argument could be made for 40 basis points before opting for 25 basis points to signal a return to normal operating procedures following the pandemic, the minutes showed today.
James Hardie (JHX) -3.47% fell after reporting earnings for FY22 that were inline with expectations however no upgrade to FY23 numbers was a disappointment.
Brambles (BXB) -7.47% fell after CVC walked from takeover talks.
OFX Group (OFX) +8.87% rallied on good FY22 results supported largely by their corporate division. Revenue +18% for the year to $158.4m.
Calix (CXL) +4.21% secured $20m government grant.
Bluescope (BSL) +2.05% up on a bullish note from Goldmans that sighted cheap valuation versus US peers.
AGL Energy (AGL) +2.25% after $300m worth of stock crossed this afternoon through JP Morgan – Cannon-Brookes the likely buyer of the ~5% stake.
Iron Ore was flat in Asia today.
Gold was up marginally to ~US$1830.
Asian stocks were strong led by Hong Kong up +2.94%, Japan +0.54% while China was up +0.49%
US Futures are all up, Dow +117pts, S&P +0.57% & Nasdaq +0.85%
ASX 200 Chart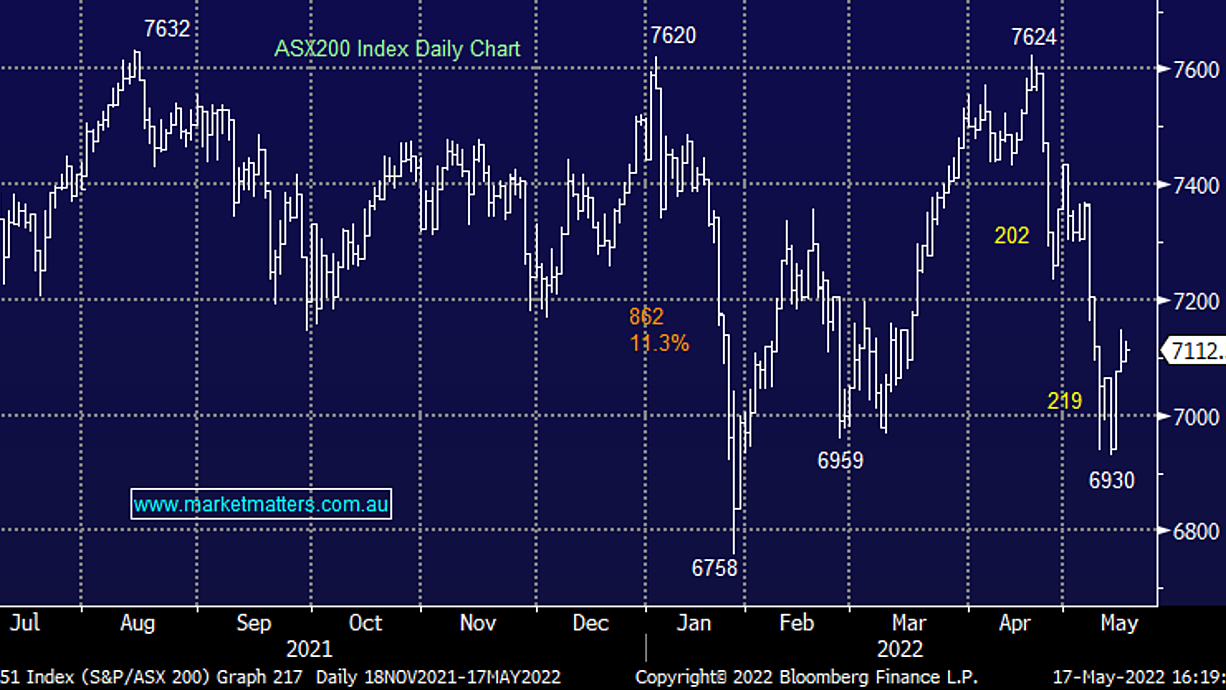 James Hardie (JHX) $37.50
JHX -3.47%: The building products company reported FY22 results today that were in line with expectations, however, it seemed that momentum tapered off in Q4 with weaker than expected earnings and margins in the final 3 months of the year, and that caused them to maintain (rather than upgrade) FY23 guidance. The market had become bullish on JHX earnings and was factoring in greater momentum given strength in construction markets, however both their North American & Asia Pac divisions have lost some inertia.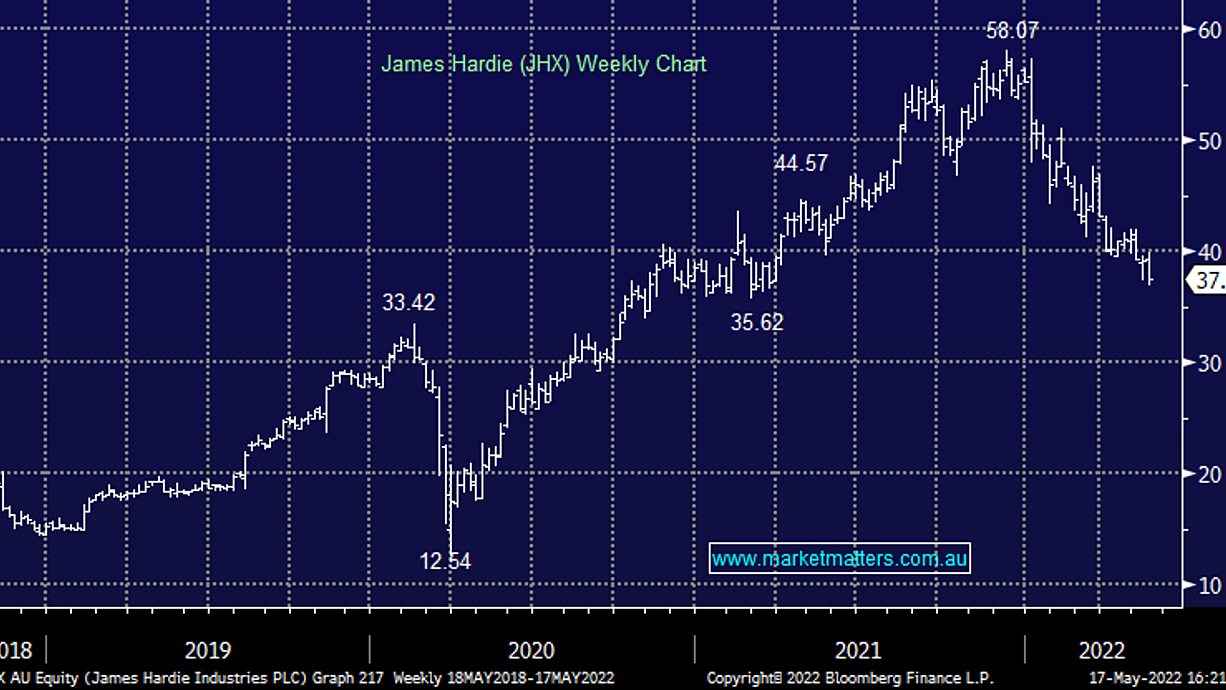 Brambles (BXB) $10.72
BXB -7.59%: CVC Capital Partners has walked away from a potential bid for BXB today prompting the stock to fall. The private-equity firm told Brambles it "will not be putting forward a proposal nor seeking to conduct detailed due diligence at this time due to the current external market volatility," Brambles said in a statement Tuesday. It was a quick dance between the two with some early discussions after BXB received an unsolicited takeover proposal, but nothing eventuated. We would suspect there was too much variance in each party's interpretation of value.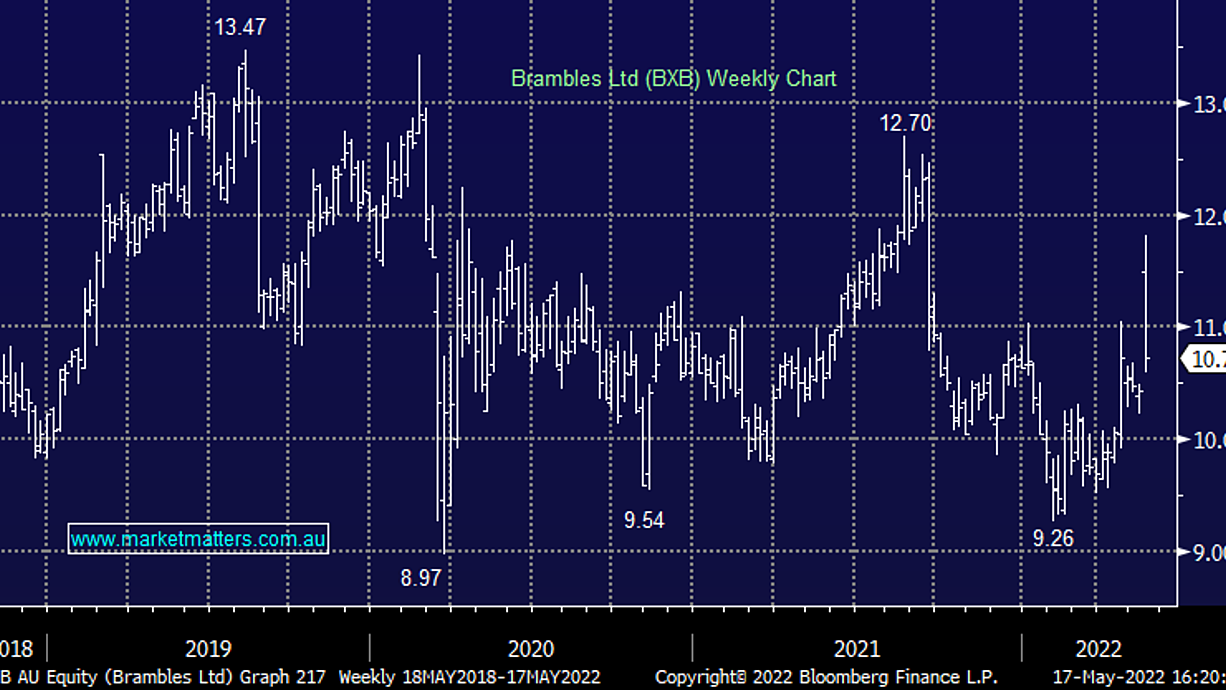 Calix (CXL) $6.93
CXL +4.21%: Announced today that they (along with Pilbara Minerals (PLS) had received a $20m Government grant under the Modern Manufacturing Initiative – in short, CXL will help to decarbonise the electrification pathway as Australia positions itself to 'value-add' in the production of key commodities. CXL is a very difficult stock to value which makes it heavily exposed to sentiment shifts – in early March shares were $6.12 before rising to $9.65, before settling back to a recent low $6.50. However, the tailwinds behind CXL are immense (decarbonization of industry and materials), their technology is proven, and it is targeting market applications across a very large number of multi-billion-dollar opportunities. So, we believe that CXL's market capitalization will over time rise to levels significantly above current levels, and investors should look through the volatility that is so prevalent here.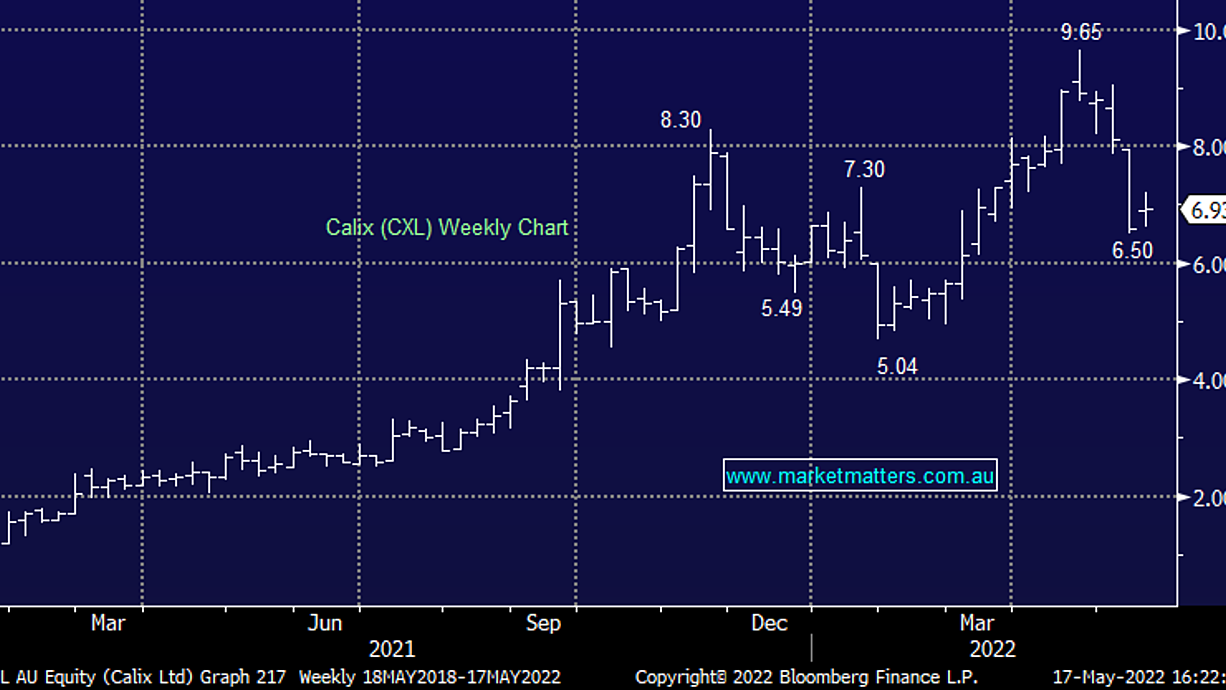 Broker Moves
Cooper Energy Raised to Overweight at Jarden Securities
Incitec Cut to Hold at Jefferies; PT A$4.10
Sims Cut to Neutral at Goldman; PT A$21.40
Bluescope Raised to Buy at Goldman; PT A$25.30
Computershare Rated New Buy at Jefferies; PT A$29.50
Major Movers Today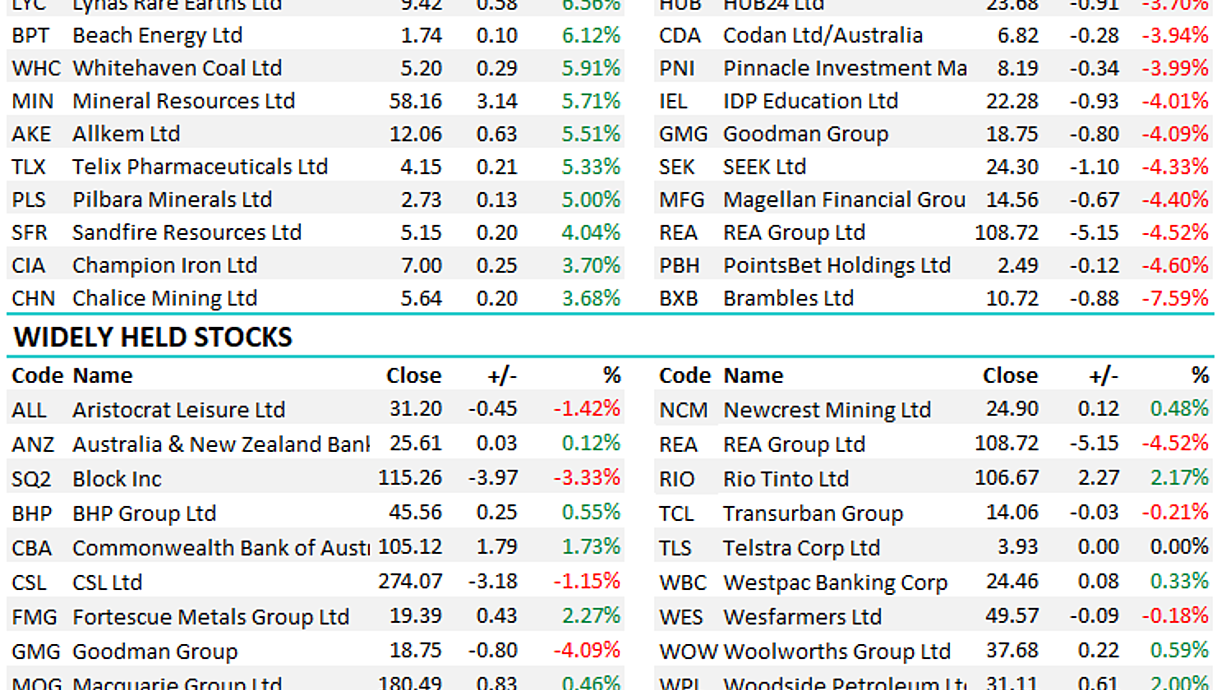 Have a great night,

The Market Matters Team
Make informed investment decisions
At Market Matters, we write a straight-talking, concise, twice daily note about our experiences, the stocks we like, the stocks we don't, the themes that you should be across and the risks as we see them. Click here for your free trial.
The Match Out will be available each day after the market close. Follow my profile to be notified when the latest report is live.