The Match Out: Market edges higher, Oz Minerals (OZL) up 35% as BHP makes a move
---
The market continues to show resilience with any selling at the index level met with reasonable buying aided by corporate activity from BHP towards Oz Minerals (OZL) i.e. when the world's largest resource company is happy to outlay $8.2bn in an all-cash tilt for another Copper miner, it implies a strong level of confidence in the global backdrop, and it looks like that confidence permeated through the rest of the market today. The ASX200 simply grinding higher - bottom left to top right - during the session to close above 7000 again.
Market Matters Earnings Calendar – Click Here
The ASX 200 finished up +5pts/ +0.07% at 7020
The Energy sector was best on ground (+1.85%) while Materials (+1.83%) & Utilities (+1.40%) were also strong.
Consumer Discretionary (-1.93%) and Real-Estate (-1.88%) the weakest links.
Oz Minerals (ASX: OZL) +35.25% the lead story today with BHP lobbing an all-cash bid at $25 per share. The stock closed at $25.59 – more on this portfolio holding below.
Sandfire Resources (SFR) +6.36% rallied in sympathy to OZL – Harry covered SFR in last week's Portfolio Report – Click Here
Suncorp (ASX: SUN) -4.64% fell on a slightly weaker than expected FY22 results and guidance for the year ahead.
Aurizon (ASX: AZJ) -3.47% had a solid FY22 but FY23 guidance was around ~2% below consensus.
Redbubble (ASX: RBL) +16.67% ripped higher on a UBS upgrade to buy, although it is coming off a low base closing today at $1.33 v 12 month high of $4.69.
Megaport (ASX: MP1) -3.5 4% fell ahead of their FY22 results tomorrow, ditto for Charterhall Long WALE REIT (CLW) which fell -2.24%.
Imugene (ASX: IMU) +9.62% was strong on the back of more good results from clinical trials – very volatile stock but huge upside if they nail their targets. 
ASX 200 Chart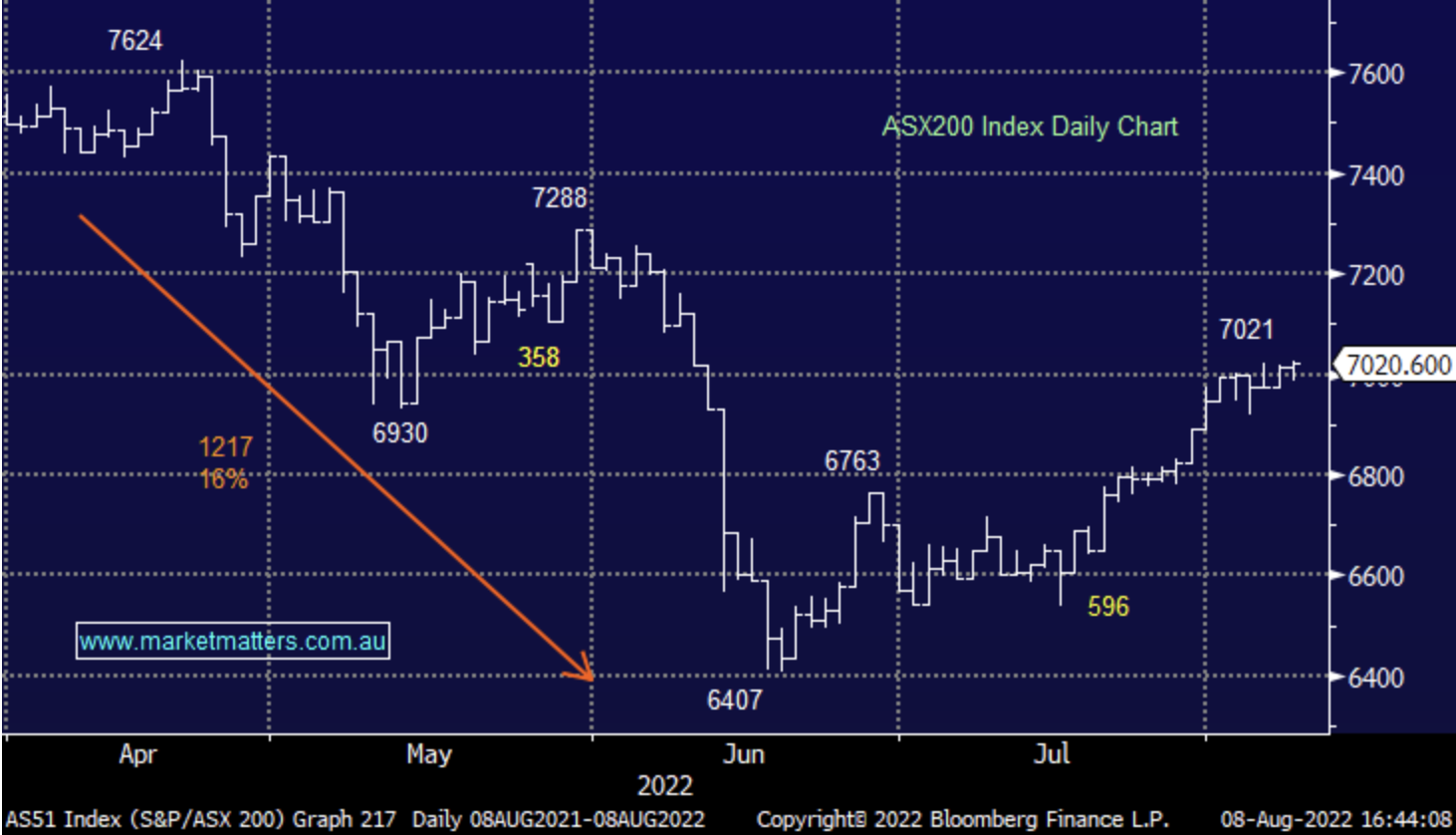 Oz Minerals (OZL) $25.59
OZL +35.25%: This morning, OZL rejected an unsolicited, conditional and non-binding indicative takeover proposal of $25.00 per share in cash from BHP. The board thought the proposal undervalued OZ Minerals and, as such, is not in the best interests of shareholders. The OZL CEO said…. OZ Minerals CEO comments: "We have a unique set of copper and nickel assets, all with strong long-term growth potential in quality locations. We are mining minerals that are in strong demand, particularly for the global electrification and decarbonisation thematic and we have a long-life Resource and Reserve base. We do not consider the proposal from BHP sufficiently recognises these attributes.".
While the price represents a 32% premium to the last close for OZL on Friday, it's only a 13% premium to the 6-month volume weighted average price which highlights the opportunistic timing from BHP as they try to take out OZL after a deep pullback in the share price. So, if $25 is not the price, what is? Our (Shaw) analyst, Peter O'Connor thinks it should be based on a 30% premium to NPV for OZL, which is a typical sort of resource premium for a change of control transaction. At that level, OZL is worth ~$30 per share.
We own OZL in our Flagship Growth Portfolio with a 5% weighting and an entry price of $18.11. We have trimmed the position today back to 3% and will see how this plays out from here.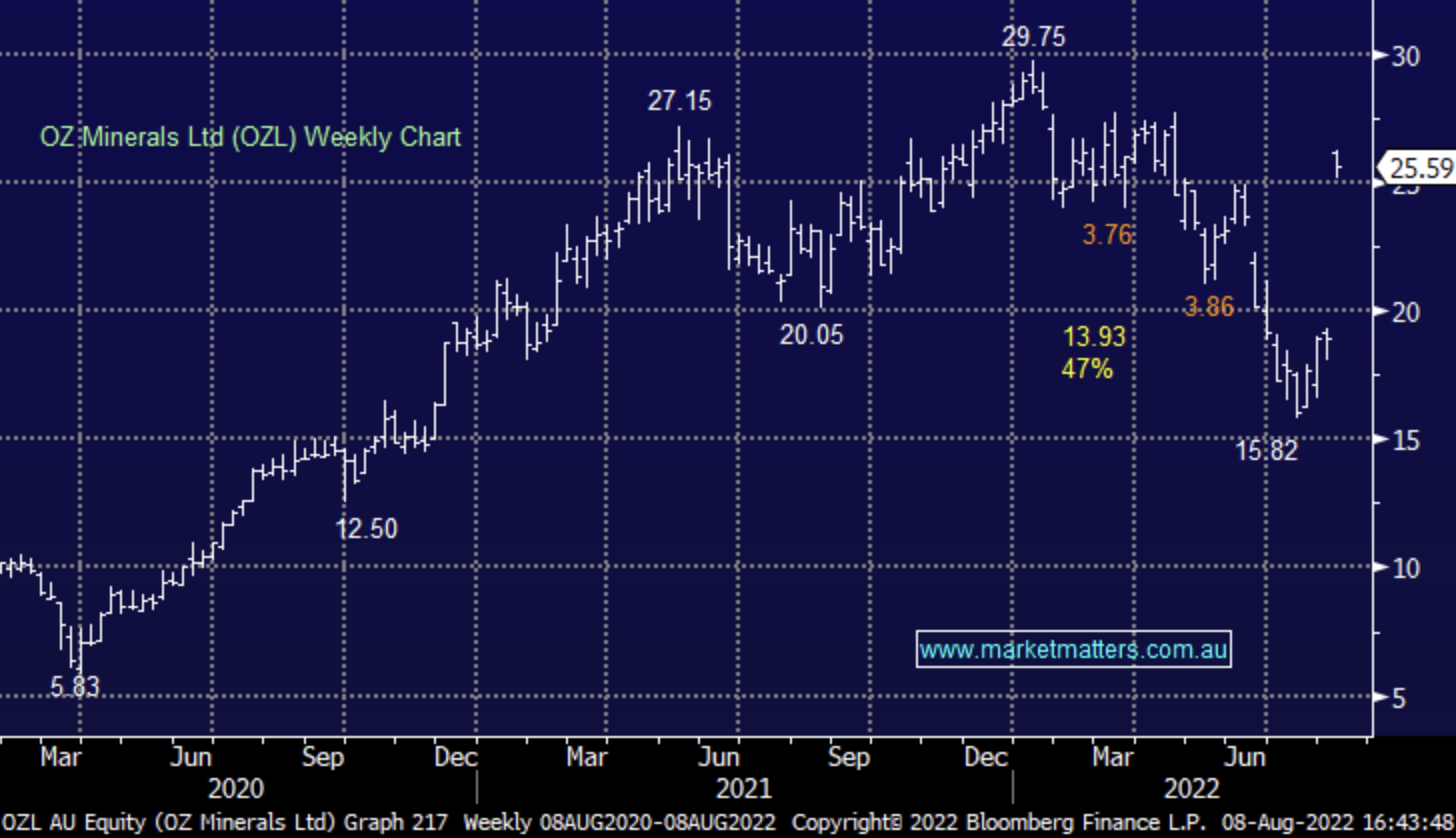 Suncorp Group (SUN) $11.11
SUN -4.64%: the bank & insurance company reported their FY22 results, which were disappointing vs expectations. The company had previously disclosed the contribution from the banking arm when ANZ announced the takeover of that portion of the business, so today's focus was on the performance of the insurance arm. Group Cash Net Profit After Tax (NPAT) was $673m, a ~1% miss to consensus, and the final dividend was 17c, around 4c below market expectations. While the underlying numbers seem reasonable, the headline figures were weaker than expected on the volatile investment market and an increase in natural hazard costs, which has also increased the reinsurance cost for the year ahead. Underlying margins were strong in the second half, with Suncorp well placed to hit the 10-12% guidance range previously disclosed. The disappointment of a soft dividend and softer investment income expectations weighed on the stock today.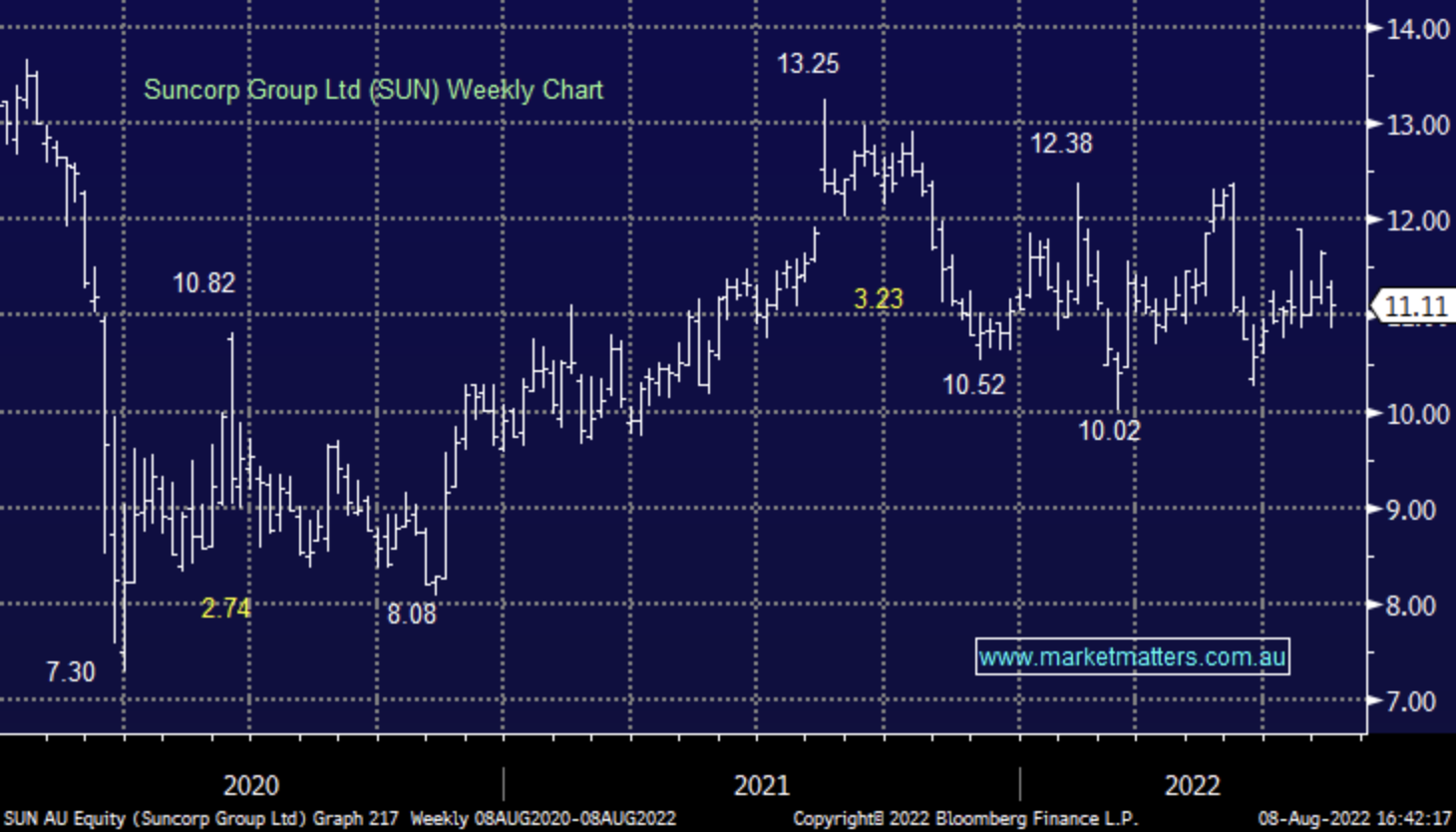 Aurizon (AZJ) $3.89
AZJ -3.47%: The rail haulage business fell today following their FY22 results plus they painted a weaker picture for FY23. They reported underlying earnings before interest & tax (EBIT) from continuing operations of $875.3 million, down -3.1% for the year but marginally above the market's expectations for $866.9 million. The final dividend per share of 10.9c was down from 14.4c last year, however, it was the guidance that was a touch soft, about 2% below where the market was currently positioned. Overall, not a bad result and we applaud them for issuing guidance, we suspect a lot of companies may not.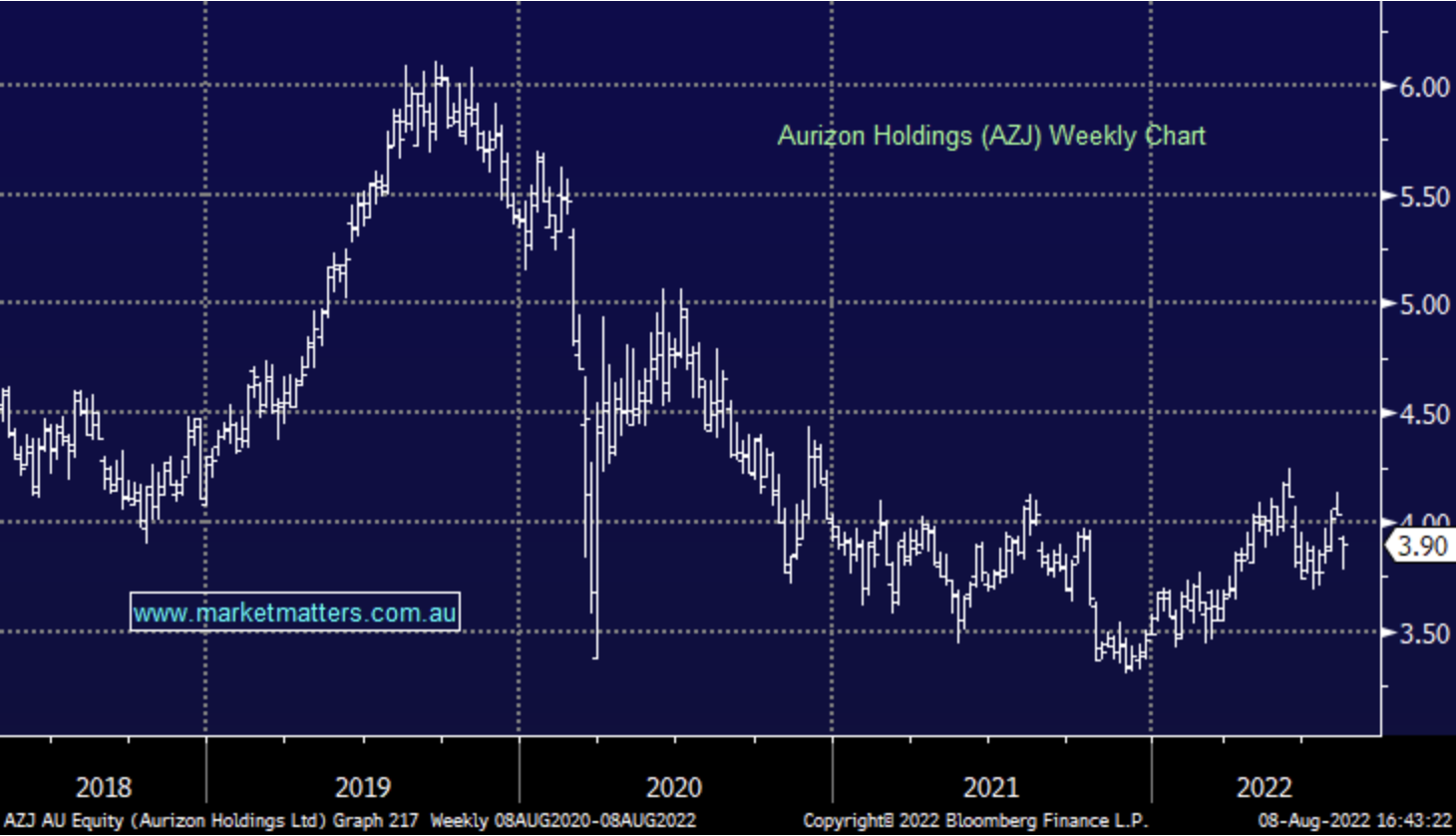 Broker Moves
Microba Life Sciences Rated New Speculative Buy at Canaccord
Incitec Raised to Overweight at Morgan Stanley; PT A$4.75
Major Movers Today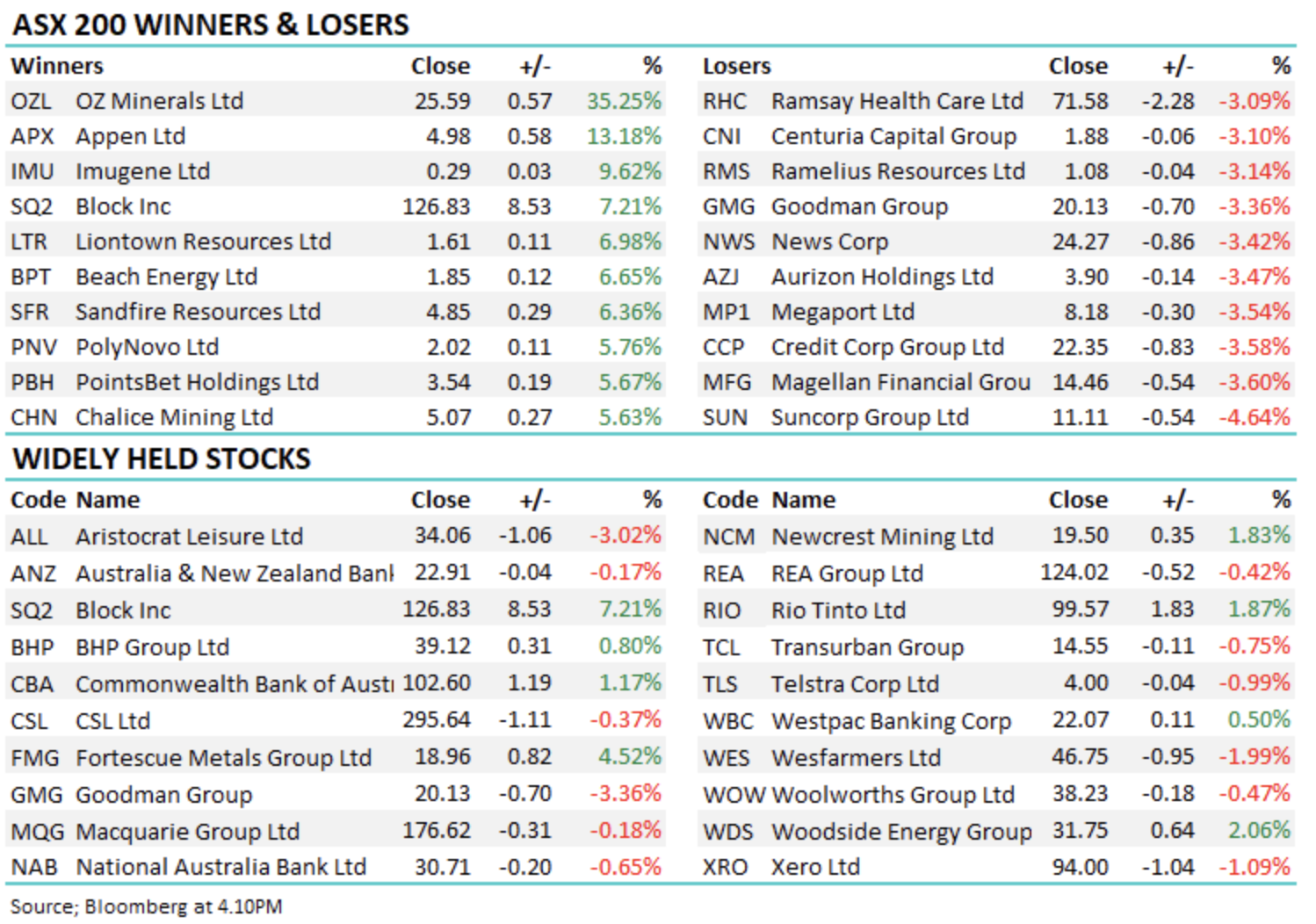 Have a great night
The Market Matters Team
---
Make informed investment decisions

At Market Matters, we write a straight-talking, concise, twice-daily note about our experiences, the stocks we like, the stocks we don't, the themes that you should be across and the risks as we see them. Click here for your free trial.
The Match Out will be available each day after the market close. Follow my profile to be notified when the latest report is live.