The Match Out: Market rallies, ANZ to buy SUN bank, Whitehaven Coal (WHC) ramps up printing
---
A solid session to kick off the trading weak with the ASX choppy early on before finding its groove around lunchtime and rallying strongly, closing on its high. The risk sectors rallied with Tech, Materials & Energy all adding more than 2% while the defensive areas were used as funding.
The ASX 200 finished up +81pts/ +1.23% at 6687
The IT sector was best on ground (+2.85%) while Materials (+2.37%) & Energy (+2.22%) were also strong.
Healthcare (-0.50%) and Consumer Staples (-0.49%) the weakest links.
Suncorp (SUN) +6.13% rallied after ANZ agreed to buy their banking division for $4.9b
ANZ is in a trading halt as they raise $3.9bn in new equity at $18.90 per share – more on this below.
Lots happening in the mining sector this week and next with a raft of production updates ahead of FY22 results.
Lynas (LYC) +0.74% edged higher even though their Q4 production was weaker
Whitehaven (WHC) +5.17% rallied after generating $1.4bn in cash for the quarter, which is about the same as what NAB does, simply huge for a company with a $5.3bn market cap that is now trading on 2x earnings!
Praemium (PPS) +10.57% rallied on a good FUA update of $40.5b, up 10% over the year.
Pendal (PDL) +9.31% bounced back after a disappointing update last week, although our view at the time was that it should not have been a surprise – we've just added PDL to our income portfolio.
EML Payments (EML) +7.35% rallied after saying talks with suitors had ceased – where there is smoke there is clearly fire although it's been a strange ride for EML in recent times, it seems there is a lot of discontent amongst the ranks i.e. management vs board.
Iron Ore was ~1.5% higher in Asia today.
Gold was up ~$US5 to ~US$1714.
Asian stocks were all higher Hong Kong up +2.44%, Japan +0.86% while China was up +1.45%
US Futures are all up, Nasdaq the best of them up +0.92%. 
ASX200 Chart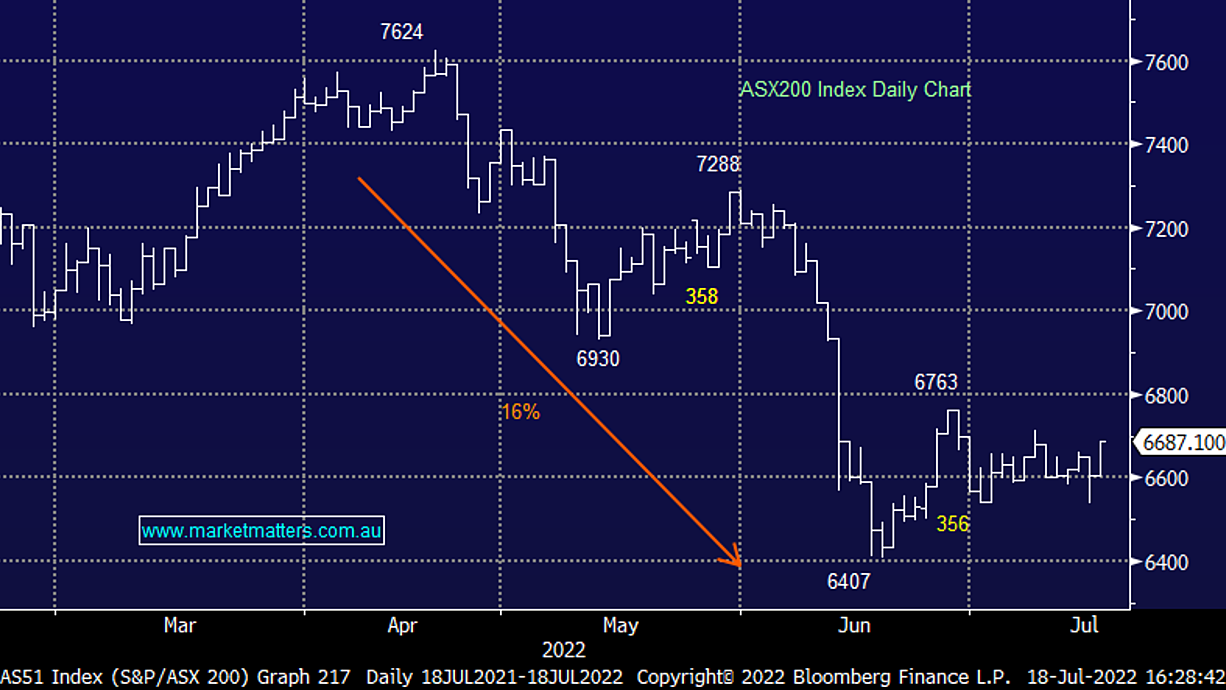 ANZ Bank (ANZ) $21.64 & Suncorp (SUN) $11.78

ANZ/SUN: ANZ was in a trading halt today wrapping up a $3.9bn equity raise while Suncorp rallied following news they had agreed to sell their banking division to ANZ for $4.9bn. The highlights of the deal below with MM being positive on the transaction from the context of ANZ.
The price tag represents a multiple of 1.3x book value – ANZ is currently on 1.2x while for the regionals, BOQ is on 0.7x (cheap) and BEN is on 1x.
SUN has 1.2m customers, 700k of those in QLD.
The deal will give ANZ 15.4% of the domestic mortgage market, up from 13.1%, although they were at 15% in 2019 reflecting how much Covid cost them.
There will be some capital benefits associated with the transaction given a higher proportion of their business will now be in Australia.
ANZ will still be the smallest of the big four banks, and scale is important. They remain about 40% the size of CBA.
Aside from regulatory hurdles, the risks are around integration and culture – it's a big job no doubt for Shayne Elliot
Existing shareholders will get the opportunity to buy 1 new share for every 15 held at a price of $18.90. It is renounceable which means the rights can be sold on the ASX.
Wholesale clients (of Shaw & Partners) will be able to bid into the institutional shortfall.
Overall, we can see the strategic rationale for ANZ making this move but given their lack of success in the past, there will be sceptics. Since pushing hard in Asia., retreating, selling 29 businesses, simplifying their business, it seems they are now ready to grow again in the domestic market. A full about turn for the lender.
ANZ Bank (ANZ)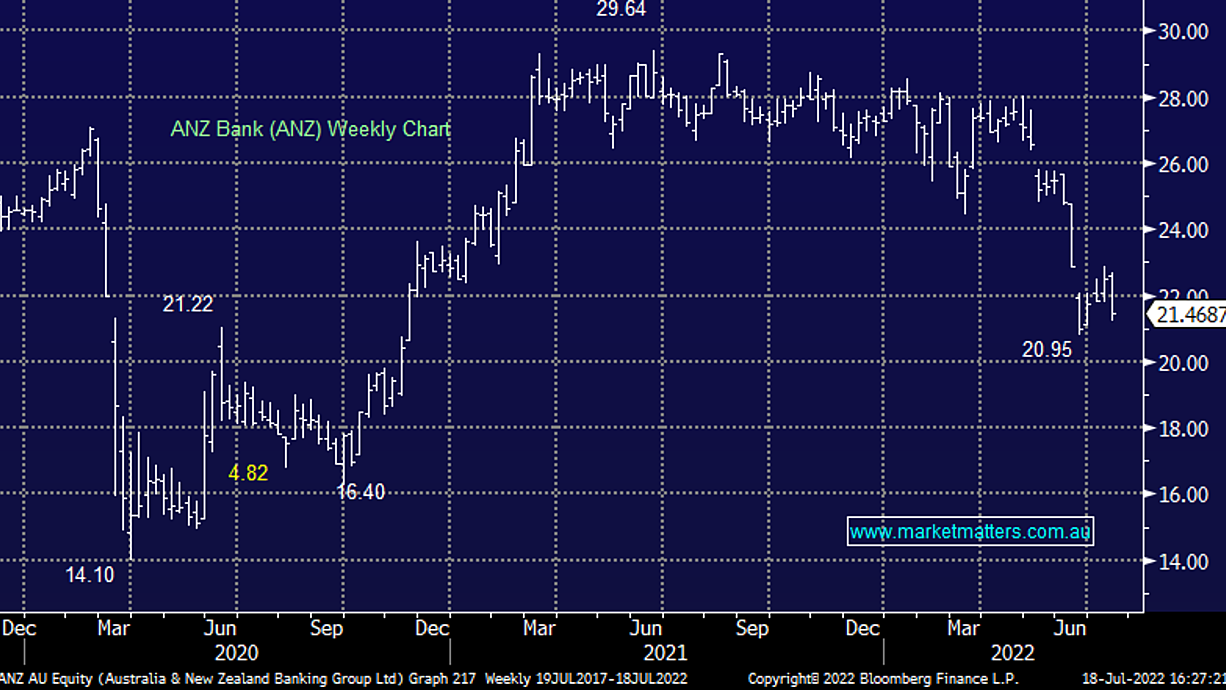 Praemium (PPS) 68c
PPS +10.57%: the independent investment platform provided an impressive 4th quarter update today despite a small fall in the 3 months. Total Funds Under Administration (FUA) at the end of the year was $40.5b, up 10% over the year despite most asset classes falling in the period. FUA fell 4% in the quarter as inflows of $300m were more than offset by a negative investment performance of $1.5b. The June quarter is a historically weaker period for flows, so it was positive to see money coming in the door, particularly into higher-margin Praemium SMA products.
Praemium (PPS)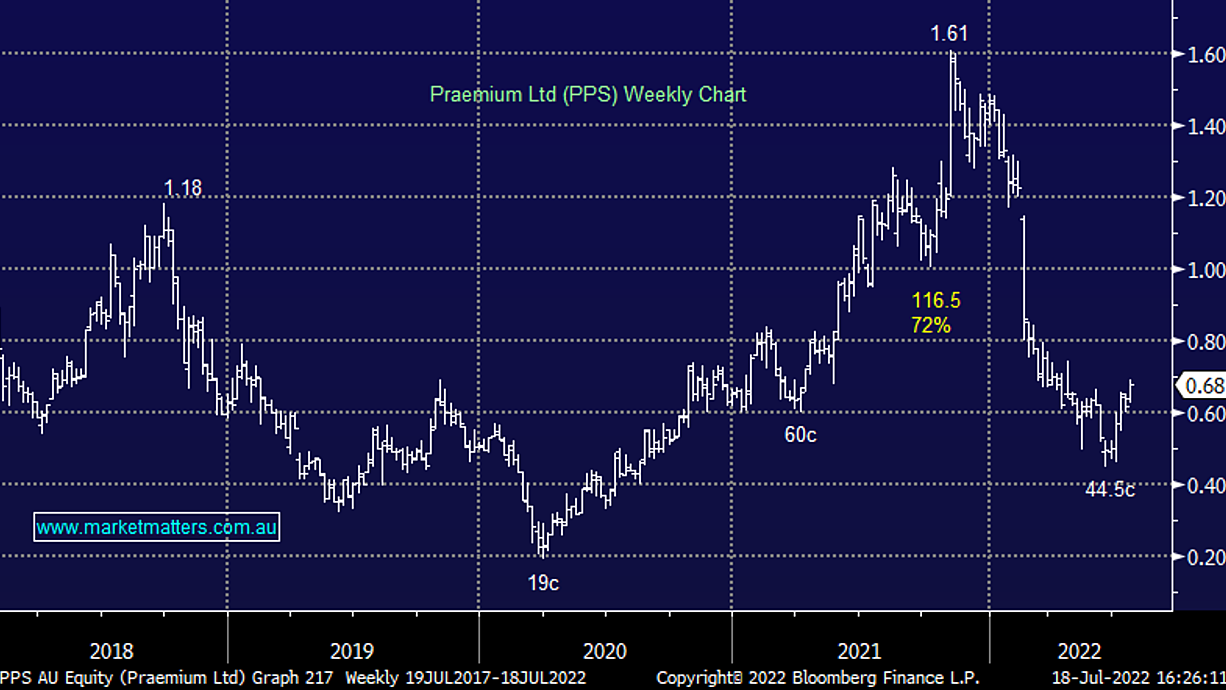 Lynas (LYC) $8.12
LYC +0.74%: rare earth business Lynas announced their 4th quarter production numbers today with shares trading slightly higher despite a more cautious tone. Total NdPr production came in at 1,579t for the quarter, down around 6.5% from the previous quarter, with sales revenue falling more than 10% to $294.5m. The fall in production was blamed on a lack of supply of water in Malaysia with the company continuing to implement alternative processes to reduce reliance. Prices are currently 70% higher than 12 months ago though China demand appears to have started to show signs of flattening out. The outlook remains bullish though, with most of their product going to customers outside the Chinese market, the construction of their Kalgoorlie processing plant continues on track and they recently won a $120m contract with the US Government to expand operations there.
Lynas (LYC)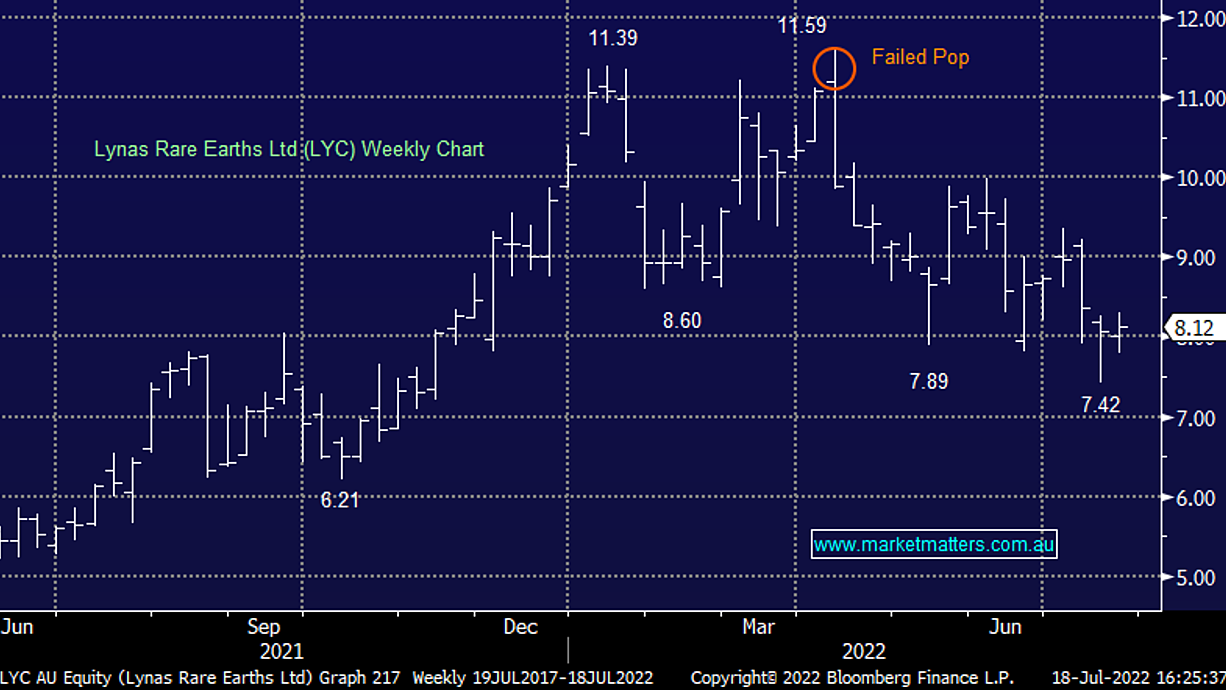 Whitehaven (WHC) $5.90
WHC +5.17%: the Aussie coal company announced a massive final quarter of the year with surging coal price helping to boost their cash balance at the end of the year to $1b, generating $1.4b in cash in the 3 months alone. In the last quarter, prices were up around 60% to an average of $514/t helping lift EBITDA guidance to $3b for the year. A strong production scorecard saw guidance for the full year met, hitting 20Mt with run-of-mine production up 21% of the March quarter to 6.4Mt. With 30% of their original buyback still left to run (3% of shares on issue), Whitehaven has topped up the buyback to $550m. Given the state of the balance sheet, I suspect they'll ask shareholders to approve a larger buyback at the AGM later in the year.
Whitehaven (WHC)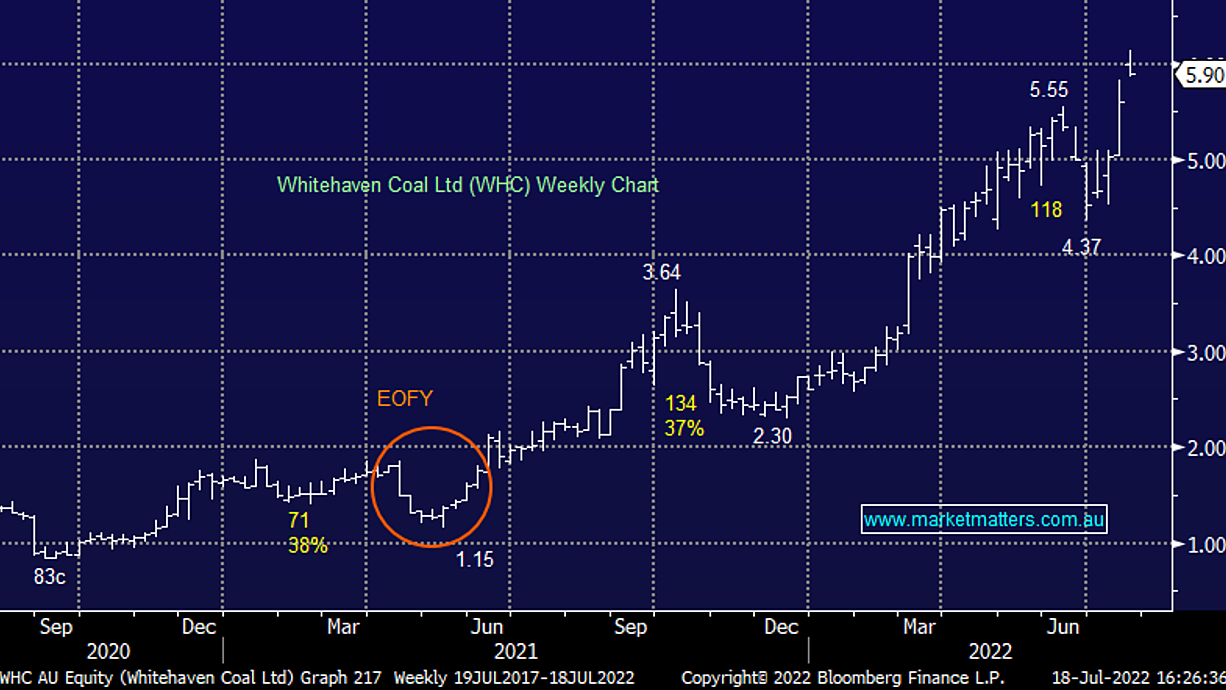 Lunnon Metals Cut to Speculative Buy at Foster Stockbroking
Ansell Raised to Outperform at Macquarie; PT A$27.85
Rio Tinto Raised to Add at Morgans Financial Limited; PT A$113
IGO Raised to Buy at Canaccord; PT A$11.25
Sandfire Raised to Buy at Canaccord; PT A$4.50
29Metals Cut to Speculative Buy at Canaccord; PT A$1.90
Integral Diagnostics Cut to Market-Weight at Wilsons; PT A$3
Pacific Smiles Cut to Market-Weight at Wilsons; PT A$1.95
Kelsian Group Rated New Sector Perform at RBC; PT A$6
Qantas Rated New Sector Perform at RBC; PT A$5
Sims Raised to Buy at Citi; PT A$17
Boral Rated New Overweight at Jarden Securities; PT A$3.50
Brickworks Rated New Neutral at Jarden Securities; PT A$22.70
Major Movers today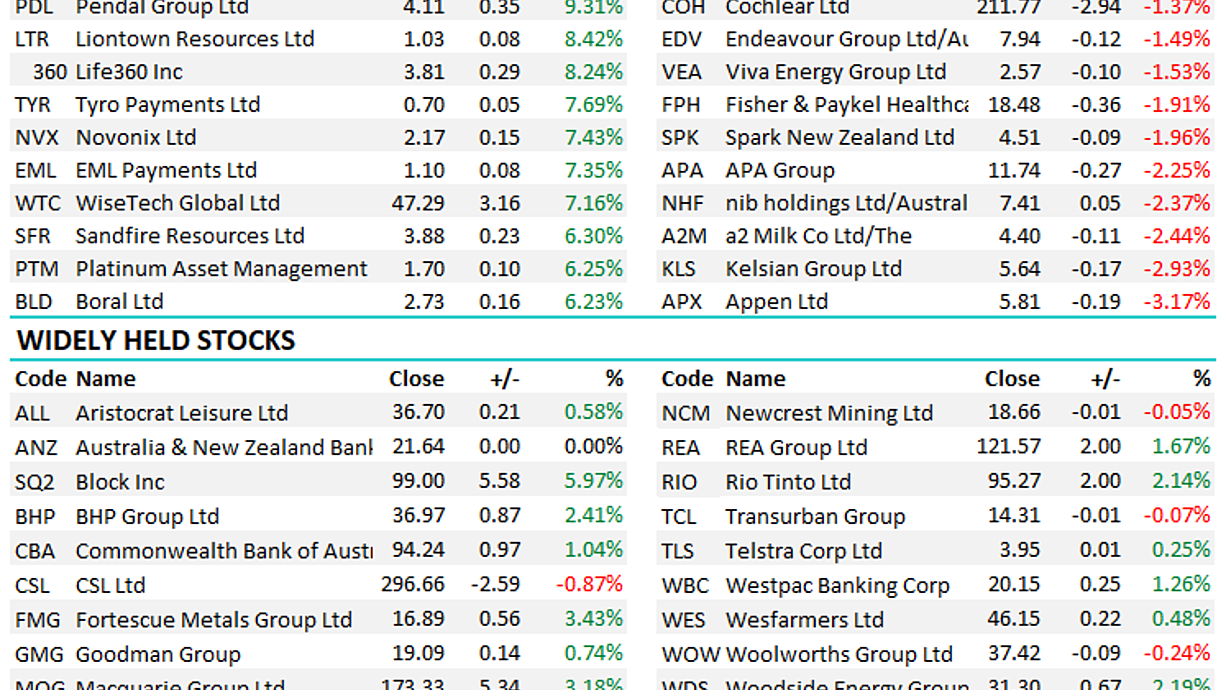 Make informed investment decisions
At Market Matters, we write a straight-talking, concise, twice-daily note about our experiences, the stocks we like, the stocks we don't, the themes that you should be across and the risks as we see them. Click here for your free trial.

The Match Out will be available each day after the market close. Follow my profile to be notified when the latest report is live.