Video Killed the Radio Star
---
Two months ago AT&T's CEO, Randall Stephenson, visited Time Warner's CEO, Jeff Bewkes, and discussed the increasing convergence of the media and telecommunications industries. Over lunch Mr Stephenson suggested that AT&T buy Time Warner. He wanted to match Time Warner's premium content with the streaming video service he was trying to build at AT&T. Things proceeded quickly,with the biggest deal of the year – AT&T announced it was buying Time Warner at a 36% premium to where the stock was trading, before the news of a deal started to trickle out late last week.
The cash-and-stock deal will forge a conglomerate that both produces content and distributes it, uniting AT&T's millions of pay-TV and wireless customers with Time Warner's extensive media content, including the prized HBO premium network, cable networks TBS and TNT, and the Warner Brothers film and TV studio. The deal is split between US$53.75/share in cash (US$42.7 billion) and US$53.75 of stock. It is priced at an estimated EV/EBITDA multiple of 12.0 times for 2017, based on Goldman Sachs' numbers. That is a higher multiple than any of the big entertainment-media companies currently command and tops the multiples paid for any recent comparable transactions.
The proposed deal is subject to approval by Time Warner shareholders and the Department of Justice. The Federal Communications Commission would also need to approve any license transfers. The two companies said they expect the deal to close by the end of 2017 after a thorough review process. Time Warner has agreed to pay a US$1.7 billion break-fee to AT&T if it opts to sell to another buyer, while AT&T will pay Time Warner US$500 million if regulators block the deal, according to people close to the negotiations.
For Mr Stephenson, the transaction reinforces his moving away from the US wireless market – where further consolidation was blocked in 2011 when regulators halted his attempted US$39 billion purchase of T-Mobile US Inc. After buying DirecTV last year, this latest deal transforms the former regional telephone company into a major media conglomerate. He is betting that wading further into television and video will generate new sources of growth, and that buying Time Warner will provide a hedge against increasing programming costs. "Premium content always wins. It has been true on the big screen, the TV screen and now it is proving true on the mobile screen," said Mr. Stephenson, who will lead the new company.
Time Warner's CEO, Jeff Bewkes, has spent most of his nearly nine years as CEO slimming down the one-time media behemoth to focus on content, avoiding distribution businesses. He unwound the disastrous AOL merger and spun out the Time Warner Cable distribution business and Time magazines. Mr Bewkes plans to stay for an interim period following the close of the deal to help with the transition. From the time that AT&T agreed to purchase DirecTV in 2014 as part of a major shift towards video, analysts had expected the company to go after a media acquisition. By the middle of this month, the two companies had a "handshake deal." J.P. Morgan Chase was hired to help AT&T with financing, while Bank of America came in shortly before the deal was signed to round out a bridge loan. Time Warner brought in Citigroup and Morgan Stanley around the weekend before the agreement was announced.
Part of the need for speed came from pressure from other bidders. Tech giants including Apple reportedly kicked the tyres on Time Warner as recently as a few months ago and Apple continues to monitor the situation. AT&T and Time Warner said they aim to be the first US wireless company to compete nationwide with cable firms by providing an online-video bundle akin to a traditional pay-TV package. With its newfound scale from the DirecTV acquisition, AT&T has spent the past year aggressively negotiating deals with content owners so it can launch the DirecTV Now over-the-top video service by year's end. "It will disrupt the traditional entertainment model and push the boundaries on mobile content availability for the benefit of customers," the companies said.
Maybe so but, given the multiple paid, it has a hint of AOL-Time Warner about it too.
[Blog 25.10.16.jpg]
---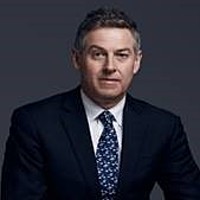 Head of Equities
Mason Stevens
Responsible for identifying domestic and international equity investment opportunities. 25 years of financial markets experience as an equity strategist, economist, analyst, portfolio manager and consultant.
Expertise