Virgin blow-up a disaster for high-yield corporate bonds, not bank hybrids...
---
I was surprised to hear the suggestion that the blow-up of Virgin Australia's ASX listed 5 year corporate bonds (or floating-rate notes) was somehow a disaster for the completely independent Australian bank "hybrid" market, most of which is rated as "investment-grade" (ie, not "high-yield") by S&P. 
Aside from confusing hybrids with corporate bonds, this also conflates government-guaranteed businesses with those that politicians are prepared to allow to fail. 
It further mixes up investment-grade securities (ie, those rated BBB to AAA) with sub-investment-grade (or high-yield) bonds that rate below BBB or which are unrated. 
Major bank hybrids are rated BBB- by S&P whereas Virgin was rated four notches lower at B+ at the time of its $325m issue of these corporate bonds in November last year.
And finally this claim confuses immensely illiquid corporate bonds with the much more liquid bank bond and hybrid markets. 
In investment-grade bank bond markets, it is common in Australia to see billions of dollars trade in a single day (we have transacted more than $300 million in a day ourselves). In the smaller ASX hybrid market, we have also seen turnover exceed over $120 million a day in March. Contrast this with corporate bonds, where there has been zero liquidity.
If there was any doubt that Virgin's junk VAHHA bond is not a hybrid, it is explicitly excluded from the Solactive ASX Australian Hybrids Index because it is classified as a senior-ranking, unsecured bond (see also Virgin's diagram of where VAHHA sits in its capital stack below).
As I wrote this morning, I do 100% agree that this is a disaster for the high-yield corporate bond market, which is what Virgin's bonds are, but is has zero implications for the debt securities issued by Australian banks.

We deliberately did not invest in the $325m Virgin VAHHA bond because it was clear that this unprofitable and highly leveraged business was a classic "zombie", like many other high-yield corporate issuers.
As many readers would know, we have long argued that the rise of over-leveraged and unprofitable zombie businesses, especially those that issue high-yield bonds, is a source of tremendous investment risk. 
We have further written relentlessly about the risks of high-yield, or sub-investment grade, corporate bonds, both overseas and here in Australia in the form of the Listed Investment Trusts (LITs) that allocate to high yield debt. These LITs suffered steep 20 per cent to 40 per cent plus losses in March, and traded at enormous discounts to their net tangible asset values, as we had repeatedly warned they would do over the last year.
In contrast to a bank hybrid, Virgin Australia's ASX listed corporate bonds were high-yield debt instruments with a fixed maturity that paid interest (see summary below). 

They ranked equally with other unsecured creditors and above subordinated debt and preferred equity securities issued by Virgin (they ranked behind secured creditors). 

A hybrid is either a preferred equity instrument or a debt security that has an equity conversion feature. Virgin's corporate bonds were not preferred equity nor did they have equity conversion features.
Whereas bank hybrids pay franked distributions, Virgin's corporate bond paid interest that was unfranked.
Finally, whereas major bank hybrids are rated an investment-grade BBB-, Virgin's securities would have been technically rated at junk around Virgin's B+ rating at the time.
There are really no similarities between these securities other than that they were ASX listed and therefore available to retail investors. 
Virgin's high yield corporate bonds are very similar to the debt securities held by the many high yield LITs that have come to market in recent years.
There is also an enormous difference between an unprofitable, highly levered, and non-government guaranteed corporate like Virgin, which the Australian government has decided to allow to fail, and government-guaranteed Australian banks. 
Australian banks benefit from a range of unique support mechanisms, including government-guaranteed deposits, which represents about 60% of their total funding, access to unlimited and cheap liquidity facilities provided via the RBA, the ability to now borrow for three year terms from the RBA at a cost of just 0.25%, and an implicit government guarantee of their senior bonds that lowers their cost of capital and for which they pay an explicit annual 0.06% tax to the government.  
........
Disclaimer: This information has been prepared by Smarter Money Investments Pty Ltd. It is general information only and is not intended to provide you with financial advice. You should not rely on any information herein in making any investment decisions. To the extent permitted by law, no liability is accepted for any loss or damage as a result of any reliance on this information. Past performance is not an indicator of nor assures any future returns or risks. Smarter Money Investments Pty Limited (ACN 153 555 867) is authorised representative #000414337 of Coolabah Capital Institutional Investments Pty Ltd, which holds Australian Financial Services Licence No. 482238 and authorised representative #001277030 of EQT Responsible Entity Services Ltd that holds Australian Financial Services Licence No. 223271.
---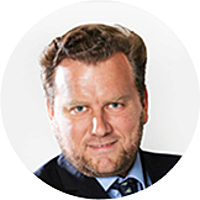 Portfolio Manager & Chief Investment Officer
Coolabah Capital
Chris co-founded Coolabah in 2011, which today runs over $8 billion with a team of 26 executives focussed on generating credit alpha from mispricings across fixed-income markets. In 2019, Chris was selected as one of FE fundinfo's Top 10 "Alpha...