Media Worth Consuming – August 2021
---
Top 5 Articles
How "the bezzle" temporarily inflates GDP in euphoric times before reversing in a downturn.
A Westfield mall in California had its valuation slashed by 74%, lenders have taken control and are likely to recover less than half the debt owed.
The men making billions buying up distressed American malls.
The Taliban has been successful because Afghans are sick of corrupt and dysfunctional governments.
A basic drawing of a rock just sold for $1.3 million, two weeks ago similar drawings were selling for under $100,000.
Chart of the month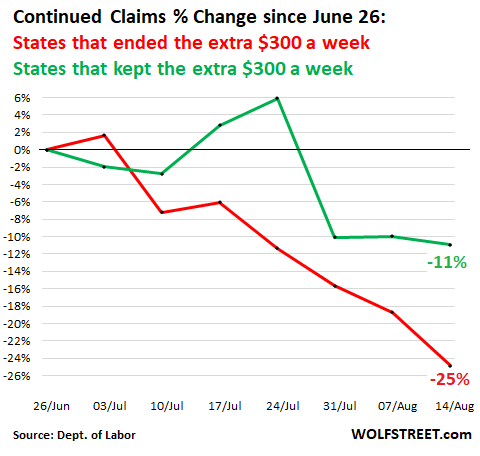 Back in June, 27 US states stopped passing through the $300 per week unemployment payments that the Federal Government was adding on top of the larger unemployment payments the states themselves pay. 23 states continued to pass on the Federal top-ups as well as their own payments. The graph above from the ever insightful Wolfstreet.com blog shows that unemployment claims fell much faster in states that stopped the top-ups than those that didn't, indicating that the reduction in payments encouraged more people to get back to work.
The reason for highlighting this seemingly basic relationship is that there has been a substantial campaign from left wing media, politicians and a few notable economists in the US (and to a lesser extent in Australia) arguing that generous unemployment benefits didn't stop people from returning to work. The data above is helpful in backing up the numerous anecdotes from business owners that larger than usual unemployment benefits were getting in the way of staff returning to work.
The gap between the red and green lines could have been wider. The states that cut-off the Federal benefits often have the lowest vaccination rates and have seen a larger wave of serious Covid cases in recent months. These states also typically had lighter lockdowns (if any at all) with less demand being held back (e.g. hospitality) that would naturally re-engage more employees as restrictions eased.
Along the same lines was the widely promoted partisan talking point that the ten US states with the lowest unemployment rates are Republican states and the ten states with the highest unemployment rates are Democrat states. This isn't an endorsement of Republican/right leaning politics (especially vaccine hesitancy) but it is another example of the different outcomes from big government versus small government policies.
The difference in approaches isn't about caring or not caring about our poorest citizens, it is about how do we best help them and the rest of society in the long term. For those interested in an obvious way to help our poorest citizens, my article on Australia's migration levels points out that we can increase employment and reduce the cost of housing for Australia's poorest citizens by drastically cut back our net migration levels.
Here's the long list of the most interesting and under the radar articles I came across this month.
Finance
A long list of signs that markets might be near a top. US stock issuance is at all-time highs, but the quality of new issuance is often poor. A few examples of disastrous stock market country index returns for those who think equities always go up. It's tough to build a diversified portfolio when almost every asset class is impacted by euphoria. Uber's biggest inventions are accounting tricks with the business continuing to burn through billions. Michael Burry has bought put options on Cathie Wood's ETF.
US sub-investment grade corporate debt has doubled in the last 10 years but American corporates currently have record amounts of cash and short term investments. An academic paper claims that 31% of bond funds are gaming credit ratings and are misclassified by Morningstar, but Morningstar rebutted the claims showing the academics wrongly treated all unrated bonds as "B" risk. How American and European lenders are stretching to get higher returns on real estate debt. Michael Dell's leveraged buyout of the company he founded has been a home run. Private equity firms are cutting out investment banks and arranging their debt finance directly.
Citic is expected to bailout Huarong with $8 billion in new capital. Evergrande's bonds have collapsed, pointing to markets pricing in that there won't be a bailout. A well known short seller called out Evergrande for accounting fraud in 2012, but has been banned from trading by the Hong Kong regulator even though Evergrande is now all but insolvent. Based on ridiculous technicalities, the SEC has refused to pay a whistleblower award to the man who provided the information that uncovered a fraud and has led to $54 million in penalties so far. Credit Suisse laid off senior risk managers to cut costs and thereby lost the skills that could have stopped the Archegos losses.
Politics & Culture
Lebanon is running out of fuel and medicines, with electricity production plummeting as well. The US has spent $2.26 trillion on Afghanistan and has virtually nothing to show for it. Ron Paul was remarkably prescient in his comments on Afghanistan 10 years ago. A former Guantanamo Bay detainee, with a reputation for brutality and executions, has been appointed the acting defence minister of Afghanistan.
After nine months of fawning over Biden, the mainstream media has turned on him over Afghanistan with the media and punters increasingly betting he won't serve a 4 year term. Twitter has banned Donald Trump but is happy for the Taliban to use its platform. The accusations against New York Governor Cuomo are arguably overstated. An American Congresswoman continues to call for defunding of police whilst spending over $20,000 per month on private security.
Illinois's credit rating has been upgraded on the back of a bucket load of Federal Government stimulus. Many illegal immigrants to the US are just seeking higher paying jobs, rather than fleeing violence or persecution. 20 things about Hungarian politics that the West doesn't understand. Beware the cobra effect with new government policies.
The principal of a government school in Atlanta is facing a civil rights investigation for segregating second grade students into classes based on their race. The University of Wisconsin spent $50,000 to remove a "racist boulder". Social justice requires that governments treat people unequally (e.g. racism, sexism) to attempt to correct perceived inequality. The NSA has confirmed that Tucker Carlson's emails were leaked, but says it wasn't them. A British journalist has been jailed for 8 months for reporting on a high profile sexual assault trial.
Economics & Work
A gold standard currency isn't perfect, but it is much more reliable than the current fiat regime. Indonesia claimed that central bank financing of government spending was a one-off, but it is now expected to last at least two years. Central banks in Korea and Iceland have raised interest rates with New Zealand almost joining them.
American restaurant prices are soaring driven by costlier ingredients and higher wages. The US now has more job openings than unemployed people. Working from home makes it far easier for employees to hold more than one full time job. Who needs retirement when you can work on a lobster boat at 101.
The Nordic economies are a great lesson in the importance of free trade and that welfare systems rely on prosperous economies, not the other way around. What the short run and long run arguments for greater government spending both ignore. American productivity has jumped, will it last?
Australia is heading towards a housing surplus. Canada's Prime Minister proposed more government intervention to fix Canada's housing affordability problem, which has been caused by low central bank rates and other government interventions. The US Supreme Court invalidated the eviction moratorium in a 6-3 decision. Eviction moratoriums are like killing the golden goose, hoping to get more eggs.
Miscellaneous
The world's fastest accelerating roller coaster has been closed for investigations after reports of riders getting spinal fractures. An electric car made in Croatia now holds the quarter mile record for a road car. Are fintech companies more ethical than banks? $610 million of cryptocurrency was stolen in yet another exchange hack, but the exchange is claiming it has received it all back.
For a price, investment banks will make your natural gas purchase "carbon neutral". Airlines have no idea how to get to net zero emissions as aviation fuel doesn't have easy replacements. Why Tesla's in autopilot keep running into stationary emergency vehicles. Scientists have triggered fusion ignition, a milestone on the long road to fusion power. One of the biggest psychological problems is too much dopamine with cutting out screen time the solution. The biggest predator of cane toads is other cane toads.
How the delta variant changes herd immunity for Covid. Getting Covid after being vaccinated is common, but death and hospitalisation are rare. Scientists are debating whether children are better off in the long term by catching Covid and developing natural antibodies or by an ongoing series of vaccines, with a study from Israel finding that catching Covid offers far immunity than vaccines. Covid deaths amongst healthy children in the UK were around one in two million, half the rate of the flu. A British study found people are 200 times more likely to have blood clot issues after catching Covid compared to being vaccinated with AstraZeneca.
Chinese state media was busted for inventing a Swiss biologist to make false claims about the source of Covid. A Canadian citizen was refused entry to Canada for not being vaccinated despite submitting a negative Covid test and evidence that she has antibodies after previously catching Covid. Germany's top newspaper has apologised for fearmongering and castigating children over Covid risks. Sweden chose to front load its Covid pain and is now reaping the rewards, providing an example to other countries.
An anonymous buyer has paid $2 million for a 1985 version of Super Mario Brothers. Posting memes on Facebook is a great way to drive traffic to your website. Utah is having problems with people setting up hammocks in high voltage power towers. Shoplifting in California is so easy and common, even a journalist can do it. The story of four guys who rowed from San Francisco to Hawaii in 30 days.
Never miss an update
Enjoy this wire? Hit the 'like' button to let us know. Stay up to date with my current content by
following me
below and you'll be notified every time I post a wire
Welcome to Livewire, Australia's most trusted source of investment insights and analysis.
---
To continue reading this wire and get unlimited access to Livewire, join for free now and become a more informed and confident investor.
---
---
Narrow Road Capital is a credit manager with a track record of higher returns and lower fees on Australian credit investments. Clients include institutions, not for profits and family offices.
........
This article has been prepared for educational purposes and is in no way meant to be a substitute for professional and tailored financial advice. It contains information derived and sourced from a broad list of third parties and has been prepared on the basis that this third party information is accurate. This article expresses the views of the author at a point in time, and such views may change in the future with no obligation on Narrow Road Capital or the author to publicly update these views. Narrow Road Capital advises on and invests in a wide range of securities, including securities linked to the performance of various companies and financial institutions.
---
Narrow Road Capital is a credit manager with a track record of higher returns and lower fees on Australian credit investments. Clients include institutions, not for profits and family offices.
Expertise
Narrow Road Capital is a credit manager with a track record of higher returns and lower fees on Australian credit investments. Clients include institutions, not for profits and family offices.
Expertise