The Match Out: ASX rallies, AGL updates strategy & Premier (PMV) rips!
---
A snapback for the ASX today rallying 1.4% although late selling took some cream off the top with the index up ~2% at the peak. Bank of England (BoE) intervention in the bond market saw yields lower and stocks higher overnight while the GBP also rallied, however late today the Pound was back on the skids re-testing recent lows and that led to some selling in stocks – US Futures went from flat to down 0.70% in the last hour of our session.
The ASX 200 finished up +92pts/ +1.44% at 6555
The Energy sector was best on ground (+2.78%) while Materials (+2.17%) & Telcos (+1.84%) were also strong.
Utilities (+0.02%) and Staples (+0.04%) underperformed a strong market.
Harrison was on Ausbiz this morning talking about Sandfire Resources (ASX: SFR) Click Here – James was on yesterday discussing bigger picture themes – Click Here
James also caught up with Alan Kohler this week for Talking Finance – Listen Here
Australia's new monthly inflation gauge rose 6.8% in the year through August from 7% in the prior month the ABS said. While the measure is not perfect it provides a decent read on monthly trends i.e. more timely that quarterly measure.
WA is tapping into the battery boom promising financial backers from ally nations they will avoid limits on foreign ownership or repatriation of profits.
AGL Energy (ASX: AGL) was flat following a strategy update and reconfirmation of earnings guidance.
Premier Investments (ASX: PMV) +14.61% had a trifecta of positive news, better than expected FY22 results, a strong start to FY23 + they announced a new ($50m) share back.
Iress (ASX: IRE) -17.30% on downgraded guidance for FY23 + a new CEO starts next week. Interesting timing for a downgrade given they only reconfirmed guidance a month ago.
St Barbara (ASX: SBM) +2.96% higher on talk of consolidation around Leonora – although other gold stocks up a similar amount.
Coal stocks back on the up – we had the Whitehaven (ASX: WHC) CFO in this week, so much cash!
Gentrack (ASX: GTK) +14.04% as they upped guidance – this is an interesting small-cap.
Gold was down 1% to ~US$1644
Asian stocks were mixed Hong Kong down -0.57%, Japan +1.74% while China was off -0.50%
US Futures are all lower, down around -0.70%
ASX 200 Chart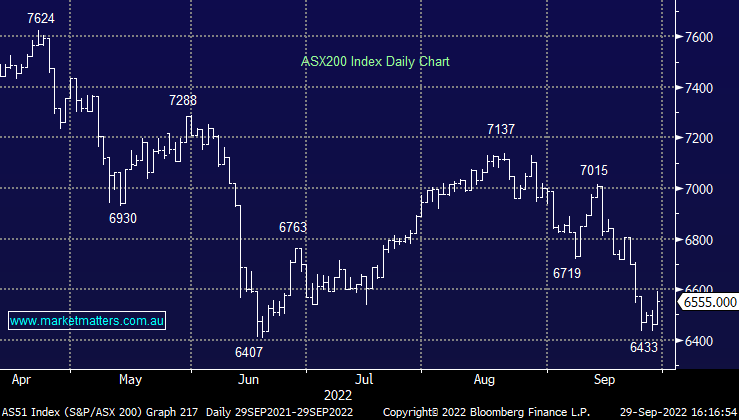 AGL Energy (ASX: AGL) $6.60
AGL unchanged: The controversial energy company was out with a strategy update today along with earnings guidance for FY23 that was broadly inline with existing expectations:
They will close Loy Yang A in Victoria in 2035, a decade ahead of originally planned, although said that Liddel & Bayswater would still be closed at some stage between 2030-2033 i.e. no change there.
They will spend $20bn on new zero-emission generation which mirrors the amount that Grok & Brookfield said they would need to transition the company.
They said underlying EBITDA for FY23 would be $1,250m -$1,450m with underlying profit after tax of $200-$320m. Consensus expectations were sitting at $1,330m EBITDA & $300m profit.
The earnings number came as an initial relief for the market, however, there is clearly a lot of investment that needs to occur to make these longer-term plans a reality & get to the targeted 12GW of capacity by 2036. This includes investment in power generation but also investment in transmission, while the national energy market will need to provide a structure that incentivises investment right across the board i.e. more change is needed here. Clearly, a complex issue with a lot more water to go under the bridge.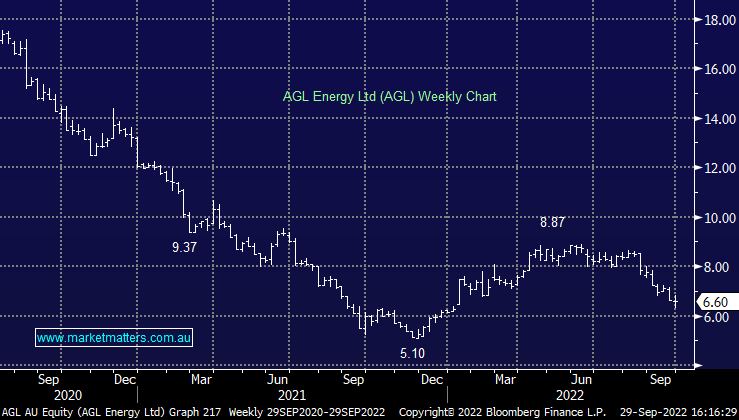 Premier Investments (ASX: PMV) $23.69
PMV +14.61%: another retailer defies the gloom today with Premier beating expectations for FY22. Revenue of $1.5b was 4% ahead of consensus, EBIT grew ~10% for a 3% beat for the twelve months to July. The owner of Smiggle & Peter Alexander said sales had started strongly, up 21.5% on pre-COVID levels with a strong inventory position setting them up well for the back-to-school and festive season trade into the end of the calendar year. The company launched a $50m buyback and will pay a 25cps special dividend, but also flagged potential M&A activity to bolster growth in FY23 while they also look to shut down underperforming stores to add to returns. Overall, a great result and the share price reacted accordingly.
IRE -17.3%: finance software and administration company IRESS downgraded guidance today, sending the stock to 2-year lows. The company said slowing conversion of sales, as well as higher costs and negative FX movements, would weigh on segment profit, reducing guidance by 6.5% to $166-170m for the calendar year-end. Concerningly, the company only reaffirmed that guidance last month with the updated targets showing little to no growth on the proforma FY22 numbers. IRESS will have a new CEO in the seat next week with ex-PEXA CEO Marcus Price taking over.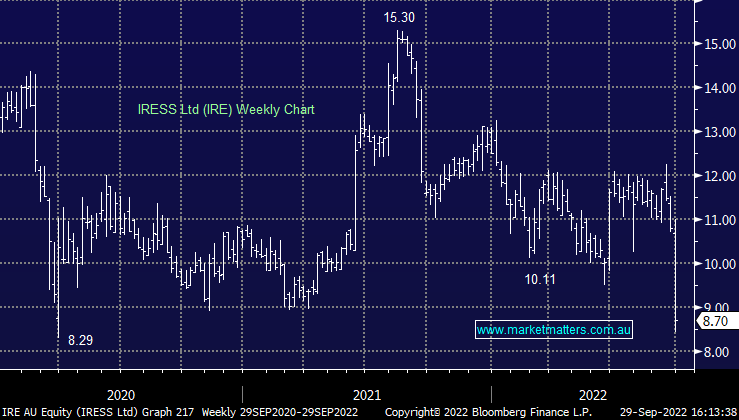 Broker Moves
Westgold Raised to Outperform at Macquarie
Lynas Raised to Outperform at Macquarie; PT A$9.40
Evolution Raised to Outperform at Macquarie; PT A$2.20
Pilbara Minerals Cut to Hold at Jefferies; PT A$4.75
Nickel Industries Raised to Buy at Jefferies; PT A$1
29Metals Raised to Hold at Jefferies; PT A$2.20
Ramelius Raised to Accumulate at Ord Minnett; PT A$1.10
Charter Hall Raised to Buy at Citi; PT A$4.70
Major Movers Today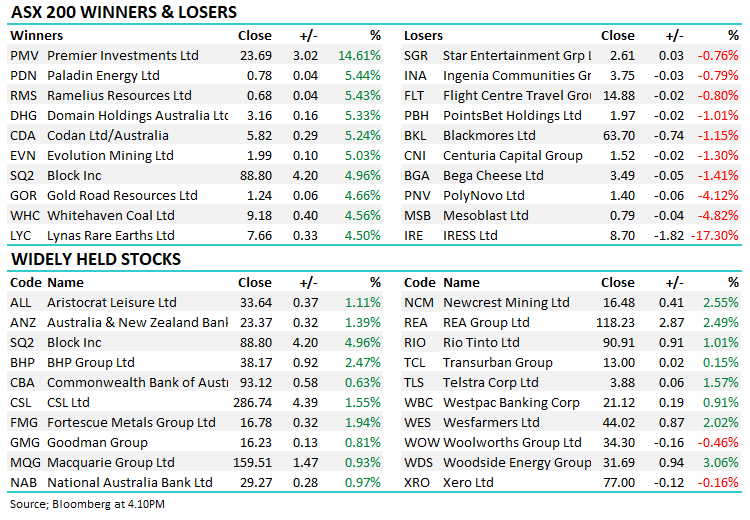 ---
Make informed investment decisions
At Market Matters, we write a straight-talking, concise, twice daily note about our experiences, the stocks we like, the stocks we don't, the themes that you should be across and the risks as we see them. Click here for your free trial.
The Match Out will be available each day after the market close. Follow my profile to be notified when the latest report is live.