9 stocks to hold for the next five years
---
Since launching around five years ago, the Rules of Investing podcast has gone to air over 100 times. It has featured investing insights, career highlights (and lowlights), market outlooks, stock-picking mistakes and the lessons they imparted – and more – from some of the best investing minds in Australia. Some of the more recent guests include Simon Shields of Monash Investors Limited; Ben Griffiths of Eley Griffiths; GMO Investment and Asset Management's Lucas White and Dean Fergie of Cyan Investment Management.
Whether specialised in micro-, small- or large-cap fund equity funds, in fixed income assets or Alternatives – with either a Value, Growth, Quality or blended focus – some of the best investors in the business have sat in the Rules of Investing hot seat.
Of the 15 or 20 questions each guest is asked during their interview, it's almost always one of the later hypothetical questions that prove the toughest. It runs something like this, "If you had to choose one stock you'd buy and hold for five years, knowing markets were going to close for five years from the following day, what would it be?"
Sure, the scenario will almost certainly never happen (though after the last couple of years, I wouldn't rule anything out entirely). But it's a thought-provoking question that has elicited some surprising responses.
To save you from trawling the back catalogue of the podcast, and following on from the work of former colleague Bella Kidman and more recently, current colleague Matt Buchanan, the following article digs out nine of the stocks named since last September. I hope you find it as interesting to read as it was to pull together.
A word of caution
Before we delve into the list, it should be noted the companies discussed below are not intended as investment recommendations. The following wire gives no consideration to the personal circumstances of potential investors. Readers should also pay careful attention to the publication date of each podcast. Please also note the stocks were nominated over the past nine months, the first being in September, 2021.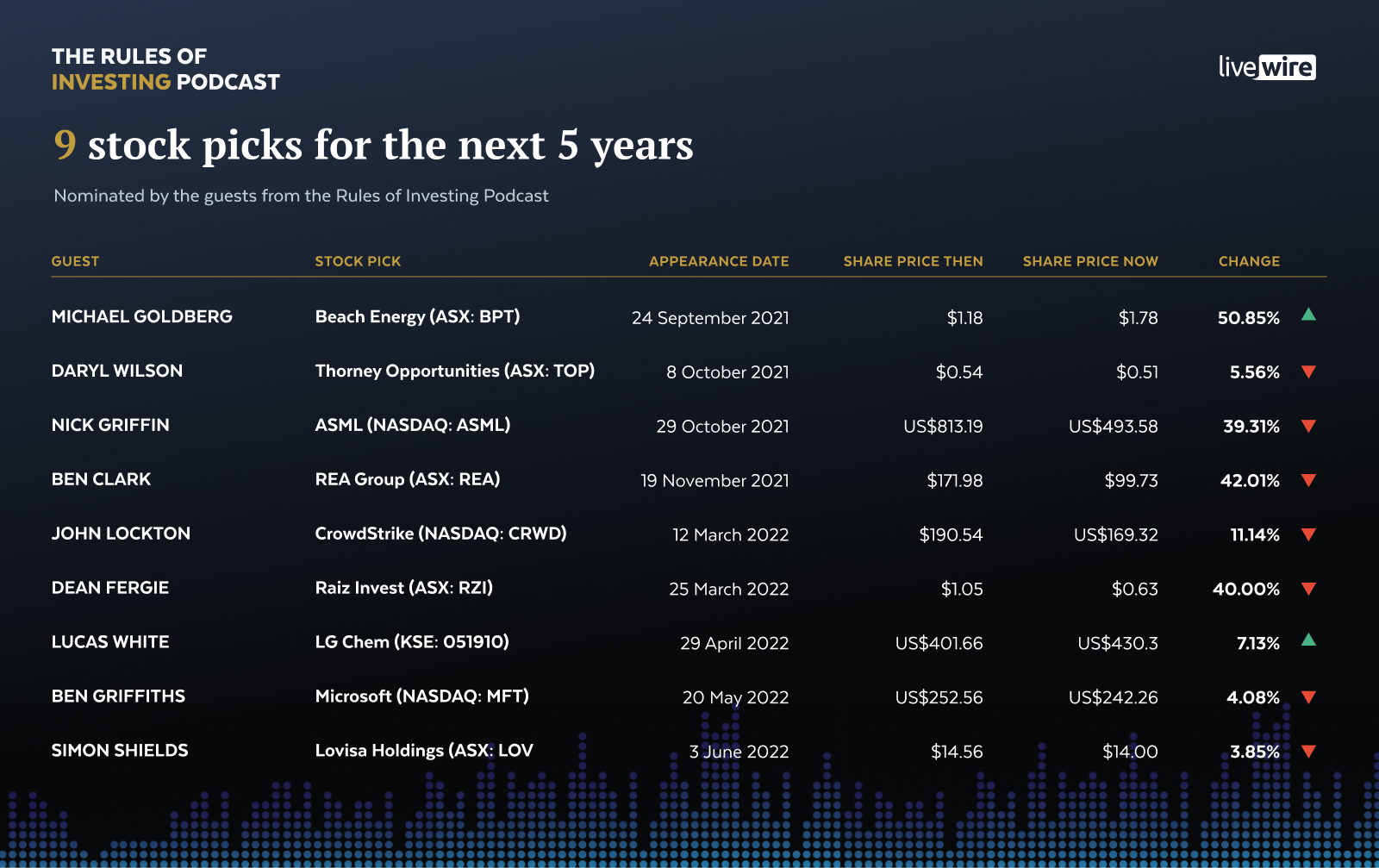 Michael Goldberg, Collins St Value Fund
Five-year stock pick: Beach Energy (ASX: BPT)

"Unless you think the entire industry is broken, if you keep the stock for five years, you get your money back," Goldberg said.
"There will always be these sectors with pockets of opportunity because of the emotional decision-making of most investors, there will be those who can see through that uncomfortable position to make a tremendous amount of money. And oil and gas is a very interesting place to look for the next couple of years."
Goldberg was torn between a couple of companies, particularly automotive parts retailer RPM Automotive (ASX: RPM) and oil and gas firm Beach Energy (ASX: BPT).
Ultimately opting for oil company Beach Energy, he summed up the South Australian exploration and production firm as a "wonderful business with some fantastic prospects."

"I suspect we're going to see increasing demand for oil and gas over the next five years and at current levels it's just too cheap, trading at one-third of the price of its competitors."
So far, at least, Goldberg's thesis has played out. From a share price of $1.18 at the time of the interview, Beach shares closed at around $1.85 on Monday 6 June – up more than 55%.
"On a PE basis, it's at about 5-6 times. It's a solid business that's going to generate really solid returns over the next five years, all things going well."
Michael Goldberg nominated Beach Energy when he appeared on The Rules of Investing on 24 September, 2021.
Daryl Wilson, Affluence Funds Management
Five-year stock pick: Thorney Opportunities (ASX: TOP)
This episode of ROI took a deep dive into the world of listed investment companies and listed investment trusts with Daryl Wilson, whose firm Affluence Funds Management specialises in these closed-ended products.
He described investing as a process of weighing up how much you might win versus what you might lose.
"Sometimes we might put money into something that loses a small amount, in order that we might win multiple times that when we think there's a 50% chance or better of winning. It's an interesting place to play but it's not for everyone," Wilson said.

While emphasising the hypothetical nature of the exercise, "I would never put 100% of my money into one stock," Wilson spoke about the Value bias of his firm.

"That makes us a bit contrarian. But in looking for Value now, if I look at Aussie small-cap shares there are some extraordinary opportunities on offer."
Singling out a LIC that would provide exposure to some of these, Wilson named Thorney Opportunities (ASX: TOP). Calling out what he regards as a massive opportunity in small Value, he said TOP has done exceptionally poorly and is trading at a 25% discount to its net asset value.
"Over the next three to five years, small-cap Aussie value is where I want to be. It's one of the larger holdings in our LIC, it's concentrated and involves a little bit of activism in pushing and prodding management to get things happening," Wilson said.
"There's a lot to like about TOP, though if you're fee sensitive you might not like it. But if you can look through that but the upside on offer is quite tremendous."
Daryl Wilson nominated Thorney Opportunities (ASX: TOP) when he appeared on The Rules of Investing on 7 October 2021.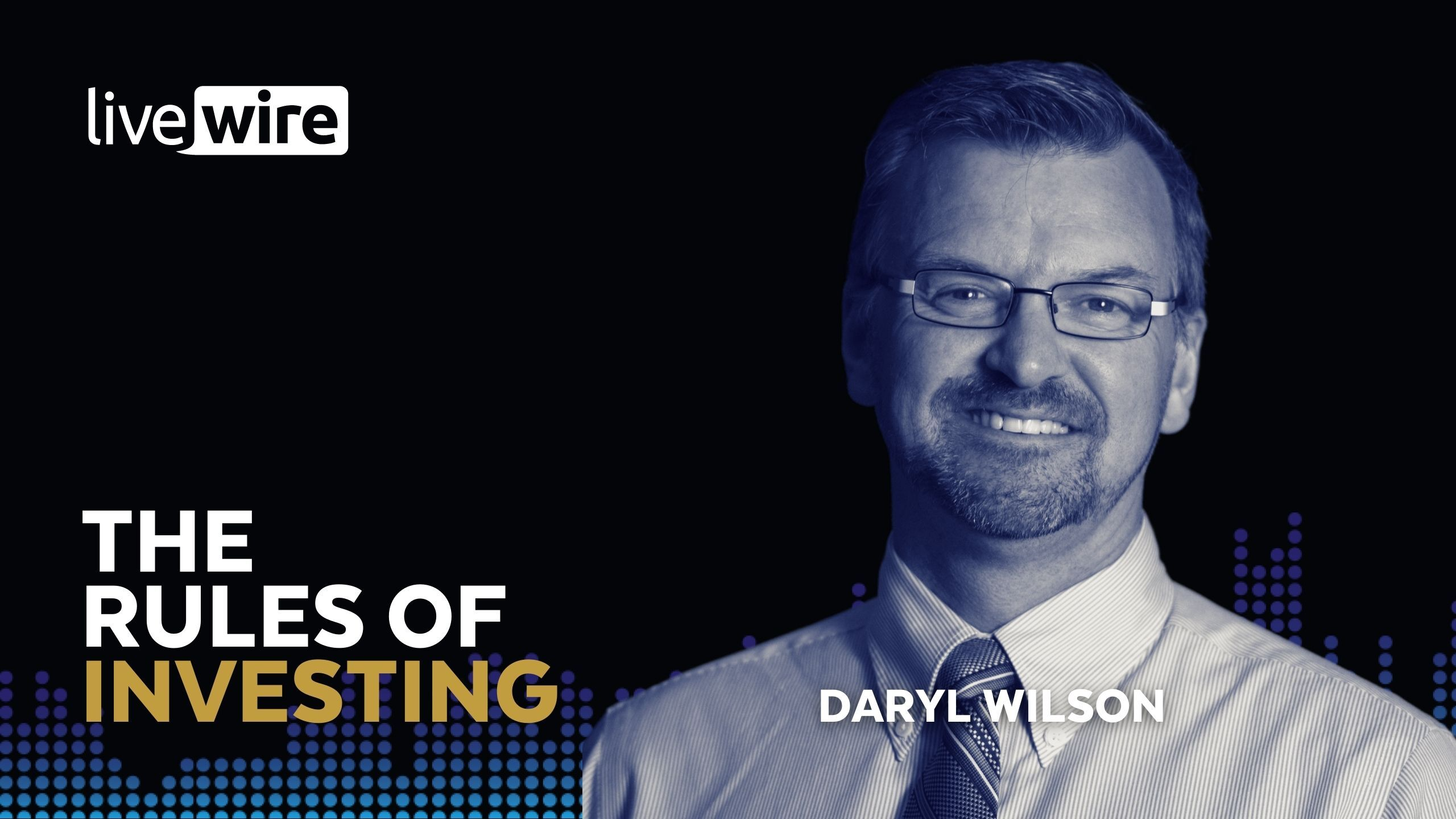 Funds
The complete guide to LICs with Daryl Wilson
Nick Griffin, Munro Investment Partners 
Five-year stock pick: ASML (NASDAQ: ASML)
In this episode, the CIO of global equities fund manager Munro Investment Partners spoke with Livewire's podcast host Patrick Poke about how the internet changed the world. During the interview, he spoke about how the world wide web gave birth to some of the world's largest companies – the likes of Amazon, Google, and Facebook (Meta).
Griffin named lithography equipment manufacturer ASML. A foundation stock of the Munro Global Growth Fund, the firm is a Dutch manufacturer of equipment that, in turn, is used to make semiconductors. ASML is one of only a handful of companies controlling the process, alongside the biggest semiconductor foundry operator TSMC.

"It's the one company no one can live without at the moment, that allows these node transitions to continue, which is why we like to call them the most important company in the world, but that no one has ever heard of."
Occupying a monopoly position in the sector, he regarded the company as good value, trading at 34-times earnings at the time of the interview.
Nick Griffin nominated ASML (NASDAQ: ASML) when he appeared on The Rules of Investing on 29 October, 2021.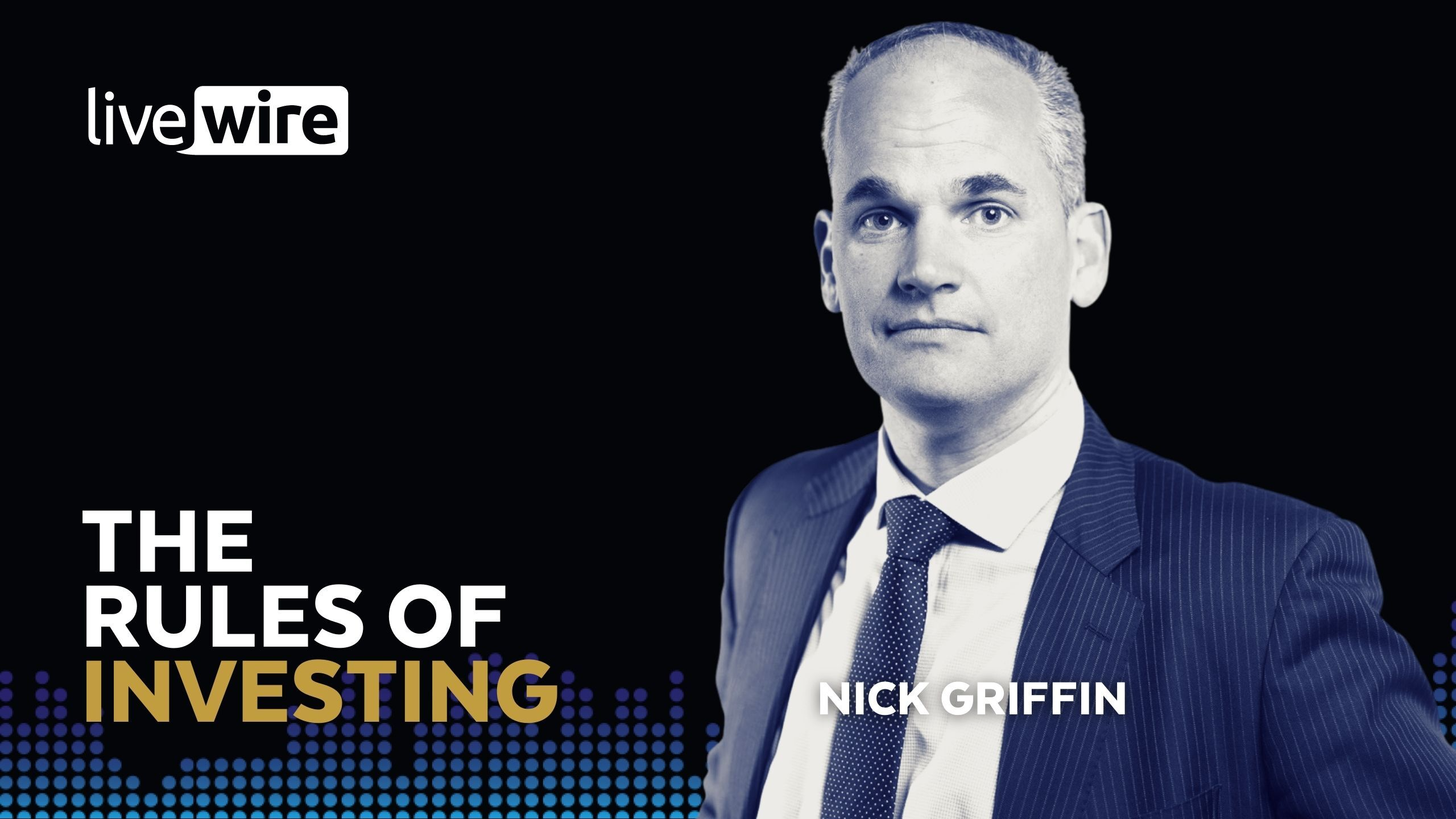 Investment Theme
The biggest opportunity since the internet
Five-year stock pick: REA Group (ASX: REA)
An investor whose consistency underpins much of his success, TMS Capital's Ben Clark spoke about the investment approach behind the TMS High Conviction Fund. He also discussed the difference between good and poor-quality Growth stocks, how he values such firms and some of the contrasting themes in some of the names in Australia and the US.
Clark acknowledged several high-quality Australian growth stocks that are well-known to investors, including healthcare and biotech firms CSL Limited (ASX: CSL) and ResMed (ASX: RMD). But he skipped past them to select property listing firm REA Group (ASX: REA) as his stock he'd buy and hold for five years if markets closed.
"Not all businesses are created equal and this one has a complete stranglehold on the property advertising market in this country," Clark said.
"Around 7 million people are exclusively looking on REA every month and it's now over three-times the visits of its nearest competitor."
What are the fundamentals that he likes so much? "The financial attributes of this company are rare. The return on equity, the EBITDA margins are frequently in the high 50% figures – you just don't' see companies like this very often," he said.
At the time of the interview, one of the primary catalysts included the abnormally low house listings activity during COVID. Clark voiced the (prescient, as it turns out) view the market was nearing a tipping point in house prices, "and when we come down the other side, volumes will go up because people will want to get their house on the market."

A key point he makes here is the commonly voiced view from REA management that a "red hot property market" isn't good for the firm. Clark's view we were nearing a house price correction was just another reason for his optimism on the stock over the next five years and beyond.
Ben Clark nominated REA Group when he appeared on The Rules of Investing on 19 November, 2021.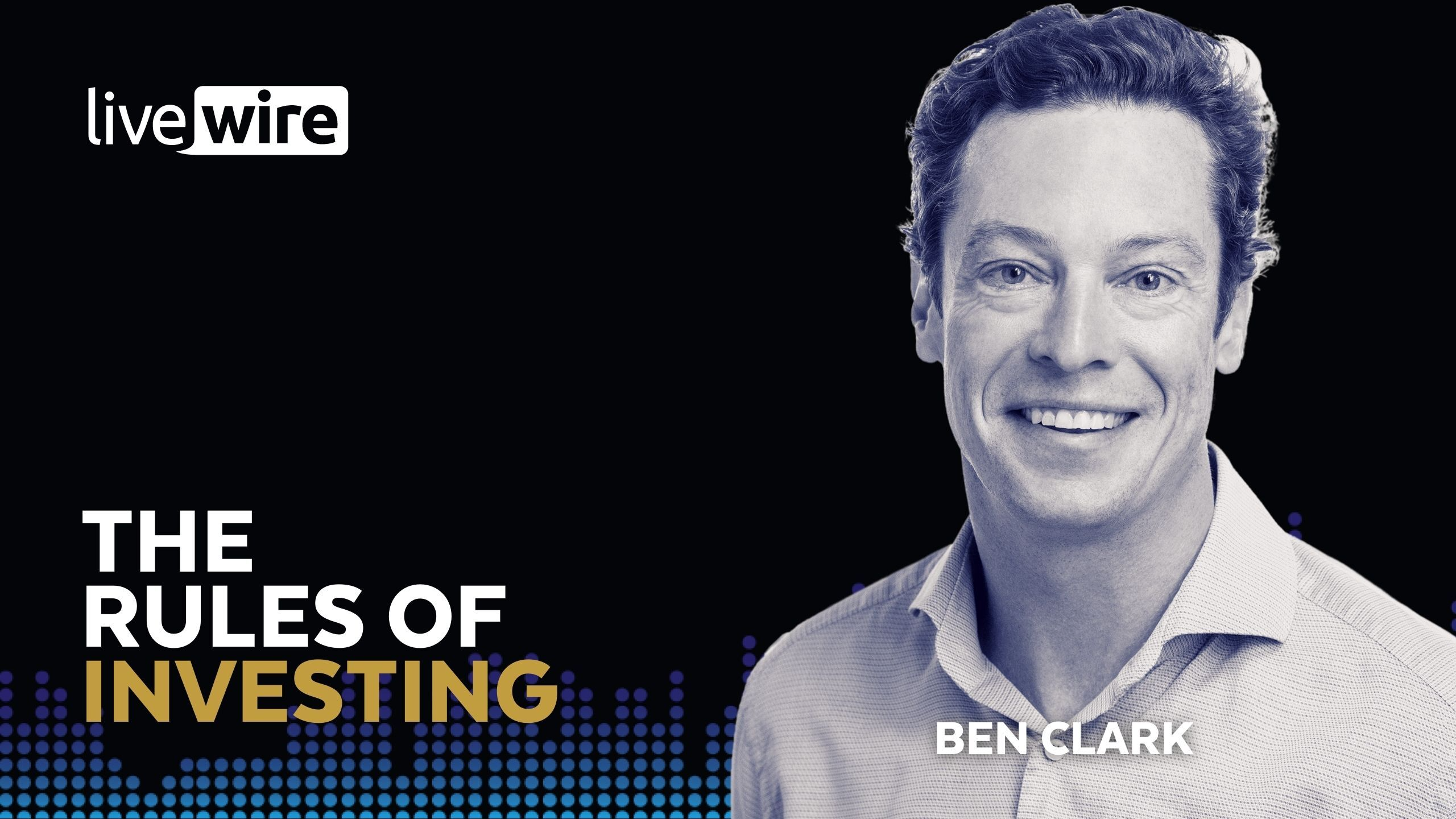 Equities
Quality and growth: How Ben Clark consistently finds winners
Five-year stock pick: CrowdStrike (NASDAQ: CRWD)
The former head of investment strategy at financial group WILSONS discussed the challenges of being an investor in today's market – with rising interest rates, heightened volatility, and various geopolitical tensions. In addition to sharing his views on the banking, resources, and healthcare sectors, he also spoke about macro issues and several stocks he expects to benefit.

But on the question of what single company he'd buy and hold if markets closed for five years, his pick of the bunch was US company CrowdStrike – a cybersecurity play that he believes is among the key beneficiaries of rising global demand for heightened technology security. The firm holds contracts to manage technology for some of the world's largest companies.

"They're one of the leaders in the field, with compounding revenue growth of more than 50%, which to me looks like an enormous comparative advantage over the competition," said Lockton.
"A good part of the move to cloud and online but the whole security apparatus around moving your business from on-premises to off-premise has lagged, so it's a play on that delayed cloud consumption."
John Lockton nominated CrowdStrike when he appeared on The Rules of Investing on 12 March, 2022.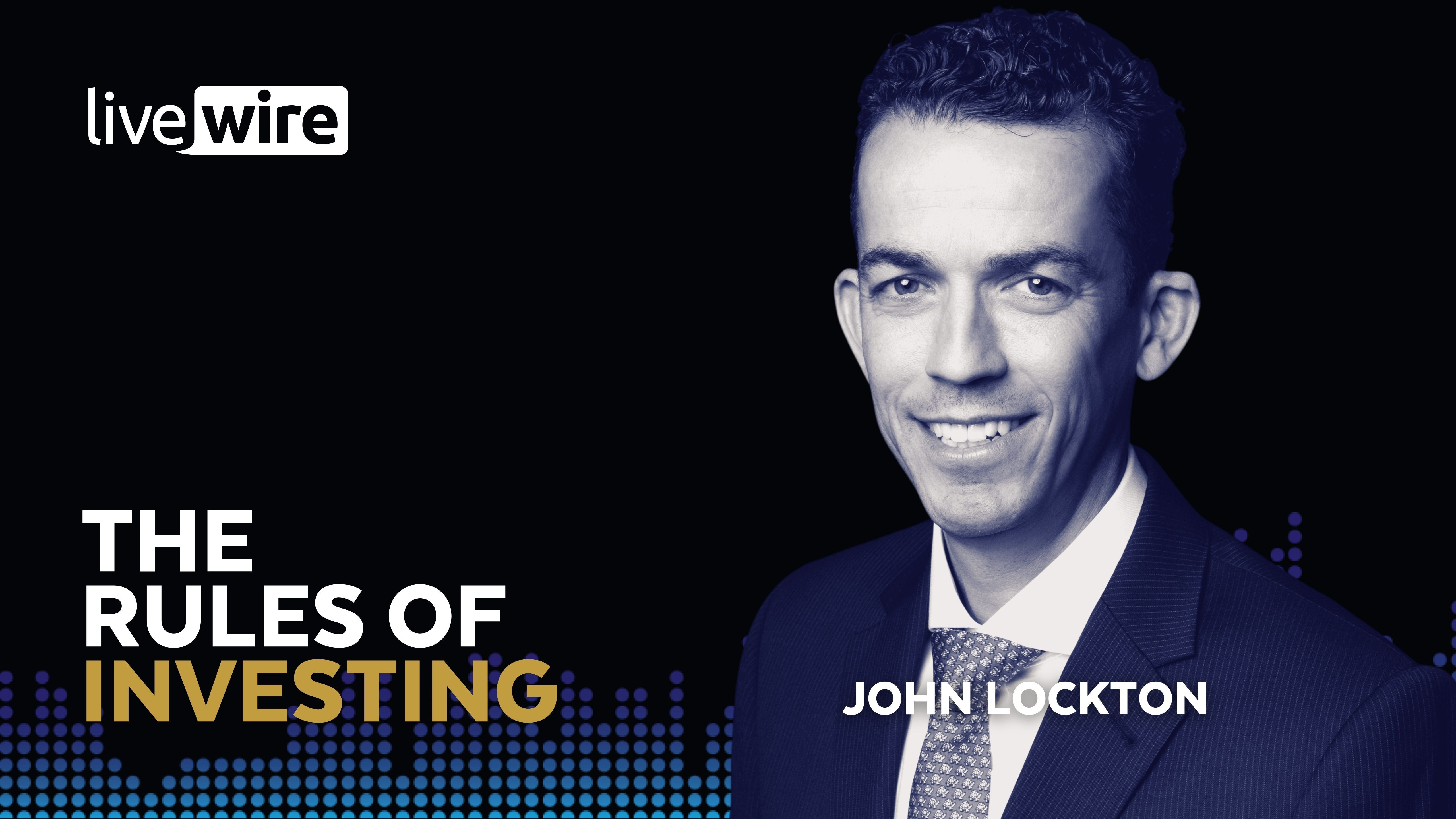 Equities
3 Aussie stocks for today's market
Dean Fergie, Cyan Investment Management
Five-year stock pick: Raiz Invest (ASX: RZI)
Small-cap investor Dean Fergie spoke about some of the common traits he has observed from some of his "bagger" stocks – those that have increased in value by three, 5 or even 10 times – over the course of his investing career.
He also shared some advice on how best to handle the inevitable market falls and named a handful of Aussie companies.
But on the question of which he would hold for five years, without the prospect of being able to sell for a five-year period, his pick was Australian fintech company Raiz Invest. For him, one of the key appeals is the scalability of the company's flagship micro-investing app. This comprises a combination of exchange-traded funds spread across different risk profiles including conservative, moderate and aggressive, alongside themes such as socially responsible investing.
"It's all very diversified, very low fees so it's a really responsible way for people to invest, so I understand the merit behind it," Fergie said.
"And it's very scalable – new customers can just drop straight in – and it is very usable."
He also notes that the company's main competitor Spaceship – which held many of the more speculative global technology stocks, has seen share prices plummet since the start of the year.
"People are going to continue to want to invest and save, there's still a distrust of the financial planning networks, and I think Raiz gives customers that opportunity and control," Fergie said.
Dean Fergie nominated Raiz Invest when he appeared on The Rules of Investing on 25 March, 2022.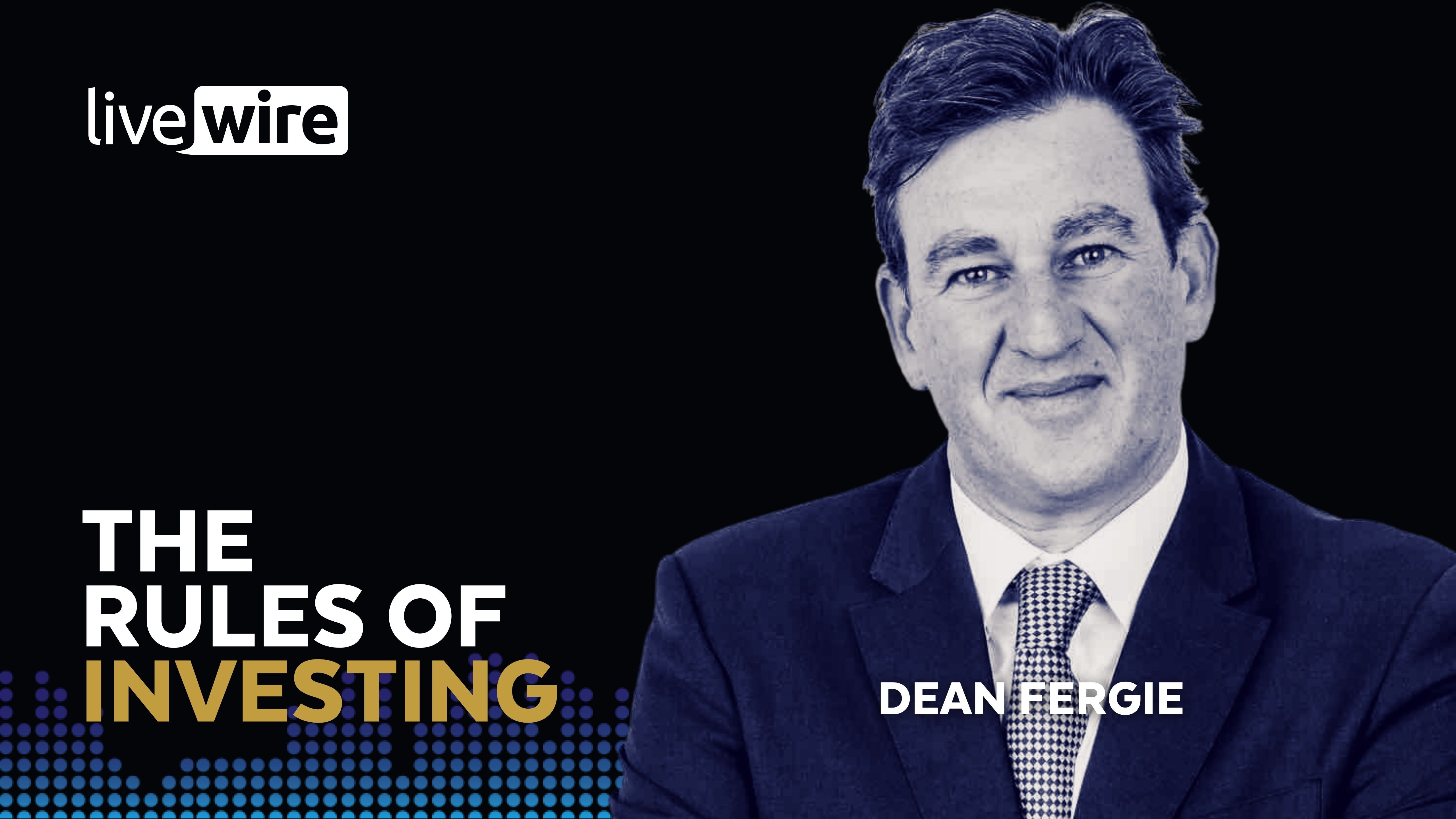 Equities
3 ingredients for small cap success
Lucas White, GMO
Five-year stock pick: LG Chem (KSE: 051910)
Grabbing the Livewire microphone for the first time in this episode of Rules of Investing, David Thornton interviewed Lucas White from GMO. White heads up the resources and climate change strategies at the Boston, US-based asset manager founded by Jeremy Grantham.
Thornton and White's discussion ranged across the transition to renewables; what makes Grantham tick and some of the carbon-neutral assets in GMO's portfolios.
Asked to name a stock he'd buy and hold for five years – in the hypothetical scenario markets would close for five years – White stuck to the decarbonisation theme.
His answer? A diversified South Korean company, LG Chem, whose operations span petrochemicals, lithium-ion batteries, pharmaceutical and consumer electrical goods.

The firm's lithium business was spun out as a separately listed entity, which remains 80% owned by the parent firm.

"But the LG Chem stake alone is worth twice the market cap of LG. And then of course you have to factor their legacy business on top," White said.
"The company seems like a safe bet no matter what happens in the world for the next five years. You'll probably need lithium-ion batteries for electric vehicles, and the stake in the battery business will probably protect LG Chem's valuation and grow it substantially more."
Lucas White nominated LG Chem when he appeared on The Rules of Investing on 29 April, 2022.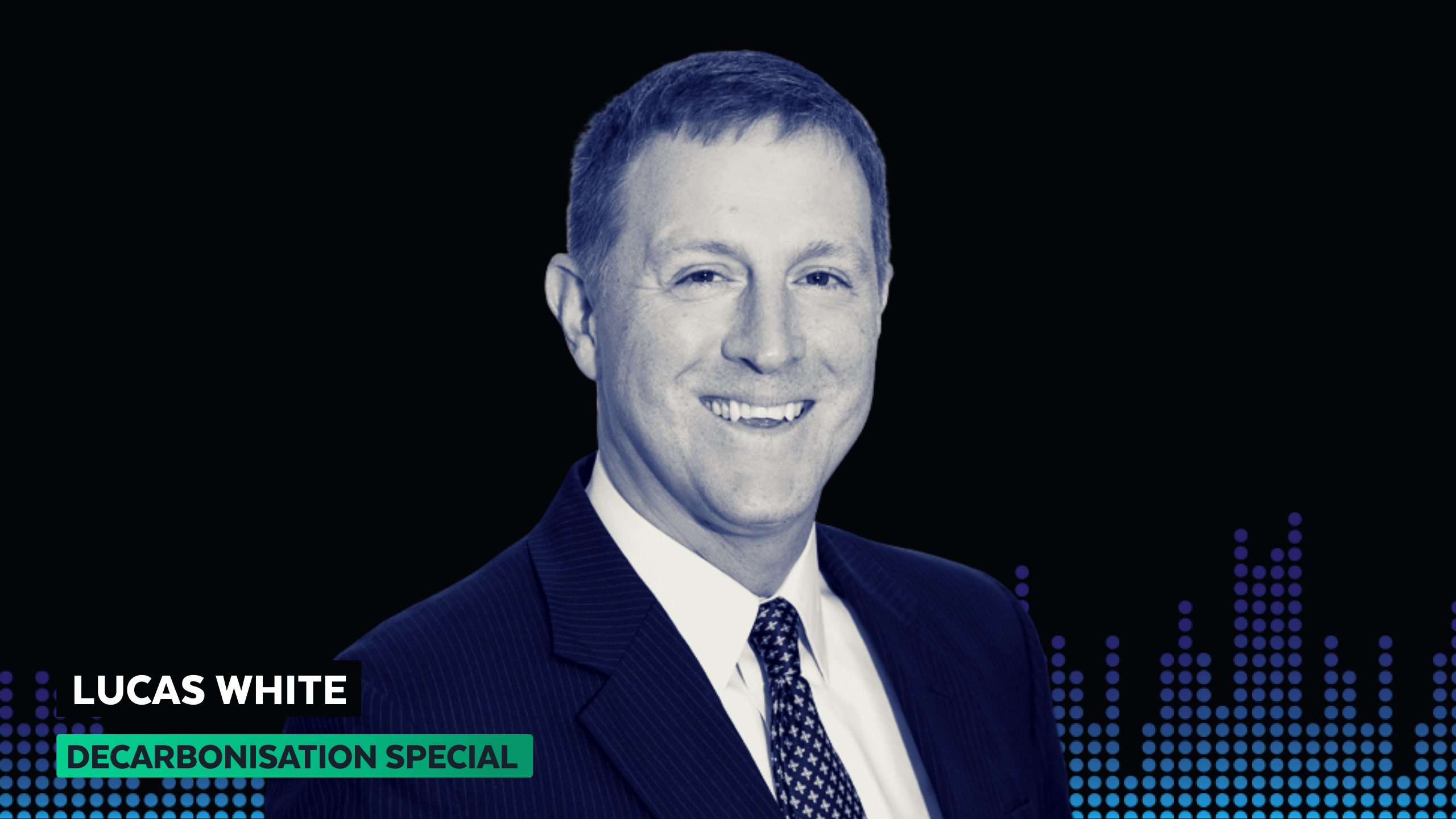 Investment Theme
Like the traditional resources sector? Here's why you're gonna love renewables
Ben Griffiths, Eley Griffiths Group
Five-year stock pick: Microsoft (NASDAQ: MSFT)
The managing director and senior portfolio manager of small-cap fund manager Eley Griffiths Group spoke with Livewire's David Thornton after a week in which global markets recorded their sharpest falls since 2020.
In addition to unpacking what led equity markets to this point, he revealed the signs he's watching for as a guide on when it's time to buy the dip. He also provided his views on some of the junior-size companies in the resources space.
Digging into some of the lessons learned over the years, he discussed his experience of some of the less scrupulous managed investment schemes of the early 2000s. "That's investing. You need to learn, pick yourself up and move on," Griffiths said.
What stock would he buy and hold for five years if markets closed? "Hand on heart, I think it would be Microsoft in the US – one of the world's great stocks," Griffiths said.

He describes how he waited patiently throughout the 2000s until he regarded the period of more than a decade of consolidation that took place under the leadership of former Microsoft CEO Steve Ballmer.
"I bought the stock for US$57 but then sold them at about $155 a share, figuring I'd probably done well enough out of it," Griffiths said.
"The upshot of it is that you don't sell out of good quality companies. The stock has now kicked through to $300 a share…it has pulled back in this rout, and that'll be a name I can't wait to buy."
Ben Griffiths nominated Microsoft when he appeared on The Rules of Investing on 20 May, 2022.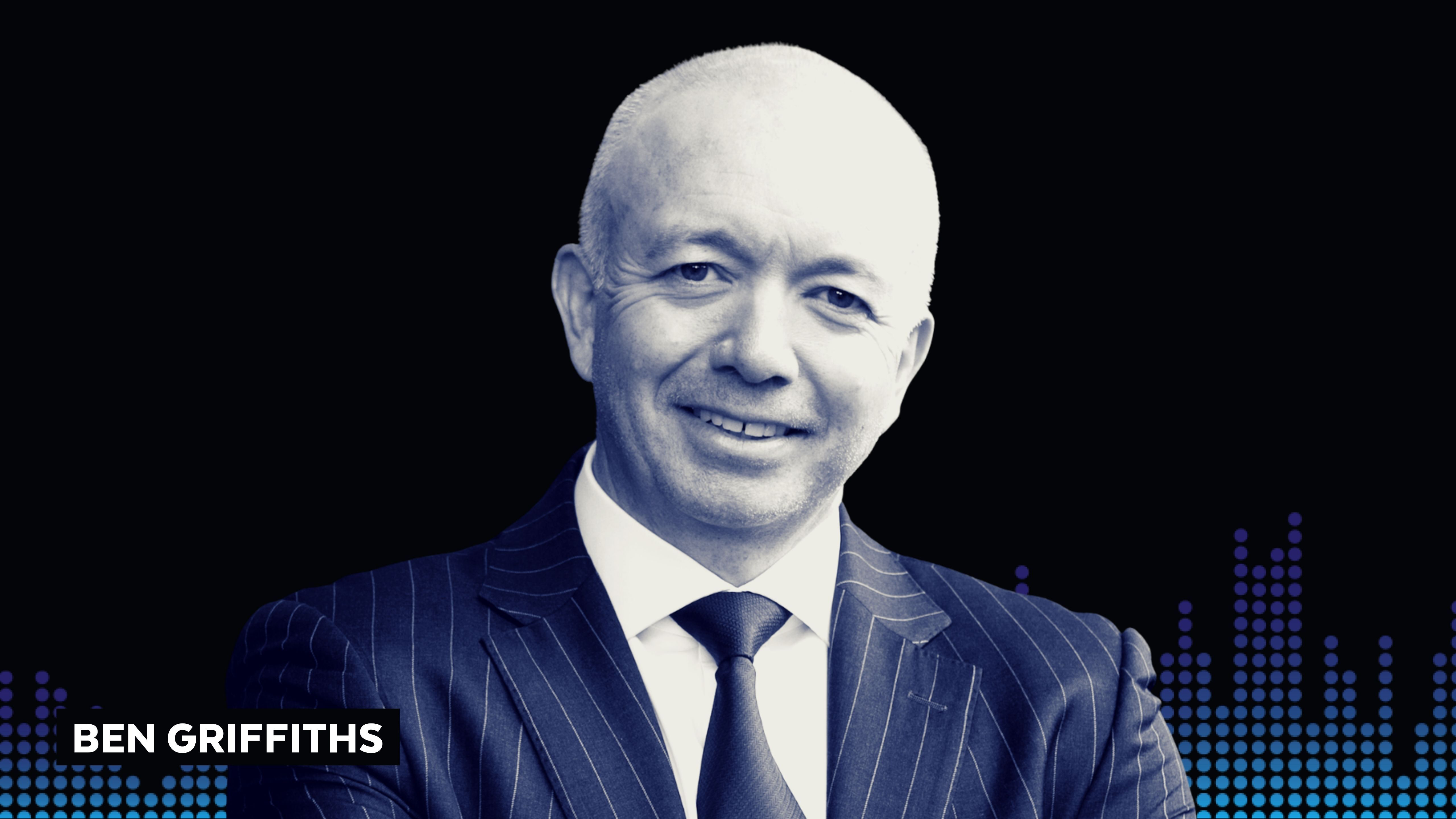 Equities
Ben Griffiths: A bull waiting for these three signs before charging at small caps
Five-year stock pick: Lovisa Holdings (ASX: LOV)
The co-founder of long-short equity manager Monash Investors discussed what the current market headwinds mean for various sectors and some individual stocks. This Included his views on how the geopolitical environment is affecting the global energy supply – particularly oil – and which stocks might benefit.
Shields also discussed how rising inflation is affecting the consumer discretionary sector, the selloff in Growth stocks and how he's currently positioned in the short part of his portfolio.
"We're typically 80% in stocks, 20% cash and within that we do some shorting too. Typically we're between 5% and 10% short – but currently, we're 30% short."
He's also keeping a higher cash allocation on hand – up to 60% – ahead of what he expects will be an underwhelming FY2022 earnings season. Shields is anticipating opportunities amid some of the earnings downgrades he and his team are expecting.
And on the question of his five-year buy-and-hold stock? He nominates Australian jewellery retailer Lovisa Holdings (ASX: LOV).
"There's still a very long store rollout underway in the US and Europe – from 550 stores currently we could easily see 2000 over the next seven to eight years," Shields said.
"The earnings numbers will go up and the share price will follow."
Simon Shields nominated Lovisa Holdings when he appeared on The Rules of Investing on 3 June, 2022.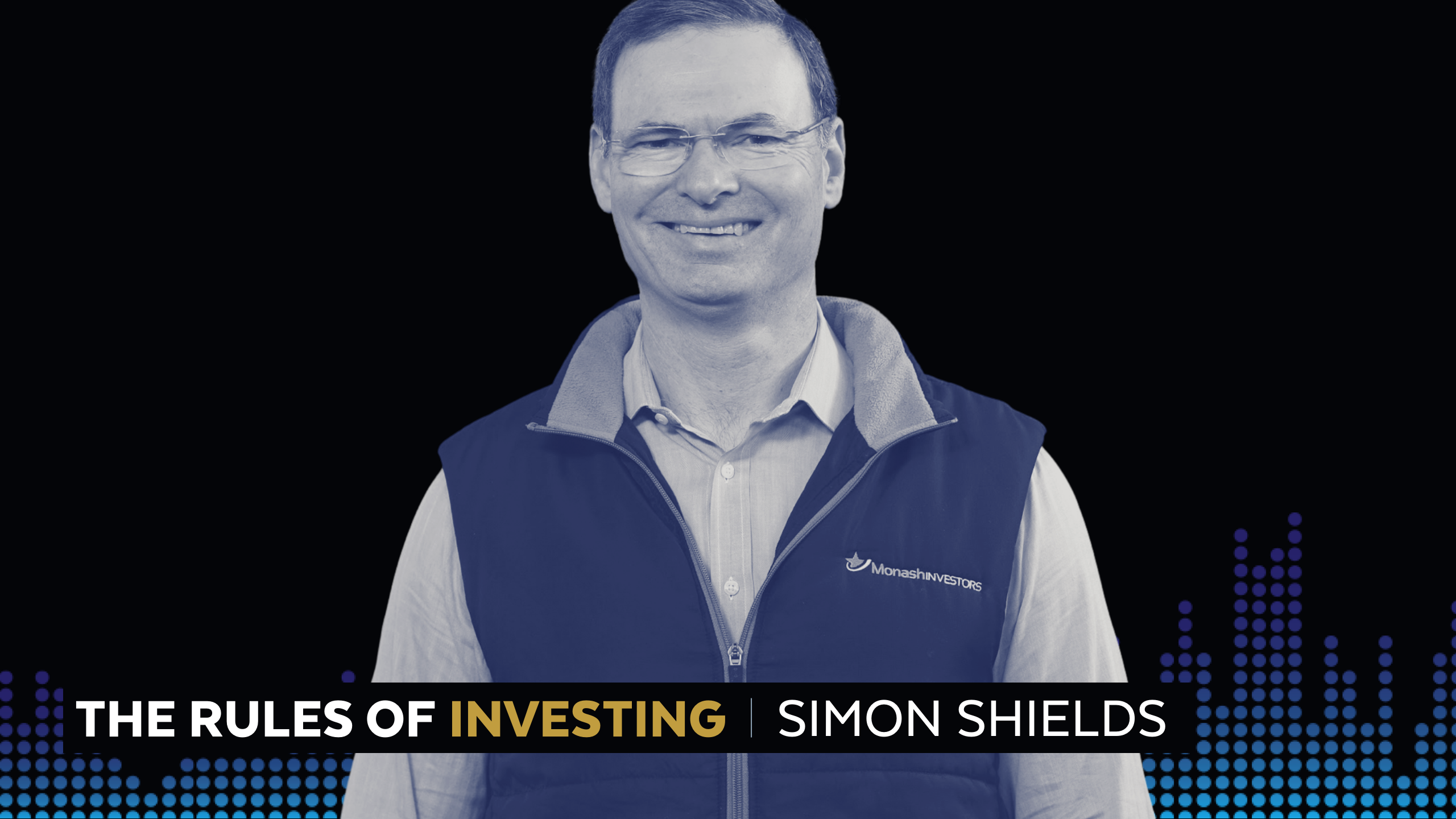 Equities
Simon Shields: The stocks turning market headwinds into competitive advantage
A final note
Among the podcasts recorded since last September, there are a few notable guests omitted from the above list.

As a bonds specialist, ROI guest Charlie Jamieson of Jamieson Coote Bonds wasn't asked the five-year stock question, the interview instead stuck with his macro views on inflation and implications for credit investors.

Yarra Capital's Tim Toohey, a former chief economist who worked for Goldman Sachs and Ellerston Capital, named a theme and style – decarbonisation and Value yield stocks – which is not included above. And property specialist Chris Bedingfield of Quay Global named residential property rather than a stock as his investment pick.
Never miss an insight
If you're not an existing Livewire subscriber you can
sign up to get free access
to investment ideas and strategies from Australia's leading investors.
And you can follow my profile to stay up to date with other wires as they're published – don't forget to give them a "like".
To find out what stocks some other leading industry insiders have nominated, read the previous wrap-up below: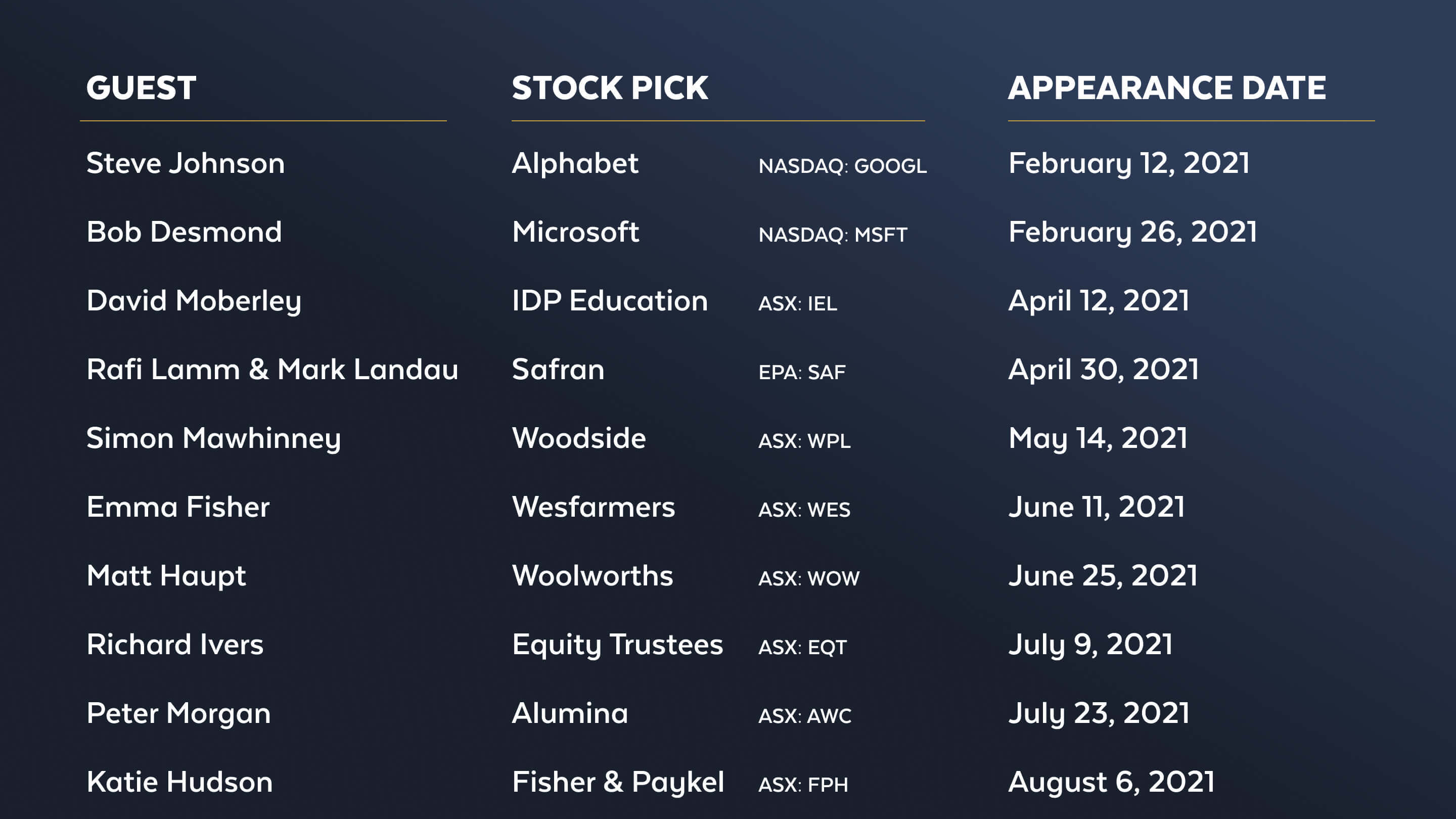 Equities
13 stock picks to own for the next five years
Never miss an update
Enjoy this wire? Hit the 'like' button to let us know. Stay up to date with my current content by
following me
below and you'll be notified every time I post a wire
Welcome to Livewire, Australia's most trusted source of investment insights and analysis.
---
To continue reading this wire and get unlimited access to Livewire, join for free now and become a more informed and confident investor.
Glenn Freeman is a content editor at Livewire Markets. He has almost 20 years' experience in financial services writing and editing. Glenn's journalistic experience also spans energy and automotive, in both Australia and abroad – including the Middle East – where he was editor of an oil and gas publication in the United Arab Emirates.
........
Livewire gives readers access to information and educational content provided by financial services professionals and companies ("Livewire Contributors"). Livewire does not operate under an Australian financial services licence and relies on the exemption available under section 911A(2)(eb) of the Corporations Act 2001 (Cth) in respect of any advice given. Any advice on this site is general in nature and does not take into consideration your objectives, financial situation or needs. Before making a decision please consider these and any relevant Product Disclosure Statement. Livewire has commercial relationships with some Livewire Contributors.
---

Never miss an update
Get the latest insights from me in your inbox when they're published.
---
---
15 contributors mentioned
Glenn Freeman is a content editor at Livewire Markets. He has almost 20 years' experience in financial services writing and editing. Glenn's journalistic experience also spans energy and automotive, in both Australia and abroad – including the...
Glenn Freeman is a content editor at Livewire Markets. He has almost 20 years' experience in financial services writing and editing. Glenn's journalistic experience also spans energy and automotive, in both Australia and abroad – including the...