Housing Boom is Back, Baby!
---
Today I show that the great Aussie housing boom is well and truly back, with Sydney and Melbourne house prices surging in August, up by north of 1.2% in the month alone, validating our contrarian forecast for a 5-10% increase in prices over the 12 months following the second RBA rate cut (click on that link to read or AFR subs can click here). Indeed, over the last quarter, Sydney and Melbourne prices have been appreciating at a 6-7% annualised pace, albeit after large corrections between 2017 and 2019. I explain that while the RBA's rate cuts are working, it has much more to do if it is serious about lifting inflation into its target 2-3% band and reducing the jobless rate to its full employment level between 4.0% and 4.5%. This is why the RBA's Phil Lowe and Guy Debelle are prudently preparing the groundwork for QE, which we first publicly forecast back in May 2019. Excerpt enclosed:
I have repeatedly warned that with further RBA rate cuts likely to come (the futures market is pricing in a 0.4 per cent cash rate by end 2020), it is probable that the realised capital gains will be closer to the top end of our heterodox forecast range.

And there is little doubt that sluggish mainstream analysts will start falling into line with these projections.
Before I get reflexively stereotyped as a housing bull, remember this column correctly predicted the 10 per cent decline in national prices in April 2017 while values were still ascending (most analysts followed us 12 months later, although many got over-excited, calling for a 20 per cent crash).
This is wonderful news for the economy at a time when global uncertainty is elevated. Australia is truly the "wonder down under": we've had 28 years of growth, the return of a balanced federal budget, the prospect of a rare current account surplus, an orderly deflation in our dangerous housing bubble, low borrowing rates and an increasingly competitive Aussie dollar.
From an investment perspective, the biggest beneficiary of this development is the residential mortgage-backed securities (RMBS) market and our banks and non-banks more generally. (RMBS is a bond comprising a pool of home loans.) The creditworthiness of RMBS is determined by borrowers' ability to repay the loans coupled with value of the underlying properties that serve as collateral.
Recent declines in mortgage rates should reduce default rates while rising house prices boost the equity protecting these bonds. So after we controversially exited the RMBS sector when house prices starting falling, we have been buying these securities again in anticipation of their improved prospects.
A final positive for the sector is Westpac's comfortable victory in the Federal Court in relation to the nebulous responsible lending laws, which mitigates regulatory and class action litigation risk.
While the economic portents are promising, the RBA still has heavy lifting to do if it is to fulfil its legislated objectives of delivering inflation between 2 and 3 per cent and full employment.
Even assuming another two rate cuts, the RBA's forecasts have the jobless rate sitting at 5 per cent in 2021, which is materially above its estimate of the "fully employed" jobless rate between 4.0 and 4.5 per cent. It also has core inflation right at the bottom of its 2 to 3 per cent target band.
Put more bluntly, pushing the RBA's official cash rate down from its 1 per cent current level to 0.5 per cent will not—according to its own analysis—allow it to satisfy its mandated employment and inflation objectives. And if global central banks continue to slash their interest rates, as the US Federal Reserve and ECB are expected to do in September, the RBA's task could be complicated by upward pressure on the Aussie dollar.
During the week the RBA's impressive deputy governor, Guy Debelle, explained that Martin Place has invested a great deal of thought into the additional tools it could deploy to help manage the economy once it hits the effective lower bound on its official cash rate, which he acknowledged was around 0.5 per cent (below this the RBA does not expect much if any pass-through from banks).
He was, in fact, echoing the thoughtful remarks of his governor, Phil Lowe: both have now confirmed this column's May 2019 prediction that they will embrace so-called "quantitative easing" (QE) if they have to cut rates another couple of times...
........
Disclaimer: This information has been prepared by Smarter Money Investments Pty Ltd. It is general information only and is not intended to provide you with financial advice. You should not rely on any information herein in making any investment decisions. To the extent permitted by law, no liability is accepted for any loss or damage as a result of any reliance on this information. Past performance is not an indicator of nor assures any future returns or risks. Smarter Money Investments Pty Limited (ACN 153 555 867) is authorised representative #000414337 of Coolabah Capital Institutional Investments Pty Ltd, which holds Australian Financial Services Licence No. 482238 and authorised representative #001277030 of EQT Responsible Entity Services Ltd that holds Australian Financial Services Licence No. 223271.
---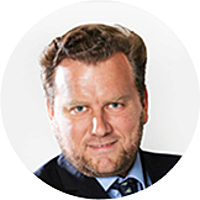 Portfolio Manager & Chief Investment Officer
Coolabah Capital
Chris co-founded Coolabah in 2011, which today runs $7 billion with a team of 33 executives focussed on generating credit alpha from mispricings across fixed-income markets. In 2019, Chris was selected as one of FE fundinfo's Top 10 "Alpha...