Off The Charts: 3 splits, 5 hits and a $20bn wipeout - a week in the world of investing
---
We're back! Off The Charts is here again to wrap up everything you need to know (and some things you don't) from the week. This week, as an Easter long weekend treat, we're giving you our wrap-up a little earlier than usual. Plus, we'll give you a heads up on what's coming up next week. So let's jump in.
Off the Chart's stories of the week
#1 THAT'S NOT FUNNY AT ALL  
From the company that brought you the VW Beetle we now have the VW Bungle. To wit, a confusing mistake turned official announcement, then April Fool's joke ... in March.
On Monday, a press release seemed to have been mistakenly uploaded to Volkswagen's website announcing that the US arm of the automaker was changing its name to "Voltswagen" to embrace their shift into the EV space. After it was picked up by publications globally, an errant press release from CEO Scott Keogh confirmed the change. VW's various social media accounts also promoted the lie.
A report has now come from the group announcing that it was an April fools joke that had been released earlier than planned. For a group who already have a reputation for being untruthful, (read: diesel scandal) maybe they should sit out on making jokes.
This does make us consider other dubious car names that could trump the Voltswagen. The novelist Martin Amis had one of his character's drive a Fiasco, with another behind the wheel of a powerful Autocrat. We think a Nissan Impossible could work for when we're feeling dangerous. Or a Mitsubish Magma, say? Anything but a Voltswagen.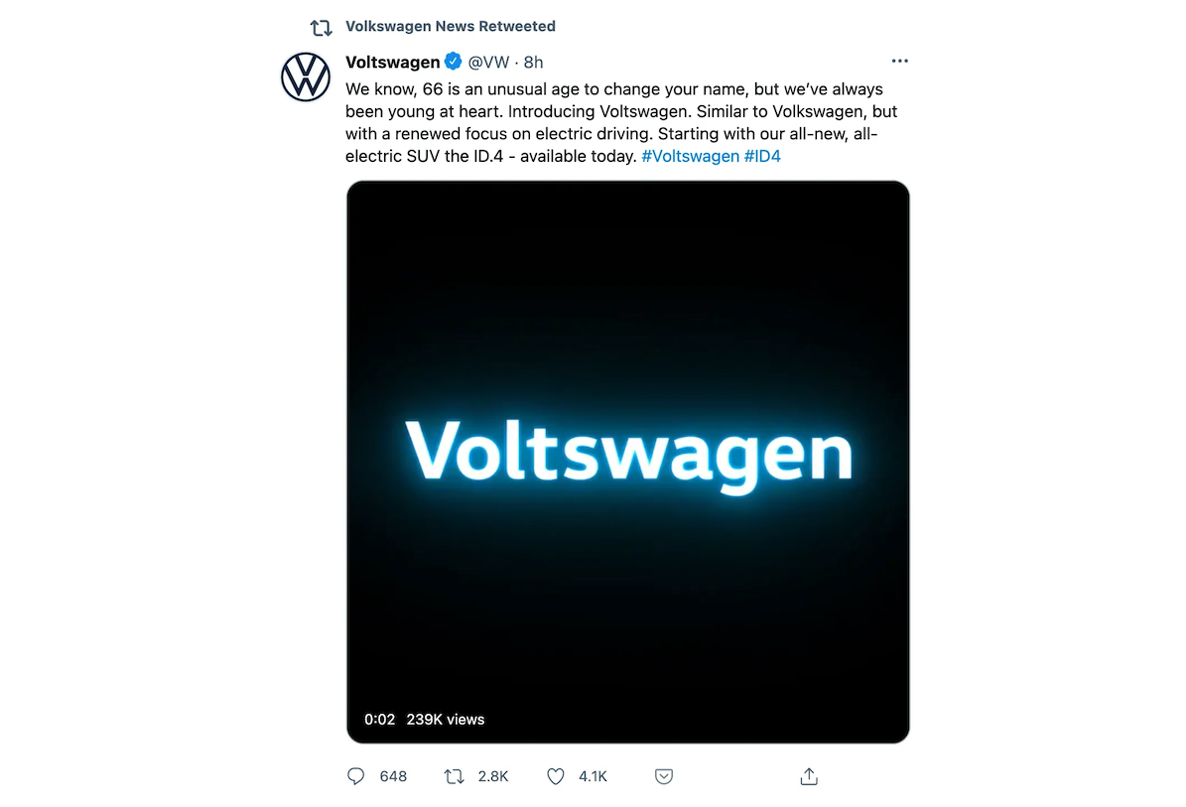 Source: Twitter/ VW. 
#2 AGL GOES FOR GREEN 

On a more serious, but still energy-related note, the Nation's top energy provider AGL Energy (ASX: AGL) announced on Tuesday the firm would be splitting into two parts, New AGL and PrimeCo, in an effort to help the company appear to be moving to a cleaner future.
In the split, New AGL will form into a carbon-neutral retailer focused on delivering energy and telecom services while owning flexible assets like gas-fired power plants and batteries.
PrimeCo will hold the company's thermogenic coal-fired power plants and wind farms, supplying NewAGL and other customers with their ongoing energy needs.
The move comes at a time where banks and investors are becoming increasingly opposed to pollutants. After a 35% fall in share price over the year, Australia's biggest polluter (as nominated by the Clean Energy Regulator in February) is looking for a greenwash. 
#3 TABCORP TO PUNT ON SPLIT OR SELL
On the topic of splits, Tabcorp (ASX: TAH) might be following suit.
Shareholders have been pushing gaming giant Tabcorp to sell its wagering and media division for a while now, and it seems relief may just be on the horizon. On Monday, the group announced a strategic review in which it considered how to handle the troubled wagering division.
The firm is considering either demerging the wagering arm or selling it off for the right price. The arm has already received a bid from London-based gaming giant Entain and NY-PE firm Apollo. Its Chairman, Steven Gregg, remains unconvinced by the current offers and noted a higher price would be needed before recommending the sale to shareholders.
#4 TELSTRA TO ACQUIRE NBNCO? 
To round out the split frenzy, we have Telstra (ASX: TLS). Since announcing their split last week, the telco is now well set up to acquire NBN Co, as identified in this analysis by Roger Montgomery.
Montgomery highlights comments from the Minister for Communications who identified in 2019 that a sale to Telstra pre-demerger would likely be prevented by the legislation that established the NBN to avoid the formation of a monopoly.
Hopefully, the rest of the ASX 200 can remain whole for the rest of the week.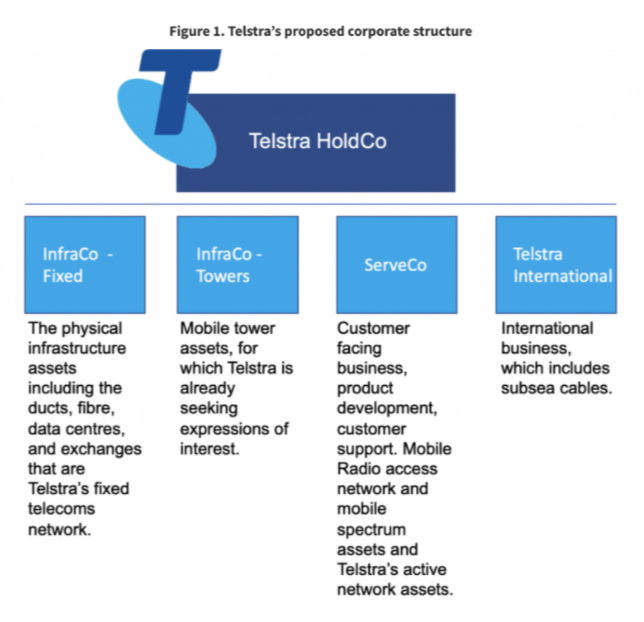 Source: Supplied/ Roger Montgomery.
#5 BOND YIELDS HIT PRE-PANDEMIC HIGHS
On Wednesday, the US 10-year Treasury yield hit its 14-month high off the back of increased government spending and consumer confidence across the nation. While HSBC strategists call it just a sugar rush, our eyes here at Livewire are closely watching the impact these changes will have on growth stocks.

This year has been a bloodbath for growth stocks as a result of rising yields, every sell-off has us thinking "Is this it?" for the long-heralded tech bubble crash.
But wait there's more...
Tiger cub's swipe at markets. Markets this week were struggling to recover from the ripple effects of US markets turmoil at the end of last week. Over US$20 billion worth of shares sold off by banks like Morgan Stanley, Goldman Sachs, Credit Suisse and Nomura, after Archegos Capital Management's Bill Sung-Kook "Bill" Hwang defaulted on his margin call. The former Tiger Asia manager, dubbed "Tiger cub" has sent major stocks plummeting, the likes of ViacomCBS, Tencent and Discovery - to name a few. ViacomCBS fell over 50% and hasn't recovered. Watch out for those margin calls. The news has also hit shares of the major banks, with Credit Suisse falling 16% as a result and Nomura dropping 18%.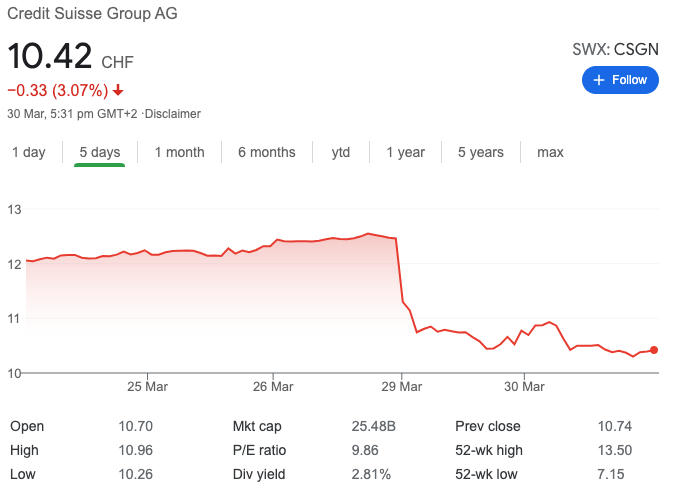 Best of the best ... Livewire's top five contributor stories this week
1. One year on - what did we learn? - Here, Marcus Padley reflects on the lessons learnt one year since the market's crash in March.

2. Coppleson: Tech, growth stocks must 'tread water' a bit longer - Bell Potter's Richard Coppleson discusses the themes we're seeing across the growth market.

3. A growing, profitable and undervalued tech stock - Harley Grosser of Capital H management reveals one Australian microcap he believes is undervalued right now.

4. What Telstra's proposed restructure means for shareholders - As mentioned above, Roger Montgomery discusses what the Telstra restructure means for shareholders.

5. Tesla, VW & the race for EV domination - Finally, Alison Savas from Antipodes explores the race between Tesla and VW for EV dominance.
And coming up week beginning 6 April...
Markets re-open on Tuesday 6 April, after the long weekend closure. 
RBA's monetary policy decision is also on Tuesday. As the RBA has flagged repeatedly, interest rates will be staying lower for longer - so don't expect any surprises. But I'll be keeping an eye out for Christopher Joye's reactions to the Governor's statement. 
ABS is releasing Lending Indicators, Retail Trade and Job Vacancies on Thursday 1 April, and next week Building Approvals data will be released. 
The latest Rules of Investing podcast from Patrick Poke will feature David Moberley next week. You can follow Pat or the podcast to be notified about the latest episodes as they arrive. 
What did we miss?

Did you catch a story this week that you thought was Off the Charts? Let us know in the comment section below! Or email content@livewiremarkets.com. 
Also, if you're enjoying Off the Charts or have any suggestions for the series let us know!
Never miss an update
Enjoy this wire? Hit the 'like' button to let us know. Stay up to date with my current content by
following me
below and you'll be notified every time I post a wire
Welcome to Livewire, Australia's most trusted source of investment insights and analysis.
---
To continue reading this wire and get unlimited access to Livewire, join for free now and become a more informed and confident investor.
---
---
Livewire Exclusive brings you exclusive content from a wide range of leading fund managers and investment professionals.
---
14 contributors mentioned
Livewire Exclusive brings you exclusive content from a wide range of leading fund managers and investment professionals.
Expertise
Livewire Exclusive brings you exclusive content from a wide range of leading fund managers and investment professionals.
Expertise