Off the Charts! Bezos' Blue Origin, China's steel rally and what's with the bond market?
---
It's been a big week for data out of the US. Inflation numbers and employment figures have led the charts this week, with a few serious surprises in there. Who would have thought quitting would make a comeback in the middle of a pandemic? 
Also in this wire, if you take a look at China's steel production chart (below) it's no wonder we've seen iron ore rally to previously insane heights. But how sustainable is this rally, really? We have questions and answers for you here. 
Finally, the meme stock rollercoaster continues and it coincides with the end of Korea's year-long short-selling ban. Some action to be seen on the Korean stock exchange, no doubt. Speaking of memes, "to the moon" has taken on new meaning. Looks like we're at the cusp of the new space age. 
Let's jump in... 
#1 LONG LIVE THE BOND MARKET
The oft-quoted sentiment from former Clinton-era political adviser James Carville goes:
"I used to think that if there was reincarnation, I wanted to come back as the President or the Pope or as a .400 baseball hitter. But now I would like to come back as the bond market. You can intimidate everybody."
But is the bond market losing its edge? Critical inflation data out of the US this week showed the steepest rise in CPI since late-2008, jumping to 5.0% year-over-year. Bonds, the market kingmaker, has stopped playing by the rules. 
Usually, when inflation goes up, the bond market goes through a sell-off. Instead, bond markets rallied ahead of expected (and delivered) inflation data, pushing yields even lower. What are bond traders up to? 
Don't get me wrong, the bond market is all-powerful from where we sit, but the "taperless tantrum" back in March and now this makes us ask: where to next for bonds? We'll be watching this space.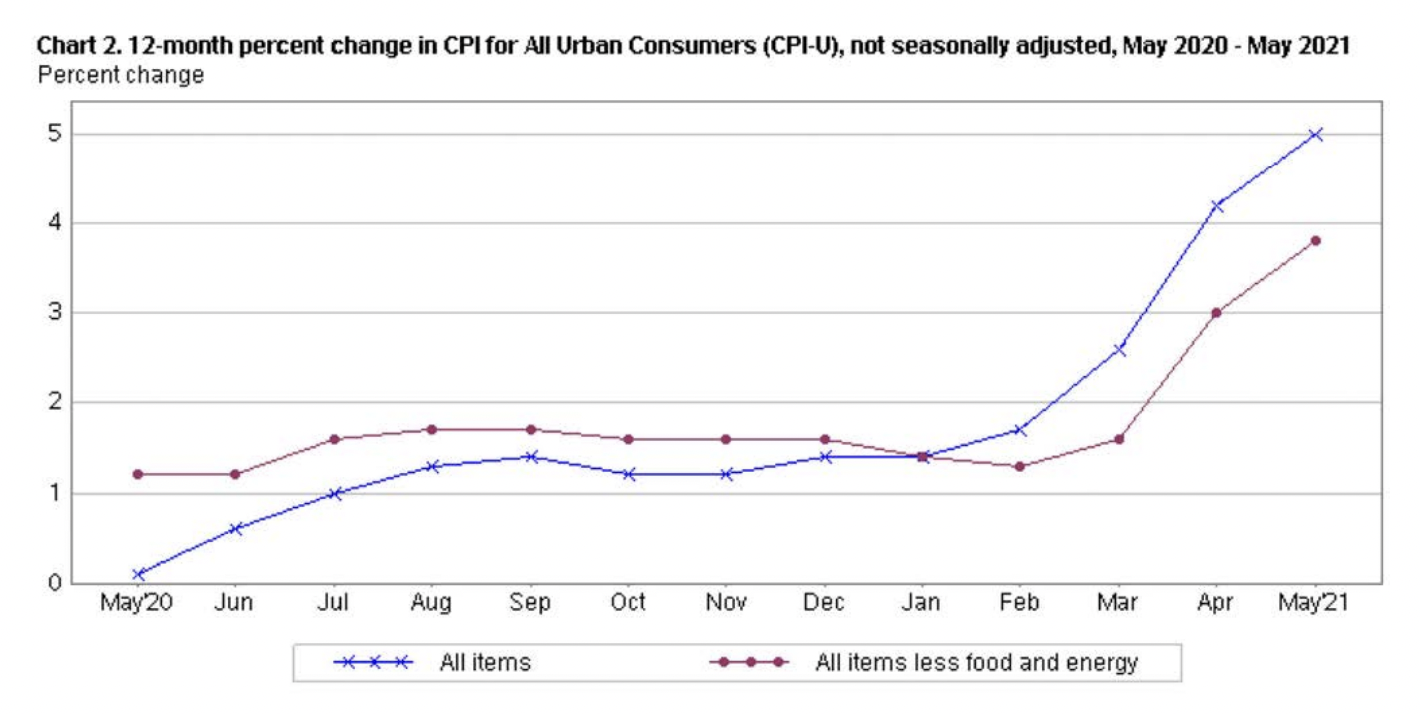 Above: The year-on-year percentage change for CPI. Source: US Bureau of Labor Statistics.
The US 10-year Treasury Note

US 10-year Treasury yields moved down to 1.441. Remember tiny moves in bond markets have BIG impacts. Source: MarketWatch.
#2 WHAT PANDEMIC? AMERICANS ARE QUITTING IN DROVES

Now you'd think that if there's one point in time where it's worth sitting tight in a job you don't like (because you know, bills don't pay themselves), it would be during the middle of a pandemic-induced recession.
But one of the strangest consequences of this mishmash of global liquidity, the roll-out of vaccines, and re-opening the North American economy like it's a greyhound race between states, is that Americans are telling their employers: "Take this job and shove it!". 
The chart below shows that nearly four million people – generally those in the leisure and hospitality industry – quit their jobs in April. That's unheard of from the Labor Department, and to add to employers' concerns about a labour shortage, a record 9.3 million job openings are available to be filled in the U.S. This means workers have the upper hand to negotiate a better deal in terms of pay and work conditions. We can only speculate that if millions of workers are that confident about getting a better job, then this could add fuel to the inflation story in the U.S.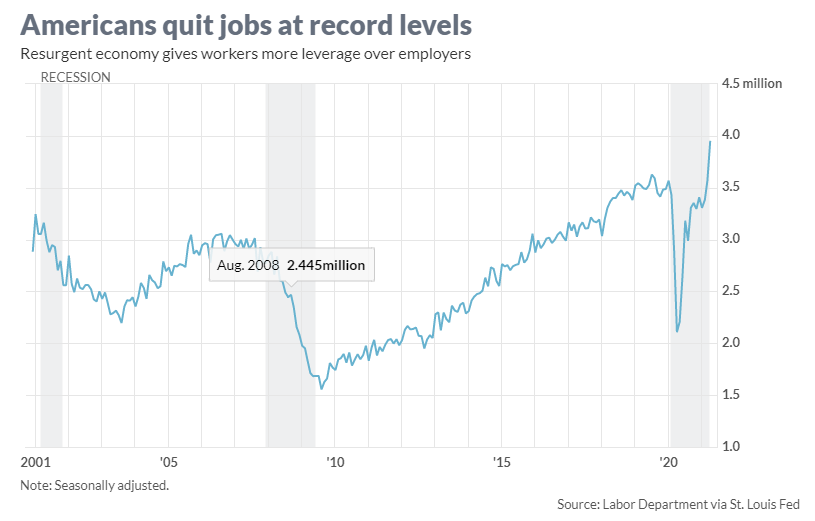 But Australian employers dare not rest easy – we may not be quitters (in fact, the pandemic revealed we like being told what to do), but we'll be ready to send in that letter if you dare take away our entitlement to WFH.
Fresh research from EY reveals that half of office-based employees in Australia and New Zealand are ready to quit jobs that aren't flexible. Nearly 50% are likely to resign if you, dear employer, don't give us enough flexibility in a post-COVID environment.
"The pandemic has shown that flexible working arrangements are not only possible, but desirable. With growing optimism about the economy and job market, and the lack of 'business as usual' access to skilled migration pools, employees are increasingly willing to vote with their feet to find a set of arrangements that work best for them." - said Matt Lovegrove, a partner at EY, told Bloomberg.
With that in mind, don't make us tell you to shove it!
#3 THE AGE OF STEEL
They say a picture tells a thousand words, but in this case, an infographic produced by Canadian media company Visual Capitalist highlighting China's steel production makes for a… riveting story indeed.
The image below visualises 50 years of global steel production and underscores just how aggressive China's efforts are to rapidly modernise its economy as well as its construction, infrastructure, and manufacturing industries.
Click on the image to enlarge
To put it into perspective, the world produced 1,864 million tonnes of crude steel in 2020. China's contribution to that was 1,053 million tonnes or 56% of the planet's output. Way to steel the show, China!
Ehm, moving on to what it means for Australian investors; the primary ingredient of steel is of course iron ore, and with demand from the world's second-biggest economy running so hot the likes of BHP Billiton, Rio Tinto, and Fortescue Metals Group are riding the dream of iron ore prices above US$200 and subsequently splashing the cash to shareholders. Who would have thought that commodities stocks would become the biggest source of income in the Australian market?
The question now is: can this nirvanic run in iron ore producers continue? Luckily for you, Livewire readers, the inquisitive Patrick Poke has put this very question to a fundie who has nailed his calls (so far) on the resources sector as a source of income. Check out that ore-some Q&A right here.
#4 Does anyone know how to say 'meme stock' in Korean?
One great thing about investing is that it gives you access to the best companies in the world - geographical distance no longer limits your investible universe. This has certainly been embraced by Korean traders, as has the meme trade, with the Korea Securities Depository revealing AMC was the most traded overseas stock by domestic investors, followed by Tesla and GameStop.
After easing its year long short-selling ban at the start of May, the Korea Stock Exchange experienced rapid activity by funds who targeted some of the most held names by retail investors. Doosan Heavy Industries & Construction Co. (KRX: 034020) was one of these.
"Doosan Heavy has been the most-bought stock by retail investors on the Kospi so far in June, according to Korea Exchange data. It was also the most-shorted name by value on Tuesday, the data show." - Bloomberg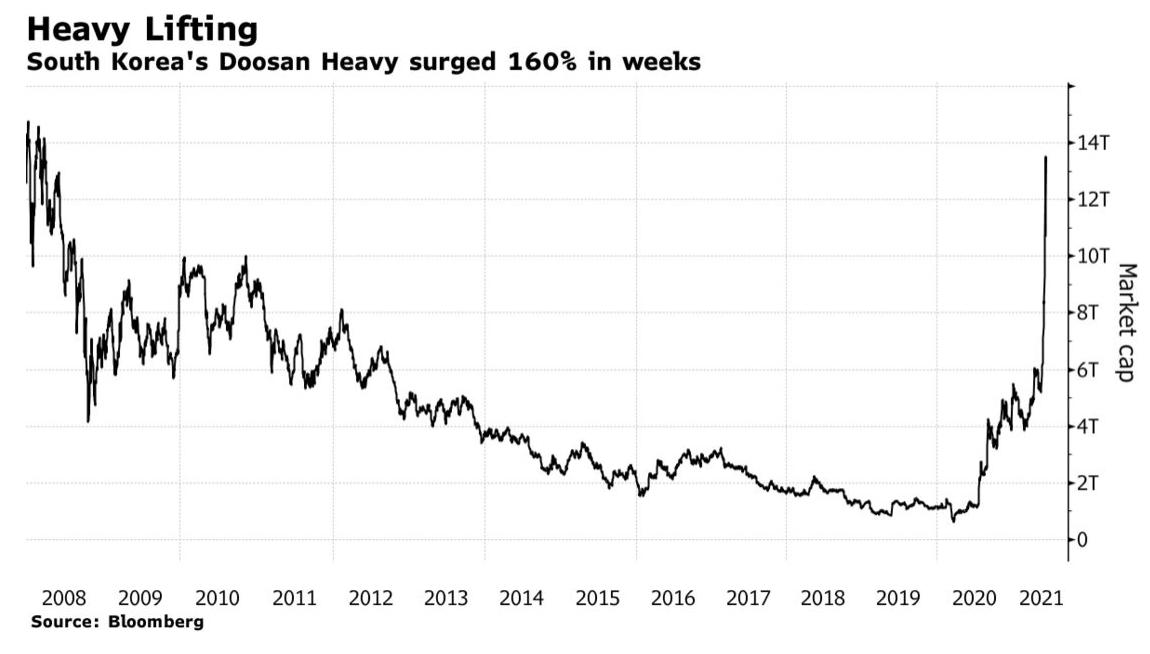 After a steady decline over the past five years, the short selling ban coincided with an increase in buying activity from Korean retail investors or 'ants.' Armed with their version of Reddit "Naver" it appears another fundie versus retail showdown is bubbling.

"Few countries are more hostile toward short-selling than South Korea, where many investors have been hurt by it." - Jung Eui-jung, Head of Korea Stockholders Alliance (from Bloomberg)
As an aside, in order to short sell, Korean retail investors need to undergo a compulsory 1.5 hour training session. Something for Robinhood to consider, perhaps?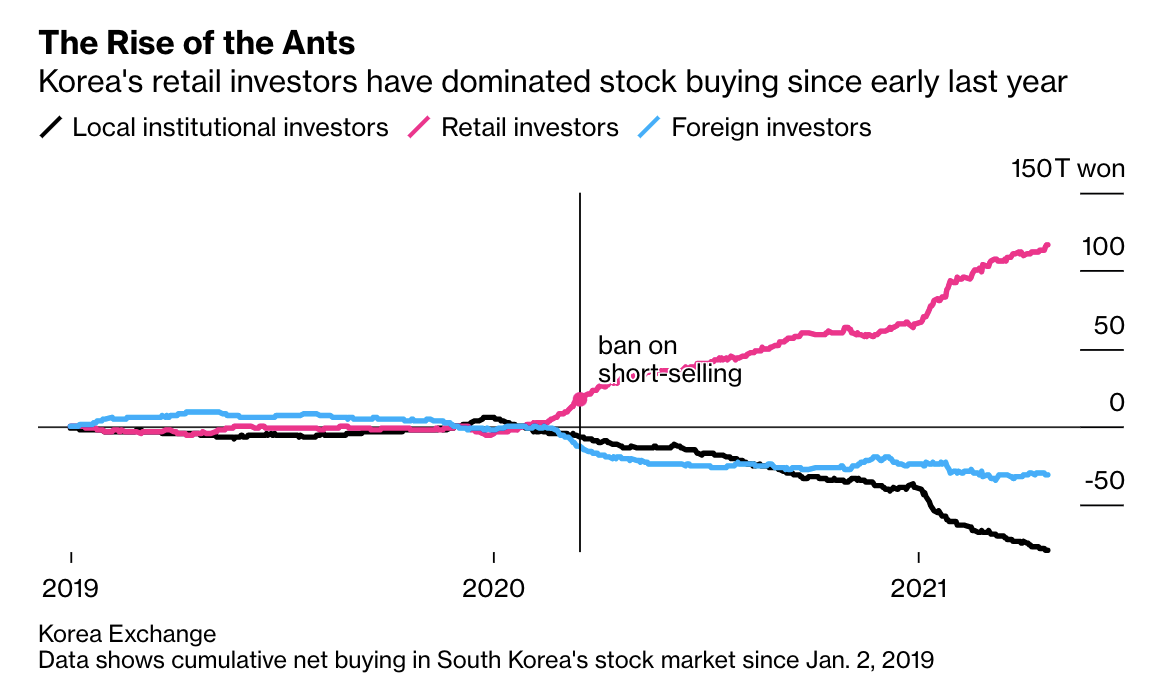 Source: Bloomberg. (VIEW LINK)

#5 'TO THE MOON' for US$4 million
"To the moon" might have been co-opted by Reddit investors, but there are some people on their way into space... literally.

This week, Jeff Bezos (soon to be former) CEO of Amazon, announced he is ready to take off into space on 20 July 2021. He will be flying with his brother Mark Bezos. The flight will be travelling just past the internationally recognised boundary to space before coming back down. (So, not quite the moon). 
Bezos' space exploration company, Blue Origin, are auctioning flights on the New Shepard, named after Alan Bartlett Shepard Jr, the commander of Apollo 14 who was the second man, first American, to fly into space (save that for your trivia night!). 
Bids have hit US$4 million for a single seat on the 11-minute flight.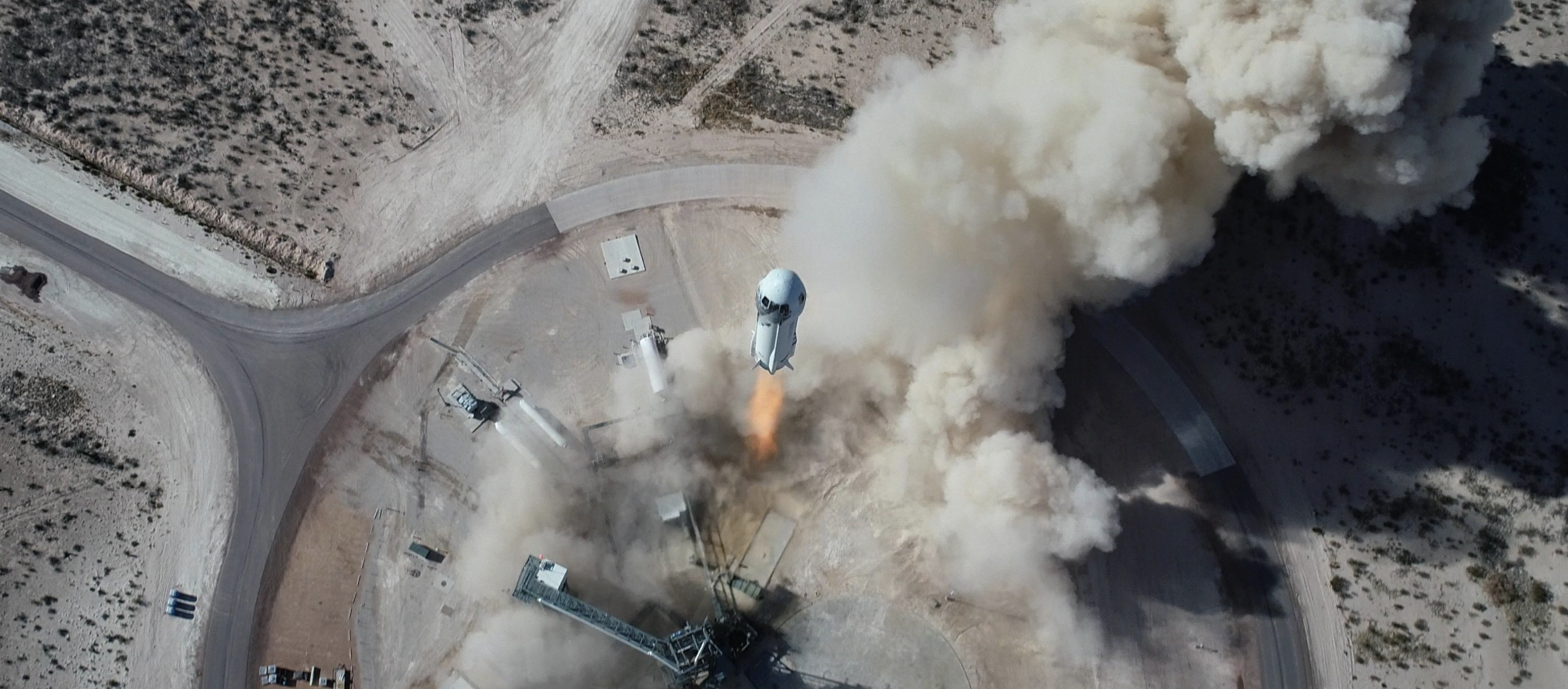 New Shepard NS-14 lifts off from Launch Site One in West Texas. (January 14, 2021). Source: Blue Origin. 
They're not the only players on the space-scene, as our contributor Ian Carmichael wrote this week, the Japanese punk-rocker, billionaire and former Zozo CEO Yusakau Maezawa is planning to be on SpaceX's first flight in 2023. 
Contributor stories of the week

#1 What's more tantalising than a microcap with a total addressable market that is expected to grow from $27 billion today, to $83 billion by 2030? Aimee Jordan writes about this in A microcap the global auto giants can't go without.

#2 One Web 3.0 essential is storage and Mark Roddy takes us through an innovative solution in: Why Filecoin will be one of the largest start-ups in the world.

#3 Water, water everywhere and not a drop to drink. Roger Montgomery looks at the global challenge of clean water and how one listed company has carved out its niche. 

#4 The final part in Damien Klassen's series arrived this week. Beware the inflation snap-back: How to invest. With recent inflation data here and in the US showing it start to creep up it's a timely reminder of what to do. 
#5 Lastly, James Gerrish has provided an exploration of this mining gem with Direct from the Desk: A deep dive into Oz Minerals

Coming up next week... 

Glenn Freeman

 

gets the goss from a few fundies on whether they think a style outside of Value or Growth could steal the show in the next couple of years. 
On Buy Hold Sell, we've invited mid-cap maestros Bruce Williams

 

from Elston Group and Catherine Allfrey from WaveStone Capital to share their thoughts on three stocks nudging their way into the top 20, and two on their way out.

And don't forget to check out Livewire's Top-Rated Funds Series. We have exclusive interviews from some of the best fund managers around, as rated by Lonsec, Morningstar and Zenith. We have fresh content this week including interviews with Kate Howitt, Patrick Hodgens, Stephen Wood and more.
What did we miss?
Did you catch a story this week that you thought was
Off the Charts
? Let us know in the comment section below! Or email
content@livewiremarkets.com
.
Also, if you're enjoying Off the Charts! or have any suggestions for the series let us know!

- Mia Kwok, Angus Kennedy and Vishal Teckchandani.
---
Australia's 100 top-rated funds
Livewire's Top-Rated Fund Series gives subscribers exclusive access to data and insights that will help them make more informed decisions. Click here to view the dedicated website, which includes:
The full list of Australia's 100 top-rated funds.
Detailed fund profile pages, with data powered by Morningstar.
Exclusive interviews with expert researchers from Lonsec, Morningstar and Zenith.
Videos and articles featuring 16 top-rated fund managers.
........
Livewire gives readers access to information and educational content provided by financial services professionals and companies ("Livewire Contributors"). Livewire does not operate under an Australian financial services licence and relies on the exemption available under section 911A(2)(eb) of the Corporations Act 2001 (Cth) in respect of any advice given. Any advice on this site is general in nature and does not take into consideration your objectives, financial situation or needs. Before making a decision please consider these and any relevant Product Disclosure Statement. Livewire has commercial relationships with some Livewire Contributors.
---
12 contributors mentioned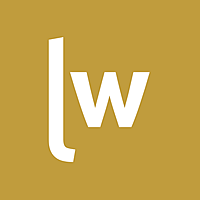 Livewire Exclusive brings you exclusive content from a wide range of leading fund managers and investment professionals.
Expertise