Amazon, Hugh Hefner and what it means for Coles and Woolies
---
Could a television show about Hugh Hefner, the Playboy founder, form part of a competitive threat to Australian retailers Coles and Woolworths?
Amazon thinks it could. And later this year, we will be able see whether the company is right, because Amazon has briefed commercial property agents, most likely including CB Richard Ellis, for warehouse space in Australia. So they are coming.
Amazon's retail model is in part based on cutting out the mall shopping centre. By siting its distribution centres outside traditional shopping districts, the company was able to reduce a significant cost – its rent – and then share the benefits of the lower costs with couriers, customers and shareholders. This has worked - Amazon sales are US$136b, and its Prime membership base in the US is up 20% to 65m customers, who by paying US$99 annually enjoy free delivery within two hours. The Amazon price is now over US$900, having tripled in under three years.
But the Amazon model has other unique attributes as well. It also works on cross-selling opportunities to extend the company's reach into seemingly unrelated customer sets. For example, by signing up with Amazon Music, which is about the same price as Spotify, a customer may qualify for a Prime Membership. So low prices and home delivered groceries thrown in with the complete Bee Gees collection.
Among the products which are offered in with a Prime membership is Season 1 of American Playboy, the Hugh Hefner show, which is where we came in. The Playboy show isn't a one-off: Amazon will this year spend US$3.2b to become the fifth largest US TV content producer after ESPN (US$7.2b, but that's mostly sport) Netflix (US$6b) and CBS and NBC (at just over US$4b each.)
The point is that by building a feeder businesses to Amazon, the company increases the number of opportunities it has to bring new customers in and sell them more stuff. Bezos refers to it as his 'flywheel'.
Other parts of the 'flywheel' are the use of the in-home voice assistant, Echo, which when so commanded by a Prime customer will cause milk and bread to arrive at the front door.
Or the Amazon Go stores, which are mostly there to learn about you and your buying habits in order to better fleece you later.
This right here is the problem with Woolworths and Coles. If it were just about competing with them on their own terms in malls, Amazon would fail since it would never get the same locations and the same space. In Australia Aldi has had some success in second tier locations, but hasn't really hit scale because of the lack of range. Costco has done OK as a novelty, but it's really just a warehouse for oddments and relies on people driving themselves across town for a bargain. By contrast, Amazon has 369m SKU (stock keeping units) which it will deliver.
There is no comfort to be had in the majors' competitive response. For example, Woolworths trumpets that it focused on fulfilling on-line demand, estimated to be growing at 25% pa, from its "dark stores' ie distribution centres that don't offer retail customer access. If thought through, it is apparent that this is simply cannibalising existing sales, which if it is to compete with Amazon will require discounting. Lost and discounted sales on a fixed cost base inflated by mall rents will hurt profitability big time.
The 'cannibalise yourself' strategy is now shaking out as one of the older tricks which catch companies out. They see how they must disrupt their business models through lower prices or a better offering, but in doing so fail to adequately address the existing high cost base (in this case the stores). The resulting rear guard action is the stuff of corporate boardroom nightmares.
Supermarket boards in Australia will point to the failure of Amazon in China and say success isn't a given. This is true to a degree - Amazon failed in China, but it had help: the Chinese government effectively kicked it out in favour or Alibaba, which is its own success story.
Amazon bears will chime in with the predictable comment about low profits, but that view isn't compelling. Amazon's total balance sheet shows assets of US$83b, of which US$29b is property and equipment at net values (after amortisation). Only US$17b is paid in capital - ie put in by shareholders. Thus, the company has financed its growth to US$83b from its US$17b in paid capital, supported with cashflows coming from the business itself, as well as borrowings and leases, of course.
Banks have done their numbers – they are lending this because they see these underlying cashflows. It is prior year charges on this balance sheet growth that reduces Amazon's earnings in each subsequent year. Were Amazon to stop expanding, these charges would quickly roll off and earnings would zoom.
(Separately, it is a matter of some interest that the Netflix price was up 3% last night to close just below its all-time high at US$147, given that the only barrier to entry is a commitment to produce content, which the US studios have done. Technological barriers for distribution are effectively non-existent, as Stan, Tenplay and ABC iview have shown. In time, US film studios will get their heads around the Netflix model, and compete in just the same way – as an app on your phone, Apple box or computer.)
For TV, Netflix shareholders should be watching Amazon carefully. But in Australia, it's very definitely Coles' and Woolworths' problem.
---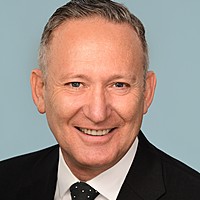 CIO of Loftus Peak, a specialist global fund manager with a track record of successful investment in some of the world's fastest-growing listed businesses.
Expertise