ASX rallies, reporting dominates & most are coming in better than feared, Pendal (PDL) gets bid
---
A solid day for the ASX with Property and Energy stocks underpinning the move higher in what is the vortex of local company results.
The ASX 200 finished up +50pts/ +0.71% at 7048
The Property sector was best on ground (+2.23%) while Energy (+1.57%) & Industrials (+1.25%) were also strong.
Consumer Staples (-1.57%) and Utilities (-0.63%) the weakest links.
Uranium stocks ripped after Japanese Prime Minister Fumio Kishida said the country will restart idled nuclear plants. Paladin (PDN) +11.56% a positive for MM's Emerging Companies Portfolio, while the Sprott Physical Uranium Trust was up 13% overnight.
Woolworths (WOW) -3.21% fell on higher costs – the same trend as Coles (COL) and Endeavour (EDV) this week.
Qantas (QAN) +7.05% gave the finger to taxpayers and launched a $400m share buy-back. Alan's bonus structure must have an EPS hurdle in there!
Qube Logistics (QUB) +8.49% talked to strong growth ahead – this is a company now on the MM Hitlist post results today.
Charter Hall (CHC) +6.54% lit a fire under the property sector after forecasting FY23 operating earnings per share of at least $0.90 – above current consensus.
IDP Education (IEL) +7.46% rallied after profit beat expectations
Nine Entertainment (NEC) +9% reported EBITDA of $700.7m up from $564.7m in FY21 plus launched a buy-back – a good result and also one on our hitlist
Ive Group (IGL) +5.5% rallied after reporting FY22 underlying EBITDA of $96.6m, slightly below $98m guided in early June, but a very good result nonetheless. We had management in this afternoon.
Whitehaven Coals (WHC) – 1.39% produced EBITDA of $3.1bn, a 15x increase in the $204.5m produced in FY21.
Pendal (PDL) +8.4% rallied as Perpetual (PPT) lobbed a bid – we bought PDL recently for this and are continuing to hold.
Capitol Health (CAJ) +4.84% rallied after the diagnostic imaging company reported FY22 results today, coupled with an accretive acquisition.
City Chic (CCX) -19.31% fell despite sales up 39%, short of consensus
Autodesk (ADSK US) +6.3% which is the company that attempted to take over Altium (ALU) last year rallied after hours in the US following a strong quarterly update overnight – further good news for ALU and confirms the strong trends playing out.
Snowflake (SNOW US) +4.3% reported aftermarket in the US overnight and was up 18% - this is our latest purchase in our International Equities Portfolio.
Asian stocks were higher Hong Kong up +2.76%, Japan +0.58% while China was up +0.93%
US Futures are all up
ASX 200 CHART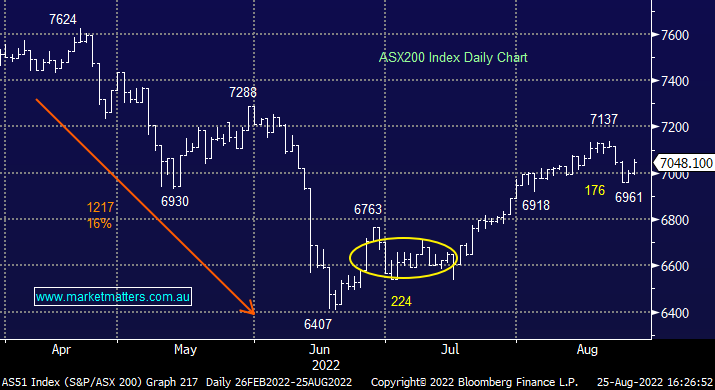 Perpetual (PPT) $27.44 & Pendal (PDL) $5.29
PPT -9.44% PDL +8.40%: The takeover took a more definitive step today as we thought it would on the day that Perpetual (PPT) reported FY22 results, which quickly became a secondary concern. The deal is framed as a takeover worth $6.016 for PDL based on yesterday's close on PPT, however, as PDL shareholders, we'll receive some PPT stock and some cash which at the closing price today is worth $5.635. The deal is 1 PPT share for every 7.5 PDL shares held plus a cash component of $1.976. For those inclined, the formula to use to trade the prices would be PPT stock price (27.44) / 7.5 + 1.976 = 5.6347. There is now an arbitrage opportunity for hedge funds who short PPT and buy PDL considering ~34.5c differential, however as shareholders in Pendal we simply need to ascertain the value in the combined entity from here. We think the deal makes sense, scale is important and the sum of the parts will be greater than the two separate entities as they stand.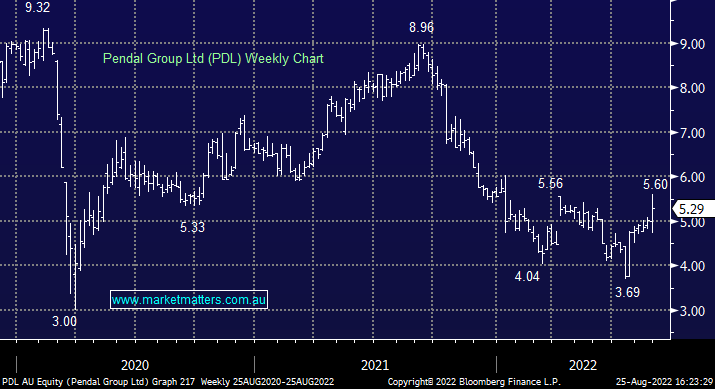 Woolworths (WOW) $36.20
WOW -3.21%: A weak FY22 result overall from Woollies today as they grapple with higher costs. While sales of $60.8bn were up +9.2% YoY and inline with expectations, Earnings before interest & Tax (EBIT) of $2.69bn was a miss to consensus of $2.73bn. This reflects higher wages, higher shipping, higher COVID, higher supply chain, higher insurance, higher transport/fuel, higher staffing, higher online/digital, higher energy costs, higher interest rates – essentially the whole box and dice when it comes to inflationary pressures. The ability to absorb these rising costs is the key issue facing all retailers in FY23 and just like Coles (COL) and Endeavour (EDV), Woolies today showed that it was 1. A tough ask & 2. their commentary suggests that a turnaround is some way off yet. One positive in an otherwise weak outcome was 4Q22 Like for Like (LFL) sales growth of 5.2% vs COL at 3.7%.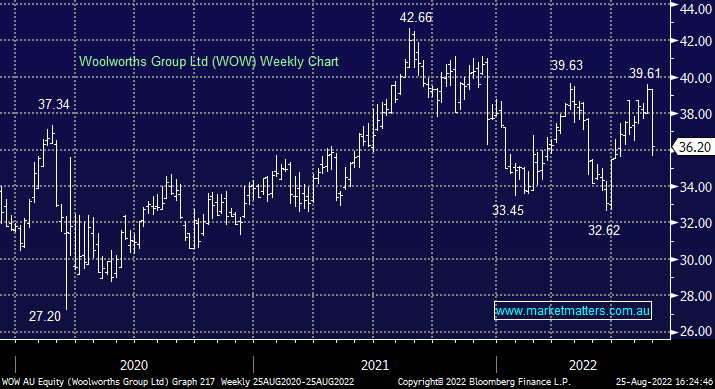 Whitehaven Coal (WHC) $7.79
WHC -1.39%: A huge result for the coal company today and I doubt we've seen a bigger turnaround in the space of 12 months. This time last year, WHC had $900m in debt and reported EBITDA of $204.5 from a realised coal price of $96/tonne. No one wanted to talk about them / consider them as an investment. Fast forward to today they reported a 15x increase in EBITDA to $3.1bn, net cash of $1bn having enjoyed an average realised coal price through the period of $325/tonne. They announced a 40cps dividend for the second half, slightly below market expectations but still a huge result and there is plenty more to come, they could easily pay $1 out as dividends in FY23. This has clearly been a huge story, one we got right buying at $1.55 but very wrong selling just above $4.00. In the last 3 months, the stock is up 43% and 190% this calendar year, but that rise is but a fraction of the increase in earnings. We sit here frustrated by our lack of position now in this name….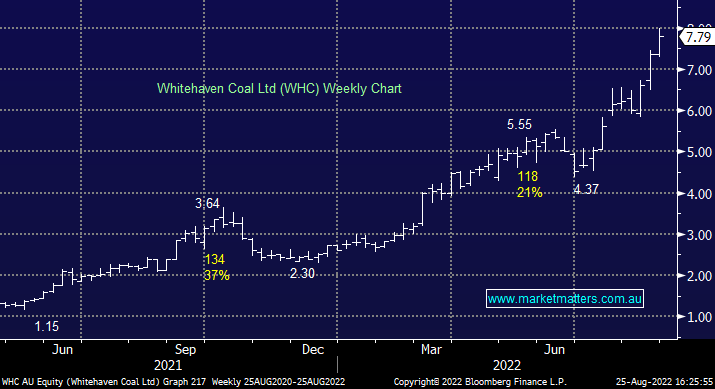 Capitol Health (CAJ) 32.5c
CAJ +4.84%: the diagnostic imaging company reported FY22 results today, coupled with an accretive acquisition that saw shares trade higher. Revenue grew 3.5%, and although it was down 3.5% in the second half, the fall was less than that implied by Medicare data. EBITDA was down 14% to $41m in line with market expectations. They extended the buyback which was left untouched in FY22, highlighting the strong balance sheet position the company holds. Capital Health has also announced the acquisition of FMIG for $56.1m, adding another 6 clinics in Victoria. The acquisition will add 16% to EBITDA and is expected to generate high single-digit EPS accretion.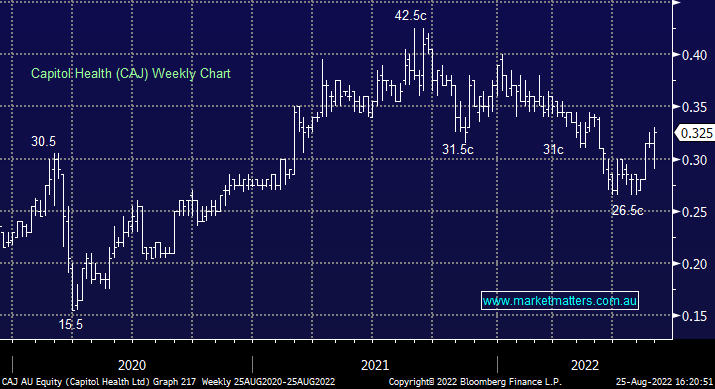 City Chic (CCX) $1.985
CCX -19.31%: retailers have largely surprised to the upside this reporting season, however, shares in City Chic were sold off heavily after today's weak FY22 result and outlook. Sales grew 39%, but fell short of consensus, while profit rose just 3% as margins were squeezed, the $22m posted was an 18% miss to expectations. Inventory ballooned in the second half to $195m, up more than 50% from the first half, fanning fears of an inventory write-down or higher carry costs. FY23 trade is in line with the same period last year though management flagged consumer spending uncertainty. Inventory is expected to normalize to $125-135m and they expect to be net cash positive in the second half of the year.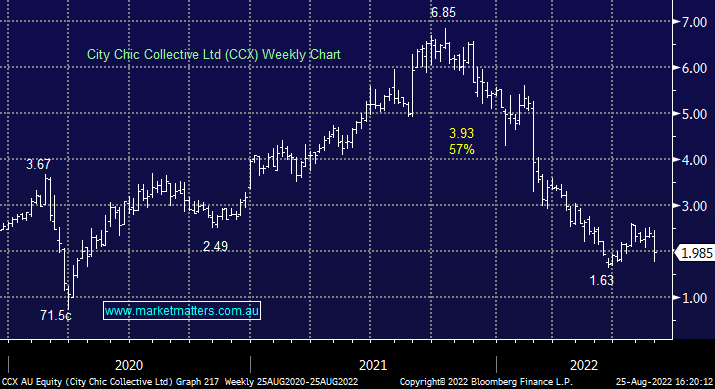 QANTAS (QAN) $4.86
QAN +7.05%: the flying kangaroo posted significant losses for FY22 however the numbers were largely in line with expectations and performance continues to improve. Underlying EBITDA in the second half was $526m, towards the top end of guidance, assisted by a further @270m of annualized cost savings delivered in the 12 months. Domestic capacity has returned to pre-COVID levels, and total capacity in the 4th quarter was 63%. Net debt came in below their target and as a result they have launched a $400m on-market share buyback, further supporting shares but ensuring this will be a big news story tonight!
Idp Education (IEL) $28.80
IEL +7.46%: the student placement and English language teaching company posted a profit beat today, driven by improved performance from their international segments. Net income came in at $106.6m, around 5% ahead of consensus expectations. They placed a record number of students in courses and conducted a record number of English tests in the period highlighting the swift turnaround from COVID-driven volume declines. Gross profit margins also returned to FY18 highs. The company didn't provide any guidance for the year ahead, however, they are clearly seeing momentum across the business.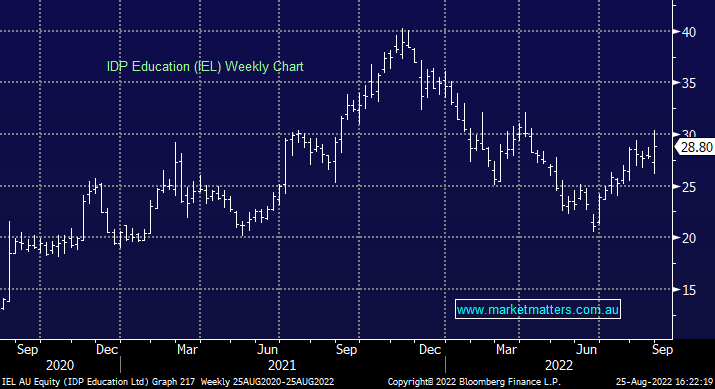 Broker Moves
Gr Engineering Cut to Hold at Argonaut Securities; PT A$2.42
Propel Funeral Partners Cut to Hold at Moelis & Company
Reliance Worldwide Cut to Hold at Taylor Collison
Perenti Rated New Buy at Barclay Pearce Capital; PT A$1.07
G8 Education Cut to Hold at Canaccord; PT A$1.07
Iluka Cut to Neutral at Credit Suisse; PT A$10
Tabcorp Raised to Buy at Jefferies; PT A$1.10
Sonic Healthcare Cut to Neutral at JPMorgan; PT A$36
Panoramic Resources Cut to Neutral at Macquarie
HMC Capital Raised to Buy at Jefferies; PT A$6.03
Central Petroleum Cut to Hold at Bell Potter
Tabcorp Raised to Add at Morgans Financial Limited; PT A$1.20
Kelsian Group Cut to Hold at Canaccord; PT A$6.83
Adbri Cut to Hold at Taylor Collison
Reliance Worldwide Cut to Hold at Ord Minnett; PT A$4.50
Nanosonics Cut to Sell at Bell Potter; PT A$4.05
Neuren Raised to Buy at Jefferies; PT A$6.80
Major Movers Today
Have a great night
The Market Matters Team
Make informed investment decisions
At Market Matters, we write a straight-talking, concise, twice-daily note about our experiences, the stocks we like, the stocks we don't, the themes that you should be across and the risks as we see them. Click here for your free trial.
The Match Out will be available each day after the market close. Follow my profile to be notified when the latest report is live.
........
Livewire gives readers access to information and educational content provided by financial services professionals and companies ("Livewire Contributors"). Livewire does not operate under an Australian financial services licence and relies on the exemption available under section 911A(2)(eb) of the Corporations Act 2001 (Cth) in respect of any advice given. Any advice on this site is general in nature and does not take into consideration your objectives, financial situation or needs. Before making a decision please consider these and any relevant Product Disclosure Statement. Livewire has commercial relationships with some Livewire Contributors.